GLAPN and Portland Q Center are pleased to share a Queer Hero
per day, through the month of June, 2018!
In early spring, GLAPN polls our community by email,through their websites and Facebook pages,
asking for nominations of folks whose risk, sacrifice, service, inspiration or example have
made them heroes to the LGBTQ community at large.
We'll hold a reception honoring all current and past Queer Heroes, on Thursday, June 7 at Q Center (4115 N. Mississippi Ave., Portland OR 97217) from 5-7PM. The 2018 Queer Heroes' posters will be on display in the gallery, the Queer Heroes will be introduced and invited to speak briefly, and, as always, all Queer Heroes from previous years are especially invited to attend.
Nominations are always open for Queer Heroes. Follow the lightning-bolt link at the bottom of
the menu at left, and fill in the form!
WATCH THIS SPACE! WE'LL ADD A QUEER HERO FOR EVERY DAY IN JUNE!
Jensi Albright is a North American from Maine. Carmen Gutiérrez is a Central American from El Salvador. They met in Portland, Oregon in 2004, fell in love and began a decade-long battle for a permanent life together. They lobbied at every level; they married both in Washington and Oregon; and they worked with filmmaker Dan Sadowsky who made Love and Country, a documentary about their struggle to just have a life together. Read more …
Cliff Cook retired from a teaching career in Salem in 2005 and moved to Bend, where he began volunteering with the Human Dignity Coalition, an LGBTQ advocacy group that had began as a response to the Oregon Citizens Alliance ballot measures of the 1990s-2000s. He discovered a gift for advocacy and organizing, and was a leader in the Central Oregon LGBTQ community until shortly before his death in early 2018. Read more …
Suzanne Deakins, PhD, is an author, and the publisher of One Spirit Press/Q Press. One Spirit Press and Q Press have published a number of books with LGBTQ themes. It's fair to say some of these works would never have been printed without Suzanne's coaching and expertise in the publishing process, and the willingness of a small press to take the risk. Read more …
April Slabosheski came to Oregon in 2014 and went to work for the Oregon Jewish Museum and Center for Holocaust Education.  She organized school visits, booked speakers, trained docents, and arranged tours of the Oregon Holocaust Memorial. In 2017, April was promoted to manage the museum's education program. She manages a team that supplies speakers — including local Holocaust survivors— works with teachers, and conducts workshops in response to incidents of anti-Semitism and hate speech, helping students learn the historical connections to present day prejudices. Read more …
Virginia Linder was the first woman elected to the Oregon Supreme Court without first being appointed to fill a vacancy. She was the first openly lesbian justice to serve on any supreme court in the nation, and the first openly LGBTQ person elected as a non-incumbent to any supreme court in the nation. Read more …
Pat Young was one of the founding members of GLAPN (Northwest LGBTQ History) in 1994, and has held various leadership positions in the organization. During the early 1990s she lobbied her employer (Tektronix) for health benefits for same-sex couples to match the company's hetero- domestic partner benefits, effectively outing herself to the entire company. In 2009 she became the third person to teach the LGBTQ History Capstone class at Portland State University, supervising the creation of 165 oral history interviews which are now in the archives of Oregon Historical Society. Read more …
Shannon Scott faced a dishonorable discharge from the U.S. Air Force over her gender identity – after 12 years of service and numerous medals and honors for her service – if she didn't keep quiet about her transition. She managed to complete her service with honorable discharge, and decided to use her experience to help other trans service members. During the Obama administration, she met with officials at the Pentagon, giving input on the new, transgender-affirming policies that were enacted during his term. She is the founder of United Equality Consulting, an organization focused on helping companies support their transgender employees. Read more …
Kareliz Stetz-Waters is a novelist who writes LGBTQ-themed stories. Usually in the romance genre and always set in the Portland area, there are now six novels that deal realistically with contemporary social issues – the problems faced by lesbians in the legal system, for instance, or coming out in a small town in a year when there's an anti-gay measure on the ballot. LGBTQ isolation lessens when we can read about people like ourselves, and the books win awards and critical praise. Read more …
Trystan Angel Reese and Biff Chaplow – Trystan is a gay transgender man and Biff is a queer cisgender man. They adopted Biff's niece and nephew when the children needed a safe place to live. Later, they decided to grow their family by having a baby on their own terms— Trystan got pregnant and gave birth to their baby, Leo, in July of 2017. They receive daily messages from trans youth encouraged by their expansive definition of what it means to be a man, to be trans, to be queer, and to be a family. Read more …
Elaina Medina is a proud queer Latinx woman, born in New Mexico. After earning her Master's degree, she took a lead position at SMYRC (Sexual Minorities Youth Resource Center). SMYRC and Bridge 13 have both grown in resource and capacity under Elaina's leadership. The SMYRC space is now open 5 days a week and serves 30-40 youth a night. Bridge 13 has grown into a program of 2 incredible Community Educators and an Engagement and Education Specialist whose focus is completely work with youth in schools. Read more …
Libby Anderson Durbin is a straight ally who helped organize the Counseling Center for Sexual Minorities (CCSM) in 1973, with openly gay psychologist Tom Cherry, and several others, while she was still a graduate student. They began by offering a telephone hotline. In about 1976, Libby became the executive secretary for Governor Bob Straub's Task Force on Sexual Preference. Read more …
Charles Jordan was appointed in 1994 to fill a vacancy, becoming the first African-American on the Portland City Council. He immediately proved himself an ally to the LGBTQ community, voting in December 1974 for a ban on sexual orientation discrimination in city employment. As police commissioner, he put a stop to harrassment of LGBTQ young people at Portland's only all-ages nightclub that welcomed queer youth. His commitment to police accountability limited his career, but later he returned to city government as Director of Parks and Recreation. Read more …
Don Powell began his LGBTQ activism in Eugene in the mid-1970s, with the the successful and pioneering effort to get the Eugene City Council to pass a sexual orientation nondiscrimination ordinance – which was referred to the voters and rescinded in 1978. He moved to Portland in 1988 and continued his involvement in LGBTQ politics through the Right to Privacy (RTP) PAC, which was later called Right to Pride. He served a term as Chair of RTP and was on the Board of Directors for 10 years. Read more …
Rose City Gay Freedom Bands was formed in 1990, as been a place for LGBTQ musicians and friends to play, perform, and participate in Portland's musical community. Today, RCGFB is comprised of the Portland Gay Symphonic Band (a 58 member symphonic wind ensemble), Rose City Swing (a sixteen-piece swing band), the Portland Pride Band (a 70+ marching/pep band and colorguard), and several smaller performing groups. Read more …
Rosanne Marmor is a Licensed Clinical Social Worker. Her non-profit work has centered on services for people with no and low incomes living in affordable and public housing. She is now in private practice doing counseling, coaching and consulting. She teaches classes on vulnerability and trauma informed practice and offers consultations on how to increase awareness of trauma. She also creates tools that can be used at home to help increase the ability for people to truly be themselves.Read more …
Lori Buckwalter is one of the Northwest's early transgender advocates. She was among the first Oregonians to press claims with Oregon Bureau of Labor and Industries for gender identity employment discrimination in 1996. Lori served on, and eventually chaired, the Portland Police Department's Sexual Minorities Round Table, and working with the police and Multnomah County Sheriff, wrote new policy guidelines for arrest, classification
and detention of trans individuals, as well as safety guides for queer citizens. Read more …
Adrian Larsen Sanchezis a clinical psychologist who shares his practice, Portland Mental Health & Wellness, with his husband, Brad Larsen Sanchez, who is also a clinical psychologist. Adrian serves on the Oregon Psychoanalytic Center's Diversity Committee, and works with a broad range of patients, including LGBTQ, people of color, and immigrant communities. Read more …
Brad Larsen Sanchez is a clinical psychologist who shares his practice, Portland Mental Health & Wellness, with his husband, Adrian Larsen Sanchez who is also a clinical psychologist. Both in the community and in his profession, Brad is committed to diversity. The majority of his practice consists of LGBTQ clients, and he is a past chair of the Oregon Psychological Association Diversity Committee, where he had the opportunity to testify before the state legislature on behalf of a proposed law that would ban conversion therapy. The law was passed in 2015. Read more …
Beryl "BJ" Jones is featured in the Basic Rights Oregon video "Our Families: LGBT African American Stories," relating how in the 1980s, her lesbianism resulted in loss of custody of her daughter. Over the years she has been an active volunteer in PFLAG – both the Portland and the newer Washington County chapters. Read more …
Ed Segel moved from Berkeley to Portland in 1973 to teach history at Reed College. As an out, gay professor, he was a mentor for LGBTQ students on campus, and he joined community activism through Portland Town Council and groups that followed it. He has been particularly supportive of the Portland Gay Men's Chorus from the time it was founded, and when he retired from the faculty at Reed, alumni named a scholarship in his honor. Read more …
Belinda Carroll came out around the age of 15, which led to homelessness. After a period of living on the streets, she got a job at the City Nightclub. Today she's a nationally-recognized comedian, twice nominated Best of Portland Comedian by Willamette Week. She performs annually at Portland Pride, has been the main organizer for Portland Dyke March since 2011, and has a history of service to the LGBTQ community, both visibly and behind the scenes. Read more …
UTOPIA PDX United Territories of Pacific Islanders Portland) provides sacred spaces to strengthen the minds and bodies of QTPIs - Queer and Trans Pacific Islanders - through community organizing, political engagement, and cultural stewardship. Organized in April, 2017, UTOPIA was immediately active, present workshops to Pacific Islander groups as far away as Seattle, and participating in the 3rd Annual McLaren Youth Facility Pride Celebration. Read more …
Shilo George (Cheyenne-Arapaho, Scottish) is a member of Portland Two Spirit Society. She is an auntie to many Native kids in the community, and she involves herself in events for youth and elders, and culture camps where she can gather and share traditional knowledge. Shilo holds a Master's degree in Educational Leadership and Policy, and recently opened her own consulting firm, where she trains others on systems of oppression, trauma informed care, and proactive ways that businesses and organizations can create policies and environments that that promote diversity, equity, and healing. Read more …
Andy Blevins served in the U.S. Navy under Don't Ask Don't Tell. He is current completing a law degree with emphases in military law, civil rights law, and nonprofit administration, supporting justice for past and current LGBTQ members of our military, and is already involved with litigation involving the Trump administration's ban on open transgender service. Read more …
Manumalo "Malo" Ala'ilima is Samoan American, a transplant to Oregon. Malo is "fa'atane" meaning "in the manner of a male" in Samoan, identifies as Lesbian and Queer, and uses all pronouns. In the past few years Malo has emerged as aa leader in Oregon's Pacific Islander LGBTQ community, and, since June, 2017, she has been a board member for Q Center. Read more …
Gail Shibley became Oregon's first openly LGBTQ person to serve in the state legislature, being appointed to fill a House vacancy in 1991. She was elected to that seat in 1992, winning a disputed primary and the general election, and was re-elected in 1994. Read more …
George Eighmey was the first openly LGBTQ male appointed to the Oregon House of Representatives, in 1993. While in office, he worked on a variety of legislation important to the LGBTQ community, including advocating for Oregon's Death with Dignity Act, and working with Gail Shibley, the first openly LGBTQ person in the legislature, for legislation negating anti-Gay ordinances enacted by Oregon cities. Read more …
Peter Boag is among our region's most prominent scholars of Pre-Stonewall LGBTQ history in our region. Although initially it wasn't considered a fitting subject for investigation, and in spite of the difficulties encountered in research, his books Same-Sex Affairs: Constructing and Controlling Homosexuality in the Pacific Northwest and Re-Dressing America's Frontier Past are landmarks to those seeking to understand 19th Century LGBTQ life in the Northwest. Read more …
Kathy Oliver retires this year after 38 years at Outside In, the organization that offers health and social services for homeless youth and other marginalized people. LGBTQ youth have always been a large part of Outside In's clientele, and Outside In has been first in services for LGBTQ young people because for many years, it was the only place that welcomed them. Read more …
OGALLA is an association of LGBTQ lawyers, judges, legal workers, law students and others with an interest in LGBTQ rights. Some of OGALLA's members have held elected office; many have been instrumental in winning rights for LGBTQ Oregonians. Read more …
Anthony Rivers created a "Black Health Matters" campaign in Portland as part of his HIV prevention outreach through Cascade AIDS Project, working with Sankofa Collective Northwest and A6 (African American AIDS Awareness Action Alliance). Read more …
Donna Red Wing was Executive Director of Portland's Lesbian Community Project in the early 1990s when the Oregon Citizens Alliance sponsored dozens of anti-gay ballot measures. She led an enormous grassroots opposition to the OCA ballot measures, and was once labeled "the most dangerous woman in America" by the Christian Coalition. Read more …

Get a head start on next year: nominate 2019's Queer Heroes now!
Click on the link at right to view the nomination form.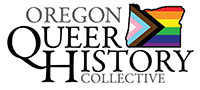 P.O. Box 3646 • Portland, OR 97208-3646 • info@glapn.org
Copyright © 2018