Videos from GLAPN
GLAPN collects video at events which either make or honor LGBTQ history. A couple of full programs (excerpted below) are for sale in DVD format. Others are posted on our You Tube channel.
Here's what's available for viewing from GLAPN's video collection:
Rabbi Debra Kolodny –  Before Rabbi Deb leaves Portland for their new home in New England, they'll spend some time with GLAPN's Margaret Ann Jones, talking about the forces that have
motivated their work bringing life of the spirit to bear on questions of sexual orientation and gender identity diversity, Jewish meditation, conscious community, deep ecumenism and social justice in our communities. Follow this link to see Rabbi Deb's Queer Hero profile.Interviewed by Margaret Ann Jones, May 26, 2021. See the video at this link.


Margaret Ann Jones, Extraordinary people along the way – a message to leave behind. Margaret Ann has a history of service to the LGBTQ+ community in Portland, and she likes to say she's best at making connections. Follow this link to see Margaret Ann's Queer Hero profile.
Interviewed by Deborah Burke, PhD. Recorded June 30, 2021.
See the video at this link.

Naomi Littlebear Morena, A Singer, Songwriter, and most noted for her feminist resistance anthem "You Can't Kill The Spirit'. Also a member of Izquierda Ensemble who toured Nationally singing protest songs in 70s. An Actor and playwright creating the first play to feature a Chicana Lesbian as the main character. Recorded April 28, 2021. Follow this link to see Naomi's Queer Hero profile.
See the video at this link.

Wanda Broadous – activist, historian, philanthropist-at-large in Portland's Black Community. With Debra Porta, executive director of Pride NW. Recorded February 4, 2021.
See the video at this link.

René LaChance – September 29 2021. Remember when community leaders argued for a year over whether "Lesbian" should be included in Gay Pride, or "Gay" was just fine? It was enough to make Renée quit her job and start her own community newspaper.
A champion of inclusiveness, Renée has owned a coffee bar, a concert production company, an advertising agency, a motel, a construction project management company, a newspaper, a book publishing company, and she is currently co-publisher at "Tales from the Pandemic."
See the video at this link.


As we approached the easing of COVID-19 restrictions, we weren't sure what we could do about honoring our 2021 Queer Heroes. We planned a parking lot party at Q Center, but Q Center leadership helped us expand our party to include screening the Basic Rights Oregon 25th Anniversary virtual celebration, and we moved into the air-conditioned building to share an informal program with the Heroes who were able to attend. GLAPN's Bev Standish captured the video, which may be viewed at this link.

As 2019 progresses, we're seeing more excitement surrounding the musical about Portland's favorite drag queen. That's No Lady … that's Darcelle is scheduled for release in September, 2019.

As nearly as we could count, 120 folks filled the auditorium at Q Center for the 2019 Queer Heroes NW reception, checking out the posters in the gallery and applauding this year's Queer Heroes as they were introduced. Our friend Bev Standish once again captured video of the reception, and it may be viewed at this link.

On June 24, 2019, GLAPN and McMenamins History Pub collaborated on an event exploring the impact that the Stonewall Riots had on Portland's early LGBTQ community. The speakers were Holly Hart, Walter Cole/Darcelle, Susie Shepherd, and Kathleen Saadat. Portland author Jeff Stookey 's preliminary remarks provided some historical context for both Stonewall and LGBTQ community organizing in Portland.

Each year GLAPN chooses a Queer Hero for each day in June, and announces one Hero per day on our social media. Just before Pride, mount a gallery show of our Queer Hero posters at Q Center, hold a reception for all current and past Queer Heroes, and invite current honorees to speak.Videographer Bev Standish captured the 2018 awards ceremony on video.

The City Nightclub is a documentary Gregory Franklyn did in approximately 1996. In Gregory's words, "[it] explains what the club is and what it meant to the young folks who used to hang out there. It's kind of a PR piece that we used when the club was under siege from the City of Portland to try to garner support from the community. It turns out, it worked pretty well. Hundreds of folks joined us in a March on City Hall to confront, then, Mayor Vera Katz".

A Conversation with Lanny Swerdlow, from Gregory Franklyn. "The link is to a youtube video of an interview I did with Lanny Swerdlow in (I believe it was 1999 or 2000) Where I got him to talk about his motivation for opening the club and the history of the locations of his clubs including The City NightClub."

NightScene episode 300, which told the history of the NightScene show up to that point.

The field of Eugenics was a progressive cause through the late-19th and early 20th Centuries in the USA. With the intention of applying Mendelian principles to improve the human race much in the way selective breeding improves livestock, eugenicists in fact could be both prescriptive and punitive. LGBTQ people, although not known for excessive breeding, were among the moral degenerates and sexual perverts targeted for sterilization in Oregon. Eugenics was the subject of a lecture at McMenamins History Pub on June 25, 2018.

Videographer Bev Standish captured the Queer Heroes NW 2017 reception at Q Center on June 17. Posters of all 30 of the year's Queer Heroes were on display in the Q Center gallery, all previous years' Queer Heroes were invited to attend, and the folks our community chose as this year's Queer Heroes were invited to speak briefly. Harold Strong was master of ceremonies, and the reception was planned and produced by Margaret-Ann Jones. Click on the thumbnail at left or on this link to see the video of the event.
After Sojourner Truth rescued her own kids from slavery, she went into the countryside "testifying the hope that was in her." In this video, we can see the 21st Century Sorjourner we know as Antoinette Edwards celebrating Queer Heroes Onesha Cochran-Dumas and Keesha Dumas, two women she has helped rescue. The occasional was GLAPN's Queer Heroes reception flawlessly organized at Q Center by Margaret-Ann Jones, June 15, 2017. Special thanks to Khalil Edwards for supporting his mother's work and to Keith Edwards Sr. for standing behind his wife. Our gratitude to Bev Standish for producing the video.
https://vimeo.com/230390752

On January 23, 2014, the History of Social Justice Organizing presented "History of the Portland Gay Press," featuring panelists Rupert Kinnard and Renée LaChance, who worked in several of Portland's earliest gay publications, and teamed up (with the late Jay Brown) to create the first iteration of Just Out. Links are courtesy of the History of Social Justice Organizing:

The History of the Gay Press in Portland
http://www.youtube.com/watch?v=5kaUcgQ5hyk

Also available to watch & download on Archive dot org:
https://archive.org/details/GayPressSocialJusticeHistory1.23.14

Portland State University's "History of Social Justice Organizing" program presented a stellar group of LGBTQ history-makers in a panel discussion on Thursday, October 24, 7-8:30PM, at the Urban Affairs Building, 2nd floor gallery, 506 SW Mill.

Steve Fulmer, Cliff Jones, Susie Shepherd, Pat Young were panelists.

Here's a link to the video of the October 24 program:
http://youtu.be/M0ZSZlv_H24

Queer Heroes NW, 2012: In 2012, GLAPN & Q Center decided to announce a Queer Hero for every day in June, as part of their celebration of Pride. This footage is from the June, 2012, reception at Q Center when the Queer Hero posters were unveiled.

Amanda Brings Plenty-Wright, speaking at the Queer Heroes reception at Q Center, June 13, 2013. Amanda is the founder of the Portland Two Spirit Society.

Joyce Liljeholm, speaking at the Queer Heroes reception at Q Center, June 13, 2013. Joyce is the powerhouse behind Oregon Safe Schools and Communities legislation, and a tireless worker within her denomination for welcoming LGBTQ people of faith.

Barbara Roberts, speaking at the Queer Heroes reception at Q Center, June 13, 2013. A tireless ally of LGBTQ people, Barbara Roberts was Governor of Oregon from 1991 to 1995.

Kristan Knapp has a long history of activism for LGBTQ causes in Portland, and her parents were co-founders of the group which eventually became PFLAG Portland. In January, 2008, she reminisced about the founding of PFLAG.

No Photo
Available

Dick Burdon, former Methodist minister and longtime GLAPN member, talks about his coming-out process at the tender age of 50-something. He also discusses how Metropolitan Community Church in Portland, and square, dancing, helped him build a new life.

Norm Costa came out in 1948, and he has been in the public eye as an LGBTQ activist, ambassador, and elder statesman in Portland since the 1960s. In this interview, Norm and George Nicola talk about Bill and Ann Shepherd and Charles and Rita Knapp, the two Portland couples who founded PFLAG locally.

Charlie Hinkle is a Portland attorney who has been active in the arena of LGBTQ civil rights since the 1970s. He reflects on the Oregon Citizens Alliance Ballot Measure 9, and the tense battle it generated in 1992. This is a clip from an event held October 3, 2012, at Q Center in Portland. The discussion, marking the 20th anniversary of the defeat of Measure 9, was organized by GLAPN, hosted by Q Center, and co-sponsored by Basic Rights Oregon and the Human Rights Commission. Charlie was onstage with Kathleen Saadat. Kristan Knapp introduced him.

Kathleen Saadat, a longtime leader in Portland's LGBTQ and African American communities, looked back at the fight against the Oregon Citizens Alliance's Ballot Measure 9. She spoke at an event marking 20 years since the defeat of Measure 9, organized by GLAPN, hosted by Q Center, and co-sponsored by Basic Rights Oregon and the Human Rights campaign.

Jean DeMaster was one of the very early organizers in Portland's lesbian community. She spoke at a GLAPN Our Stories event, "The 1970s: Finding Our Voices," about coming out in Madison, Wisconsin, and moving to Portland in the 1970s.

Susie Shepherd has been committed to LGBTQ causes for most of 40 years. Her parents co-founded PFLAG Portland in the 1960s, and Susie was active in early community organizing and lobbying for gay civil rights. She spoke in 2008 as part of the "Our Stories: Pioneers" event.

Harold Strong traces his activism back to the 1970s and '80s in Portland. He is the first African American male title holder in the Imperial Sovereign Rose Court, and the first person to serve as both Emperor and Empress in that organization. In a 2008 "Our Stories" program celebrating the passage of Oregon's LGBTQ civil rights bill, Harold reflected on the early days of the gay civil rights movement in Oregon.

Raven Heavy Runner (Blackfeet), spoke at the Two Spirit Conference sponsored by GLAPN and Portland State University's Native American Student Center, in May, 2010, about the rebirth of the Two Spirit tradition among Native Americans. This is an excerpt from GLAPN's Two Spirit DVD which is for sale elsewhere on GLAPN.org.

No Photo
Available

Marriage Equality in Washington: In 2012, the State of Washington voted for marriage equality through Measure R-74. Andrew, a volunteer from Basic Rights Oregon, assisted in the campaign, and explains how he helped to make history.

No Photo
Available

Q Center's Voter Drive for R-74: Many Oregonians crossed the Columbia River to work for marriage equality in Washington in 2012. This particular program concided with Q Center's celebration of the 20th anniversary of the defeat of the Oregon Citizens Alliance Measure 9, lending the perspective of history to this get-out-the-vote program.

Yes on Washington R-74: Gus Wendel, a Basic Rights Oregon volunteer, explains why it was important to him to work for marriage equality in the State of Washington in 2012.

Basic Rights Oregon developed from ad hoc groups formed to fight the anti-LGBTQ ballot measures in the 1980s-1990s, as it became clear that we needed a full-time, aggressive voice in the legal and political arena. These videos describe some of the early LGBTQ civil rights struggles, the formation of BRO, and its influence in the events of the early 2000s.

All of these clips may be viewed for free on You Tube.
Some of them are excerpts from full programs, which may be purchased in DVD format by clicking here to go to our sale page.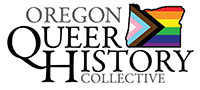 P.O. Box 3646 • Portland, OR 97208-3646 • info@glapn.org
Copyright © 2015, Gay & Lesbian Archives of the Pacific Northwest