Queer Heroes NW 2012
Kathleen Saadat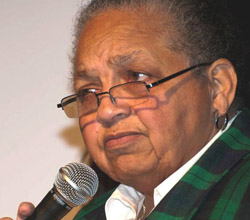 Born in St. Louis, MO, and raised in a family committed to justice and education, Kathleen Saadat graduated from high school in Chicago in 1957 and from Reed College in 1974. She has served Oregon's queer community as mentor and confidant for nearly 40 years. A leader in the African American community, she is also an activist for women's rights.
Kathleen supported groups and organizations, such as: Freedom Socialist Party; Radical Women; Black Women's Rap Group; Las Mujheres de Colores de Oregon; International Women's Day Celebrations; Bradley Angle House; Lesbian Community Project; Portland's African American Alliance; and African Americans Voting No on Nine. In 1976 she, along with six others, organized Portland's first gay rights march.

She has touched all levels of government in Oregon, and held positions as diverse as Contracts Monitor and Program Analyst for CETA Programs, Director of Affirmative Action for the State of Oregon, Assistant to Portland City Commissioner Gretchen Kafoury, Diversity Director for Cascade AIDS Project and currently is the City of Portland's Diversity Development/Affirmative Action Manager.
With Keeston Lowry, she worked to craft the City's Civil Rights Ordinance banning discrimination against gay and lesbian people. In 1992, she served on the steering committee for the campaign against Ballot Measure 9.
Kathleen believes that it is only by working together that we can help to build the just and inclusive world we want.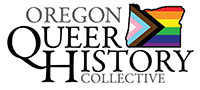 P.O. Box 3646 • Portland, OR 97208-3646 • info@glapn.org
Copyright © 2015, Gay & Lesbian Archives of the Pacific Northwest