Let's start by asking what GLAPN can do for you
GLAPN is a small and cash-strapped organization. Nonetheless, we have the respect of the communities we serve, and members of GLAPN have good standing in their own professional areas.
We offer speakers, tabling, and exhibits anywhere where we can further our own mission to collect, preserve and share the history of sexual minorities in the Pacific Northwest.
We don't need to be the star of the show: we collaborate gladly with organizations who want a historical component for their programs.
We consult with groups about setting up and maintaining their own archives, gladly sharing knowledge and our contacts in the community.
If you volunteer with us …
We do our best to offer our support and credibility to the people who help us.
We can, at very least, offer Letters of Recommendation to individuals who complete projects for us.
We have successfully supervised interns for academic credit.
We are willing to discuss collaboration, lending our credibility and professionalism to projects which fit our mission and can be accomplished within our time and budget restraints.
We are, frankly, interested in creative ways to leverage other people's energy to expland the awareness of LGBTQ history in the Pacific Northwest. We invite people to tell us what they need from us, in order to make that happen.
Ongoing volunteer opportunities
File conversion, transcription, word-processing
In early 2011, GLAPN established the goal of getting all or part of our Oral History Collection online. That means that in addition to paper transcripts on file at Oregon Historical Society, we would like to have searchable electronic files online, and, when possible, original recordings and perhaps even videos of the interviews. Over the years, material has come to us in a variety of forms, and we need help bringing it to contemporary standards.
Are you able to convert cassette tapes, mini-DVs, .DSS, .WAV, and other audio formats to MP3s?
Do you have OCR software that could acquire digital text from a typewritten or printed original?
Can you transcribe an interview from audio into a word-processed file?
Are you willing to work at home on these relatively tedious tasks?
If so, we would like to hear from you at volunteer@glapn.org.
Do you have information to share, or materials to donate?
You make history every day.
It's probably not first on the list of things you're concerned about. Self-censorship in your daily life might lead you to devalue your experience as a member of a minority group. Plus you may not like to think of yourself as a historic artifact.
Still, if you have lived as an LGBTQ persion – or an LGBTQ-friendly person – long enough to be reading this, you probably have some stories to tell. And, trust us, somebody would benefit by hearing them.
If you have scrapbooks, pictures, documents or reminiscences about LGBTQ life in the Pacific Northwest anytime in the last hundred years or so, GLAPN would like to hear from you. Perhaps you'd like to share your archives – or give them to us outright! Perhaps you could volunteer to be the subject of an oral history interview. We could talk about it.
GLAPN will benefit by growing a bigger, more cmprehensive archive. You'll feel good about doing something to combat the isolation and self-deprecation that all-too-frequently are part of LGBTQ life. Somebody out there will be glad to know they are part of a continuum, a community with a history, and they really weren't the only one. Everybody is going to win.
Send us an email now, while you're thinking about it!
GLAPN's wish list
It probably goes without saying, but gifts of cash are always welcome, and because we are a (503) (c) (3) organization, they are tax-deductible
We have an ongoing need for archival-quality file folders and document sleeves to protect some of our acquisitions from environmental wear and tear.
We would love to have, or have access to, industrial-strength scanning and Optical Character Recognition capability. We have material that could be posted online fairly easily if we could get beyond the one-page-at-a-time OCR applications that come with the average desktop scanner.
If you can help, send us an email now, while you're thinking about it!
GLAPN depends on donations. A click on the button below will take you to PayPal, where you may securely make a donation using your credit card.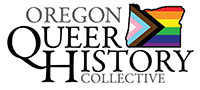 P.O. Box 3646 • Portland, OR 97208-3646 • info@glapn.org
Copyright © 2015, Gay & Lesbian Archives of the Pacific Northwest