For sale from GLAPN and our friends
Since January, 2008, GLAPN has teamed with Portland's Q Center to produce a number of events of historic interest to the LGBTIQQ community. More are in the planning stage. Collectively known as the Our Stories series, these oral history programs feature LGBTIQQ activists and elders gathering to share personal reminiscences around significant issues or anniversaries. All of these programs were videotaped.
Two of these programs are now available on DVD, and we're selling them to raise money so we can edit and produce the rest. Buy individual copies through our secure PayPal links (below) and we'll mail them to you. Get one for $20; add two more for $15 each. For more than 3, contact us so we can figure out the best deal for shipping.
_________________________________________________________________________
Our Stories: Pioneers in Oregons fight for gay rights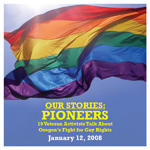 On January 1, 2008, the Oregon Equality Act, a comprehensive set of anti-discrimination laws, went into effect to end discrimination against homosexuals and queer-identified individuals in all facets of Oregon's governance and society. On January 2, Oregon's Domestic Partnership Law went into effect to honor and protect the rights of "domestic partnerships," as a compromise to previous failed efforts to enact gay marriage within the State. It took 35 years of struggle and sacrifice to see this legislation through.This program was recorded on January 12, 2008, at the Portland Q Center. It honors just a few of the stories from some of Oregon's leading pioneers in the struggle for gay civil rights.
To read more about this program, click here.
---
Native American Two-Spirit Conference, May 26, 2010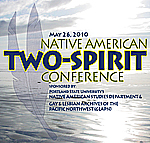 Almost universally, Native American societies honored their LGBTQ members, believing that they were blessed with both male and female spirits. Both male- and female-born Two-Spirit children were identified early and their gifts were cultivated. They became teachers, healers, shamans, ambassadors, war chiefs, sacred artists … in many ways, the heart and soul of tribal societies.
Christianity brought homophobia to the tribes, and this light was extinguished, sometimes violently. Only recently have tribal cultures begun recovering their Two-Spirit heritage. On May 26, 2010, Raven Heavyrunner (Blackfeet) and Amanda Wright (Klamath), shared the stories of their awakenings as Two-Spirits and discussed the revival of the Two-Spirit tradition. They were introduced by Dr. Cornel Pewewardy (Comanche-Kiowa), Director and Professor of Indigenous Nations Studies at Portland State University. PSU's Native American Student Center, and the Gay & Lesbian Archives of the Pacific Northwest (GLAPN), produced the event, and GLAPN's friend Jim Lockhart captured this video.
Click here to read more about the Two-Spirit Conference.
---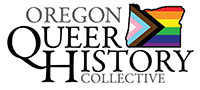 P.O. Box 3646 • Portland, OR 97208-3646 • info@glapn.or
Copyright © 2015, Gay & Lesbian Archives of the Pacific Northwest