Queer Heroes Northwest 2018:
Jensi Albright & Carmen Gutiérrez
Jensi Albright is a North American from Maine. Carmen Gutiérrez is a Central American from El Salvador. They met in Portland, Oregon in 2004, fell in love and began a decade-long battle for a permanent life together.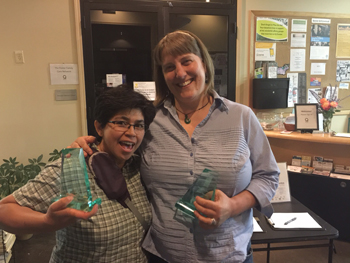 Because of problems in Carmen's home country, it was dangerous for her to return there – she stayed and fought for immigration status. Had they been a straight couple, they could have married in the U.S. and Carmen could have received her green card. However, at that time the federal Defense of Marriage Act (DOMA) forbade any type of federal level same-gender marriage recognition which could impact immigration matters. 
Carmen and Jensi battled for a change to DOMA, for immigration reform including gay binational couples, and for marriage equality. They met repeatedly with legislators to share their story and lobby for change; Jensi and her mother joined other advocates in Washington DC to meet with Senators and Representatives from many states. 
In 2012, upon winning marriage equality in neighboring Washington, the couple married the first day possible in Seattle City Hall. Then, with support from Causa, an Oregon Latino immigrant rights group, they took a leap of faith into the spotlight holding a public second wedding ceremony as part of Causa's annual Immigrant Action Day in Oregon's capitol. (http://www.oregonlive.com/pacific-northwest-news/index.ssf/2013/02/portland_women_use_wedding_cer.html)  
Jensi and Carmen worked with filmmaker Dan Sadowsky who made "Love and Country", a documentary about their struggle to just have a life together. (http://www.domaproject.org/2013/06/video-love-and-country-in-portland-oregon-jensi-carmen-build-a-life-together-for-nearly-a-decade-and-advocate-for-an-end-to-doma.html). 
In 2013, in United State v. Windsor, the U.S. Supreme Court overturned the portion of DOMA that restricted the federal government from recognizing same-gender marriages. That finally allowed Carmen to gain legal immigration status as a permanent resident and a few years later, apply and become a US citizen. (http://www.opb.org/news/article/oregonians-granted-us-residency-through-same-sex-spouses/)
In 2015, Carmen and Jensi were recognized for their advocacy when they were given the Mariposa Award by Portland Latino Gay Pride (since been renamed PDX Latinx Pride): http://www.pqmonthly.com/community-news/23351.   
We begin announcing a hero per day on June 1, and the heroes' posters are unveiled in a reception at Q Center on June 7, 2018, 5-8PM. The public is invited. Queer Heroes' posters are displayed all year at Q Center.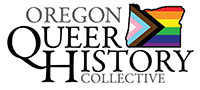 P.O. Box 3646 • Portland, OR 97208-3646 • info@glapn.org
Copyright © 2017