Northwest LGBTQ history since 1970: index of articles
Timelines
Significant dates in early Oregon LGBTQ history.
Here's a quick look at significant dates in Oregon's LGBTQ community.
A history of Oregon's trans community, in timeline format. A work in progress.
A work in progress, looking at programs and services for LGBTQ Youth in the Portland area.
Miscellaneous Pictures from LGBTQ+ History
In no particular order, here are some pictures we're proud to share. Please credit GLAPN.org for their use, or contact us through our email link for more information.
| | |
| --- | --- |
| | The Oregon Citizens Alliance Ballot Measure 9 was an effort in 1992 to amend Oregon's constitution with anti-gay language, and to prohibit the LGBTQ+ population from claiming a "special rights" minority status. The OCA got it on the ballot via initiative petition, so there was a run-up of more than a year of signature-gathering and publicity. Measure 9 was defeated statewide, 56% to 44%. We devote an entire section of the website to the 30th anniversary of the ballot measure at this link, but here's an image of the Measure 9 page from the 1992 Oregon Voters Pamphlet. Click on the image at left to see a larger version. |
| | The Lon Mabon Paper Doll Cut-Out was one of the stellar remnants of the No on 9 campaign in 1992. While other community members launched dead-serious efforts to fight the OCA, a local church organist and a couple of artists paid to register The Special Righteousness Committee as a political action group, and went after the Oregon Citizens Alliance with satire. Read more about the group at this link or click on the image at left to see a larger version. |
| | |
The George T. Nicola Fellowship
At the Pride kickoff party in June 2018, members of Portland's LGBTQ community teamed up with GLAPN and Pride NW to create the George T. Nicola Fellowship, to offer cash support and mentoring to young LGBTQ historians interested in exploring the history of the community. On Thursday, February 20, 2019, the first George T. Nicola Fellows will present their work in a program that is open to the public, at the Capital One Café, 625 SW Broadway, in Portland, at 6:30PM. Nicola Fellow Shir Lev Bach and runner-up Jayden Dirk will be discussing their research, and community elders will offer feedback and context. There will be refreshments!
Dr. Alan Hart appears to have pioneered the use of surgery in gender affirmation, in 1912 in Portland. Beginning in the late 1960s, Portland was once again known as a center for transgender research and surgery. In 2019-2020, Shir Bach traced some of that history in his work as a George T. Nicola Fellow.
"There is No Place in the City:" Queer Youth, the Counterculture, and Portland's Early Gay Rights Movement, 1968-1974, by Jayden Dirk.

In 2018, Jayden Dirk, a student at Whitman College, spent a summer internship studying the earliest organizations and services focused on Portland's LGBTQ youth community. He completed this work in 2019 with a grant from the George T. Nicola Fellowship.
Histories and dates
In 1970, a young man attempted to run a personal ad in Portland's Willamette Bridge. It read, "Gay, longhair, young, lonely, seeks meaningful relationship with same." The ad never ran, but it turned out to be one of the more important things that never appeared in print in Portland.
Every year between 1973 and 2007, bills for LGBTQ civil rights were proposed to the Oregon State Legislature. Queer civil rights finally became law on January 1, 2008. Here are recollections of the early struggles.
An explanation of the significant advancements, and organized challenges to, legal equality for LGBTQ people in Oregon.
LGBTQ civil rights came to Oregon one small step at a time, as various jursdictions responded to particular challenges. Here's a survey of litigation and legislation that shaped the civil rights scene that we know in 2013.
Some anniversaries that are significant in the struggle for LGBTQ civil rights in Oregon – a work in progress.
Starting with domestic partner benefits, the idea that LGBTQ couples could gain legitimacy in Oregon.
Eight months before the American Psychiatric Association took homosexuality off of its "sick list," the Oregon Chapter of the APA was on record as supporting gay civil rights.
October 2017 was the first LGBTQ History Month since an openly LGBTQ governor had been elected anywhere in the nation. Given that unique situation, Oregon's Governor Kate Brown's official history month proclamation has special significance.
The LGBTQ community honors its own, and, as time goes by, more groups from the wider community recognize the accomplishments of queer individuals and groups that serve the LGBTQ population.

Articles about Black LGBTQ History in Oregon, edited by George T. Nicola

This is an effort to get all of GLAPN's information about Black LGBTQ community activism into one place. It links to community publications and articles in various places on GLAPN.org.

A history of LGBTQ Oregonians and Mental Health, 1970-2017, by George T. Nicola

At every stage in the development of Oregon's LGBTQ community, we have been on our in in developing mental health services we could trust. George Nicola, who has been around since the beginning of LGBTQ organizing in Portland, shares this retrospective of the LGBTQ mental health scene in Portland.

Oregon Origins: Events and Actions in Oregon that Advanced LGBTQ Equality on a National Level, by George T. Nicola

Some events, strategies, and court cases that originated in Oregon had national repercussions in the national struggle for LGBTQ equality.

Unwanted Child – Oregon and the 14th Amendment, by George T. Nicola

Oregon legislators first ratified, and then un-ratified, the 14th Amendment to the U.S. Constitution over racial concerns. Oregon's first African American legislator led the drive for re-ratification in 1973.

Articles about Oregons Asian Pacific Islander LGBTQ Community, edited by George T. Nicola.

This is an effort to get all of GLAPN's information about Oregon's Asian Pacific Islander LGBTQ community activism into one place. It links to community publications and articles that appear elsewhere on GLAPN.org

Latinx LGBTQ Community, edited by George T. Nicola

This is an effort to get all of GLAPN's information about Oregon's Latinx LGBTQ community activism into one place. It links various resources to articles that appear elsewhere on GLAPN.org

"There is No Place in the City:" Queer Youth, the Counterculture, and Portland's Early Gay Rights Movement, 1968-1974, by Jayden Dirk.

In 2018, Jayden Dirk, a student at Whitman College, spent a summer internship studying the earliest organizations and services focused on Portland's LGBTQ youth community.
In 2019-2020, Shir Bach did this work while he was a George T. Nicola Fellow.
In the mid-1970s, Oregon Governor Bob Straub commissioned a task force to study and document anti-LGBTQ discrimination in the state. The Task Force's report ran to 162 pages, reproduced here in PDF format with a brief introduction by George T. Nicola.
Anti-Gay Ballot Measures in Oregon
Exact counts are difficult, but it appears that Oregon has suffered through more anti-gay ballot measures than any of the other United States. Here's a list a list and an explanation of the most significant ones.
The "Oregon System" of initiative, referendum and recall, was designed to give Oregon voters a direct voice in governance. However, the initiative process has also been used against the LGBTQ population in an effort to limit civil rights.
On November 3, 2012, GLAPN, Q Center, Basic Rights Oregon and the Human Rights Campaign gathered at Q Center to mark the 20th Anniversiary of the defeat of the Oregon Citizens Alliance's Ballot Measure 9. This background piece was provided to participants and to the press.
Pat Young is a founding member of GLAPN and she also served as president and in other board positions since our founding in 1994. She also taught the LGBTQ History Capstone class in the University Studies program at Portland State University for many years. This link opens a PDF version of the thesis she wrote for her Master of Arts in History at Portland State in 1997. The document is 230 pages long. Open it at this link or by clicking on the title, above.
LGBTQ Organizations
Organizations evolve to meet new challenges, and personnel change with the years. Here's a look at Oregons LGBTQ organizations from the beginnings in the 1970s through the marriage campaigns of 2014. Read More …
research.

The Imperial Courts of the Pacific Northwest: Oregon, Washington and British Columbia. Compiled by George T. Nicola, Harold Strong, and Daniel Barrows

In terms of service, impact, and sheer duration, there is nothing in the LGBTQ community to equal The Imperial Courts. GLAPN and members of the Imperial Sovereign Rose Court (Portland, Oregon) collaborated on this listing of regional Imperial Court resources.
LGBT folks who came out in the 1980s were interested in alternatives to the gay bar-and-bathhouse social scene. Square dancing was one of the activities that caught on, and GLAPN historian Duck Burdon has been a member of the Rosetown Ramblers since their second meeting.
As complete a list as we can find of significant publications in Portland's LGBTQ community.
LGBTQ people in elected or appointed office
While Oregonians debated LGBT rights through local and statewide ballot measures, LGBT people were being elected, and re-elected, to public office. Here's a partial list.
Some reflections on Oregon LGBTQ history
The "B" in LGBTQ – some individuals who identify as bisexual, and who promote bisexual visibility in our community.
Oregon's LGBTQ movement has had notable successes on many fronts in the continued struggle for equality. Here's a historian's look at the things that went well over the years. Read more …
The list includes a few interesting facts about the Oregon LGBTQ movement's history.  Some of these may be unique, some may be firsts in the nation, still others might just be noteworthy.
Social justice efforts aren't accomplished only on a national level or with a few big cities and populous states. All politics start on the local level. Here are some items in Oregon that were firsts or were records that could or did have an eventual effect nationally.
LGBTQ community resources
Here's a look at the programs that developed in the wake of the AIDS crisis, for treatment and support of victims of HIV in various communities across the state.
Since 1979, LGBTQ groups have been stepping up to offer scholarships specifically for members of our community. Here's a list of scholarship providers, and links to other sites with information for LGBTQ students.
This article is not intended to be a complete history of Oregon LGBTQ Prides, but to provide some basic information from which more extensive research can be done.
The purpose of this article is to provide basic information on past and current Oregon LGBTQ (lesbian, gay, bisexual, transgender, and queer) organizations that have been primarily involved in the performing arts. In most cases, these groups have been LGBTQ identified in their names. This article is not intended to include great detail. However, I hope it can provide a base which will allow others to do more extensive work.
A number of LGBTQ citizens have been recognized in the form of awards in their names, that encourage community involvement. Here's a partial list of LGBTQ Oregonians whose names are attached to community awards. Read more …
Speeches, oral histories, personal profiles, miscellany
Former Portland mayor Sam Adams doesn't always get the credit he deserves as an advocate for LGBTQ+ rights, before, during, and after his administration as mayor. Here's an article plus some links to sources elaborating on Sam's track record.
OGALLA is the Oregon Gay and Lesbian Law Association. Oregon Governor Kate Brown was honored at their annual dinner in 2018, and Oregon General Counsel Miska Isaak offered these remarks as an introduction. Read the speech …
Portland author Jeff Stookey provided background for a History Pub program featuring four of Portland's LGBTQ elders: Walter Cole/Darcelle, Holly Hart, Susie Shepherd, and Kathleen Saadat, talking about Portland at the time of Stonewall. Read more and link to the video …
LGBTQ young people found a welcome at one or the other of the all-ages nightclubs owned by Lanny Swerdlow during the 1990s. The clubs were controversial from the moment they opened, and eventually Portland police were able to close the last of the Swerdlow clubs in 1998, but an entire generation of LGBTQ young people remember The City with affection. Read more …
"Elton Cray is a singer/rapper/songwriter/entertainer from Southern California. Elton uses his artistic ability and performance prowess as vehicles of advocacy for those individuals who cannot advocate for themselves. Elton's music predominantly speaks and caters, though not exclusively, to the everyday life and issues of the African American Community, LGBTQ community, and adolescents at risk."

Salem, Oregon resident Virginia Linder retired at the end of 2015 after a distinguished legal career during which she never attempted to hid her lesbianism. She became a major role model for LGBTQ Americans, especially those who want to pursue the legal profession.
Holly Hart was writing mostly on feminist issues in 1970 at Portland's underground newspaper, Willamette Bridge, when fellow staff writer John Wilkinson proposed the founding of a Gay Liberation Front in Portland. Holly came out at that point, writing in support and organizing a women's presence in the GLF, and subsequently working as an attorney in Portland and serving at a statewide level in early LGBTQ organizations. This is an interview by students in Portland State University's Queer History Capstone, conducted in November, 2000.
John Wilkinson wrote an article in Portland's "underground" Willamette Bridge in 1970 that led to Portland's earliest public gay organizing, and later he and his partner led a successful campaign for marriage equality in the state of Washington. This is a transcription of an interview of John and Dave, done by a Seattle LGBTQ historical organization.
at an August 24, 2013 rally commemorating the 50th anniversary of the 1963 March on Washington, Waterfront Park, Portland, Oregon. Transcript and audio
Deakins describes a moment when she understood the connections between violence, creativity and history, and how it applies to her support of GLAPN, and the study of history in general.
Just Out was a tabloid news magazine which circulated in Portland's LGBTQ community between 1983 and 2013. GLAPN provided short columns on local queer history for the last few issues of the publication, and we're reproducing them here.
In September, 1955, Billye Talmadge, Ph.D., joined a group of other women for a gathering that would lay the foundation for the Daughters of Bilitis (DOB), the first lesbian civil rights group in America.
The Cascade Campus of Portland Community College launched its new Queer Resource Center (QRC) with a grand opening on Monday, October 12, 2015
Openly gay Portlander Trevor L. Chandler was chosen as one of the Top 50 Diversity Figures in Public Life in the Global Diversity List published by The Economist.
This year, the PFLAG Portland family of chapters was recognized for its leadership in developing its network of community-responsive chapters to better serve the diverse Portland Metro area. Read more …
This year, three of twelve Portland Monthly magazine's presents its Light a Fire Awards, (which it describes as their "annual celebration of good deeds" and "annual showcase of local individuals and organizations making Portland a better place to live, love, give, and grow,") are people who have made substantial contributions to Portland's LGBTQ community. Read more …
Incorporated in 1985, Portland based Cascade AIDS Project (CAP) is the oldest and largest AIDS service organization in Oregon and Southwest Washington. Read more …
The Portland Area Business Association (PABA) was founded in 1992 to serve the local LGBT (lesbian, gay, bisexual, and transgender) community and its allies. Read more …
Dom Vetri was a professor of law at University of Oregon in the 1970s, when LGBTQ civil rights were emerging as an issue both locally and nationally. Read more …
As executive director of Q Center starting in 2008, Kendall Clawson built the coalitions that moved the organization into the community mainstream. In 2011, she became a member of Governor John Kitzhaber's senior staff. Read more
Cindy Cumfer has been active in the LGBT community since 1971, and as an attorney, her work with gay & lesbian parenting and partnership issues set trends nationally. Read more …
In October, 2010, George Nicola helped GLAPN rally veterans of Oregon's Queer Civil Rights movement to speak at an "Our Stories" gathering at Q Center. Here's the speech he gave at that event.
Steve Fulmer's activism began as a student at Portland State University in the 1970s. He recalled some of that activism in a presentation for the "Organizing for Social Justice" series at PSU, on October 24, 2013.
This interview was published in two parts, in the February and March, 1982, Portland Town Council newsletter, Oregon Gay Rights Report.
A lesbian couple were murdered during the height of Oregon Citizens Alliance organizing in Southern Oregon, by a man who said he "hated homosexuals."
Paulus was a state representative from Salem, and ultimately she became Oregon's first female Secretary of State. This is a reminiscence about her support as an LGBTQ ally over the years.
Rediscovering Family
When the call came to save a niece and nephew from a life in foster care, this gay couple rose to the occasion. Later, they made headlines when they added a biological child of their own to the family.

Rediscovering Family: Dawn Holt and Shaun Simpkins, by George T. Nicola

When Christopher Holt came out of the closet, so did his parents. Shaun Simpkins is active in PFLAG Portland in a variety of support roles; Dawn Boyles Holt now serves as a member of the PFLAG National Board of Directors and is PFLAG's Regional Director for Oregon, Washington, Montana, Idaho, and Alaska.

Rediscovering Family: Audria M. Edwards, by George T. Nicola

Audria Edwards raised six children, four of whom were LGBTQ, and cared for many others through PFLAG Portland, the first African-American president of a PFLAG chapter in the USA. A scholarship fund now bears Audria Edwards' name, still supporting the LGBTQ community in her memory.

Rediscovering Family: Carmen Gutierrez and Jensi Albright, by George T. Nicola

Jensi and Carmen were married, but Carmen couldn't get a green card because the Federal Defense of Marriage Act prohibited recognition of same-sex couples. Their activism around this issue was precedent-setting and inspirational.

Rediscovering Family: Keith, Antoinette and Khalil Edwards, by George T. Nicola

The Edwards family founded Portland's Black PFLAG chapter, have seen it grow through its current and expanded identity as Sankofa Cooperative, and spread their support far and wide through communities of color among LGBTQ young people.

Rediscovering Family: Bill and Ann Shepherd, by George T. Nicola

When their daughter, Susie, came out as a lesbian to her parents in the early 1970s, Bill and Ann Shepherd didn't know quite what to do. They studied the situation and, with another couple, founded the group that became PFLAG Portland.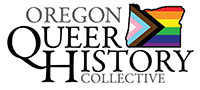 P.O. Box 3646 • Portland, OR 97208-3646 • info@glapn.org
Copyright © 2015