Speech by Misha Isaak introducing Governor Kate Brown
at the 2018 OGALLA dinner, October 19, 2018
[OGALLA is the Oregon Gay and Lesbian Law Association. There's more information on OGALLA at this link.]
Misha's note to GLAPN explaining the context of this speech:
"This is a speech I gave at the OGALLA dinner last year introducing Governor Brown, which lists most of her achievements as Governor on LGBT+ issues.  (The one appointment not mentioned in this speech that comes to mind is… her appointment of me as her General Counsel. As far as I know, I am the first openly gay General Counsel to an Oregon Governor.)"
About Misha Isaak
Misha Isaak earned his bachelor's degree in political science from Portland's Reed College and his law degree from the University of Pennsylvania.
Misha clerked for judges of the Ninth Circuit Court of Appeals and U.S. District Court in New Jersey. He later became a litigation attorney at Perkins Coie in Portland. There he was a trial and appellate litigator representing clients in complex business disputes. He also litigated civil rights and constitutional cases involving free speech, equal protection, and privacy claims for business and nonprofit clients.
In 2013, Misha was one of the lead attorneys in the successful constitutional challenge to Oregon's ban on marriage for same-sex couples. In 2014, he was named by the LGBT Bar Association among the class of 2014 Best LGBT Lawyers Under 40.
In early 2015, Kate Brown became Oregon governor. Soon after taking office, Governor Brown appointed Misha her Deputy General Counsel. Two years later, when the sitting General Counsel was appointed to a judgeship, Governor Brown appointed Misha to the General Counsel position.

Text of actual speech
It is my great honor to have been asked to introduce my boss and friend, Governor Kate Brown, tonight's award of merit recipient.  I'd like to take a few minutes to tell you a bit about Governor Brown.  A few public things.  And a few private things.  (I promise, Governor, I won't break attorney-client privilege.)
So, for starters, the public things.
Kate Brown, Oregon's 38th governor — our governor — is America's first and only openly LGBT governor.
Kate Brown has been an advocate for our community's civil rights for her entire career in public life.  As Senate Majority Leader, in 2007, Kate Brown was the lead sponsor of two landmark pieces of legislation that year: the Oregon Equality Act and the Oregon Family Fairness Act.  The first bill extended Oregon's antidiscrimination laws to protect LGBT people.  The second bill established domestic partnerships for same-sex couples, guaranteeing all of state-law's rights and benefits of marriage to same-sex couples who, under the Oregon Constitution, couldn't marry.
According to the Human Rights Campaign, still today – 11 years after Kate Brown passed the Oregon Equality Act – only 20 states have laws that protect LGBT people from discrimination.
As Governor, Kate Brown has signed bills into law that:
Change the statutory definition of "marriage" to include same-sex couples;
Change all of state law's references to marriage and spouses to apply equally to same-sex couples;
Ban conversion therapy; and
Allow transgender people to change their birth certificates without having to go to court;
As Governor, Kate Brown has also directed state agencies to adopt rules and policies that are inclusive of LGBT people.
Under her leadership, the Oregon Department of Transportation began issuing drivers licenses and ID cards with a nonbinary gender option;
At her direction – and even before the Obama Administration acted – the Oregon Department of Education issued guidance to schools throughout the State to provide trans students access to facilities associated with their gender identity;
At her direction, the Oregon Department of Corrections adopted some of the most progressive policies in the nation about treatment of trans inmates.  Governor Brown forced the Department to change its practices in providing medical care to its trans-identified population.
As Commander-in-Chief of the Oregon National Guard, Governor Brown ordered the Guard not to follow the transgender military ban imposed by President Trump; and
Governor Brown filed an amicus brief opposing a lawsuit that challenged the Dallas School District's policy of accommodating transgender students.  In that case, the Oregon federal court (Judge Marco Hernandez) adopted the position of Governor Brown's administration that Oregon's antidiscrimination law requires schools to accommodate trans students.
Governor Brown has also done extraordinary work to increase the diversity of Oregon's judiciary.  Incredibly, Governor Brown has appointed 50 judges in Oregon.  Among them, she has appointed:
Four women to the Oregon Supreme Court, making the seven-member court a majority of women for the first time in state history.
The first two women of color ever to serve on the Oregon Supreme Court.
She has tripled the number of African American judges in Oregon, from two to six, including the first African American judge outside Portland (Ulanda L. Watkins) and the first in Eastern Oregon (Raymond D. Crutchley).
She appointed Fay Stetz-Waters, the first openly LGBT judge in Linn County.  And Andrew Lavin, the only openly gay man on Oregon's trial court bench.
In addition to demographic diversity, Governor Brown has diversified Oregon's courts in other ways.  For instance, her appointments of Rodger DeHoog, from Central Oregon, and Bronson James, originally from Southern Oregon, reflect the state's regional diversity.  She has appointed to Oregon's trial courts, 11 former prosecutors, 11 former criminal defense attorneys, and 15 former civil litigators.  She has appointed two judges who, as children, were in the foster care system (Xiomarra Y. Torres and Patricia McGuire), and at least one judge who has been a foster parent (J. Channing Bennett).  I could go on

Now, that's the public information.  You may know all that stuff already.  Here are some things you don't know.
When the Dallas School District case arose, it was Governor Brown personally who insisted that the State participate in the case.  I opened for discussion the politics of leading so visibly on an issue as controversial as bathroom access in schools.  But Governor Brown immediately shut down the conversation by saying, "We're filing the brief, and my name's going to be on it."
Increasing the diversity of Oregon's courts may seem easy, but let me tell you, it hasn't been.  In Governor Brown's first year in office, we struggled to make diverse judicial appointments because our applicant pools lacked the diversity we had hoped for.  Governor Brown pushed us to do more to work with applicants with diverse backgrounds to improve their chances in the appointment process and to work with diversity bar organizations to recruit more and better applicants.  Governor Brown's record on judicial appointments is as good as it is because she has made it a priority and has kept pushing.

So, look, if you weren't already convinced, I hope you now understand what a champion Governor Brown is for civil rights and equity.
But beyond being our champion, you may not know that Governor Brown is also truly an all-around awesome human being.
I have never met anyone as up-beat, as optimistic, and as hopeful as Governor Brown is.  In the last three and a half years, I have worked with Governor Brown through some really tough moments.  The kind of moments where tears are shed.  The kind of moments where any ordinary person would collapse under pressure.  And, even in these moments, I have never seen Governor Brown flash anger.  I have never seen her place blame.  I have never seen her dwell on feelings of frustration.  She is level-headed, collaborative, team-oriented, and unwavering in her pursuit of what's right for Oregon.
She is also perhaps the most humble person I have ever met.  It's almost like, sometimes, she forgets that she's THE GOVERNOR. 
When people ask me what it's like to work with her, I tell this story:  About two and a half years ago, when my daughter Franny was a newborn, I attended a professional event and found myself standing in a small group of four or five people, including my boss, talking about my new baby.  "Are you getting any sleep?"  Someone asked.  I responded, "Not really, no."  And then I turned to Governor Brown and joking said, "Maybe you would like to come over to my house to take care of Franny in the middle of the night so I can get some sleep."  The others chuckled politely in the way you do when someone tells a not-very-funny-joke.  But Governor Brown just looked at me confused and said, "I'm not very good with crying babies."  She didn't really get the premise of my joke – that it would be preposterous to ask THE GOVERNOR to watch my baby in the middle of the night.  And she didn't get the premise because, in her mind, that's not really preposterous at all.
I have often thought that if every Oregonian got to know the Kate Brown that I know – if every Oregonian knew the conscientious, hardworking, collaborative, thoughtful, fair-minded, and optimistic person who I get to work with almost every day – then she'd be the most popular governor in America.
So it is a special honor for me to have been asked to present Governor Brown with OGALLA's award of merit, recognizing her extraordinary lifetime commitment to the LGBT community.  OGALLA could not have picked a more deserving recipient.
Governor Kate Brown.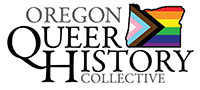 P.O. Box 3646 • Portland, OR 97208-3646 • info@glapn.org
Copyright © 2019, Gay & Lesbian Archives of the Pacific Northwest