A History of LGBTQ Oregonians and Mental Health 1970-2017
By George T. Nicola, GLAPN
Last updated January 15, 2018
I am writing this article so that I can put into writing my knowledge of the history of Oregon mental health attitudes toward and services for LGBTQ people. Most it will be in Portland metro because that is where I live and where most other openly LGBTQ Oregonians live. This is not intended to be a thorough discussion of the subject. However, I hope that other historians use this as a basis for further study.
I am trying to use terminology that was predominate at the time of segments I am covering. Initially, our movement was called "gay". Later "gay and lesbian" although the term "gay" is still often used today to mean both. Eventually, the term "LGBT" or "LGBTQ" was used for lesbian, gay, bisexual, transgender, and queer.
I am not a mental health professional, so I do not provide mental health advice. If you need mental health assistance, please contact a qualified professional.
Political awaking

Oregon gay men and lesbians first began organizing politically through the Portland Gay Liberation Front (GLF) in early 1970, a bit later through the Eugene Gay People's Alliance. At that time, we were complete pariahs – branded as criminals by the legal system, as mentally disordered by the psychiatric establishment, as morally degenerate by most religions. It was almost impossible to find positive literature on homosexuality or gender nonconformity. It was difficult to find others like us, so we did not even have the benefit of mutual support. In Portland, some did manage to find gays bars where they felt relatively secure after the mid-1960s.

Many LGBTQ people were also rejected or estranged from their families and were often the victims of violence and job discrimination based on their real or perceived sexual orientation of gender identity. Those problems continue today, though much less frequently. (http://glapn.org/6026EqualityOrganizations.html)

If you have feelings which are demonized, and you don't know other people who share those feeling, you can develop a very negative view of yourself. A major problem that LGBTQ Oregonians faced prior to 1970 was their isolation. This was the first factor addressed by our movement. The Portland GLF was launched through a newspaper called the Willamette Bridge.

John Wilkinson and Dave Davenport

In early February of 1970, The Bridge as it was often called, featured an article by 21-year-old gay staff member John Wilkinson. An anonymous man had tried to run an ad that read "Gay, longhair, young, lonely, seeks meaningful relationship with same. Answer with ad in the Bridge." The Bridge would not run the ad because they thought it was sexual. So, Wilkinson responded with an article encouraging other gay people to organize something like a gay liberation front recently launched in other American cities. He continued "It's up to us, now, to gain the courage to live our lives as we are, without fear, but with openness and excitement." He ended his letter "I hope to see answers from lots of people in the mail, because there should be very few of us who aren't reflected in this ad: gay and lonely."

Holly Hart

John did get lots of response and the following month organized the first meeting of the Portland Gay Liberation Front (GLF). Holly Hart, a young lesbian Bridge staff member, joined him, as did a young man named Dave Davenport who soon became John's life partner and eventually his husband. Starting in the summer, weekly meetings were held. In mid-1970, the GLF's organizers started publishing gay positive articles in the Willamette Bridge. Phone numbers were listed allowing closeted gay people to meet other gay people. Meetings were held with their times and locations published. This was revolutionary for Oregon. It sent gay Portlanders a clear message that they were not alone, and made them feel better about themselves. It also led to a sense of community and belonging which is essential to individual good mental health. (http://glapn.org/6130nicolagaymovement.html)

Pioneering lesbian activist Cindy Cumfer notes that the Portland "women's community" which grew out of the GLF, was the most visible segment of what was at that time called "the gay movement". She explains that this was a largely lesbian grouping "organized around collective households, social events, athletic activities, and to some degree gay bars." It "founded and was hugely involved in numerous nonprofit organizations." Cindy notes, "It was an often-intentional effort to support woman-identified woman energy, to consider and create women-centered non-oppressive values, to create communal spaces where women could interact, and to fight oppression." (http://glapn.org/6027PersistentOnes.html)

Some lesbians eventually left the cities for rural areas which were largely in southwest Oregon. This "women's land movement" has been documented by lesbian historian Heather Burmeister. For an example, see http://pdxscholar.library.pdx.edu/cgi/viewcontent.cgi?article=2079&context=open_acces s_etds.

Earliest mental health methods that were considered professional

Many of the early Portland gay liberationists were students at Portland State University (PSU). Some of the males reported that a counsellor on PSU's staff had recommended a way for them to overcome their homosexuality. The counsellor offered to arrange for them to access the services of a female therapist who would "cure" them by demonstrating the right way to have sex with a woman. I don't know of anyone who took the offer. I also don't know any gay people who went to a psychiatrist to be "cured" of their homosexuality at that time. Today, PSU appears to be very supportive of its LGBTQ students.

The American Psychiatric Association in Oregon

Professional standards of mental health are generally set by the American Psychiatric Association (APA). The Diagnostic and Statistical Manual of Mental Disorders (DSM), published in 1952, included homosexuality as one of those disorders. (https://health.howstuffworks.com/mental-health/mental-disorders/dsm-diagnostic-and-statistical-manual-mental-disorders.htm)

In the 1972, a number of us got word that the APA was holding a convention in Portland. Some, mostly lesbians, picketed. Others, including quite a few lesbians and myself, attended some parts of the convention where speakers talked openly about how people could overcome their homosexual orientation by therapy. One of the speakers said this was the best way their patients could be happy in a homophobic society. In one room of the convention, vendors displayed machines that were used to show male homosexuals pictures of attractive men, then administer a painful electric shock. This was supposed to "cure" men of homosexual feeling, but I am sure it never had the desired outcome.

Ira Pauly

Unknown to me at the time, there were psychiatric professionals in the background who were on our side. In early 1973, I wrote and lobbied for Oregon's first sexual orientation civil rights bill. Few employers would hire someone who was mentally disordered, so I sought support from the mental health establishment. Someone introduced me to Dr. Ira Pauly who at that time worked for what is today called the Oregon Health & Science University (OHSU). Dr. Pauly came back to me within a week or so, bearing a supportive statement from the Oregon District Branch of the APA dated April 17, 1973. The statement explained that "there is no proper medical basis to accord homosexuals less than full and equal protection. No evidence exists that proves that homosexuals function less well in occupations than heterosexuals." Thus, "A policy of judging job applicants on their individual merit would be most consistent with the furthering of each person's mental health."

The statement concluded: "We therefore would support legislation that would ban discrimination on the basis of sexual orientation in basic areas of human rights such as employment, housing, public accommodation, and education. Specifically, we endorse HB 2930 now pending before the Oregon Legislature." (http://glapn.org/6181PaulyAPA.html)

This is quite a statement. Here is the state's official psychiatric group saying that gay civil rights would further people's mental health! And all this while the national group maintained that we had a "sociopathic personality disturbance."
 

The APA's national reversal

In December of 1973, the national APA removed "homosexuality" from the DSM, while at the same time advocating civil rights for gays. (http://www.aglp.org/gap/1_history/#declassification)

However: "When the diagnosis of homosexuality was deleted in 1973, the APA did not initially embrace a normal variant model of homosexuality (Drescher 1998, Bayer 1987, Krajeski 1996). In recognition of the opposition, it made a compromise. The DSM-II diagnosis of Sexual Orientation Disturbance (SOD) replaced Homosexuality. Accordingly, individuals comfortable with their homosexuality were no longer considered mentally ill. Only those who were "in conflict with" their sexual orientation had a mental disorder (SOD). This compromise engendered continued controversy. Those opposing it pointed out there were no reported cases of unhappy heterosexual individuals seeking treatment to become homosexual. This problem was addressed in the 1980's DSM-III where SOD was replaced by ego-dystonic homosexuality (EDH)"

This really demonstrates how when people have negative attitudes about themselves because a society maligns them, those in power of that society sometimes blame the marginalized group for the resultant problems. Fortunately, opponents of the APA's new diagnosis "argued that empirical data do not support the diagnosis and that it is inappropriate to label culturally induced homophobia as a mental disorder. The APA Committee agreed with the opponents and the diagnosis of ego-dystonic homosexuality was removed from DSM-III-R (1987)." (http://www.aglp.org/gap/1_history/#declassification)

Early community based counselling

The earliest Oregon community based gay counselling services came from gay psychologist Tom Cherry. In early 2017, I interviewed him for GLAPN's Queer Heroes NW nomination.

Tom Cherry

The Second Foundation of Oregon was established after the Portland GLF. It was more structured and gained a lot of visibility over a longer period of time. Part of this was from its newspaper The Fountain. So, as word got out that they were not alone, many gay people began calling the Second Foundation. Tom was pursuing his PhD in psychology, so he trained Second Foundation phone staffers on how to deal with callers who sought support.

Tom led the successful attempt to create the Counselling Center for Sexual Minorities, the first mental health service in Oregon specifically for LGBTQ people. Given the continued marginalization of LGBTQ individuals, the service was a lifeline for countless.

Tom supervised the Center once it got up and running in the late 1970s. For a time, the Center got some public funding to hire a counsellor and rent an office. Its major counselor was straight cisgender ally Libby Anderson.

Tom directed a non-profit children's mental health agency, "Poyama Land," through the latter part of the 1970s, but he maintained a part time clinical psychology private practice in which his clients were gay men or lesbians. Our current LGTBQ affirming mental health services owe much to Tom's pioneering work. (http://glapn.org/6563TomCherry.html).

Libby Anderson, who now goes by the name Libby Durban, sent me an email elaborating on Tom's information. 

In 1972 while still working on her MS in Psychology at PSU, she was assigned by Dr. Walter Klopfer to do field work with Dave Van Wagner at the Portland office of the Oregon Employment Department.

Dave came out to her during the job interview. He was the first openly gay person she'd ever known.  They soon started group therapy with 6-8 people who were unemployed.  Shortly thereafter, Dave, Tom Cherry, and several others, as well as Libby, started the Counseling Center for Sexual Minorities (CCSM). They felt the most doable action and the most pressing need at that time was a hotline. They trained people to serve on that, publicized it, and began getting lots of calls. This was probably 1972 or 1973.

Dennis Moore, Mari Border, and Libby were hired by CCSM under a Portland FEMA grant.  Larry Copeland of Portland Town Council invited them to share his office space. Once Mari and Libby were alone when they received a phone call from a very angry man saying he was coming down with a baseball bat to attack them.  Fortunately, he believed they were located at Portland City Hall, part of city government. After three months, the grant was cancelled by City Commissioner Frank Ivancie, saying the city was not going to fund a gay date bureau.

After Larry Copeland and Gladys McCoy (at the time, Ombudsperson for Governor Robert Straub and Libby's "best friend") worked with Governor Straub to organize the Task Force on Sexual Minorities in the mid-1970s. Libby was hired by Oregon Human Resources as the executive secretary for the task force. Their work lasted a year. Their first document was a preliminary report to the Oregon Legislative Assembly. A national publication, Sexual Law Review, devoted an entire issue to it. One of the projects had Libby spending several days at the Portland Police Bureau going through arrest records of sexual pederasts and finding they were overwhelmingly heterosexual men.

After Libby graduated from PSU, she went into private practice with Dr. Tom Cherry as her supervisor.  Among her 200 or so clients over the next twelve years were several transgender folks, as well as a number of lesbian and gay couples. They worked on relationship matters, not "sexual orientation."

If people would like to research this further, Libby has donated all her papers to the Oregon Historical Society under the name Libby Durbin. See https://beta.worldcat.org/archivegrid/collection/data/814408882.    

Acceptance by biological family: PFLAG Portland Oregon [You can include photos of the Knapps and Shepherds from http://glapn.org/6308PFLAG.html, along with captions: "Ann and Bill Shepherd" for the first one; "Rita and Charlies Knapp with their lesbian activist daughter Kristan Knapp" for the second one.]

In the late 1970s, Ann and Bill Shepherd, and Rita and Charles Knapp, had become active in LGBTQ issues after their daughters, Susie and Kristan respectively, came out. In 1977 Oregon Governor Bob Straub's Task Force on Sexual Preference, of which Ann was a member, noted the need for a parents' support group. Soon thereafter the Knapps and Shepherds founded Parents of Gays (POG), meeting monthly in the Shepherds' living room. The group eventually changed its name to PFLAG Portland Oregon.

A major problem some LGBTQ people have always faced is rejection by family. So, the founding of PFLAG Portland went a long way to help. Susie remembers that a young man came to her mom alarmed when he overheard his parents say they planned to get him a lobotomy in order to overcome his homosexuality. Susie's mom Ann counselled the young man and talked him out of suicide.

ABOVE: Ann & Bill Shepherd
BELOW: Rita & Charles Knapp
& Kristan Knapp

The last time I checked, there were about 13 PFLAG chapters in Oregon, many of them in rural communities. In many instances, they are the only organizations providing any type of LGBTQ advocacy in their areas.

What we call "coming out" initially involves a process of coming to terms with our own sexual orientation or gender identity. In that sense of the word, parents who discover that their kids are LGBTQ probably go through their own process of coming out. That is where PFLAG can be very effective. In the process of helping the parents, PFLAG can also help the kids, keeps together families who might otherwise be estranged, and contributes the mental health of all involved.    

Acceptance by biological family: PFLAG Portland Black Chapter-Sankofa Collective Northwest

Keith and Antoinette Edwards are politically oriented African American Portlanders who have a gay son named Khalil. In 2009, PFLAG Portland President Dawn Holt encouraged Antoinette to launch a group called PFLAG Portland Black Chapter. It was the first PFLAG in the nation created by and for the black community. Eventually, it relaunched under the name Sankofa Collective Northwest and operates outside the PFLAG structure.
Through the hard work of Antoinette and Khalil, and with support from Keith, the organization does a spectacular job supporting black LGBTQ kids and their families. On June 15, 2017, Antoinette gave an impassioned speech at a reception of Queer Heroes NW to celebrate two award recipients she had mentored: (https://vimeo.com/230390752) The video snippet went viral. A few months later, Antoinette was given a Lifetime Achievement Award for all the work she has done: https://www.pdxmonthly.com/articles/2017/10/16/how-antoinette-edwards-takes-care-of-portland-s-at-risk-youth.

Peggy Hanley-Hackenbruck, MD; clinical professor at OHSU Psychiatry

Special note should be made of the work of Peggy Hanley-Hackenbruck, MD and clinical professor at OHSU (Oregon Health and Science University) Psychiatry. Peggy is openly lesbian.

An associate of hers, Douglas J Hamill, writes "I think that you were an original force in getting LGBT issues into the academic medical community in Oregon."

He mentions the period 1990-1991 "This was the time period when you (Peggy Hanley-Hackenbruck, MD; clinical professor at OHSU Psychiatry) and David Smith, MD (Psychiatry resident) started the Psychiatry monthly small group training discussions regarding gay/lesbian issues for the students and residents on their Psychiatry rotation. These sessions covered the waterfront, so to speak: sexual orientation development; psychiatric, medical and social issues; our personal experiences as G/L people and physicians. I joined you from the Pediatrics department in early 1991 after David finished his residency and we continued to do these sessions regularly for the next year or two."

Of February 1992 he says, "I created a two-week Pediatric Grand Rounds at OHSU on "Homosexuality and Children: Exploring the Myths." Academic first half; youth panel from Phoenix Rising in the second half. John Berger, MD (a Pediatric resident who was also David Smith's boyfriend) helped me out."

Of 1992-1994: "During the OCA [a group that was sponsoring anti-gay ballot measure] years (Measure 9 in 1992; Measure 13 in 1994) you worked with the Oregon psychiatrists and I worked with the Oregon Pediatric Society to get formal political opposition from these medical groups (getting resolutions passed, writing the ballot statements, getting press releases). We also got involved (May 1994) with the American Association of Physicians for Human Rights (the early name of the Gay and Lesbian Medical Association, as it's now known) to work on mental health and medical issues in Oregon, in the wake of the OCA efforts. As I recall, you and I sort of dovetailed our medical work with our work in the religious community, through People of Faith Against Bigotry. I recall giving talks either on Homosexuality and children or medical needs of Gay and Lesbian Adolescents at Duke, UC Davis, GLMA and county medical societies around "red state" Oregon (Medford, Bend, Coos Bay and Eugene)."

Of April 1994: "The first time L/G issues were brought into the medical student curriculum at OHSU ("Sexual Orientation Issues and the Practice of Medicine" as part of the PCM course). Creators/presenters were Jocelyn White MD, Melinde Muller (medical student and a driving force), you and me. Around 1996 it eventually went from an ad-hoc presentation to a scheduled/annual part of the PCM curriculum, involving community L/G physicians as small group session leaders. It remains a part of the medical student curriculum at OHSU to this day, although it has changed markedly in both substance and tone, as students and faculty have gone from being an ignorant and sometimes resistant audience to knowledgeable and wanting to better incorporate L/G (and now T) issues into their training and practice."

"So, those are the early L/G efforts that I recall in academic medicine in Oregon. It's sort of strange that Psychiatry and Pediatrics were the forces that combined so creatively. In some ways, I think we have the OCA's "perverse" political machinations to thank for that! Oregon was focusing on homosexuality and children for those five years and we were sort of in the right place at the right time."

Phoenix Rising

Portland Town Council was an early Oregon group dedicated to equality for gay men and lesbians. In the late 1970s, PTC divided into three entities. One of them, Town Council Foundation, did the educational work. It eventually became a gay and lesbian counselling center called Phoenix Rising. See http://glapn.org/6026EqualityOrganizations .html.

More recently my friend Patricia "Patti" May (http://glapn.org/6539PattiMay.html) explained the development of Phoenix Rising. It operated from about 1979 to 1999. It hired counsellors, and its clientele were gay men and lesbians. It got some of its budget from an annual fundraising dinner. Long time African American gay activist Harold Strong was on its board for a time.

Hanley-Hackenbruck, discussed in section 7 above, was instrumental in establishing Phoenix Rising.

In the late 1990s, someone who handled Phoenix Risings' finances absconded with its money. In 1999, it was sold to Network Behavioral Health. That organization eventually merged into Cascadia Behavioral Healthcare.

Quest Center for Integrative Health

Quest Center for Integrative Health originated as a psychosocial support services provider for people living with HIV/AIDS. It eventually expanded its services well beyond that. (https://trilliumfamily.org/advocacy-platform/keep-oregon-well-featured-mental-health-hero-for-may-30th-2015-quest-center-for-integrative-health/) 

According to its web site, Quest Center for Integrative Health "has been meeting the holistic healthcare needs of Oregonians living with HIV since 1989. Today, Quest's HIV Services department continues to serve this community through three Ryan White-funded programs as well as streamlined access to the agency's broader culturally competent services. At Quest, people living with HIV/AIDS (PLWHA) are accompanied in their journey to wellness with both individual and community support services." For details on their services, see their web site at http://quest-center.org/hiv-services/.

Into the 21st Century

It appears that by the start of the 21st Century, LGBTQ counselling became mainstream. By that I mean, most counselling services were willing to work with LGBTQ people in a nonjudgement way. They counsel them without the belief that their sexual orientation was the source of their problem. I don't know if transgender people receive mainstream counselling that is as accepting.

However, there were still mental health professionals who specialize in treating members of the LGBTQ community. Portland's Q Center maintains a list of mental health professionals who are open to LGBTQ clients: LGBTQ+ Resources Search Tool. One person on that list, Brad Larsen-Sanchez, was gives the 2017 Mental Health Hero Award by Trillium Family Services. (https://trilliumfamily.org/trillium-news/keep-oregon-well-featured-mental-health-hero-may-19th-2017-brad-larsen-sanchez-psyd/) Brad's clients are predominantly LGBTQ. Brad shares his practice Mental Health & Wellness with his husband Adrian Larsen-Sanchez who is also a psychologist. Adrian does a lot of work for the Latino community and immigrants generally. One service he provides is evaluations for immigrants seeking a hardship waiver in order to stay in the U.S. 

Conversion therapy

Unbelievably, there are people well into the 21st Century who claim to be able to "cure" homosexuality through a type of religious regimen called "conversion therapy". Obviously, that is just as fraudulent as faith healing. One of Kate Brown's first acts as Oregon Governor was to sign the Youth Mental Health Protection Act, which bans licensed mental health providers from engaging in conversion therapy practices on LGBTQ youth in Oregon. (http://www.basicrights.org/featured/governor-kate-brown-trailblazer/) [Use a photo of Kate Brown with the caption of her name maybe from http://www.oregon.gov/gov/Pages/Index.aspx]

Academia's Jacob Johnson

There may be considerable content in the academic study of LGBTQ mental health. I am most familiar with Jacob Johnson who has taught a course at Portland State University. It is called Lesbian, Gay, Bisexual, Transgender, and Queer Psychology- 410.

He first taught this course in 2016. These excerpts are from an email he sent me. He explains

"I was the creator and instructor for the course. This is the first psychology course of its kind at PSU and I have taught the course three times over the past two years to around a total of 100 students. When I developed the course the most recent textbook was published in 2010, which is lacking in current research and social trends. My course focuses on an introduction to LGBTQ psychology and emphasizes key historical events from Europe and the United States. In addition, I teach about the fundamental theories in psychology around essentialism, constructionism, liberalism, radicalism, feminist theory, queer theory, and critical psychology as they effect and play out in the daily lives of LGBTQ individuals. These theories are fundamental underlying ideas in LGBTQ psychology, which has only been an area of study in psychology since the mid to late 1970s.

I encourage my students to ask questions and think about the complexity of identity and the intersections of an individual's sexual orientation and gender identity. While this is a special topic senior level class, it is an introduction to a very specific area of psychology that puts an undergraduate student's knowledge of psychology to use on a few very specific sexual and gender minority populations.

In addition to the class I have been working on a text book to address the lacking information from the current book I use since it was published in 2010 and has not been updated since."

Services geared to the community from the community

People living with HIV often need special counselling services because of their unique situation. Benjamin Gerritz, who works for Cascade AIDS Project (CAP), often fills that role as part of his CAP position. (http://glapn.org/6459BenjaminGerritz.html)  

In 2017, CAP opened a SE Portland medical clinic called Prism Health. The clinic is dedicated to helping all LGBTQ people. At this point, it only deals with physical issues, but plans to start offering mental health services in 2018. (https://prismhealth.org/)

Sacred Vessel Natural Medicine offers "Culturally-Specific & Gender-Affirming Care for the LBGTQI2S Community". The services include counselling which is accessible for low income folks with several different sliding scale options. (https://www.equi-institute.org/svnm-welcome)

Trangender specific counselling

Transgender related mental health services in Oregon go way back, but I am including this in its own section because it has been very specific to that segment. And the history is very impressive.

What is today called the Oregon Health & Science University saw some of the earlies developments in transgender related health care. Coming to terms with the acceptance of transgenderism was the first step.

Dr. Ira Pauly was a psychiatrist on OHSU's staff. He is the one I mentioned earlier who gave support to our first sexual orientation civil rights bill. Pauly was one of the earliest medical professional who advocated for transgender people. His influence was national and probably global. For more detail on Dr. Pauly's pioneering work, please see his OHSU interview at http://glapn.org/6039IraPaulyInterview.html.

One benefit trans Oregonians have had is the rise of community based counselling beginning with Reid Vanderburgh. After his own gender transition, Reid became a therapist to support the transitions of others in the LGBTQ community. Even after no longer taking individual clients himself, he continued to support the journey of others through the publication of his book Transition and Beyond: Observations on Gender Identity". That work is currently being used as a textbook in a number of counseling programs. Additionally, by bringing counseling interns into his practice in 2011-2013, Reid helped new trans-friendly therapists develop their skills. He published his second book in 2014, "Journeys of Transformation: Stories from Across the Acronym."

In 2012, Reid received GLAPN's Queer Heroes NW award. Its narrative reflects what was current at that time, but it is worth a review to see all he had accomplished by that point: http://glapn.org/6322ReidVanderburgh.html . He is now retired.

Trans related counselling was also offered by TransActive at one time. TransActive was founded by transgender woman Jenn Burleton who remains its Executive Director at the time of this writing: http://glapn.org/6309jennburleton.html.  

The major organization providing trans counselling in Portland currently is Brave Space, LLC., run by Kate Kauffman. Kate is a Licensed Professional Counselor who specializes in working with transgender and non-binary children, youth, adults, and their families. Her work includes individual and family therapy and assessment and referral for medical care. Kate identifies as cisgender but gender nonconforming.

Kate founded Brave Space, LLC to meet the growing need in the Portland community for responsive and expert social services that specifically serve transgender and genderqueer children, youth, adults, and their families. The services at Brave Space were cultivated at TransActive Gender Center since 2012, and became their own entity in 2015. Mental health is one of the many direct services Brave Space offers.

Brave Space won the Mental Health Heroes Award: https://trilliumfamily.org/keep-oregon-well-news/keep-oregon-well-featured-mental-health-hero-may-31st-2017-brave-space-llc/. For more information, see Brave Space's website www.bravespacellc.com.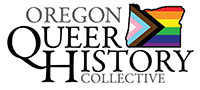 P.O. Box 3646 • Portland, OR 97208-3646 • info@glapn.org
Copyright © 2017, Gay & Lesbian Archives of the Pacific Northwest