OHSU Interview with Pioneer Trans Advocate Dr. Ira Pauly,
May 17, 2015
Introduction
By George T. Nicola
In early 1973, I was lobbying for Oregon's first bill that would have banned discrimination based on sexual orientation. I needed to get professional backing for the legislation. Someone introduced me to a psychiatrist named Ira Pauly who worked for what is today called Oregon Health & Science University (OHSU).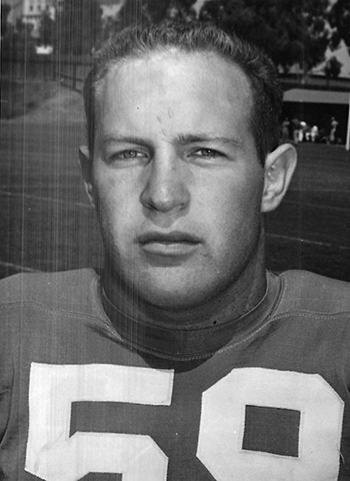 Dr. Pauly was able to get a very supportive statement from the Oregon District Branch of the American Psychiatric Association. See that whole story at http://glapn.org/6181PaulyAPA.html.
Recently, I discovered that Dr. Pauly was also one of the earliest advocates for transgender people. In late 2014, I met Maija Anderson, an oral historian with OHSU. I told her about Dr. Pauly. She and her associate Morgen Young traveled to Dr. Pauly's winter home in Arizona to do a videotape interview with him.
Before they left for Arizona, Maija and Morgen received a list of suggested questions from Danni/y Rosen and Ampersand Crates, two trans identified people who are very active with GLAPN.
The interview took place and was videotaped in February 2015. It was then transcribed and placed on the OHSU website as a PDF.
Ira Pauly was an outstanding football and rugby player at UCLA, and with Pauly starting both as center and linebacker, UCLA went to the Rose Bowl in 1953. The photo is from that era.
Preface
By Ampersand Crates and Danni/y Rosen
While trans people have always existed throughout human history, the understanding of and support for this population are relatively new phenomena. Dr. Ira Pauly's story offers a window into the evolution of modern trans medical care. In a time where being trans was widely considered a mental illness, Dr. Pauly asserted that there was no illness to "cure"; trans people know exactly who they are, and deserve empathy and support—not exclusion and stigmatization—from the medical community. The following interview chronicles a critical turning point in the conversation around trans medical care, where language was starting to shift to be more inclusive and medical providers were hoping to establish ethical standards for providing care to this population.
It is important to note that there are as many ways of being trans as there are trans people – while many trans people seek to change their physicality through hormones and/or surgery, many either have no desire for physical changes or cannot access care due to financial and social barriers. All ways of being trans are valid. It is GLAPN's hope that preserving this particular element of trans history will help enlighten and inform the ever-evolving narrative of being trans in the United States.
To read the transcript of the full interview, please click
http://digitalcommons.ohsu.edu/hca-oralhist/44/, then click the "Download" link on the right.
To give feedback on this article, please contact GLAPN at info@glapn.org.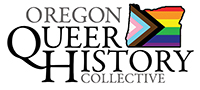 P.O. Box 3646 • Portland, OR 97208-3646 • info@glapn.org
Copyright © 2015