Books that GLAPN promotes

We probably don't need to explain this, but study and documentation of local LGBTQ history is primarily a labor of love. In the spirit of supporting [modestly] the local historians and authors who do this work, and in order to insure you'll be able to find one of these books when you need it for reference, it's a good idea to buy a copy of your own!
Click on the cover thumbnails for reviews and information on how to purchase.
---
Upper Left Cities, by Hunter Shobe and David Banis. Rose City Geographers, 2021.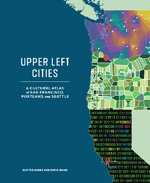 Upper Left Cities redefines modern cartography by going into uncharted territory to create a narrative about three great cities through informative and detailed infographic maps.
This cultural atlas includes more than 150 maps, each using data around a given topic and then translating that to a creative and often unexpected visual format. The result is a perfect blend of form and function, each map is meticulously and ingeniously designed.
GLAPN's own Jonathan Leeper contributes a map of memories – LGBTQ social venues that have come and gone over the years, the only places, time out of mind, where queer folk could gather with our own kind.
Click on the image at right to read Jonathan Leeper's blog post about his contribution to Upper Left Cities.
Upper Left Cities is available through Amazon, at Powell's, Indie Bound, and Barnes & Noble.
---
Marie Equi: Radical Politics & Outlaw Passions, by Michael Helquist, Oregon State University Press, 2015.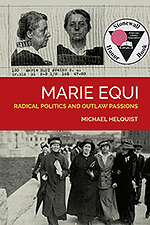 Marie Equi was a Portlander 100 years ago, one of the Pacific Northwest's first practicing women physicians, a lesbian who lived openly with her partner, and a champion of women's suffrage, labor rights, and reproductive freedom – who ultimately served ten months in San Quentin, convicted of sedition for her opposition to American involvement in World War I. Breaking boundaries in all facets of life, she became the first well-known lesbian in Oregon, and her same-sex affairs figured prominently in two cases before the Ninth Circuit Court of Appeals.
The American Library Association named Marie Equi a 2016 Stonewall Honor Book for Nonfiction.
Click on the image of the cover at right for Helquist's website and blog. Marie Equi is available at bookstores and through online bookseller sites.
---
Voices from the Rainbow, by Traci Leigh Taylor, Mother Warrior Press, October, 2014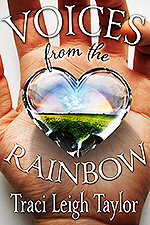 In 1996, in Hillsboro, Oregon, Traci Leigh Taylor's son, Daniel, came out to her.
She loved Daniel, but having no more insight into the LGBTQ community than mainstream media could give her, she admitted that at that point, he seemed like a stranger to her.
So she started interviewing Daniel and his friends, and friends of friends, about their coming out experiences. Voices from the Rainbow is the result – the words of more than 50 individuals who shared their stories about coming out and being queer at the turn of the 21st century.
Click on the image of the cover at right for more information about this book, including links to "Momma Traci's" website with purchase information.
---
A Curious and Peculiar People, A History of the Metropolitan Community Church in Portland, and the Sexual Minority Communities of Northwest Oregon, by David Grant Kohl. Spirit Press, Portland, OR, 2006, 432 pages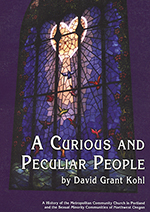 This book set out to be a history of Metropolitan Community Church, and ended up as a definitive history of the LGBTQ community in Portland. Lots of pictures and interviews. Nothing else even comes close. Click on the cover thumbnail to read more.
---
The Vice Clique: Portland's Great Sex Scandal, by George Painter. Self-published, 296 pages.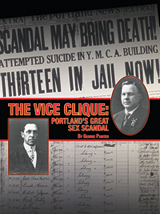 Late in 1912, Portland Police stumbled on a group of men whose only "crime" was male-to-male sex. The press went wild, and before the scandal was over, 68 men had been implicated. Some of them fled the city, some were arrested and stood trial for violation of the state law prohibiting sodomy. George Painter tracks the individual cases and outcomes against a discussion of the politics and morality in Portland at the time. Click on the cover thumbnail to read more.
_________________________________________________________________________
The Trans-Evangelist, the Life and Times of a Transgender Pentecostal Preacher, by Sister Paula Nielsen. One Spirit Press, Portland, OR, 2014, 315 pages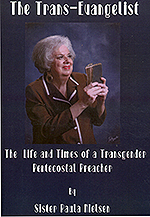 Paula Nielsen has had a remarkable career as possibly the only transgender Pentecostal evangelist in the USA, enjoying an international following for her special brand of preaching. This is a candid memoir of how an effeminate boy from Gresham, Oregon, grew up in the Pentecostal tradition, transitioned, and eventually fulfilled the call he received in childhood, to preach the gospel. From growing up as a misfit in the 1940s & 1950s, through taking her place as an activist in Portland's gay community in the 1970s, it's a great look at the times, and a warts-and-all portrait of an amazing individual. Click on the cover thumbnail to read more.
---
Same-Sex Affairs, Constructing and Controlling Homosexuality in the Pacific Northwest, by Peter Boag. University of California Press, August, 2003, 335 pages paperback, ISBN: 9780520240483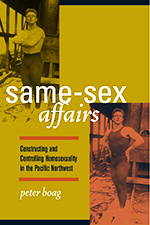 Researchers interested in studying gay life pre-Stonewall have their work cut out for them. Sexuality, when it was discussed in public media, was discussed in innuendo until well into the early 20th Century. The word "homosexual" didn't appear in English until 1892, and wasn't adopted into common usage until perhaps 30 years later. Sodomy (the "crime against nature") was illegal almost universally, so when same-sex activity was discussed at all, it was in terms of crime or scandal. Such were the challenges facing Peter Boag, who undertook to write about homosexuality in the 19th Century Pacific Northwest. Working from police blotters and old news accounts of disorderly conduct, public indecency and other umbrella statutes, he manages to create a thorough and enlightening account of same-sex activity in the days before anybody talked about it in public. Click on the cover thumbnail to read more.
---
Re-Dressing America's Frontier Past, by Peter Boag. University of Califiornia Press, September 2012, 270 pages paperback, ISBN: 9780520274426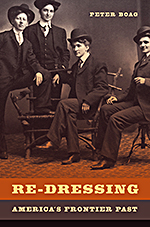 While Americans tend to like the movie versions of the Old West, complete with romanticized [and rigid] gender roles, it's clear that the American frontier might have offered a certain freedom to people who had trouble fitting in elsewhere, among whom might have been people who didn't fit into gender norms. Boag, a devious and persistent researcher, found a wealth of primary source material which explores exactly that subject: a time and place where individuals felt quite free to explore and define their gender and sexual identity. It's not surprising that individuals found and enjoyed that freedom, but there's the lingering question of how it got so thoroughly erased from our understanding of the American frontier. Boag leaves no question about the facts of the matter, and delves into some theory about questions of how this freedom went away as frontiers disappeared and a "modern" America appeared. Click on the cover thumbnail to read more.
---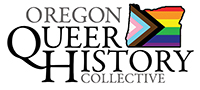 P.O. Box 3646 • Portland, OR 97208-3646 • info@glapn.org
Copyright © 2015, Gay & Lesbian Archives of the Pacific Northwest