A Curious and Peculiar People

A History of the Metropolitan Community Church in Portland,
and the Sexual Minority Communities of Northwest Oregon
by David Grant Kohl. Spirit Press, Portland, OR, 2006, 432 pages
Notes by Robin Will
When the 30th anniversary of Portland's Metropolitan Community Church was looming, Dave Kohl got the idea of writing a history while most of the movers and shakers were still alive to tell their stories.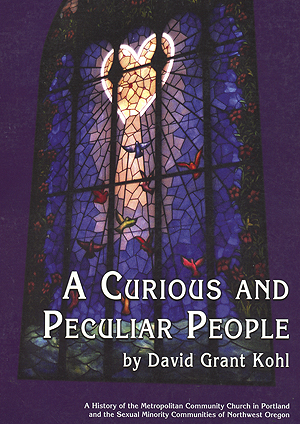 He began interviewing people and collecting pictures.
One thing led to another, and he quickly concluded that he couldn't tell the story of Portland's LGBTQ church without telling the story of the city's LGBTQ community.
So that's what he did.
Almost 10 years later, this book is still without equal as a history of the LGBTQ people of the Pacific Northwest. It contains hundreds of pictures and dozens of interviews with individuals who were active in the early movement for LGBTQ rights in the Pacific Northwest.
Nothing comes close to this text as a Who's Who and reference for the earliest queer community organizing in Portland.
And it's also a thorough history of Metropolitan Community Church through their 30th anniversary.
There are still some books left over from the first press run, and Dave Kohl is handling sales.
They're $25 per copy, plus $6 for priority shipping. Contact the author at
dkohl@cu-portland.edu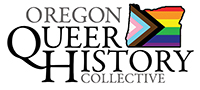 P.O. Box 3646 • Portland, OR 97208-3646 • info@glapn.or
Copyright © 2015, Gay & Lesbian Archives of the Pacific Northwest