Queer Heroes NW!
GLAPN and Portland's Q Center began Queer Heroes NW in 2012, as a way to make some friends, honor service and accomplishment in our community – and teach a little history.
Click here or on the graphic at right to see the currently list of 2020 Queer Heroes.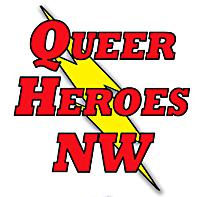 We honor a Queer Hero for every day in June, as part of our celebration of Pride, on our website and social media. We looked for some combination of risk, sacrifice, service, example and inspiration from individuals, living or dead, who had somehow helped make the world an easier place to be queer. Friends in the community share and amplify each day's post.
We rely on our community to help us. We collect nominations online, through April 15, and make our selections in May.
By June 1 we're ready to start announcing Heroes – one per day, on GLAPN.org and our social media pages. Friends in the community boost our signal, so our Heroes get the attention they deserve.
In previous years we managed to have a gallery show and public reception, but the coronavirus situation has put those plans on hold.
Nominations are open year around, to make it easier to recognize our community heroes. The nomination link is at the bottom of the left-hand menu.
Here are the links to previous years' Queer Heroes.
About Queer Heroes NW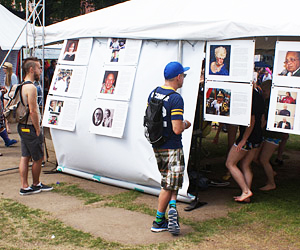 On June 1, 2012, GLAPN & Q Center announced the first Queer Hero(es) – the two individuals who began organizing the Gay Liberation Front in Portland in 1970 (link to profiles). Multiple community groups picked up the posts each day. Just before Portland Pride began, we hosted a reception at Q Center to unveil the heroes' posters at Q Center's Aaron Hall Gallery, and a duplicate set of posters went to Q Center's booth at Portland Pride 2012.
Watch a video from the 2012 Queer Heroes reception at
Q Center.
Traveling Queer Heroes NW Exhibits
Two Queer Heroes exhibits are made each year. The first is a set of framed posters which goes on display in the Aaron Hall Gallery at Q Center just before Portland Pride commences. The second is a more portable display. It goes to Pride, and then finds its way to other venues around the state.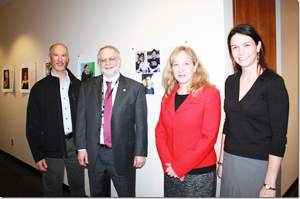 In 2012, the portable exhibit consisted of a set of 30 durable prints, smaller than the framed versions and designed to take the wear and tear associated with transport. One of its many stops was at the U.S. Department of Justice.
http://www.pdxqcenter.org/queer-heroes-nw-exhibition-travels-to-the-u-s-department-of-justice/
In 2013, the Queer Heroes exhibit went upscale – a pull-up, movie-screen affair contributed by Bill Dickey, himself a Queer Hero for 2013. It is prettier and easier to manage than the 30 prints which comprised last year's exhibit.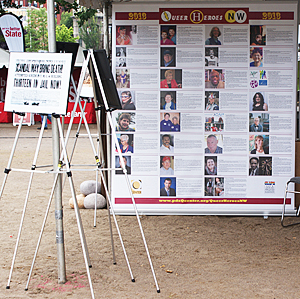 Its first appearance was at Portland Pride, where it appeared in a booth, co-hosted by GLAPN and Q Center, and provided thanks to a donation from New Seasons Market.
The booth provided a much-needed space to set up the Queer Heroes Northwest display where folks could pause to read without blocking traffic. It also allowed GLAPN to display some of the materials gleaned from our archives: The "Scandal May Bring Death" headline about the 1912 Vice Clique Scandal actually did stop bypassers in their tracks.
Q Center actually received the donated both, made the decision to separate the Queer Heroes NW display from the Q Center program booths, and asked GLAPN if we could contribute display materials and staffing.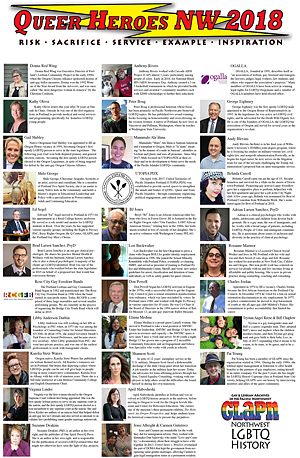 In 2017 and 2018, we switched to a poster format, for easier transport to the Prides and community presentations we attend each year. We're able to share our Heroes' pictures and abbreviated biographies in a format that's manageable in classrooms or small booths at community events.
Click here or on the image at right to see a larger version.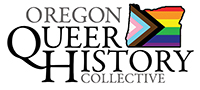 P.O. Box 3646 • Portland, OR 97208-3646 • info@glapn.org
Copyright © 2018, Gay & Lesbian Archives of the Pacific Northwest