GLAPN is pleased to share a Queer Hero per day,
through the month of June, 2022!
As part of our celebration of Pride, GLAPN announces a Queer Hero for each day in June through our website and social media.
Nominations are always open. We rely on our community to tell us which folks whose risk, sacrifice, service, inspiration or example have made them heroes to the LGBTQ community at large.
Anybody is eligible – living or dead, straight allies, or any color of the LGBTQ rainbow. We get our share of community celebrities, but we love to recognize folks who work hard and don't get the appreciation they deserve.
In 2022, our Queer Heroes process was derailed by illness and post-COVID confusion, and by the time the reception rolled around, we had only fifteen Queer Heroes on our roster. We were able to manage a small, socially-distanced gathering in the Q Center parking lot where a few of our Heroes were able to speak about the work they do.
We'll be playing catchup as the summer rolls on, but please take a moment to check out the 2022 Queer Hero reception at this link, and watch for updates on our social media as we work our way through the rest of the nominations.
In early May every year, a committee of former Queer Heroes makes the selections, and we announce a Queer Hero for every day in June, both here and on our social media.
Go back to the Queer Heroes Main Page to see our Heroes from previous years.
Cameron Whitten has played a dynamic role in Portland for the last decade. In 2012 he got national attention for a hunger strike at City Hall that lasted almost two months, in protest of the housing crisis. He served as executive director of Know Your Cities, producing walking tours with a historical context, and as executive director at Q Center, where he launched a capital campaign that raised $100,000 to fund renovations. In early 2018 he founded Brown Hope, a racial justice nonprofit. The Black Resilience Fund he launched in 2021 raised more than $1 million in tangible relief for Black Portlanders grappling with the dual storms of racism and a global pandemic. Read more …
Matthew Town, PhD, MPH, is a citizen of the Choctaw Nation of Oklahoma and is currently an Assistant Professor in the School of Social Work at Portland State University. Matthew is a Two-Spirit and Native American LGBTQ advocate, activist, and scholar, and his research deals broadly with inequality, diversity, and health behavior among underserved populations. Most recently, Matthew has accepted leadership roles for the LGBTQIA2S+ In Oregon project that aims to conduct a comprehensive health and needs assessment for sexual and gender diverse communities in Oregon. Read more …
Greater Portland Trans Unity grew out of the successful organizing of a Pride march in 2014, and has found its way into many other facets of the trans community. International Trans Day of Remembrance, Trans Day of Visibility, and National Trans HIV Testing Day, the Trans Health Resource Fair,and PDX Trans Housing Coalition, all owe something to the organizational ability of this coalition. Plus from 2014 to 2019, the Portland Trans Pride March grew from 400 to nearly 3,000 participants. Read more …
Cynthia Butts can be found somewhere close to the intersection of Faith and Music in the city of Portland. Cynthia has been a consistent leader in communities of faith for more than 30 years, and her singing voice has heard in churches, at LGBTQ events, and from concert stages. Cynthia particpated in the Family, Friends and Neighbors pictorial that went across the State of Oregon in the early 90s, and performed story telling for the Beaverton Library, and Our Bold Voices. She was also part of the Portland Art Museum Powerful Self: LGBTQIA2S+ Lives Today, Object Stories. Read more …
Brandy June Knightly was a familiar figure in Portland's LGBTQ+ community. She had served as Chair of the Lesbian Community Project. She spent time caring for others by delivering warm meals and clothing to unhoused Portlanders and was actively involved in movements for racial justice. She was a familiar face at protests, and often served the role of traffic manager to help keep demonstrators safe. In February of 2022, at a march protesting the killing of Amir Locke (a black man killed in a no-knock raid in Minneapolis, MN), a gunman opened fire on the protestors and shot five people. Sixty-year-old June Knightly died in the street. Read more …
Raymond Elliott has been a musician for almost 40 years. He has been music director in a number of churches in our region, and he founded Confluence: The Willamette Valley LGBT Chorus in 2000. He remains their artistic director to this day. Confluence strives to celebrate and affirm the lives of gay, lesbian, bisexual, and transgender individuals. Raymond has been active in GALA Choruses, the North American LGBTQ choral movement of more than 190 member choruses and their 10,000 singers; he sang with PGMC for many years; and he has the distinction of being the first male director ever of the Portland Lesbian Choir. Read more …
Michele Ruffin queer, multi-racial woman of color, a lesbian activist and new mom. She works to build political power for queer and trans Oregonians of color and their families. She got her start field organizing in Washington County for same-sex marriage and LGBTQ rights, and went on to join Governor Kate Brown's policy team focusing on workforce diversity and equity issues. Michele now works on the government relations team at the Oregon Education Association, and seeks to ensure that all of Oregon's student and educator experiences are free from fear, bias, and oppression. Read more …
Oliver Rocha grew up in Maupin, Oregon, population of 453 in the 2020 census. Oliver came out as queer at 14, and transitioned at age 16. He had support, and he says his life wasn't bad, but "I was that kid who had nobody and no one to look up to and no queer, young role models to ask questions of," he recounts. There's more diversity in rural Oregon than meets the eye, Oliver claims, so he started QClub, a social, LGBTQ-centric group that meets in Maupin's public library. Fifteen people attended the first meeting, and some of them drove more than 45 minutes to get there. Read more …
Naomi Morena is recognized internationally as the songwriter of Like a Mountain (Can't Kill the Spirit), and few know she also founded perhaps the first LGBT choir in the US. Members of her Ursa Minor Choir went on to establish Portland Gay Men's Chorus and Portland Lesbian Choir. Sha has been active in Portland's music scene since the 1970s, and she worked 20 years as a Washington County parole/probation officer leading diversity training for police in Oregon and at national conferences. Read more …
Keith Kolkow and Jerred Taylor are familiar faces in the LGBTQ+ community in Albany, Oregon. Keith is the founder and organizer of Albany Pride, Albany's Annual Pride Event, which is now in its 5th year. Keith is also responsible for driving the City of Albany to sign its first ever Pride Proclamation in 2017. Both men serve in volunteer positions in the city and are active in local politics, and the couple supports a scholarship fund for LGBTQ+ students who have a heart for community service. Read more …
David Pickering is a poet. He sometimes describes himself as "a queer son of Oregon." A sense of place finds its way into his work, and he writes with clarity, humor and heart about a time (not long ago) when homosexuality was considered a crime, a mental illness, and a ticket to eternal damnation. In 2020 he received the Airlie Prize for his first poetry collection, Jesus Comes to Me as Judy Garland. The book was released in September 2021. Read more …
Sally Sheklow passed early in 2022, leaving a horde of memories with the LGBTQ+ community. From 1999 until 2017, she chronicled her life with her wife, Enid Lefton, in Eugene Weekly's "Living Out" column. Sally worked for the Willamette AIDS Council. She worked at the Feminist Women's Health Center. From 2000 to 2017, she taught the Introduction to Women's Studies course at Portland State University. Sally organized against anti-gay campaigns, and Enid and Sally were one of the plaintiff couples in Li v. State of Oregon which sought to legalize Oregon same-sex marriage. Read more …
Deenie Bulyalert joined her school's Pride club in sixth grade, but didn't begin direct activism until she got to high school. She'll begin her senior year at Grants Pass High School in the fall of 2022. Deenie led a school-wide walkout in November, 2021, to protest the re-hiring of a teacher and administrator who had previously been fired for mounting an anti-trans campaign in violation of district and state policies. Read more …
Cindy Surendorf was conducting art workshops for children when she realized how many of them had LGBTQ+ concerns that weren't being addressed. She decided her mission was to "come out" so that they would have a safe person to talk to during workshops. This led to years of involvement at the state level with educational programs for LGBTQ students, and a mentorship program for seniors and for GSA (gay/straight alliance) high school groups. Read more …
Iden Campbell McCollum started working with people with developmental disabilities, and now works on suicide prevention as a human rights and social justice issue. Iden currently serves as an advisor to the Oregon Alliance to Prevent Suicide, the National Suicide Prevention Lifeline Lived Experience Committee, and the Suicide Prevention Resource Center Lived Experience Advisory Committee. Read more …

Get a head start on next year: nominate 2023s's Queer Heroes now!
Click on the link at right to view the nomination form.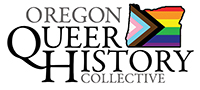 P.O. Box 3646 • Portland, OR 97208-3646 • info@glapn.org
Copyright © 2022