Queer Heroes NW 2022:
Naomi Morena
Naomi Morena is a visionary warrior for justice whose support and passion for the lesbian community runs deep and long. Her songs, poetry and essays reflect the world around her, the LGBTQ+ community, and particularly the lives of Latinas.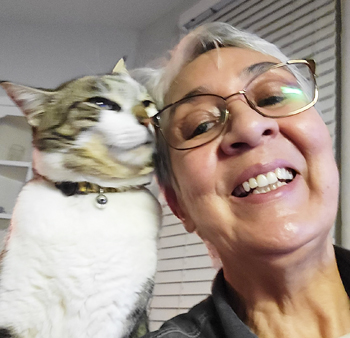 As a young child, essentially abandoned by her mother who remarried and moved to an all-white community, Naomi was raised in the barrio by her grandparents speaking only Spanish. Listening to the radio, she discovered music and her talent for playing guitar.
Naomi made her own way in the world from the San Fernando Valley to Hollywood where she recorded original music and first traveled to Oregon with a "hippie family." Always drawn to other women musicians, she performed with the earliest "out" lesbians in LA in 1971-72. She played on Maxine Feldman's groundbreaking 45 rpm single, Angry Atthis, the very first lesbian song recorded and played in LA's lesbian bars. Naomi preferred original music to cover tunes that were popular in the bars, so she convinced her music partner to go to Portland with her to sing and play their own music.
Naomi is recognized internationally as the songwriter of Like a Mountain (Can't Kill the Spirit), but few know she also founded perhaps the first LGBT choir in the US. Members of her Ursa Minor Choir went on to establish PGMC and PLC. Eventually, a smaller group, The Izquierda Ensemble, emerged from Ursa Minor to become well-known and beloved among lesbians nationwide. Naomi wrote songs and made musical arrangements for Izquierda 1977-1980. The group produced a vinyl album, Quiet Thunder, in 1979.
Next, Naomi created Survivors, the first known lesbian rock opera addressing unchallenged familial abuse. She worked 20 years as a Washington County parole/probation officer leading diversity training for police in Oregon and at national conferences.  She
continues to share her visions through writing and music, speaking to classes and performing with her son Eliseo, a drummer.

See a video interview of Naomi at this link.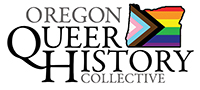 P.O. Box 3646 • Portland, OR 97208-3646 • info@glapn.org
Copyright © 2021, Gay & Lesbian Archives of the Pacific Northwest