GLAPN and Portland Q Center are pleased to share a
Queer Hero per day, through the month of June, 2013!
During February and early March, GLAPN and Q Center poll their communities by email,
through their websites and Facebook pages, asking for nominations of folks whose hard
work,risk, sacrifice, inspiration or example have made them heroes to the LGBTQ
community at large.
We began announcing a hero per day on June 1, and the heroes' posters were unveiled
in a reception at Q Center on June 13, 2013. A traveling versions of the Heroes posters
were displayed by GLAPN and Q Center at Portland Pride.
| | |
| --- | --- |
| | Erin Rook, Jonathan Reitan, and John Kim are making history now, and GLAPN and Q Center are proud to honor them as Queer Heroes of Tomorrow. Read more … |
| | Paul Southwick spent two years in reparative therapy while he was a student at George Fox University. He is a co-founder of OneGeorgeFox, an organization of LGBTQ and allied students and alumni, which addresses issues of faith and sexuality. Read more … |
| | Harold Strong has been active in the LGBTQ community since the 1970s. He was the first African-American Emperor in the International Court System, and he is generous with time and talent as a fundraiser, a historian, and a youth mentor. Read more … |
| | Roey Thorpe became Executive Director of Basic Rights Oregon in 2001, and helped the LGBTQ community recover from the damage done by the Oregon Citizens Alliance ballot measures of the 1990s. Read more … |
| | In 1973, George Nicola wrote and lobbied for Oregon's first gay civil rights bill, which came within two votes of passage in the Oregon House of Representatives. Read more … |
| | Alec Esquivel took the State of Oregon to court over insurance that denied benefits for transition-related health care. The settlement of Esquivel v. Oregon eased the burdens on trans people locally, and set a legal precedent nationwide. Read more … |
| | Sasha Buchert seems to be everywhere in the LGBTQ community, working for racial justice, marriage equality, and transgender justice. Her appointment to Oregon's State Hospital Advisory Board, made her the first openly transgender person to be appointed to any state board. Read more … |
| | Chuck Simpson has been a quiet powerhouse in the Salem, Oregon, queer community for longer than many of todays leaders have been alive, and for 36 years the Imperial Sovereign Court of the Willamette Empire has been raising funds for nonprofits in five Oregon counties. Read more … |
| | Al Munguia is one of the original founders of Latino Gay Pride in Portland. His business is literally a model of equality for LGBTQ employees, and he represents Oregon on the state's Tourism Commission. Read more … |
| | Harriet Merrick, in cooperation with the American Civil Liberties Union, took the Oregon Citizens Alliance to court in the early 1990s, and in 1992, in Merrick v. Oregon, the OCA's Ballot Measure 8 was ruled unconstitutional. Read more … |
| | In 1994, Grant High School graduate Thomas Lauderdale was active in Portland's political scene, organizing fundraisers for progressive causes such as the environment, affordable housing, civil rights, and libraries. A band called Pink Martini was the result. Read more: |
| | Cascade AIDS Project (CAP) has been working since 1983 with members of our community who were dying, or living, with AIDS. Three individuals from CAP were nominated as 2013 Queer Heroes, and we salute the entire organization for heroic work in the LGBTQ community. Read more … |
| | Mary Beth Brindley and Evelyn Hall were pioneers in the field of senior housing for queer people in Portland, wanting to be sure that seniors wouldn't need to go back into the closet when they entered retirement homes. Read more …  |
| | Thalia Zepatos has played a leading role against every anti-gay ballot measure in Oregon since 1988. Widely credited as a "message guru" who cracked the code on marriage, Thalia's work led directly to the first four statewide marriage victories at the ballot in 2012. Read more … |
| | Linda Brown is proud to be the only transgendered blueberry farmer in the Pacific Northwest. Linda has been active in the Northwest Gender Alliance for about 10 years, and has discovered a knack for politics and community outreach that has taken her to the Human Rights Campaign's National Board of Governors. Read more: |
| | Asa Wright (Klamath/Modoc) is founder of the Portland Two Spirit Society, working to erase homophobia and restore traditional respect for Two Spirit people among Native American elders and youth. Read more … |
| | Kristan Knapp started working in Portland's lesbian community in the early 1970s, and really never stopped. She was part of the famous Red Emma Collective, organizing for women's health- and social services, and she's nationally known in women's music. Read more …  |
| | Sassafras Lowrey was a queer kid in Clackamas County, who grew up in SMYRC (Sexual Minorities Youth Resource Center) after being kicked out of hir family home. Sassafras is now a nationally-renowned writer, and this year ze delivered the keynote address to the Oregon Queer Youth Summit, which ze helped to found in 2003. Read more … |
| | Portland Gay Men's Chorus, Portland Lesbian Choir, Confluence (Corvallis) and Soromundi (Eugene) brought the gift of music to our communities, and took the message of LGBTQ rights to places that politics couldn't reach. Read more … |
| | As an African American, gay, paraplegic artist and activist, Rupert Kinnard has been a thoughtful and creative voice in Portland's LGBTQ comunity since he arrived here in 1979. Read more … |
| | Barbara Roberts has been an ally to the LGBTQ community through her entire political career, and her advocacy has continued since she left the governor's office. Read more … |
| | Cassandra Lynn is the driving force behind Rose City T-Girls, a Yahoo group includes the entire spectrum of transgender femininity, with hundreds of members in the Portland area. Although Rose City T-Girls is primarily a social group, Cassandra recently took legal action to stand up against transgender discrimination in a local bar. Read more … |
| | Pam Monette has been humbly behind the scenes in Portland's queer community for decades, in more organizations than most Portlanders can remember, let alone list.  Read more …   |
| | The late Keeston Lowery crafted Portland's first civil rights ordinance banning discrimination based on race, religion, gender, sexual orientation, and several other categories. Read more … |
| | Many members of the LGBTQ community have stories to share about Bill Dickey's enthusiasm and generosity, but the big picture is bigger than most of us realize. LGBTQ folks are lucky to have Bill on our side. Read more … |
| | Two Christian ministers stood out in the LGBTQ community during the 1970s. Rev. Austin Amerine guided the organization of the Metropolitan Community Church congregation. Rev. Rodney Page guided the MCC congregation into full membership in Ecumenical Ministries of Oregon. Read more … |
| | Kurt Granzow spent years in the ex-gay movement before coming to Portland, discovering the Sisters of Perpetual Indulgence, and finding a place where he could put his spirituality into action in service to the LGBTQ community. Read more … |
| | While the rights of LGBTQ adults have enjoyed some measure of legal protection for years, the struggle for even the basic safety of young people goes on to this day. Joyce Liljeholm helped found the Oregon Safe Schools and Communities Coalition in 2001, and has worked for the rights of LGBTQ youth ever since. Read more … |
| | Roxanne Ellis and Michelle Abdill were a lesbian couple who moved to Medford, Oregon, in the 1990s to escape homophobia elsewhere – just as the Oregon Citizens Alliance ballot measures began to divide southern Oregon communities. They were murdered in 1995 by a man who admitted that he killed them because they were lesbian. Read more … |
| | Many Portlanders know of Poison Waters: she is an entertainer and ambassador who transcends all boundaries of gender, race, and situation. Not so many people are aware of the work that Kevin Cook has been doing in our community for decades. Read more … |
| | |
| | |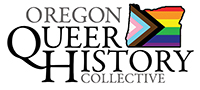 P.O. Box 3646 • Portland, OR 97208-3646 • info@glapn.org
Copyright © 2015, Gay & Lesbian Archives of the Pacific Northwest