Queer Heroes NW 2013
Joyce Liljeholm
Joyce's passion for youth advocacy turned into a statewide effort when she helped found Oregon Safe Schools and Communities (OSSCC) in 2001.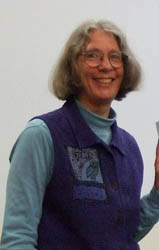 OSSCC resulted from Joyce's lead in organizing a state department funded workshop to better meet the needs of sexual minority youth. As the workshop pointed up the serious need for more work, OSSCC was formed.
As an OSSCC Board Director, she helped organize the first Oregon Safe Schools Training in 2002 for teams of youth and adults to meet the needs of LQBTQ youth. She then helped organize the Oregon Gay-Straight Alliance Network and assisted students to put on the first GSA Summit in 2006.
Joyce was a regular visitor in Salem as she lobbied for the Oregon Equality Act (2007), to prohibit discrimination based on sexual orientation and gender identity in education and other areas, and the more recent Safe Schools Act (2009).
Joyce works with the Community of Welcoming Congregations, especially with the United Church of Christ, to make faith communities welcoming to LGBTQ individuals. She has served as a board member of Gay, Lesbian Straight Education Network of Oregon, Portland Parents, Families & Friends of Lesbians and Gays and served on the City of Portland Sexual Minority Roundtable.
Click here to see a video of Joyce Liljeholm at the Queer Heroes reception at Q Center, June 13, 2013.
Q Center and the Gay & Lesbian Archives of the Pacific Northwest (GLAPN) have partnered on an annual multi-media celebration of LGBTQ pioneers and leaders from our local movement called Queer Heroes NW!
The project features a new queer hero (nominated by the greater LGBTQ community) every day online during Pride month (June). The 30 queer heroes are also featured on the walls of the Aaron Hall Gallery at Q Center for the months of June and July, as well as in Q Center's Pride booths all over the region.
After Pride is over each year the portable display hits the road and makes the rounds all over community centers, schools, churches, and businesses in the Pacific NW! Help us honor our queer heroes by spreading the word.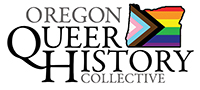 Copyright ©2015 • Gay & Lesbian Archives of the Pacific Northwest