Queer Heroes NW 2013
Barbara Roberts
Categories cross when "straight allies" become "queer heroes." That's the case with Barbara Roberts. As a county commissioner, a school board member, a State Representative, Secretary of State, or as Governor of
Oregon, her commitment to LGBTQ rights has been
constant.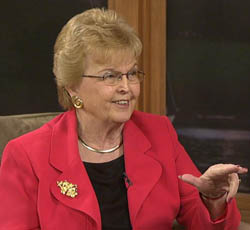 It can't always have been easy.
Barbara likes to tell about having the Portland Gay Men's Chorus sing at her inauguration as Secretary of State in 1984: she needed to insist that the master of ceremonies say the word "gay" when announcing the singers. She carried her support to the governor's office in 1991.
Since then, her advocacy continues nationally, as a member of the Board of the Human Rights Campaign. Outside the limelight she was a long-term volunteer for the Our House HIV Hospice. Barbara is an active public speaker focusing on issues of death and grieving, women in politics, and environmental stewardship. Her work on behalf of sexual minorities has been acknowledged locally and nationally, and though she's neither gay nor male, she is a Lifetime Member of the Portland Gay Men's Chorus.
It's a pleasure to recognize Barbara Roberts as a Queer Hero for her tireless, consistent, and passionate advocacy on behalf of all sexual minority people.
Click here for a video of Barbara Roberts at the Queer Heroes reception at Q Center, June 13, 2013.
Q Center and the Gay & Lesbian Archives of the Pacific Northwest (GLAPN) have partnered on an annual multi-media celebration of LGBTQ pioneers and leaders from our local movement called Queer Heroes NW!
The project features a new queer hero (nominated by the greater LGBTQ community) every day online during Pride month (June). The 30 queer heroes are also featured on the walls of the Aaron Hall Gallery at Q Center for the months of June and July, as well as in Q Center's Pride booths all over the region.
After Pride is over each year the portable display hits the road and makes the rounds all over community centers, schools, churches, and businesses in the Pacific NW! Help us honor our queer heroes by spreading the word.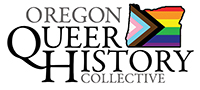 Copyright ©2015 • Gay & Lesbian Archives of the Pacific Northwest