Queer Heroes NW 2013
Asa Wright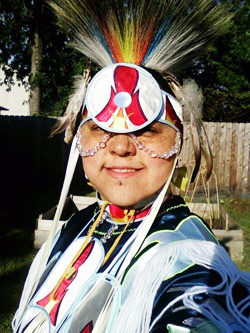 Homophobia is not native to the Americas – it arrived with European conquerors. Before that time, native cultures revered their LGBTQ people, calling them "Two Spirits" because they embodied both masculine and feminine energies. Two Spirit people were identified while very young, and prepared for special roles in society: ambassadors, teachers, healers, artists, war chiefs, keepers of the sacred.
Missionaries brought homophobia. Two Spirit people were killed because they were considered abominations, and the tradition was driven underground.
Asa Wright (Klamath/Modoc) is the founder of the Portland Two-Spirit Society (PTSS). He is among native leaders nationally who are reviving the Two Spirit tradition. Asa says although it was scary at first, overall he has found acceptance and respect while working against homophobia in the Native community.
PTSS was formed in May 2012 as a social group for Two Spirits, but has since taken on a cultural and educational role. The group recently joined forces with 2SY, the Two Spirit Youth group run by the Native American Rehabilitation Association, and is developing a youth curriculum and tool kit including coming out stories and cultural workshops.
PTSS is available to speak to groups desiring more information about Two Spirit history and Two Spirit youth.
Click here for a video of Asa Wright at the 2013 Queer Heroes reception at Q Center, June 13, 2013.
Q Center and the Gay & Lesbian Archives of the Pacific Northwest (GLAPN) have partnered on an annual multi-media celebration of LGBTQ pioneers and leaders from our local movement called Queer Heroes NW!
The project features a new queer hero (nominated by the greater LGBTQ community) every day online during Pride month (June). The 30 queer heroes are also featured on the walls of the Aaron Hall Gallery at Q Center for the months of June and July, as well as in Q Center's Pride booths all over the region.
After Pride is over each year the portable display hits the road and makes the rounds all over community centers, schools, churches, and businesses in the Pacific NW! Help us honor our queer heroes by spreading the word.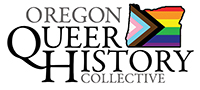 Copyright ©2015 • Gay & Lesbian Archives of the Pacific Northwest