GLAPN and Portland Q Center are pleased to share a Queer Hero
per day, through the month of June, 2019!
In early spring, GLAPN polls our community by email,through their websites and Facebook pages,
asking for nominations of folks whose risk, sacrifice, service, inspiration or example have
made them heroes to the LGBTQ community at large.
We'll hold a reception honoring all current and past Queer Heroes, on Thursday, June 13 at Q Center (4115 N. Mississippi Ave., Portland OR 97217) from 5-8PM. The 2019 Queer Heroes' posters will be on display in the gallery, the Queer Heroes will be introduced, and, as always, all Queer Heroes from previous years are especially invited to attend.
Nominations are always open for Queer Heroes. Follow the lightning-bolt link at the bottom of
the menu at left, and fill in the form!
WATCH THIS SPACE! WE'LL ADD A QUEER HERO FOR EVERY DAY IN JUNE!
Suzanne Scopes, ND, entered the field of transgender medicine because she's queer, and she saw the need: when she began almost 35 years ago, almost no one in the medical field was willing to treat transgender patients. Suzanne felt that was just wrong. Today, her practice is comprised of well over 50% trans patients. Suzanne found time during a busy practice to serve as the Volunteer Medical Director for the trans clinic at Outside In for 10 years, and she continues to do trainings for medical providers on transgender health care. Read more … 
Marci Grace Frederic was identified as male at her birth in Toledo, Oregon, and her gender dysphoria started at about age four. She attended schools in Toledo, but eventually dropped out because she couldn't stand the ridicule, and eventually earned a GED in a community college. In 2016, she began her transition – in Toledo – with hormone therapy, a new wardrobe, and a new name. Feeling isolated, Marci launched the first transgender support group on the Central Coast, and is now working to improve service to transgender individuals at local hospitals. Read more …
Dianne Riley arrived in Portland in 2008, and since then has has held a series of increasingly influential positions promoting justice and equity. Oregon Food Bank, Coalition for a Livable Future, and Social Justice Fund NW have all benefited from her leadership, and she works with with the City of Portland, Office of Community & Civic Life to support Portlanders working together and with government to build inclusive, safe and livable neighborhoods and communities. Read more …
Stephen Getman has a broad background in organizing for the LGBTQ community on local and national levels. He is currently working in Portland with Bi Brigade, which represents and serves Portland's Bi+ (Bi, Pan, Fluid, Ace, etc.) community. A Core Organizer for the past 5 years, Stephen has helped Bi Brigade grow, building and sustaining collaboratively created safe spaces where Bi+ folks can be fully themselves, and from which they can return to the larger community with renewed confidence and security. Read more …
Debbie Casleton has been active for LGBTQ causes throughout her employment with the City of Portland since 2006. She is a founding member of DEEP (Diverse and Empowered Employees of Portland) and has chaired the city's LGBTQ & Friends affinity group since its founding. She helped in bringing the issue of health care coverage for trans-identified City of Portland employees to the forefront during Mayor Sam Adams' administration, and passing that overage through the city council. Read more …
Dane Zahner brings HIV testing, Hepatitis C testing, and PrEP coordination to the gay, bisexual and other communities of men who have sex with men in rural Oregon.The small-town and rural environments aren't necessarily LGBTQ friendly – people may out themselves to their entire community simply by coming to an informational meeting or chatting with Dane on the street. Nonetheless, Dane has doubled the number of people testing for HIV in his corner(s) of rural Oregon and has increased the educational opportunities for high risk populations. Read more …
Vanessa La Torre is currently the Youth Education and Wellness Manager at Latino Network, a cultural-specific community based organization serving the Latino Community in Multnomah and Washington County. She was part of the team that made Latino cultural adaptations as well as LGBTQ inclusiveness adaptations to Making Proud Choices, the curriculum for the trainings, ensuring it resonated for all our youth. She is also the lead on enhancing the existing sexuality education curriculum for Latino parents, in particular, adding a lesson plan on gender and orientation. Read more …
Jonathan Patterson is one of two openly gay Black male attorneys in the state of Oregon. Jon led the successful nationwide effort to establish the first LGBTQ division within the National Bar Association ("NBA"), the nation's oldest and largest national organization of African American lawyers, judges, educators, and law students. Locally, he chaired the Oregon State Bar Advisory Committee on Diversity and Inclusion and served for a time on the board of OGALLA: The LGBT Bar Association of Oregon. A contemporary says of Jon "He's done more for minority communities than most people I know. And he's only a few years out of law school." Read more …
Busch is a two-spirit transgender woman with Cherokee and Potawatomi ancestry. The Q Center's Friday Night Trans Women's Support Group helped her to feel comfortable and welcome as someone who transitioned late in life, and introduced her to the dynamic and diverse trans-feminine community. Eventually she found herself co-facilitating the group, and today she's on the Q Center Board of Directors. It seemed to be a natural evolution – after 43 years in military and law enforcement work, Busch says, "That's my nature, to be helpful and a guardian and a leader." Read more …
In 2017, Mercy M'fon Shammah observed that the wilderness in the Pacific Northwest is segregated along lines of race and social class, and decided to do something about it. She launched a $6,000 Go Fund Me campaign for what would become Wild Diversity, a Portland-based nonprofit, to help get queer folk and people of color out into the forest in the way that feels the best for them. Read more …
Phyllicia Daria has been an active volunteer at Portland's Q Center since about 2011, working wherever she was needed. She is an Emeritus Sister of Perpetual Indulgence (Sister Ann R. Kissed). One of her favorite ongoing projects at Q Center is Pathfinders, where members of Q Center's senior program meet several times a year as mentors with students in local middle school QSAs (Queer Straight Alliances). Read more …
Kaina Barba is a Kanaka Maoli (Native Hawaiian) who has been an advocate for LGBTQ+ visibility and inclusion in the Portland and Vancouver areas for 15+ years. For the past 5 years Kaina has promoted diversity by helping to coordinate one of Clark Colleges largest annual community events The Indigenous Cultures Celebration and PowWow, and he is one of the founding board members of the United Territories of Pacific Islanders Alliance- Portland (UTOPIA PDX) Oregon's first 100% Queer Pacific Islander led non-profit organization. Read more …
Brianna Bragg (they/she) is a fat, queer, two-spirit, Yankton Sioux (Ihanktonwan Nation), biracial womxn. Brianna holds two undergraduate degrees in Social Science and Child & Family Studies and an Masters in Social Work. After graduation from Portland State University, where she worked as the Queer Students of Color Coordinator, they co-built and successfully co-launched a non-profit called The UPRISE Collective, with Stephanie Roberson, with the mission of "opening spaces and providing support for people with targeted identities to engage in social uplift within their own communities." Read more …
Erin Waters is the community health navigator at Kaiser Permanente's Gender Pathways Clinic, where she is working hard to help transform one of the Northwest's largest health systems to be more gender affirming for trans and nonbinary people. Read more …
Anthony Hudson (Confederated Tribes of Grand Ronde) is a Portland-based multidisciplinary artist. Carla Rossi, Anthony's creation, is gaining international recognition as a drag clown (not drag queen) who inhabits the difficult territory of the Western-based view of a queer biracial urban Indian – and who also is a beloved reader for the Multnomah County Library's Drag Queen Storytime. Read more …
Margaret Frimoth has been a voice for justice and equity in Clatsop County since the 1980s. She discovered there were risks to outspoken activism in a small town, but decades later she's still in Astoria, and still working for justice. She is currently Vice-President of Academic Affairs at
Clatsop Community College, and still finds time to work in a program for abused children. Read more …
Nancy Haque is the daughter of immigrant parents from Bangladesh, and is the first member of her family born in the United States. She joined her first protest as a fourth-grader, and has been an activist ever since. She is now executive director at Basic Rights Oregon. Under her leadership BRO has expanded its racial justice work, and deepened its commitment to transgender justice with new programming. Read more …
Dani Sommerville moved to Portland from Detroit after graduating from high school in 2017 to be part of the queer and trans community. He immediately built up a community of fellow queer, trans, BIPOC, chronically ill and disabled community organizers and activists. In terms of accomplishment, involvement, and the lives he touched, he made enormous contributions to his community before his death by suicide in December, 2018. Read more …
Gregory Franklyn spent a large part of his working career in the field of public access television, where he produced or assisted with the creation of more LGBTQ-themed video than all local network TV outlets, combined, through the production facilities at The City Nightclub. In retirement, he is working to restore, preserve and make that historic programming available to the general public. Read more …
Susan Kocen came to Q Center in September 2012, as their brand-new Senior Services Coordinator. She created the *eRa* program (encouraging respect for aging) pretty much out of nothing, figuring out what to do and then attracting her clientele – the seldom-documented, seldom-served population of LGBTQ elders. Read more …
Eric D. Brown came to Portland from La Grande in 1987. He quickly gravitated into roles of leadership, first in the anti-LGBTQ political struggles of the early 1990s; later in the business world; and still later in the public sector as an advocate for LGBTQ young people. After a previous Pride organization filed bankruptcy, he founded Pride NW, which celebrates its 25th anniversary this year. Read more …
Liv Funk and Hailey Smith (Liv on the left, Hailey on the right) are the two young women who reported their homophobic high school to the Oregon Department of Education, and, with the help of the America Civil Liberties Union got their principal fired. Of course there's more to the story, and victory has not been complete, but it's likely that the North Bend, Oregon, school district will never be the same. Read more …
Nell & Rebecca Austen (pictured with their daughter Maya) have lived on the central Oregon Coast since 2013. They actively spearheaded the local organizing of the women's marches and have been involved in Central Oregon Coast NOW (Oregon's largest chapter). Nell does NOW public relations and also administers three Facebook groups—Stronger Together Newport, NOW and Resist and Persist. They have been a part of the coastal
lesbian potlucks as well. Read more …
Leo Bancroft came out as a transgender man in 2013. For 18-1/2 years, he has worked for a local high-tech company, where he is an engineer. He was ordained in the Evangelical Lutheran Church of America in 2018. He is a trapeze artist. That's an extraordinary set of credentials, and he uses them in unexpected ways in a wide variety of places to advocate for LGBTQ people. Read more …
Stevie Remington was the director of the American Civil Liberties Union (ACLU) of Oregon from 1971 to 1992. In 1971, the ACLU successfully lobbied the Oregon Legislature for the criminal code revision that decriminalized adult homosexual conduct. Oregon was only the third state to do that permanently. The emerging LGBTQ movement in Oregon had the clout and expertise of the ACLU in court, plus Stevie's tireless personal work training and coaching countless volunteers in the art of the citizen lobby. Read more …
Bridging Voices is the newest in a series of groups dedicated to the inclusive and healing power of music in our community, both for those who hear it, and those who perform it. The chorus is committed to increased equity, access, and belonging for youth of color, those with limited resources, and the full spectrum of gender identity and sexuality.
Read more …



In 1994, Tom Cook (above) and Jeanine Wittke (below) gathered a group of people and started talking about preserving local LGBTQ history. Then as now, change was oblitering old landmarks, and elders were passing before their stories could be documented. That was the beginning of Gay & Lesbian Archives of the Pacific Northwest (GLAPN), which this year celebrates its 25th anniversary. Read more …

Get a head start on next year: nominate 2020's Queer Heroes now!
Click on the link at right to view the nomination form.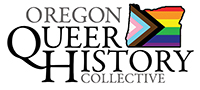 P.O. Box 3646 • Portland, OR 97208-3646 • info@glapn.org
Copyright © 2019