GLAPN is pleased to share a Queer Hero per day,
through the month of June, 2020!
As part of our celebration of Pride, GLAPN announces a Queer Hero for each day in June through our website and social media.
Nominations are always open (see the lightning bolt link, bottom left?) We rely on our community to tell us which folks whose risk, sacrifice, service, inspiration or example have made them heroes to the LGBTQ community at large.
Anybody is eligible – living or dead, straight allies, or any color of the LGBTQ rainbow. We get our share of community celebrities, but we love to recognize folks who work hard and don't get the appreciation they deserve.
In late April every year, a committee of former Queer Heroes makes the selections.
Go back to the Queer Heroes Main Page to see our Heroes from previous years.
WATCH THIS SPACE! WE'LL ADD A QUEER HERO FOR EVERY DAY IN JUNE!
ARYN ZANCA (they/them) is Program Manager at The Living Room in Clackamas County. The Living Room works on a youth/adult partnership model, with a Youth Advisory Council setting priorities, and planning and executing activities. It takes a special kind of person to hold up the adult end of the bargain, working with the board of directors, maintaining relationships in the community, and supporting the youth-initiated programming. Even a dozen years ago, county officials thought there weren't many LGBTQ youth in Clackamas County, because so few of them accessed services – but year by year, The Living Room serves more young LGBTQ+ people, in more locations, in Clackamas County. Read more …
RAINBOW ADVOCACY INCLUSION & NETWORKING SERVICES – RAINS, for short, is an all-inclusive LGBTQ+ advocacy organization in Longview, Washington. They serve a small town and a large rural territory where LGBTQ activism comes with risks, but RAINS attracts and serves more people every year of their existence, and they're gaining the respect of their community. Read more …
TRAVIS SMITH is a gay man who works at Sisters of the Road Café, on the front lines of advocacy and mentorship for houseless LGBTQ+ youth and others. Travis, once houseless, deeply understands the barriers LGBTQ+ homeless youth and individuals face on a daily basis. Always there to lend an ear, call someone's social worker, and alleviate daily needs among our community, Travis is known in the LGBTQ+ houseless community as a mentor, advocate and friend. Read more …
The entire Gender & Sexuality Alliance at West Linn High School staged a walkout on November 8, 2019 to call attention to bullying, harassment, vandalism, and a generally anti-LGBTQ culture on their campus. GSA leaders said some progress had been made placing Pride flags and safe-space signs in classrooms, but they still felt a campus-wide show of support for LGBTQ students was needed. They want to see the hiring of a diversity director and the inclusion of LGBTQ history in the curriculum, and suggested further legal action was possible. Read more …
CONNIE McCREADY was appointed to a seat on Portland City Council in 1973, and held the seat through two subsequent elections. In 1974 she introduced a resolution banning discrimination based on sexual orientation. This city resolution, approved by a 3-2 vote, was our first civil rights protection passed by an Oregon legislative body. Read more …
JONI RENEE WHITWORTH is a queer and autistic White nonbinary femme poet and activist/community organizer from NE Portland. They started a nonprofit collective called Future Prairie that centers the narratives of historically-marginalized groups such as women, disabled, racial, ethnic, gender, and sexual minorities, and low-income individuals. Joni has directly mentored more than 35 Portland artists and has raised almost $50,000 to support the creation of new work from marginalized communities.Read more …
MIKKI GILLETTE (she/her) does what she can to keep trans issues in front of the general public. For several years she educated the public in a column for PQ Monthly, and as Major Gifts Officer for Basic Rights Oregon (BRO) she has had a high profile: serving on the Harvey Milk Street renaming committee, spearheading the Transgender Day of Visibility event in the mayor's office in Portland, helping to organize the Trans Pride march, and making media appearances in support of the Federal Equality Act. Most recently, she was one of the organizers of the Justice For Nikki Task Force, which helped pass the ban on the LGBTQ Panic Defense in the state of Washington. Read more …
EDWARD J. REEVES was "out" when he joined the law firm Stoel Rives in 1984, where he quickly took up LGBTQ causes. As a cooperating attorney with American Civil Liberties Union, Ed won precedent-setting anti-discrimination cases, and during the onslaught of Oregon Citizens Alliance ballot measures in the 1990s, he facilitated skills-building teaching thousands of LGBTQ people how to speak out forcefully for their rights. Ed was instrumental in founding both national and Oregon-based LGBTQ Bar Associations. For more than 15 years, Ed was a key member of the Basic Rights Oregon Legal Group, which was instrumental in the Oregon marriage battles and the 2007 passage in Oregon of the LGBTQ nondiscrimination and domestic partnership bills. Read more …
THE CITY NIGHTCLUB was an explicitly gay-friendly all-ages dance venue that operated in Portland from 1983 to 1998. In the days before the Internet and before LGBTQ support in the community and the schools, young people flocked to The City for the music, for the edgy, creative, sexy environment – and for acceptance. Several of Portland's high-profile creative citizens say they got their start in the "outrageous stage shows" at The City, where weekend crowds of 2,000 were reported. Predictably, Portland police didn't like The City, and were able to shut it down in 1998. Read more …
RHODES PERRY (he/him) has a couple of decades' history in service to the LGBTQ community. Rhodes' previous work experience included PFLAG National, the White House, and the Department of Justice, and he served as a Senior Advisor for the City of New York's Office of LGBTQ+ Policy and Practice. In 2006, he helped start the DC Trans Coalition, which achieved gender inclusive policies for the District's jails, police and emergency services. In Portland, he serves as a Commissioner on the Portland Human Rights Commission, and he runs a leadership and management consulting firm helping organizations advance their diversity, equity, and inclusion commitments. Read more …

DON HORN is best known for his triangle productions! which he founded in 1989. Now in its 31st year, triangle is one of the oldest theater companies in the Portland metro area and is one the oldest LGBTQ+ identified theatres in the US. Donnie is the author of 16 books and plays, and in 2019, he produced a Darcelle (the stage persona of Walter Cole) musical at Portland State University that sold out in its three-week run. Read more …
OREGON SAFE SCHOOLS & COMMUNITIES COALITION was founded in 2001 to address the underserved population of sexual minority youth in our schools and communities. OSSCC lobbied heavily for the Oregon Safe Schools Act of 2009, and today they support the spirit of that act through education, data collection, and a support that's available at the request of youth, parents, or school personnel. Read more …
DR. ERNESTO MARTINEZ is a professor in the Department of Indigenous, Race, and Ethnic Studies (IRES) at the University of Oregon. His work – both academic and artistic – explores how racially and sexually marginalized communities in the United States use literature, art, and film to produce knowledge about their lives despite being subjected to forms of violence that distort their reality and that challenge their credibility as knowers. He is also the writer of the children's book When We Love Someone, We Sing to Them, illustrated by Maya Christina Gonzalez, as well as the writer and co-producer of the short film La Serenata, directed by Adelina Anthony. Read more …
NIKEISAH NEWTON is a part of the long line of Black lesbians whose activism has made the world a better, safer place for everyone. She began her business, Meals 4 Heels, to provide vibrant, healthy food options to sex workers. She immediately saw opportunities in underserved parts of the LGBTQ community; she rose to the occasion to provide food for frontliners and health care workers during the COVID-19 shutdown; and during the Black Lives Matter revolution, she is partnering with groups like Snack Bloc, a collective that provides free food for protesters. Read more …
BERNARD TURNER served as pastor at First Baptist Church in McMinnville, Oregon – a conservative town and a denomination not known to be liberal. However, Bernie opened the congregation to the queer community, and, in 1991, helped found Together Works, an LGBTQ+ support group that is the oldest of its kind in Oregon and one of the only resources in Yamhill County. The congregation could have fired Bernie, but for some reason they didn't, and over the years LGBTQ+ folks have moved into leadership positions in the church. Bernie is retired now, but in April 2013, First Baptist's board voted unanimously to allow the current pastor and all future pastors to perform weddings of same gender couples on church grounds. Read more …
MARK and ALANA LENIHAN are a straight couple living in Roseburg, Oregon, who have two children who identify as LGBTQ. Mark and Alana were instrumental in starting the first Pride celebrations in Roseburg in 2017 and 2018. Roseburg had its first Pride festival with parade in 2019, and the Lenihans were among the organizers. The couple is also behind the organization of the first PFLAG chapter in Roseburg. Read more …
JUAN ANTONIO "TONY" TRUJILLO was born in Tacoma and raised in a devout Mormon family. Since 1997 he has taught Spanish and applied linguistics at Oregon State University, working to provide a space in academia for those who inhabit intersectional queer identities. Juan Antonio is co-organizer of Tag! Queer Shorts Festival, (formerly the Corvallis Queer Film Festival) exclusively featuring short films made by LGBTQIA+ filmmakers that center intersectional voices often lost in mainstream queer festivals. His festival debut short film, Companions: Lessons from Gay Mormon Missionaries looks at the conflict between religious belief and sexuality faced by queer missionaries.Read more …
KAREN WELLS has been a social justice worker for more than fifty years. She says she's retired, but she carries a business card with the job title "change agent." From the 1970s-1990s, she was involved in the local women's culture as an artist/poet within the progressive political scene. Most recently, she was active with the planning committee of the 2020 Portland Womxn's March, leading a series of discussions about white supremacy, examining the ways we perpetuate a system of privilege and oppression, consciously or unconsciously. Read more …
MAX MICOZZI (pronouns them/them) points with pride to their first arrest – on the Supreme Court steps at the National Gay and Lesbian March on Washington in 1988. Aside from standing up for justice, concern for senior citizens has been one of the main themes in a jam-packed career, and since coming to Portland in 2005 Max has been part of almost every outreach to the community's LGBTQ seniors. Today Max is the Manager for SAGE Metro Portland, overseeing program development, volunteer management and outreach for the growing community of LGBT older adults.Read more …
ANGELA OGREN (pronouns: they/them) is one of our community's more effective volunteers. For a dozen years, Angela has been involved with Pride NW, where they have built a dedicated team of repeating volunteers, and mentored some of them into leadership roles. Angela played a key role building Pride Northwest's support for and engagement with incarcerated LGBTQ+ youth in Oregon. In 2018, they helped turn Pride NW's partnership with Imperfect Produce into a food giveway program that lasted six months and worked so well that Imperfect Produce shared the approach with their national office. In their "real job" work at Janus Youth, Angela touches the lives of at-risk youth in our city, every day. Read more …
HUGO GONZALEZ VENEGAS is an immigrant from Mexico, a gay man, the first of his family to attend college. He came out at age 16 and was kicked out of the family home, relying on the youth services of Phoenix Rising and Harry's Mother to survive. He became an American citizen in 2011, and managed to go to law school. Hugo is a Shepherd Scholar, recipient of the Bill and Ann Shepherd Legal Scholarship (named for the co-founders of PFLAG Portland), which helps law students interested in furthering LGBTQ rights. Currently, Hugo is the Diversity & Inclusion Coordinator at the Oregon State Bar as well as Chair of OGALLA, The LGBT Bar Association of Oregon. Read more …
CELIA J. LYON was a Portland-based realtor who seems to have been everywhere in Portland's early LGBTQ community, supporting activities monetarily and with enthusiastic presence. She marched at the front of the earliest Pride parades in Portland. She served on the board of Our House and often ran their fundraising events. She supported Esther's Pantry. She was one of the first sponsors of the Gay & Lesbian Film Festival, and her real estate company bought the back cover of the the first Gay & Lesbian Yellow Pages. "Not a service, an honor," she said of her support for the community. Read more …
THE SPECIAL RIGHTEOUSNESS COMMITTEE fought the Oregon Citizens Alliance's anti-gay ballot measures (1992-2000) with satire. In the media, in street theater, and ultimately in the Oregon Voters Pamphlet, they used eye-catching artwork and intelligent humor to ridicule the OCA's Bible-based appeal to amend the state constitution to declare homosexuality "immoral, unnatural, abnormal, and perverse." The Voters Pamphlet satires were so effective that OCA Director Lon Mabon tried to stop them in court, contending that only serious material should go in the Voter's Pamphlet, and, ironically, accusing the SRC of cherry picking the Bible to justify a political point. Read more …
VIRGINIA LUKA worked diligently to overcome the cultural and religious oppressive influences from her childhood on the islands of Guam and Palau to become a strong Palauan queer femme. She was a strong voice for queer and trans student leaders at Portland State University as the advisor to Student Activities and Leadership Programs, and has since become Multnomah County's Program Specialist Senior for the Pacific Islander Community for the Office of the Public Health Director. Read more …
RIVES KISTLER was appointed to the Oregon Supreme Court in 2003, making him the first out gay justice on any state supreme court in the nation. He won re-election to that seat in 2004, and was elected again in 2010 and 2016 before retiring from the court. Legal scholars seem to agree that an amicus brief authored by Rives Kistler and fellow Oregonian Virginia Linder in a 1992 anti-gay Colorado case provided the reasoning that was ultimately used to invalidate the Defense of Marriage Act, laws banning homosexual conduct, and prohibitions against same-sex marriage at the Federal level. Read more …
BRENT BLACKWELL is manager of Esther's Pantry and Tod's Corner, which provide food, personal care items, clothing and more to those in need living with HIV, and those impacted by the COVID-19 pandemic. In April 2019, he lobbied the legislature for the Oregon Food Bank, and he is a regular counselor at Camp KC, the camp for kids affected by HIV. As the drag performer, Summer Lynne Seasons, Brent performs at charity functions and is one of the Darcelle XV Showplace cast. Read more …
JAMAR RUFF came to Coos County from Georgia in 2017, and has been a force for good in the LGBTQ community ever since. Jamar was central to the committee that got Southern Oregon Coast Pride on track and made it happen in 2019, and he is active in a variety of LGBTQ+ community groups on the Southern Oregon Coast. Read more …
The JUSTICE FOR NIKKI TASK FORCE began to develop in late 2019 following the discovery of the body of Nikki Kuhnhausen, a transgender teenager who had disappeared the previous summer. Along with the sad jobs of mourning and memorializing yet another community member taken by murder, the Task Force members were able to leverage their influence to initiate and support a bill in the Washington legislature, eliminating the "gay panic" defense in murder trials in that state. The Nikki Kuhnhausen Act was signed into law on March 5, 2020. Read more …

Get a head start on next year: nominate 2021's Queer Heroes now!
Click on the link at right to view the nomination form.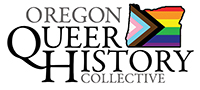 P.O. Box 3646 • Portland, OR 97208-3646 • info@glapn.org
Copyright © 2020