Queer Heroes NW 2020:
The City Nightclub
The City Nightclub was an all-ages dance club in Portland between 1983-1998 that was explicitly welcoming to LGBTQ young people. Queer youth attended in droves – sometimes as many as 2000 on a weekend night.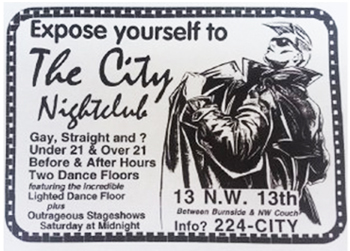 Before the Internet, before there was support in the community or at school, LGBTQ young people remained isolated or gathered wherever and however they could. Young people were immediately drawn to the edgy, creative, sexy – and accepting – environment at The City. Countless people have said they felt as if they had come home for the first time when they entered The City Nightclub – they had finally found a place where they could be themselves. One of Portland's predominant drag queens today says he had never heard the words "drag queen" and never seen one before entering The City for the first time. On Saturdays at midnight the music stopped for live stage shows. Several of Portland's creative professionals say they got their start there, and an under-21 drag scene developed there that is active to this day.
The City was at odds with Portland police from the time it opened. Part of the problem was homophobia. Part of the problem was the young clientele at the height of the drug culture. Part of it was long-standing animosity between club owner Lanny Swerdlow and the Portland police. Part of it was fact that Swerdlow stood up for his rights and the rights of his young clientele, although the general public disapproved.
In 1998, Portland police involved the FBI in a raid of The City and Swerdlow's home, on charges of child pornography. Swerdlow claimed the warrants were obtained with perjured testimony, but he gave up and sold the business. The FBI kept the evidence they had seized for four years and then returned it without bringing charges.
The club – with the same lighted dance floor – is still in business in Portland, as The Escape.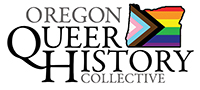 P.O. Box 3646 • Portland, OR 97208-3646 • info@glapn.org
Copyright © 2020, Gay & Lesbian Archives of the Pacific Northwest