Queer Heroes NW 2020:
Mikki Gillette
Mikki Gillette (she, her) has been a trans activist in Portland for many years. In the early 2010s, she educated the public on trans issues through her column in PQ Monthly. More recently, she's worked for our state's largest LGBTQ equality advocate Basic Rights Oregon (BRO) as Major Gifts Officer. Her primary duty there is to raise funds so that BRO can continue advocating for LGBTQ equality. Through her role at BRO, she served on the Harvey Milk Street committee, which helped rename SW Stark St after the LGBTQ rights icon.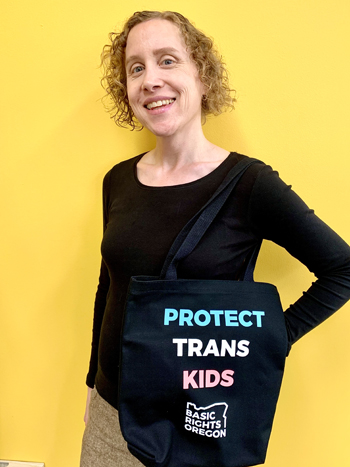 Representing BRO, Mikki helped spearhead the Transgender Day of Visibility (TDOV) event at the Portland City Hall. For TDOV, she helped form the committee with city staffers, recruited speakers for the panel, gave interviews to the media, and helped write the city proclamation.
Mikki has helped organize Portland's Trans Pride March, and has represented BRO at events for GLAPN, the Pride Foundation, the Q Center and Cascade AIDS Project. She's also served on the Cascade AIDS Project board. Mikki has appeared at press conferences with Sen. Jeff Merkley to share about her experience of being discriminated against at work due to her gender identity when she was a subsititute teacher, and urged the passage of the federal Equality Act.
Mikki is also a playwright, and her plays about the trans experience, including, The Queers, No More Candy, and They, Them, Their, have enjoyed readings at theaters around Portland.
Mikki was an organizer for the Justice for Nikki Taskforce, a grassroots group of activists, which sprang up following the murder of local trans teen Nikki Kuhnhausen, and helped pass the LGBTQ Panic Defense ban in Washington state.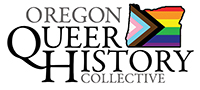 P.O. Box 3646 • Portland, OR 97208-3646 • info@glapn.org
Copyright © 2020, Gay & Lesbian Archives of the Pacific Northwest