Queer Heroes NW 2020:
Oregon Safe Schools and Communities Coalition
Oregon Safe Schools and Communities Coalition (OSSCC) supports community efforts to reduce youth suicide and other risk behaviors in the often hidden and historically underserved LGBTQ+ youth population. Although the primary focus of OSSCC is sexual orientation and gender identity issues, OSSCC recognizes the harm caused by harassment, violence, and discrimination of any kind.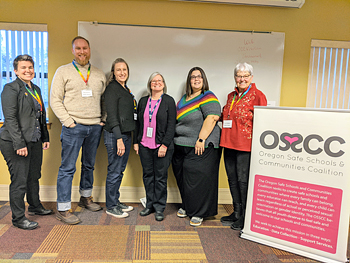 OSSCC seeks a diverse membership in order to build statewide visibility and support. Membership is open to any organization, school district, agency, faith community, business, or individual that supports its mission. OSSCC strives to collaborate with all organizations and individuals working for a safe and equitable society.
OSSCC seek to achieve our mission in three ways. Education is crucial to ending prejudice and hate-motivated violence. OSSCC prepares community members from rural, suburban, and urban areas of Oregon to plan, organize, and present educational workshops that address the health and safety needs of LGBTQ+ and questioning youth and families in their communities.
Ongoing data collection and reporting of anti-GLBTQ+ harassment and violence is important to raising public awareness and improving the climate for all youth in our schools and communities. OSSCC seeks to implement a statewide process for youth to report bias, harassment, or violence directed at themselves or others and to receive support and referral when reporting these activities.
OSSCC will make support available at the request of youth, parents, or school personnel, to intervene in possible sexual orientation or gender identity bias and harassment situations. We can help youth create a safety plan, meet with school administrators, or provide links to educational or community resources.
OSSCC is operated solely by volunteers. In its 20 year history, none of its staff has ever been paid.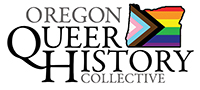 P.O. Box 3646 • Portland, OR 97208-3646 • info@glapn.org
Copyright © 2020, Gay & Lesbian Archives of the Pacific Northwest