Queer Heroes NW 2020:
Justice of Nikki Task Force

Vancouver, Washington trans teen Nikki Kuhnhausen was 17 when she disappeared in June 2019. Her body was found in December.
Police suspect that Nikki met a man seeking a sexual encounter the night of her disappearance, and upon finding out that she was transgender, he became enraged and killed her.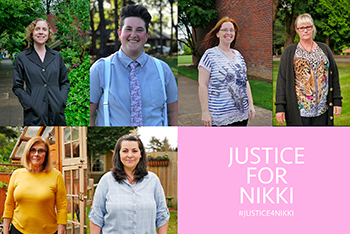 A group of people concerned about Nikki's murder organized the Justice for Nikki Task Force. They included trans women such as Devon Davis Williamson and Mikki Gillette, nonbinary trans person Lynse Leanne, as well as Nikki's family, in particular, her mother Lisa Woods.
The trans or gay panic defense describes the argument straight men make after assaulting or killing trans women, or gay or bi men, who the straight men say expressed sexual interest in them. Their violent reaction comes from "panic," they  claim, and shockingly, this defense is still at times successful.
Nikki was one of 26 trans people murdered in the United States in 2019. Many of the victims shared Nikki's story of being killed by a man who reacted violently upon learning about their gender identity.
The Justice for Nikki Task Force worked to bring attention to Nikki's story, organizing a vigil and a celebration of life, arranging media profiles, bringing attention to Nikki's alleged killer's court case, and working with the Washington state legislature to pass the Nikki Kuhnhausen Act, which bans the LGBTQ panic defense in the state. On March 5, 2020, Gov. Jay Inslee signed that act into law.
It's the Justice for Nikki Task Force's hope that Nikki will never be forgotten, and that no family or community will suffer the loss again that Nikki's has.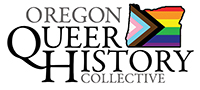 P.O. Box 3646 • Portland, OR 97208-3646 • info@glapn.org
Copyright © 2020, Gay & Lesbian Archives of the Pacific Northwest