Queer Heroes NW 2020:
The entire Gender & Sexuality Alliance
at West Linn High School
On November 8, 2019,  students walked out of classes at West Linn, High School in support of the school's LGBTQ community. Some media reported 100 students participated, while other estimates of crowd size came closer to 200.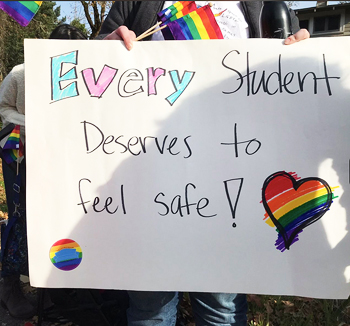 West Linn High School's Gender and Sexuality Alliance led the walkout. Students shared experiences of harassment, name-calling, slurs, bullying and vandalism they have experienced at school, at athletic events, or online.
The presence of a Chick-Fil-A food cart at high school football games appeared to have triggered the move from quiet discussion to campus-wide show of support for LGBTQ students. Chick-Fil-A is notorious for their support of anti-LGBTQ organizations at their corporate level.
Students said there had been some progress in discussions with administrators, but thought a campus-wide show of support was needed for LGBTQ students. Administrators have apparently agreed to place Pride flags and safe spaces signs in classrooms, but GSA members are holding out for additional actions, such as the hiring of a diversity director and the inclusion of LGBTQ history in the curriculum, and suggested further legal action was possible.
A smaller group of West Linn students appeared in a counter-demonstration, and a group of parents and supportive community members observed from across the street.
Although there were specific grievances, the students hoped to keep their message positive – more like a Pride celebration than a protest.
Administrators said they were unaware of specific anti-LGBTQ instances, but would address the students' concerns.
Two state legislators, state representative Rachel Prusak, D-West Linn, and state senator Rob Wagner, D-Lake Oswego, sent a statement in support of the students.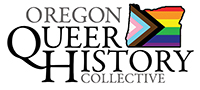 P.O. Box 3646 • Portland, OR 97208-3646 • info@glapn.org
Copyright © 2020, Gay & Lesbian Archives of the Pacific Northwest