Queer Heroes NW 2020:
Max Micozzi
Max Micozzi (pronouns they/them) is originally from Washington, D.C. Political activism was apparently a way of life: they point with pride to their first arrest on the Supreme Court steps at the National Gay and Lesbian March on Washington in 1988.
Max was a touring musician in those days, and found time to support many a protest.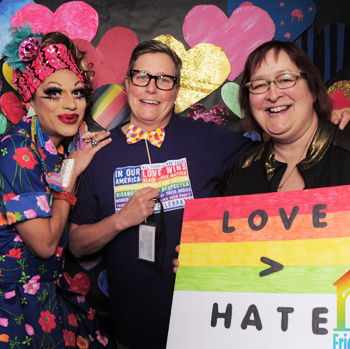 Aside from standing up for justice, concern about senior citizens shows up early and consistently in Max' life. After years in the music industry Max became the Program Director for the Fruitvale Senior Center in Oakland, California, serving elders from the Cambodian, Vietnamese, African American and Latino community. Max was a volunteer Long Term Care Ombudsman in California and sat on the Board of Directors for the United Seniors of Oakland.
In 2005, Max and their wife moved to Portland Oregon where they studied Community Development at Portland State University. From that time to the present, Max has been involved in advocacy for senior citizens, especially LGBTQ seniors. Max volunteered for Portland's Elders in Action and became their Advocacy Manager, staffing the Portland Commission on Aging. Max then became the Volunteer Coordinator for Providence Health and Services Elder Place, a Program for All–Inclusive Care for the Elderly (PACE). Max sat on the board for Senior Housing and Retirement Enterprises (SHARE), to support and meet specific goals through volunteering, the growing need and desire for LGBT older adult senior housing. Max chaired Portland's Gay & Grey Expo as a volunteer as well as devoted time working to secure the SAGE Metro Portland affiliation established in 2013.
Today Max is the Manager for SAGE Metro Portland, overseeing program development, volunteer management and outreach for the growing community of LGBT older adults. Max and wife are celebrating their 25th year together in 2020. They spends time with their 2 dogs, 2 cats – and playing music.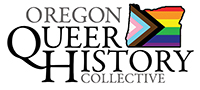 P.O. Box 3646 • Portland, OR 97208-3646 • info@glapn.org
Copyright © 2020, Gay & Lesbian Archives of the Pacific Northwest