Queer Heroes NW 2020:
RAINS – Rainbow Advocacy Inclusion & Networking Services
That's a long name. They call it RAINS for short, and they're located in Longview, Washington, a place where many LGBT+ people may not feel welcome.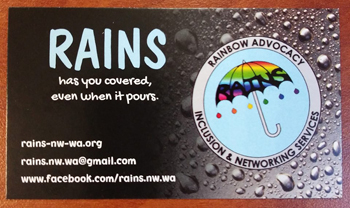 Small towns and rural areas can be problematic for LGBTQ folks. There are fewer people who might support activities, folks are farther apart, and there's not really such a thing as safety in numbers. Some people feel safer never coming out of the closet.
Somebody had to take the risk of going first. RAINS did that in 2017, being visible, making it easier for other folks to join the community – and, over the years, discovering exactly how numerous their community really was.
They encouraged agencies to include LGBTQ+ inclusive trainings into their training regimen. They advocated for gender-neutral bathrooms in public spaces and businesses. They started showing up at local events, just sharing the fact they exist, and discussing their mission. They started creating events for Rainbow/LGBTQ+ folks in safe spaces.

People were paying attention. RAINS' third annual Pride event last year reached 300+ attendees, more than double the previous year!
RAINS is the only nonprofit of its kind in the Longview area. GLAPN bases its Queer Hero selections  on the elements of risk, sacrifice, service, example,  and inspiration. Taking LGBTQ+ services into small towns and rural areas frequently involves all of those elements.  Longview is lucky to have RAINS.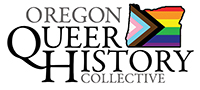 P.O. Box 3646 • Portland, OR 97208-3646 • info@glapn.org
Copyright © 2020, Gay & Lesbian Archives of the Pacific Northwest