GLAPN is pleased to share a Queer Hero per day,
through the month of June, 2021!
As part of our celebration of Pride, GLAPN announces a Queer Hero for each day in June through our website and social media.
Nominations are always open (see the lightning bolt link, bottom left?) We rely on our community to tell us which folks whose risk, sacrifice, service, inspiration or example have made them heroes to the LGBTQ community at large.
Anybody is eligible – living or dead, straight allies, or any color of the LGBTQ rainbow. We get our share of community celebrities, but we love to recognize folks who work hard and don't get the appreciation they deserve.
In late April every year, a committee of former Queer Heroes makes the selections.
Go back to the Queer Heroes Main Page to see our Heroes from previous years.
WATCH THIS SPACE! WE'LL ADD A QUEER HERO FOR EVERY DAY IN JUNE!
Transpose PDX is a non-profit choral arts organization, centering the transgender, non-binary, and gender nonconforming community in leadership, membership, and focus. They follow a long tradition of performing arts in the LGBTQ+ community, polishing their skills, learning to perform together, and taking their particular branch of outreach in front of audiences, touching hearts and minds across the community. Read more …
As a gay Black man, Travis Nelson had to fight through racism and stereotyping to realize his dream of becoming a nurse and a union rep for registered nurses. Travis graduated from Washington State University with BSN and RN degrees. Travis became an Emergency Room nurse, then a union representative, and a committed volunteer for the Democratic Party of Oregon.Within the Democratic Party he was the first black gay male to Co-Chair the 2020 OR Delegation to the Democratic National Convention and was the first out gay male as Director of the Western States Region Democratic Black Caucus. Read more …
Mary Schutten has been advocating for women and lesbians since she was in high school, when she marched with Take Back the Night. A Portlander since 1997, she demonstrated a knack for fundraising, and she volunteered for the Lesbian Community Project and Love Makes a Family. She ran the $456 billion bond campaign to rebuild three Portland high schools and repair several middle and elementary schools. Mary's focus is on electing women, especially women of color and lesbians, to city, county, and statewide office.
Read more …
James Waldner was on the Pride Northwest (PNW) board for 8 years, including 3 years as president. It's a high-profile position in the LGBTQ+ community, as well as the city at large, that routinely attracts criticism and threats of violence. James' commitment to his volunteer job, his business savvy and ethical sense, were fundamental to what PNW is today. James left the board in 2019 after he and his husband adopted a sibling pair out of the foster care system, and devoted themselves to raising their family.
Read more …
Karol Collymore is an ally who has always fought for and stood shoulder-to-shoulder with her LGBTQIA brothers and sisters for long-denied respect and rights. Among other community service, Karol has served on the Cascade AIDS Project board since 2014, became president of the board in 2018, and has signed on for another two-year term. Karol currently works at NIKE, directing the Inclusive Community Portfolio, where she focuses a considerable amount of her work on the intersections of race and orientation. Read more …
For several years, Paul Iarrobino has helped represent what's right about Portland, both within and outside the LGBTQ+ community. After retiring from working in the aging field, Paul started his own storytelling company, Our Bold Voices, to elevate the voices of diverse community members and create community dialogues. Read more …
Seven years ago, Laura Erceg founded Queers & Allies of Coos County, responding to a need for a safe space for LGBTQ+ young people.There was discussion about making Q&A part of the school system, but many LGBTQ+ youth didn't feel safe being out at school – or weren't part of the school system at all. The teens who joined Q&A in the early years are young adults now, still affiliated and sometimes helping with the programs, and there are youth involved in Q&A who never knew a time when there wasn't support for LGBTQ+ young people in Coos County. Read more …
Our House of Portland launched in 1988 when a concerned group of Portlanders began working to provide housing and care for the growing number of low-income people living with HIV. Today they serve over 700 clients annually, all of whom experience ongoing barriers to stability such as low income, chronic homelessness, and housing and food insecurities. Read more …
Valerie Whittlesey was executive director of Phoenix Rising, one of the earliest LGBTQ+ youth service organizations, during the 1990s when our community was under attack by the anti-gay Oregon Citizens Alliance. Under her leadership Phoenix Rising got its first United Way funding, and she formed alliances across the community to deal with political pressure, AIDS, and homeless LGBTQ youth. Read more …
Harry Allen, aka Harry Livingston, was one of the most notorious men in the Pacific Northwest from 1900 until about 1922. He was a bronco-buster, a brawler, in and out of jail, raising hell up and down the west coast. It was never a secret that Harry was assigned female at birth. Read more …
Fay Stetz-Waters served her country as a U.S. Marine, and worked as a 911 dispatcher before attending Trinity College and Lewis & Clark Law School. She was appointed to the Linn Country Circuit Court by Governor Kate Brown to fill a midterm vacancy, but was not re-elected. Since April 2019, Fay has been Senior Assistant Attorney General, serving as Director of Civil Rights at the Oregon Department of Justice, managing the Bias Response Hotline, supervising civil rights litigation in Oregon and coordinating multi-state litigation on civil rights, education, and labor rights issues. Read more …

Michael Hsu was born in Taiwan, and came to the USA at the age of 9. He graduated from Lewis & Clark Law School and was admitted to the Oregon State Bar in 2012, becoming possibly the first undocumented attorney in the United States. He got his green card in 2017. Always openly gay, Michael was appointed in 2017 to the Oregon Board of Parole, where he now serves as chairperson. Read more …
The Equi Institute, a Transgender and Queer health clinic in North Portland, was on the brink of closing for good when the COVID-19 pandemic hit. Katie Cox, one of two remaining employees, was able to reorganize, create new community relations, and actually expand the work of the clinic, and she' Executive Director now. Read more …

Get a head start on next year: nominate 202s's Queer Heroes now!
Click on the link at right to view the nomination form.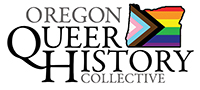 P.O. Box 3646 • Portland, OR 97208-3646 • info@glapn.org
Copyright © 2020