Queer Heroes NW 2021:
Stephanie Eminowicz

In April, 2021, Stephanie Eminowicz initiated a protest to have two educators in her Grants Pass school district fired after they posted an anti-trans video on YouTube.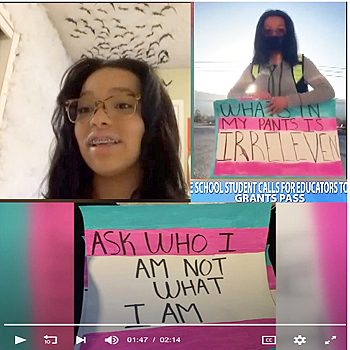 "I always thought that North [Middle School] was a place that allowed all genders and gender identities and sexualities and races and ethical backgrounds and religions," Stephanie said. "When I heard about it, it was just so shocking to me and I couldn't believe that this was like the world that I was living in."
In the original video titled 'I Resolve' posted in late March, the two teachers advocated for replacing the traditional 'Boys' and 'Girls' designations on public school restrooms with 'Anatomically Male' and 'Anatomically Female', as well as not mandating that students and staff be required to use a students' preferred pronouns, among other recommendations.
"If someone is seriously so concerned by what's in between your legs, about what bathroom you're going in, then I think that we have a complete different issue that needs to be addressed rather than blaming it on the transgender community," she said.
"I'm supporting [transgender kids]. I think that when I have people tell me that and just tell me that they're grateful for what I'm doing. It really helps make up for some of the damage from all the hate," said Eminowicz.
On April 15, the Grants Pass school board announced they had hired an outside investigator over the two educators' anti-LGBTQ+ comments.
Assistant Principal Rachel Damiano and science teacher Katie Medart were terminated on July 15, 2021, when the school board determined they had used district time and resources to promote their campaign to challenge school policies on gender identity.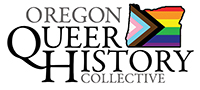 P.O. Box 3646 • Portland, OR 97208-3646 • info@glapn.org
Copyright © 2021, Gay & Lesbian Archives of the Pacific Northwest