GLAPN and Portland Q Center are pleased to share a Queer Hero
per day, through the month of June, 2017!
In early spring, GLAPN polls our community by email,through their websites and Facebook pages,
asking for nominations of folks whose risk, sacrifice, service, inspiration or example have
made them heroes to the LGBTQ community at large.
We held a reception honoring all current and past Queer Heroes, on Thursday, June 15 at Q Center (4115 N. Mississippi Ave., Portland OR 97217) from 5-7PM. The 2017 Queer Heroes' posters were on display in the gallery, the Queer Heroes were introduced and invited to speak briefly, and, as always, all Queer Heroes from previous years are especially invited to attend.
Videographer Bev Standish captured the entire event, which may be viewed at this link!
Nominations are always open for Queer Heroes. Follow the lightning-bolt link at the bottom of
the menu at left, and fill in the form!
Cathy Abbruzzese had almost 20 years of activism on the East Coast before being hired in 1992 as the field manager for the campaign that fought the Oregon Citizens Alliance anti-gay Ballot Measure 9. Two years later, she worked for the campaign that fought the OCA's Ballot Measure 13. In 1996, Cathy was hired as Donor Outreach Coordinator for the newly-developed Basic Rights Oregon, where she raised $2.2 million, developing long and lasting donor relationships for BRO and mentoring generations of activists. She retired in 2016. Read more …

Tyler TerMeer was diagnosed with HIV at the age of 21, and decided to spend his life openly as an HIV positive gay man of color, helping others living with HIV, and advocating for effective HIV policy. He has a remarkable record of service at state- and national levels, and he was recognized in 2012 by the Obama White House as one of the Nation's Emerging LGBTQ+ Leaders, and then again in 2013 as being among the Emerging Black LGBTQ+ leadership in the country. In 2014, Tyler TerMeer was hired as Executive Director of Cascade AIDS Project (CAP). Read more …

Gisella Contreras is a generous and dynamic presence in Portland's Latinx community. In 2011, she related her experiences in a Basic Rights Oregon video "Our Families: LGBT Latino Stories". She courageously recounted how her family rejected her transition. In 2012, she graced the cover of PQ Monthly's first ever issue. She often makes special appearances at colleges and radio shows to share her story. In 2016, Gisella was selected as Miss Trans Oregon. Read more …
Dr. Angela Carter is director of the Equi Institute, founded in early 2016, the first queer/trans specific wellness center in Portland. Angela (they/them pronouns) began serving the queer community at age 16 at the Lavender Youth Recreation and Information Center in San Francisco. In 2007 they began medical school with a commitment to Queer and Transgender health care. Today, as well as providing queer/trans healthcare, they work on medical, social, and bureaucratic fronts, educating other health care providers and support staff, insurance companies, and social organizations. Read more …
Lorne James (Diné) is a leader within the Portland Native American Community and chair of the Portland Two Spirit Society. Lorne is an artist, and a Native American LGBTQI rights activist on both a local and national scale. Mr. James currently serves on the Ryan White HIV Services Planning Council, a $3 million dollar funding source for Clackamas, Columbia, Multnomah, Yamhill, Washington and Clark Counties in the fight against HIV/ AIDS. Lorne just stepped into a leadership role in Portland Two Spirit Society, and appears to be taking the group to a new level of confidence and empowerment. Read more …
Tessa James Scheller and Jeralyn Dee O'Brien are board members of the Lower Columbia Gender Alliance and the Lower Columbia Q Center in Astoria, Oregon. Both of them work to support all queer and gender non-conforming people in their community. Both are involved in day-to-day operations of the LCQC, at 1636 Exchange Street in Astoria. Both worked like crazy on the Lower Columbia Region's Second Annual Pride Celebration, June 9-11, 2017. Read more …
a. c. ramirez de arellaño is a retired and disabled parent of nine, and grandparent of four. a.c.'s local community involvement includes Q Patrol, Tranz Guys PDX, Greater Portland Trans Unity, Portland United Against Hate, The Equi Institute Board of Directors, and The Portland Sisters of Perpetual Indulgence. Read more …
Karen Castner began her career in education, where she became known as an uncompromising advocate for the student rather than the system. Throughout the years, Karen took on the "difficult" kids and taught from Third Grade through Masters level courses in College, always pushing against any system of education which isn't about the students. She has also been a realtor, a cab driver, warehouse worker, delivery driver, greenhouse worker, administrator, bookkeeper, waitress, house painter and fused and stained glass artist. For the last 2 years, Karen has been a Board Member and Treasurer at the Q Center, using an experience based common sense approach to decisions. Read more …
Emily Newberry knew from an early age that she was trapped in the wrong body, but she had to wait 60-plus years to transition. She was one of many people instrumental in ending Medicare's transgender health care prohibition. Emily is a published poet now, exposing her journey both in print, and to the many who have heard her read from her works in churches, libraries, and anywhere else she may be invited. She teaches art as welll as doing it, and she has touched the lives of many LGBTQ seniors with her Story Catchers workshop, helping them tell their stories in words and art, in a safe space. Read more …
Andrew Shayde is currently Special Events Coordinator for Cascade AIDS Project, managing major events and fundraisers including an annual Art Auction, Bat 'n Rouge softball tournament, and the iconic AIDS Walk Portland. His work has been hugely important to the success of CAP's support and prevention programs. He contributes personal time to ensure that people have access to culturally affirming care, and he is generous in helping organizations across the community. Andrew also writes a comic book series, "Monsters Among Us," that deals with political themes and metaphors for the treatment of minorities in America. Read more …
Lynnette McFadzen works at the national level for bisexual education and advocacy, and advocates for bisexual, pansexual, fluid, queer (bi+) and the gender diverse community daily through social media. Lynnette is President, Board of Directors for BiNet USA, the national non-profit advocacy organization for the bisexual+ community since 1990. Lynnette attends LGBTQ conferences throughout the year educating on bisexual issues and reporting for The BiCast, a podcast for the bisexual community, a two-year-old project with more than 125 podcasts to its credit. Read more …
Asian Pacific Islander Lesbians and Gays was founded in 1992 to organize the broader Asian Pacific Islander community to battle Oregon's anti-gay Ballot Measure 9. Sogene Mah was there from the beginning. The organization has since changed its name to Asian Pacific Islander (API) Pride, and Sogene still takes an active role in leadership. Read more …
In 1992, Anne Galisky was the lead organizer of a two-week, 150-mile walk from Eugene to Portland called "For Love and Justice: A Walk Against Hate" during the contentious anti-gay Ballot Measure 9 campaign. Hosts and participants took on the risks involved in boldly and publicly supporting the LGBTQ community. Nowadays she's a filmmaker, responsible for "Papers: Stories of Undocumented Youth" (2009), and "14: Dred Scott, Wong Kim Ark & Vanessa Lopez" (2014), a film that explores who has the right to be an American citizen.Read more …
Gene de Haan was Q Center's first employee, in the early 2000s, fresh out of Reed College. The job at Q Center ended when the board chose to hire an executive director, but while developing the Health and Wellness focus at
Q Center, Gene found the inspiration for their next step, and began acquiring the prerequisites for medical school. They went on to earn an M.D., and are currently beginning their final year of OBGYN residency at Oregon Health and Science University. They have been active in research related to trans health care and plan to continue this area of study to improve health care for queer and trans communities. Read more …
Marissa Yang Bertucci works with LGBTQ youth in several venues in the Portland area.She is one of the adult accomplices/organizers at Oregon Queer Youth Summit – a one-day summit organized by and for queer and trans youth, to build community and power. Marissa helps plan Queer Rock Camp PDX. She shows up for youth after school at Q Center, multiple days a week, and she coaches a speech and debate team at a Portland-area high school. Her work is all about focusing youth decision-making and power. Read more …
Tashia Harris (they/them/theirs and he/him/his pronouns) came to Portland to work at Western States Center as the Racial Justice Program director. Tashia is fresh from leadership at George Mason University's Women and Gender Studies Department, Fairfax, VA. Tashia is being praised for quick and clear analysis of intersectional issues, plus insightful and appropriate action. However, most of the praise comes from the teaching that lifts up everybody who spends time around them. Read more …
Long before Lesbians and Gays started talking about liberation in Portland, Pat Cach was showing up for activities, helping out where she could and – above all – having fun. She supported the Erv Lind Florists fast-pitch softball team, and in 1962 was one of the drivers that took the team to their World Series in Connecticut. Dissatisfied with the bar scene in the early 1970s, she started social groups and community activities for women, and in 1973 was one of the founders of the Portland Womens Jug Band, which performed locally until 2012. Read more …
Nathaniel Boehme became the nation's first full-time LGBTQ Veterans' Services Coordinator in May of 2016, with the Oregon Department of Veterans' Affairs. Nathaniel, who identifies as a cisgender gay man, is an Operation Iraqi Freedom veteran who is still serving in the Oregon Air National Guard. It's anybody's guess how many military decisions will need to be revisited in the name of justice and equity, now that it's not a crime to serve one's country while openly LGBTQ, and Nathaniel is simultaneously trying to transform a bureaucracy that has never been sensitive to LGBTQ issues, and to reach veterans who may not be entirely comfortable coming out. Read more …
Ineka Estabrook is a Newport, Oregon mom whose daughter was being bullied at school after coming out. Ineka asked Oregon Center Coast PFLAG chapter what she could do to make things better. Since then she has helped create a network of GSAs in this primarily-rural county, and collaborated with youth to conduct "LGBTQ 101" and "Trans 101" workshops for school administrators, in medical facilities, city government, and even local senior centers. Aware of isolation faced by LGBTQ youth in small towns and rural areas, she has helped create social activities, and even coordinated transportation so people can get to events, and home safely. Read more …
Tom Potter is a former chief of police and mayor of Portland. His daughter Katie, an out lesbian, recently retired from a career as a Portland police officer. In 1990 when Tom, recently appointed Chief of Police, marched in uniform with his daughter in a Portland Pride parade, conservatives were scandalized. Tom Potter was elected mayor in 2004. Tom began a transformation at Portland Police Bureau regarding LGBTQ issues which is still going on, and Katie's activism, inside and outside of her police work, have contributed substantially to LGBTQ inclusion, dignity, and equality. Read more …
After years of addiction, homelessness and jail time, LaKeesha Dumas and O'Nesha Cochran-Dumas got clean in 2011 after they met and fell in love. After that, going back to jail and being separated from one another was too hard to bear. They joined PFLAG Portland's Black Chapter early in recovery, and eventually sat on that organization's Board of Directors. Both women are now in recovery, with jobs in the mental health sector, and providing outreach and training in the community. Read more …
Stefanie Duncan heads up LGBTQ outreach in Wallowa County, where LGBTQ outreach is a brand-new idea. The county's total population is about 7,000. Stefanie has created an Advisory Council of local LGBTQ people. She started a Northeast Oregon LGBTQ Facebook group as a safe community forum. Furthermore, she has developed a Safe Space Youth Program (S2YP) in Wallowa County, providing connections to LGBTQ youth and creating an LGBTQ presence in community schools. Read more …
tash shatz began their advocacy as the first openly transgender student in their high school, and they have been showing up for queer and trans justice ever since. They have served at the policy level, and have turned policy into practice by teaching government agencies, labor unions, medical schools, and many others about justice for trans and non-binary people. Many folks in LGBTQ communities recognize tash from one or more of the many jobs they have held, without understanding the impact tash's persistence, advocacy and activism have had on our community. Read more …
Erin Janssens was hired as a firefighter in Portland in 1988, and retired as Chief of Portland Fire and Rescue in 2016. Erin is an out Lesbian, the first openly LGBT person to serve at that level in Portland Fire and Rescue, and throughout her tenure as Fire Chief, there were only four other women across the nation leading metro-sized fire departments. Read more …
Ernesto Dominguez, a gay cisgender Latino, has been out since he was 14, and has been an activist almost from the beginning. His work as Youth Technology Specialist at Cascade Aids Project got him national attention in 2011 for use of social media in outreach to young people of color, and his resumé includes work with Basic Rights Oregon and Planned Parenthood. Currently he is a student at Portland's Concordia University, a private, Lutheran, school, where he is the first out, gay, immigrant student body president the school's history. Read more …
In 2004, an interracial Lesbian couple married in Portland and then took the State of Oregon to court, asking that the marriage be recorded. Mary Li and Becky Kennedy already had a child, and were willing to become the poster couple for the campaign, for those who could not safely do it. Read more …
Denis More was among the clergy who rose to the occasion when Portland's gay community started organizing in the early 1970s. Remembered as a thoughtful and diplomatic man, Denis nevertheless understood the importance of political outreach, and several veteran activists recall his support and coaching as a turning point in their lives. In 1976, Denis was one of the people who established the Portland congregation of the LGBTQ affirming Metropolitan Community Church (MCC). Read more …

LGBTQ people were considered mentally ill by definition until 1973, and in the early days of Gay Liberation, trustworthy counselors were hard to find. Tom Cherry was pursuing his PhD in Psychology in 1970 and was active in both Portland's Gay Liberation Front and the Second Foundation of Oregon, founded later that year. Tom trained Second Foundation phone staffers on how to deal with callers who sought support. Read more …

In 2012-2013, retired U.S. Air Force Lt. Colonel Linda Campbell found herself battling Federal regulations when she discovered that the military spousal burial benefit did not apply if the spouse was a lesbian. Elected and appointed officials on both coasts were involved before an exception was granted and the late Nancy Lynchild was laid to rest in Willamette National Cemetery, with an approved grave marker saying she was the spouse of Linda Campbell. Read more …
Kaig Lightner, MSW, has been a coach for 16 years and a transgender activist for most of that time. He knows the value that athletics can have for young people, and he is dedicated to access, inclusion, diversity and equality on the playing field and among the coaching staff of Portland Community Football Club. The video of Kaig coming out to his team as transgender went viral in May, 2017. Read more …

Get a head start on next year: nominate 2018's Queer Heroes now!
Click on the link at right to view the nomination form.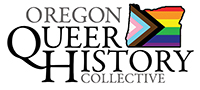 P.O. Box 3646 • Portland, OR 97208-3646 • info@glapn.org
Copyright © 2016