Queer Heroes Northwest 2017:
Cathy Abbruzzese
Born and raised in Brooklyn, New York, Cathlyn "Cathy" Abbruzzese entered Catholic religious life as a sister in 1967. She left to explore her sexuality in 1972, coming out as lesbian in 1979 after attending the first national march for LGBTQ rights in Washington, DC.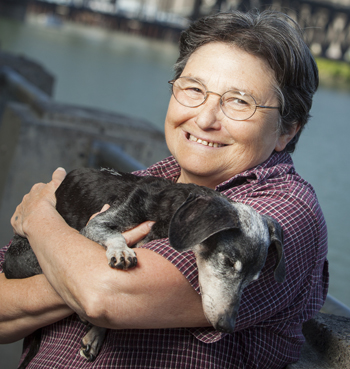 In the 1980s, Cathy worked for the New York City Housing Authority where she co-founded a lesbian and gay group. She also helped get New York City's sexual orientation nondiscrimination ordinance passed.
Cathy co-founded one of the first AIDS ministry teams in the nation. She marched and attended rallies to get the government to address the AIDS crisis. In 1990, she moved to Medford, Oregon and did volunteer work at a retirement facility where her wife Terry was the general manager. Someone complained about their lesbianism, so Cathy was forbidden to enter the building. Terry and others resigned. Cathy and Terry then moved to Portland.
In 1992, Cathy was hired as a field manager for the campaign that fought the Oregon Citizens Alliance's (OCA) virulently anti-gay Measure 9.  Two years later, Cathy worked for the campaign to counter the OCA's Measure 13. In 1996, Cathy was hired as Donor Outreach Coordinator for the newly founded Basic Rights Oregon. She raised $2.2 million and developed long and lasting donor relationships for BRO.

"I followed my heart," Cathy told a reporter for The Oregonian, "and I've made my living doing what affects my life. I wish I didn't have to do it. I do it because it's my life and I can't expect other people to do it for me."
After two decades of tireless work which included mentoring younger LGBTQ activists, Cathy retired from BRO in early 2016. So loved is she, that her coworkers gave her a massive farewell party that filled much of Portland's Q Center.
Cathy is pictured here with Ikey the dachshund. "... so many people will remember him with me because he was with us from 1993 - 2014... so please use this picture and if possible add his name!"

We begin announcing a hero per day on June 1, and the heroes' posters are unveiled in a reception at Q Center on June 15, 2017, 5-7PM. The public is invited. Queer Heroes' posters are displayed all year at Q Center.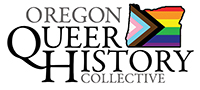 P.O. Box 3646 • Portland, OR 97208-3646 • info@glapn.org
Copyright © 2017