Queer Heroes Northwest 2017:
Mary Li and Becky Kennedy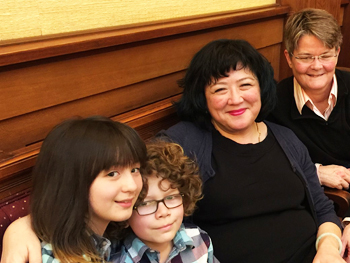 For a brief period in March 2004, the Multnomah County issued marriage licenses to same-gender couples.
Portlanders Mary Li and Becky Kennedy had long been committed to each other. So, marriage equality activists enlisted them to be the poster couple for the process. They had a baby who they took turns holding during the ceremony. Photos were taken and they became the face of the campaign.
Mary and Becky did not personally care about marriage. They went into it for those who could not safely or otherwise do it, but who needed it. About 3,000 same-gender marriages were performed before a state judge put a halt to them. But Mary and Becky went to court seeking the right to wed.

The lawsuit, Li & Kennedy v. State of Oregon, petitioned the governor and registrar to record the marriages. That November, Oregon voters approved Ballot Measure 36, which amended the Oregon constitution to define marriage as being only between one man and one woman. When the law suit got to the Oregon Supreme Court, the court ruled against Mary and Becky.

Mary was born into a biracial family at a time when interracial marriages were taboo. Her father was a Chinese immigrant and her mother was Euro American. So, Mary understood the injustices caused by legal and cultural impediments to marriage often incurred by a committed couple. It's easy today to forget the risks involved in being "out" - especially as a biracial couple - as the face of an action that generated massive controversy.

Mary helped to found the Asian Pacific American Network of Oregon (APANO). In her job with Multnomah County family services, she has done a considerable amount of work with Asian refugee communities. The fact that she pioneered marriage equality while openly lesbian helped win acceptance of LGBTQ people in some traditional communities.
We begin announcing a hero per day on June 1, and the heroes' posters are unveiled in a reception at Q Center on June 15, 2017, 5-7PM. The public is invited. Queer Heroes' posters are displayed all year at Q Center.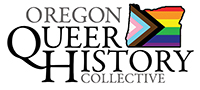 P.O. Box 3646 • Portland, OR 97208-3646 • info@glapn.org
Copyright © 2017