Queer Heroes Northwest 2017:
Gene de Haan
In mid-1972, The Second Foundation opened a gay community center in Portland. It had meeting rooms, a place for a counseling center, and enough space for socials, dances, and large events. It closed in 1974, a victim of embezzlement.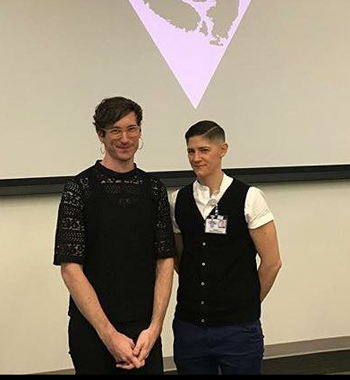 In the early 2000s, a group of community activists (including Portland Mayor Sam Adams) began planning – again – for an LGBTQ community center. In 2005, Q Center officially incorporated, and in spring of 2006, the doors opened at Q Center's first location – a storefront at the bottom of SE Taylor Street, near Water Avenue.
Gene de Haan (pronouns: they/them) was Q Center's first employee. Fresh out of Reed College, already a veteran of service at the Trans/Identiy Resource Center, Gene's title at the newly-established Q Center was Coordinator. Gene developed five core programs: Arts and Culture, Youth, Seniors, Families, and Health and Wellness. They built the trans library, started the gender query group, and built relationships with affinity groups throughout the region to develop a community sourced programming model.
The job at Q Center ended when the board chose to hire an executive director, but while developing the Health and Wellness focus and Q Center, Gene found the inspiration for their next step, and began acquiring the prerequisites for medical school.
In 2009, Gene received a B.S. in biology from Portland State University. They then went on to receive an MD from the University of California San Francisco and was the one student selected from their class to receive the Gold Headed Cane Award after being nominated by faculty and fellow students for exemplifying physicianship. While in medical school, Gene also completed the Program in Medical Education for the Urban Underserved. They are currently beginning their final year of OBGYN residency at Oregon Health and Science University.
They have been active in research related to trans health care and plan to continue this area of study to improve health care for queer and trans communities. While at OHSU, they have been forging a path in a field where their community has been historically marginalized and underrepresented.

We begin announcing a hero per day on June 1, and the heroes' posters are unveiled in a reception at Q Center on June 15, 2017, 5-7PM. The public is invited. Queer Heroes' posters are displayed all year at Q Center.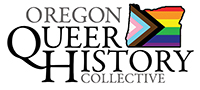 P.O. Box 3646 • Portland, OR 97208-3646 • info@glapn.org
Copyright © 2017