Queer Heroes Northwest 2017:
LaKeesha Dumas and O'Nesha Cochran-Dumas
O'Nesha began using drugs at the age of 13 serving 3 prison sentences totaling 15 years behind bars.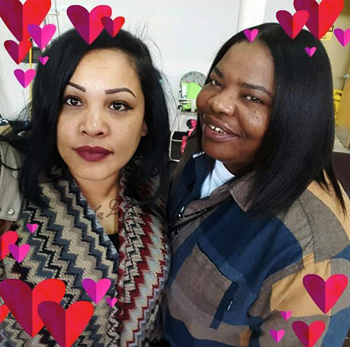 Keesha began at 9 and was thrown in  jails, mental institutions, and hospitals. For more than 20 years, neither could find a way out of the cycle of addiction or homelessness.   
Until they met in 2011 and fell in love.  
O'Nesha said, "I got clean cause my parole officer kept throwing me in jail and being away from Keesha was too hard for me." Keesha got clean shortly after and this year they will celebrate 6 years clean in September and October.  
They joined PFLAG Portland Black Chapter in 2011, both sat on the board for about 4 years.  
Now they are both in recovery. Keesha works in community healthcare, first with the Urban League, African American Health Coalition and now for Multnomah County Health Department in Mental Health and Addictions Services Division.  
O'Nesha graduated from Portland Community College where she helped launch Cascade campus' first Queer resource center. Today she works for Mental Health Association of Oregon, at the OHSU hospital as a peer mentor.  
Together they offer a cultural awareness training  and within it a module on queer culture. Keesha said; "there is a lot of stuff that wasn't taught when me and my wife came out in the early 90's. So it's important to reach out to the younger generation to teach us about what's going on."  
We begin announcing a hero per day on June 1, and the heroes' posters are unveiled in a reception at Q Center on June 15, 2017, 5-7PM. The public is invited. Queer Heroes' posters are displayed all year at Q Center.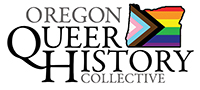 P.O. Box 3646 • Portland, OR 97208-3646 • info@glapn.org
Copyright © 2017