Queer Heroes Northwest 2017:
Pat Cach
Born and raised in Portland, Pat has always had a zest for art and fun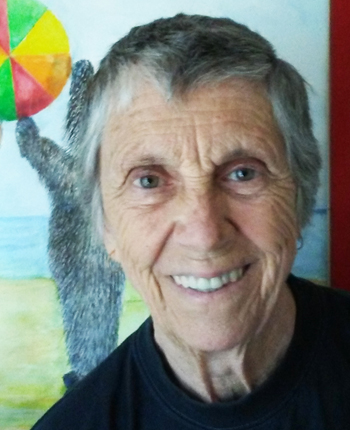 Both were realized as life unfolded, beginning her support role with the Erv Lind Florisits Softball Team in 1962, and traveling with the team to Connecticut for the World Series of Softball. 
Seeking greater and more fulfilling outlets within the women's community, in 1973 Pat turned her attention to music with the creation of the Portland Women's Jug Band.  Until 2012 the band shared Pat's creative spirit with gusto, playing and performing for the Pacific Maritime Festival, private political parties, weddings, and picnics in Laurelhurst Park. Each summer ended with their Portland Marathon performance; the icing on the cake was being voted The Most Inspirational Band in the Portland Marathon. Quite an accomplishment!
Social outlets for Lesbians were sadly lacking in the 1970's, with only the bar scene supplying some satisfaction.  Pat organized her friends to form a Rap Group to meet every Friday evening, as a support group for personal issues and share information on what was happening in the Lesbian community.
In 1978 Pat turned her attention to another creative project, Women In Transition. This CETA-sponsored program was a one-year grant to assist over 100 displaced homemakers in gaining needed life skills. In
her role as Intake Coordinator, Pat met her life partner Lu Ell. Pat and Lu spent the next 38 years in loving relationship.
As Pat often says, her biggest achievements were relational accomplishments with her Creator, Lu, family, and the women's community.  "I feel blessed." 
Pat's creative spirit is boundless.  The women's community thanks her for over 50 years of service.

We begin announcing a hero per day on June 1, and the heroes' posters are unveiled in a reception at Q Center on June 15, 2017, 5-7PM. The public is invited. Queer Heroes' posters are displayed all year at Q Center.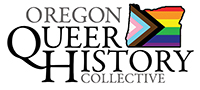 P.O. Box 3646 • Portland, OR 97208-3646 • info@glapn.org
Copyright © 2017