Queer Heroes NW 2012
John Wilkinson
Sometimes it is possible to follow a number of stories back to a single beginning. John Wilkinson was there when the LGBTQ civil rights movement in Portland, Oregon, first came into focus.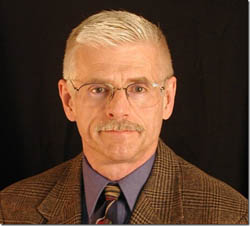 In 1970, it was difficult to find anything in print that was positive about homosexuality. Portland was no longer attempting to close all gay bars, but gays were still publicly demonized. Oregon was one of 49 states in which gay sex was still a crime.

That year, a young man, name unknown, attempted to place an ad in an alternative newspaper, the Willamette Bridge. The proposed ad read: "Gay, longhair, young, lonely, seeks meaningful relationship with same. Answer with ad in the Bridge." The Bridge refused to run the ad.

A staff member at the Willamette Bridge, John Wilkinson disagreed with the decision not to run the personal ad. John was an openly gay 21-year- old, and in response he wrote an article contending that gay people needed to organize to achieve full human dignity, suggesting that gay Portlanders needed something like the Gay Liberation Front (GLF) which had recently formed in New York. No one had ever said this in Oregon media.

Holly Hart, who had been publishing feminist articles in the Willamette Bridge, then came out as a lesbian, and started writing about gay issues as well. Soon, the Bridge carried numerous articles on gay dignity, written by gay people. Holly and John helped organize Portland's GLF which met weekly at a Portland coffeehouse. At the second meeting, John met Dave Davenport, who became his partner for life.

Over the past 40 years, the Portland Gay Liberation Front evolved into the large LGBTQ movement we have today. While our quest for equality and dignity is far from complete, it is much easier being an LGBTQ Oregonian today than it was in 1970. We owe a debt of gratitude to those who took the first steps.
John Wilkinson, 2/25/1948-12/28/2019
We're sad to report that John Wilkinson died on December 12, 2019 at his home in Seattle. His obituary is at this link.
By George T. Nicola
February 7, 2020
John Graham Wilkinson was one of the great human rights figures in the history of the Pacific Northwest. I am writing this on February 7, 2020. Today is the 50th anniversary of the article John wrote that helped launch what would become Oregon's LGBTQ movement.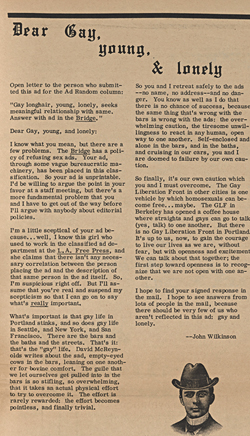 Having inspired people by the article, John went about organizing them. In the process, he met Dave Davenport who soon joined him and became his life partner as well. 
John and Dave eventually moved to Seattle where they cofounded Washington State's marriage equality movement in their living room. After a long struggle, they succeeded. The two got married shortly thereafter.
John passed away after a valiant battle against prostate cancer. I am sorry that John is gone, and I offer my condolences to Dave. But in a sense, John will always be with us through the countless people whose lives he has bettered.
Follow this link or click on the picture at right to read John's famous article in the February 6, 1970 Willamette Bridge.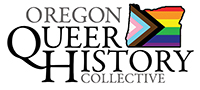 Copyright ©2015 • Gay & Lesbian Archives of the Pacific Northwest