Marie Equi: Radical Politics & Outlaw Passions
by Michael Helquist, Oregon State University Press, September, 2015

Marie Equi: Radical Politics & Outlaw Passions, by Michael Helquist, Oregon State University Press.
FOLLOW THIS LINK to Michael Helquist's website: michaelhelquist.com

Excerpts from Review:
Marie Equi. Radical Politics and Outlaw Passions, Michael Helquist. Oregon State University Press, 2015.
Once upon a time, there was a radical left in America. Its existence, its protagonists, its principles and aspirations have been more or less purged from our political consciousness. Likewise, the very limited gay and lesbian history we possess does not have a lot to say about our early involvement in left-wing politics.
It is, therefore, with gratitude for his exhaustive research that we turn to writer, activist and historian Michael Helquist, and his biography of Dr. Marie Equi (1872-1952)—who claimed the title "Queen of the Bolsheviks" for her life-long commitment to alleviate suffering and advance the cause of the common people.
Always passionate, seldom idle, Equi threw herself into the struggles of her time and place. As a doctor of medicine, who lived most of her adult life in Portland, OR, Marie Equi joined the team that went to San Francisco after the earthquake (1906) to care for survivors. A strenuous campaign, where Equi played an active role, won women the right to vote in Oregon by 1912 (eight years before the ratification of the 19th Amendment, giving women the right to vote nationwide). She proudly signed on as a member of Teddy Roosevelt's Progressive Party, with its remarkably enlightened platform. The election of Woodrow Wilson defeated both, and Equi's allegiances began to shift further left.
From our point of view, what is as remarkable as Dr. Equi's public persona is her private life, against all odds, as a lesbian. The case for an earlier generation of women who lived as couples, and played decisive roles in American reform movements, has been laid out by Lillian Faderman (To Believe in Women: What Lesbians Have Done For America, 1999). Helquist's biography adds Marie Equi to that remarkable circle, expanding and deepening our knowledge of lesbians and their lives in the Pacific Northwest.
Lisa E. Davis, New York City
Author, Under the Mink. A Novel (2001, 2015)
---
Purchase this book at independent bookstores and online outlets, including Amazon bit.ly/buyEqui
---
Michael Helquist is an historian, journalist, and editor and has written for several publications including the Oregon Historical Quarterly, the Journal of Homosexuality, the American Medical News, MS Magazine, The Advocate, and the San Francisco Bay Guardian. He has edited four volumes on health communication, social marketing, and behavior change. He directed a global AIDS and health communication program and worked on campaigns for safe streets and alternative transportation, development of GLBT history archives, and community resilience and sustainability. Helquist is a Portland native, now living in San Francisco.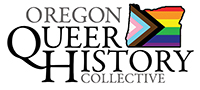 P.O. Box 3646 • Portland, OR 97208-3646 • info@glapn.org
Copyright © 2015, Gay & Lesbian Archives of the Pacific Northwest