Queer Heroes NW 2014:
Benjamin Gerritz
Benjamin Gerritz is a 36-year-old native Portlander who currently works as the Prevention with Positives Coordinator with Cascade AIDS Project.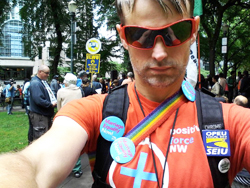 Benjamin can often be seen around town wearing a Positive Force NW shirt, publicly identifying himself as HIV+ to engage in conversations with the hope of eliminating HIV-related stigma. In December of 2013, Benjamin's work was nationally recognized by POZ magazine as Benjamin was chosen as one among POZ magazine's annual POZ 100.
In his work at Cascade AIDS Project, Benjamin facilitates multiple programs which support and empower the HIV+ community. He's readily seen around town offering HIV & syphilis screenings and risk reduction counseling services in partnership with various organizations. Aside from his work in the field of HIV/AIDS, Benjamin volunteers for local non-profits to promote civil and human rights and advocacy for social, racial, gender, and economic justice.
In Benjamin's personal time, he is a labor activist serving as an appointed member to his union's (SEIU 503) Civil and Human Rights Committee, an elected member of 503's CAPE political council, and an elected Assistant Board Member representing the private non-profit sector within Oregon's largest labor union.
When not serving on appointed committees and boards, Benjamin volunteers alongside his husband, Luis, in support of LGBTQ causes and organizations.
Please join Q Center and GLAPN as we hold a reception at Q Center Thursday, June 12th, 5pm-7pm, 4115 N. Mississippi, to unveil the posters for all 30 of 2014's Queer Heroes!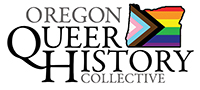 Copyright ©2014 • Gay & Lesbian Archives of the Pacific Northwest