Periodical Print Mass Media in the Oregon LGBTQ Movement
By George T. Nicola
Gay & Lesbian Archives of the Pacific Northwest (GLAPN)
Last update 12/2/2014
This article is a history of periodical print mass media in the Oregon LGBTQ (gay, lesbian, bisexual, transgender, and queer) movement. Because the movement started out to only be called "gay", but has since been referred to by many different names including LGBTQ, I may sometimes simply call it "our movement".
Terms for identities within our community often change. Unless otherwise indicated and if known, the people referenced in this article have usually identified as either gay, lesbian, queer, or bisexual. Transgender people and positively referenced people not openly LGBTQ, usually called "straight allies" or just "allies", will be specifically noted if known. Unless I identify in this manner, the extensive participation and huge contributions made to our movement by transgender people and straight allies would not get fully recognized.
I believe that all of the periodicals that were LGBTQ identified were owned and operated by people who have identified as gay, lesbian, or queer. However, the staffs and guest writers have sometimes included transgender people, straight allies, and bisexuals. To my knowledge, all of these publications were based in the Portland metro area. All were monthly except as otherwise noted.
It is very difficult gathering all this data from a period of 44 years. I got my base periodical list from the book A Curious and Peculiar People (CPP), written by GLAPN member David (Dave) Grant Kohl and published by Spirit Press in 2006. Page 406 has a list entitled "Journalistic Publications". Dave went through great efforts to create this list, but because the information he found was so scattered, he was limited it what he could compile. So he simply provided as much documentation as he could from the sources that were available.
Below is the CPP list as it appears in the book. I have left the formatting as close to the original as possible to make sure I did not obscure any of the nuances. Wording in brackets are my comments.
The Alternative Connection - (1991-) - Ray Southwick and Elwood Johnson
Cascade Voice - (June '82 - Dec '84) - Neil Hutchins, ed., sold to Robert Dunn
City Open Press (COP) (Oct '85 - '87?)
City Week - (Oct '85 - ?); Oregon Gay News; Portland Monitor; Chris Smith & Jerry Weller, ed
The Eagle Newsmagazine - (Jan '85 - Aug '85) - Robert Dunn, ed
Flash
The Fountain - (March '71 - Oct '73) - Neil Hutchins, ed
The Fountain Northwest - (Nov - Dec '73)
The Northwest Fountain - (Apr '78 - July '83) - David Porter, ed; Jim Bird
Lavender Network - (Feb '86 - Oct '94) - Ron Zahn, publ
Just Out (Oct '83 - Nov '92) - Renee LaChance & Jay Brown, publ; Marty Davis editor/owner 1999;
NW Gay Review - (Feb '74 - '82?) - Lanny Swerdlow, ed. & Neil Hutchins
Oregon Gay Rights Report, (PDX Town Council Newsletter) (Jan '75 - Oct '82),
Oregon Rainbow Magazine - 123 NW 2nd (1977)
Portland Scribe, (1974 - 1978) [This was a progressive newspaper which may have had gay positive articles, but it was not specifically gay. It was owned and published by Michael Wells, who had owned Willamette Bridge when the gay movement was launched from the latter publication.]
Rag Times (A Woman's Place Newsletter) – 2349 SE Ankeny (?'80-July '82)
Willamette Bridge – Gay Liberation Front - (1970) Chuck Wilkerson, ed [This was not a gay identified newspaper, but Oregon's gay movement was launched from it.]
Willamette Week – (1979-current) [This has never been a gay identified newspaper, but has carried some LGBTQ supportive columns and articles.]
Womanspirit, (Fall '74 - Sum '84). – Magdalen Farm, Wolf Creek, Or
I gleaned much of the detail from my personal experience, online research, or interviews I have conducted by phone or email. For instance, I personally wrote for two of the publications. I am hoping that others will take this as a start and write more detailed narratives. If you have suggested additions or corrections, please send them to info@glapn.org. In many cases, additional information might only be documented clearly if it is in a separate GLAPN article.
1. The underground press of the 1960s
In the late 1960s, ally activist Michael Wells and a few others launched a Portland progressive newspaper called the Willamette Bridge. According to Wells, this and other similar "underground" newspapers could only be published because production costs were lowered enormously through a process called photo offset printing.
The Bridge, as it was often called, gave a voice to issues such as the opposition to racism and the Vietnam War, while also supporting workers' rights. As time progressed, the Bridge also advocated for feminist, gay, and environmental issues. (http://en.wikipedia.org/wiki/Willamette_Bridge )
2. A newspaper gives birth to a movement
In February of 1970, a young man attempted to place a classified ad in that newspaper. The proposed ad read: "Gay, longhair, young, lonely, seeks meaningful relationship with same. Answer with ad in the Bridge."
The newspaper refused the ad, just as it rejected any ad it felt was sexual, regardless of sexual orientation. But a 21-year-old openly gay staff member named John Wilkinson disagreed with their decision. John chose to respond to the young man with a letter in the newspaper. He suggested that what was really needed was for gay people to get to know each other in a less secretive, more open way. He proposed the formation of something like the Gay Liberation Front that had recently been organized in other American cities.
The fact that any Oregonian would state in the mass media that they were gay was quite courageous at that time. It struck a chord with numerous people who knew they were gay, but had never met other gay people, and who were overwhelmed by society's anti-gay attitudes.
The positive response John received prompted him to call gay community meetings through announcements in the Bridge. Joining him soon was Dave Davenport, who John met at the second meeting and who became his life partner (and decades later his husband.) Early in this process, Bridge staff member Holly Hart, who had been writing feminist articles, came out as a lesbian. She called upon her women's movement and other organizing experience to help advance Portland's fledgling gay movement. With that, the Portland Gay Liberation Front (GLF) was born. It was the first gay politically oriented organization in Oregon.
It is significant that our movement in Oregon was started by a newspaper. Up until that time, it was very difficult to find literature that was positive about homosexuality. Gay men and lesbians had no easy way of knowing other people who shared their sexual orientation. Portland had numerous gay bars, but they did not advertise as gay so it was not easy for those wanting to come out to locate them. At that time, homosexuality was so demonized, that many gay men and lesbians were afraid to discuss their sexual orientation even with their best friends. Oregon was still one of 49 states whose laws criminalized homosexual conduct. Only an instrument of mass communication could bring people together.
So when the Willamette Bridge began publishing numerous positive articles about gay people, by local out gay people, it was quite a change. Holly wrote some articles under her own name and others under female pen names. She was concerned that other lesbians would not participate if they thought that only one woman was involved in the movement.
In the summer of 1970, GLF meetings were held weekly at Centenary-Wilbur Methodist Church in Southeast Portland. The place, address, time, and date were published in the Bridge which by that time had a huge readership. One night a week was dedicated to gay men, while another was for lesbians. This atmosphere allowed gays to meet other gays to discuss their lives. Also published in the Bridge were phone numbers where those coming out could speak to others who already had. A speakers' system was created so that groups could invite gay men and lesbians to talk to them about their lifestyles. (http://www.glapn.org/6130nicolagaymovement.html)
3. The beginnings of the Oregon gay press
Some gay people who wanted to work for their human dignity sought a more structured organization than the Portland GLF. They founded and incorporated a non-profit called the Second Foundation of Oregon in late 1970. In March 1971, the Second Foundation launched a monthly newspaper called the Fountain. The Fountain was the first Oregon periodical that identified as gay. I worked for the Fountain from 1971 to late mid-1973, mostly writing politically oriented articles.
Among other things, the Fountain publicized the positions political candidates took on measures that would protect gay people from discrimination. As attempts to pass such legislation progressed, the Fountain publicized those as well. This led to considerable support and a huge political awaking among Oregon's gay men and lesbians. As with all gay papers, the Fountain alsopublished numerous social articles. It was distributed free, mostly through the bars, and was entirely advertiser supported.
The Fountain's original editor was Neil Hutchens. Later, Lanny Swerdlow joined the team and became editor with the third issue. In August 1973, both left the newspaper. I left at the same time. After those departures, the Fountain published a couple of more issues, then discontinued.
4. Northwest Gay Review
In February 1974, Lanny Swerdlow and Neil Hutchins started a new monthly publication called the Northwest Gay Review. Their holding company was named Historical Outlet Center. It also published a Portland Old Town newspaper called Old Portland Today.
Lanny recalls that Northwest Gay Review was published monthly and was supported largely by ad revenue. Eventually it sold at 50¢ a copy through vendor boxes in bars or on the street, but also in adult bookstores over the counter.
The publication covered both Oregon and Washington. Like the Fountain, it included both social and political news. I worked for the Northwest Gay Review from the start but left in about July of 1974 to get a full time job. Lanny told me that he continued publishing it until 1977, when he left to spend his time on managing Mildred's Palace, a Portland all ages gay club he had started. He gave the newspaper to a man and a woman who had worked for him. It continued for two issues after that, and then discontinued publishing.
5. Rag Times
Rag Times, according to Judith Barrington, who was involved with the publication, began as a monthly newsletter of A Woman's Place, a Portland feminist bookstore. Iteventually graduated from a newsletter to an independent newspaper. She explains that it "continued to have a connection to the bookstore in that it was laid out and assembled on a large table on the store" when it was located on SE Ankeny Street.
Approximate dates that Rag Times was published were between 1980 to mid-1982. Judith says that it identified as feminist rather than specifically lesbian. However, it had a lot of lesbian content. The collective that ran it was almost entirely lesbian.
6. Various other early publications
In 1975, the Portland Town Council (PTC) became the major Oregon organization advocating for gay equality. According to PTC member Jerry Weller, between January 1975 and October 1982, PTC published the Oregon Gay Rights Report. It was a political newsletter that was sent to a mailing list and was used to solicit funds for PTC's political activity.
In 1974, a few lesbians bought land in southern Oregon and began creating farming collectives. Women living in Wolf Creek and other communal lands published WomanSpirit from fall of 1974 to summer of 1984. (http://glapn.org/6022TimelineSince1970.html)
CPP says that the Northwest Fountain was published by David Porter from April 1978 to July 1983. It also states that the Cascade Voice was published from June 1982 to December 1984. Cascade Voice might have been published every two weeks. It was originally owned and published by Neil Hutchins but at some point sold to Robert Dunn.
7. Just Out
The Oregon LGBTQ newspaper that had the longest run was Just Out. It started as a monthly, then became twice monthly sometime later.
Launched in 1983, Just Out's founders included Renée LaChance, Jay Brown, and Rupert Kinnard. All of them had worked for the Cascade Voice and the Northwest Fountain previously. Just Out was originally published every two weeks. Much of this article's information from Just Out's early period was provided by Renée and Rupert.
Renée and Jay were the actual initial owners. The newspaper put a special emphasis on the inclusion of women, identifying itself as "gay and lesbian" rather than just "gay". The paper was distinctive in the quality of its political articles. It was also able to get advertisers from the general community rather than just advertisers whose businesses catered exclusively to gay men and lesbians.
Just Out took the newspaper through the AIDS crisis which started in the early 1980s. In 1990, the illness took the life of Jay, and Renée carried on as sole owner.
Rupert, who continued to do work for Just Out after moving to the Bay Area for 7 years, encountered other LGBTQ people through the National Lesbian and Gay Press Association who knew and were impressed by Just Out. It was during this period that Rupert worked as Art Director of the San Francisco Sentinel and received the National Gay Press Association award for best overall design.
Late 1988 saw the first in a series of anti-gay ballot measures sponsored by the Oregon Citizens Alliance (OCA). They won the first one, and went on to sponsor much more severe measures.
While they lost on the statewide Measure 9 in 1992 and Measure 13 in 1994, they also sponsored numerous city and county initiatives similar to the original Measure 9. Most of those won. (http://glapn.org/6013OregonAntiGayMeasures.html)
Obviously this was a challenge to our whole community, but Just Out did a great job educating and informing us.
In 1998, Renée sold Just Out to Marty Davis. In 2000, our community witnessed the defeat of the last OCA anti-gay initiative, also called Measure 9. However, in 2004, we experienced the passage of Measure 36, a state constitutional amendment that banned same-gender marriage.
On the bright side, Oregon finally enacted a law that banned discrimination based on sexual orientation and gender identity in 2007. A companion bill created for same-sex couples a domestic partnership system offering most but not all benefits of marriage. Marty attended the signing of these historic statutes with her camera, taking plenty of photos for posterity.
Marty guided the paper into the digital and Internet age. She was able to make some of the issues available online. She announced in December 2011 that she would cease publishing. After that, she continued taking copious photos which she displayed as "Gay Portland in Pictures" (http://www.pdxqcenter.org/tag/gay-portland-in-pictures/) until she made plans to leave Portland in early 2014. Marty has also contributed past issues so that all Just Outs published under Renée, Jay, and herself are available for research in the GLAPN collection at the Oregon Historical Society (OHS).
On February 14, 2012, it was announced that Glenn-Kipp Publishing, Inc., had acquired Just Out from Marty. Jonathan Kipp was the new publisher, and Just Out resumed publication. Kipp had previously contributed to Just Out for two years. The periodical returned as a monthly high gloss magazine starting June 1, 2012. (http://en.wikipedia.org/wiki/Just_Out) However, it ceased publication after its February 2013 issue. (http://www.justout.com/magazine/)
8. LGBTQ publications contemporary to Just Out
CPP also mentions two newspapers that were published during some of the same years as Just Out.
Lavender Network was published between February 1986 and October 1994 by Ron Zahn.
The Alternative Connection was published for a period of time starting in 1991 by Ray Southwick and Elwood "Woody" Johnson, who was also known by his drag name Lady Elaine Peacock.
9. PQ Monthly
In early 2012, our community got word of a new periodical being planned. Melanie Davis, who had been publishing El Hispanic News, announced that she would start a newspaper called PQ Monthly. The PQ stands for "Proud Queer". (http://www.pqmonthly.com/)
Melanie entered the market with a real advantage. She had already been publishing another newspaper for many years. This gave her both experience and an existing business structure.

PQ Monthly's first issue was in February 2012. It touts its inclusiveness with the slogan: EVERY LETTER, EVERY COLOR, EVERYWHERE.
This is an indication that it includes all ethnicities, as well as the full range people who identify as lesbian, gay, bisexual, transgender, or queer.
PQ Monthly was the first major Oregon LGBTQ publication that was born after the Internet had become pervasive. So from the start, both the current and past issues were available at PQ Monthly's site http://www.pqmonthly.com/. To this, it added a blog with frequent updates.
By that time, Facebook had also become a major means of communication. So PQ Monthly created a Facebook page to keep the community aware of current news. A unique addition was the paper's "Monthly Press Party" which coincides with the release of each new issue and is open to the public. The venue is always a public place and the party has become a major method for community members to network.
This information had been reviewed by Melanie Davis.
10. Availability of past issues of Oregon LGBTQ publications
Many past Oregon LGBTQ publications are available for viewing in some way. All paper copies of Just Out and some other community publications can be found in the GLAPN collection at OHS. (http://www.glapn.org/5003OHS2988-7.html) GLAPN is working to place a duplicate set at Q Center's Kendall Clawson Library. OHS also plans to collect all issues of PQ Monthly. PQ Monthly maintains electronic archives of current and past issues at http://www.pqmonthly.com/archives.
Some of Just Out's past issues are available online at http://www.justout.com/magazine/ going back to September 2, 2011.
Collections of many other past LGTBQ publications might be available in whole or part at the Central branch of Multnomah County Library.
11. Coverage of our issues in print media that is not LGBTQ identified
It took quite a while to get much coverage of gay related news in publications that were not specifically gay. But even in 1973, two newspapers – the Oregon Journal in Portland and the Capital Journal in Salem – wrote editorials endorsing Oregon's first bill that would have banned discrimination based on sexual orientation.
A major advance was an Oregon Journal front-page interview of PFLAG Portland cofounders Ann and Bill Shepherd on June 25, 1977, Gay Pride Day. (http://pflagpdx.org/wordpress/wp-content/uploads/2011/09/PFLAG-PDX-30th-Anniversary-History-3-portrait.pdf)
Over time, we have received more and more coverage. To a large extent, this was inevitable since many of our issues have become national as well as local news. However, this is still not a replacement for publications that are LGBTQ identified.
12. Written mass communication outside the periodical or book structure
The World Wide Web of the Internet opens up huge opportunities for mass communication because anyone can publish and the audience is potentially worldwide. Online written material includes articles written by GLAPN and published at http://glapn.org/6000queerhistories.html.
Our state's current major equality organization, Basic Rights Oregon (BRO), maintains http://www.basicrights.org/ to keep local people up to date on issues relating to Oregon LGBTQ legal rights.
Facebook is an increasingly important means of building community. A Facebook group called LGBTQ Portland was founded by Jules Garza in 2013 (https://www.facebook.com/groups/LGBTQPortland/). The group has become a major source of local, national, and international news relating to our community. Jules also maintains a Twitter page called LGBTQPortland. Portland's Q Center maintains blog at http://www.pdxqcenter.org/qblog/.
An excellent example of the reach of online resources is http://www.transactiveonline.org/index.php. It is maintained by Portland based TransActive Gender Center whose founder and Executive Director is transgender pioneer Jenn Burleton. Jenn is recognized nationally for the work that she and TransActive are doing. The organization's mission is to "provides a holistic range of services and expertise to empower transgender and gender nonconforming children, youth and their families in living healthy lives, free of discrimination." This would have been difficult to do at one time, but the Internet allows a huge reach.
13. Non-written mass communications in Oregon's LGBTQ community.
The growing availability and popularity of Internet broadband home services that started in the late 1990s allows "streaming" video to be broadcast on demand. The introduction of YouTube and low priced video equipment encourage people to offer videos of a broad variety.
Locally, BRO maintains an impressive YouTube channel at https://www.youtube.com/results?search_query=basic%20rights%20oregon&sm=3.
GLAPN also offers history videos at YouTube channel https://www.youtube.com/results?search_query=glapn&sm=3
A program called Out Loud has been produced weekly on KBOO for many years. Its site currently lists its producers as Carla R, Alan Silver, and Daniel Frontino Elash. Also assisting in the past was transgender pioneer and attorney Sasha Buchert, before leaving town for a position with the Transgender Law Center. Out Loud's site currently states "Out Loud is KBOO's queer culture radio show, celebrating & serving the lesbian, gay, bisexual, transgender, queer, questioning & allied communities. We feature interviews with community groups, authors, musical talent, and anyone from the queer & allied communities. We strive to give voice to those not heard in the main stream media." (http://kboo.fm/OutLoud)
Wild Planet Radio was founded in 2013. Its mission is "to be a voice for the LGBTQ Community by helping people share their stories and ensuring that the stories of LGBTQ people are heard. Wild Planet features programming that is designed to inspire, uplift and encourage ALL people. Having an LGBTQ radio station for our community enables wider freedom of expression, the breaking down of isolation and, the celebration of our cultural achievements and pride!" (http://www.wildplanetradio.com/about/)
Film can be major means of communicating a message. For information on Oregon LGBTQ film groups, see GLAPN article "A History of Oregon LGBTQ Performing Arts Groups" at http://glapn.org/6033PerformingArts.html.
14. The future of mass written communication in the Oregon LGBTQ movement
Oregon's LGBTQ movement was born from a newspaper in 1970. Beginning in early 1971, it has been almost continuously served by a periodical of its own. The paper version has always been published, while recently online versions have also been available.
The printed word has continued its popularity despite the many alternatives of audio and video. Clearly there is something in print, whether on paper or online, that appeals to Oregon LGBTQ people. It could be that print can easily be read repeatedly, allowing the best comprehension. Printed communication is likely to remain an essential part of our community.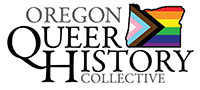 P.O. Box 3646 • Portland, OR 97208-3646 • info@glapn.org
Copyright © 2014