The Persistent Ones:
Some Reasons for Successes
in the Oregon LGBTQ Movement
By George T. Nicola
Gay & Lesbian Archives of the Pacific Northwest (GLAPN)
5/14/2014
The Oregon LGBTQ (lesbian, gay, bisexual, transgender, and queer) movement began with a few small local gay identified groups in 1970. Its specific goals evolved over time, but it has generally advocated a better quality of life for those of us who are members of that community. Some of the changes it seeks relate to legal status and protection from discrimination, while others are attitudinal.
When the movement started in 1970, homosexual conduct was illegal in Oregon, and there was not a single law in the United States that banned discrimination based on sexual orientation or gender identity. We were generally a pariah caste, with neither rights nor dignity.
Today, conditions are vastly improved for LGBTQ Oregonians. Our private consensual, adult, noncommercial intimacies are no longer illegal. A 2007 statewide law bans discrimination based on sexual orientation and gender identity. As a result of a 2014 U.S. District Court decision in Oregon, same-gender couples may now marry. Attitudes have changed substantially so that currently many openly LGBTQ people are prominent in government, nonprofits, and business. If we are going to learn from history how to make the world a better place for our fellow human beings, this is an excellent opportunity.
Still, we have a long way to go. Homophobic and transphobic prejudice remains rampant, and too often results in hateful attitudes and violent attacks. Even though we have official legal protection from discrimination, those laws are not always effective. LGBTQ youth are sometimes evicted by their parents, or otherwise estranged from their families simply because of their sexual orientation or gender identity. People who claim moral authority often demonize us. Conditions are generally worse for precollege students, transgender people, and LGBTQ people outside the Portland metropolitan area. Even Portland is not the paradise for us that many people seem to think it is.
The following is my personal analysis of why we have had some successes. This is based on my experience as a gay male working in or observing our movement since its birth in early 1970. Additionally, I have interviewed countless other activists in the LGBTQ movement. However, I understand others may have a different perspective than mine.
Where possible, I have cited online sources. When I mention the LGBTQ movement, I am including the huge number of non-LGBTQ people, often called "straight allies" or just "allies", who have strongly backed our cause.
I generally use the abbreviation LGBTQ because that is the commonly understood term today. That was not a name used in the early days of the movement when it was assumed that the rights of those who were called transsexuals were covered by laws that ban discrimination based on gender. However, today's Oregon LGBTQ movement fully includes transgender people.
Terms for identities within our community often change. Unless otherwise indicated and if known, the people named in this article have usually identified as either gay, lesbian, queer, or bisexual. Transgender people and allies will be specifically noted if their identity is known.
The local scene at the time our movement started
Historian Peter Boag maintains that Oregon's gay movement was slow to get started because the city was no longer taking action against gay bars and their patrons by the late 1960s. (http://ohs.org/research/quarterly/upload/Spring2004_1ohq1051boag.pdf) As he demonstrates, this was true to some extent. But from my experience, that fact also made gay men and lesbians less intimidated about being out. Additionally, in the late 1960s, large numbers of Oregonians and other Americans were confronting racial and gender inequality, as well as protesting the war in Vietnam. This massive questioning of previously assumed values led to a huge realignment in society. Among other things, large numbers of people relocated, leaving their families and the places they were raised. Many of the early Portland gay activists were transplants from other states or from smaller towns in Oregon. All this made fertile ground for challenging homophobia.
Positive exposure in the general mass media
Already in the early 1970s, we were getting positive exposure on local television, radio, and major newspapers. This included interviews with men and women who openly identified as gay. The exposure accelerated as the movement progressed. (http://www.glapn.org/6110earlyattenpts.html#Otheractivity17)
From the start, we benefited from the spirit of equality and justice advocated on a national level by other movements, including the black civil rights movement, feminism, and the opposition to the Vietnam War. The original American gay movement started outside of Oregon, mostly in California. (http://en.wikipedia.org/wiki/Mattachine_Society) Although marriage equality came to Oregon through a U.S. District Court decision in Eugene, attorney Lake James Perriguey had filed that lawsuit when he became convinced Oregon could judicially win the freedom to marry based on the U.S. Supreme Court actions that had nothing to do with Oregon: the ruling in United States v. Windsor and the California resolution in Hollingsworth v. Perry. (http://glapn.org/6018HistoryOregonMarriage.html)
And there has been a strong national movement for LGBTQ acceptance, including in the entertainment industry and in politics. However, we did not see that trickle down in Mississippi like we did in Oregon. The national events helped Oregon, but that happened partly because Oregon LGBTQ activists helped make Oregon ready for them. Additionally, Oregon's LGBTQ movement has had an enormous influence on what has occurred on the national level:
In 1975, Susie Shepherd spearheaded the writing of a booklet entitled A Legislative Guide to Gay Rights which was aimed at educating policy makers on the gay issue. The booklet was 76 pages and won rave reviews in the national gay press. It was sold in LGBTQ bookstores across the U.S. and from England to Australia. (http://glapn.org/6326PortlandTownCouncil.html)
Attorney Cindy Cumfer won several lesbian custody cases and handled the first same-gender parent adoption in the United States in 1985. That served as a prototype for later adoptions around the U.S. (http://glapn.org/6025CindyCumfer.html)
Terry Bean and Jerry Weller were cofounders of the Human Rights Campaign (HRC), the largest national LGBTQ equality group. Terry was also a cofounder of the Gay & Lesbian Victory Fund. (From interviews I did with Terry Bean and Jerry Weller)
Straight ally Thalia Zepatos, who got her political start battling Oregon anti-gay ballot measures, later became one of the country's most adept strategists in the campaign for marriage equality. (http://glapn.org/6352ThaliaZepatos2013.html)
As founder and Executive Director of TransActive Gender Center, Portland transgender activist Jenn Burleton leads a team that provides services focused on the needs of transgender and gender nonconforming children, youth, and their families. She is recognized nationally for the work that she and TransActive are doing. (http://glapn.org/6309jennburleton.html)
Oregon's new progressive tradition
Oregon's old progressive tradition included the initiative, referendum, and recall. All of those have been used against us. However, the new progressivism that started in the late 1960s helped us considerably. This included parts of the organized opposition to the Vietnam War, the black civil rights movement, and the second wave feminist movement. The major Oregon House sponsors of the first bill to ban discrimination based on sexual orientation were first term Democrats who represented this new type of progressivism. (http://glapn.org/6110earlyattenpts.html#Structuringbill) We have also had support from many large labor unions which were part of both the old and new progressive movement. 
The revolution in communications
LGBTQ people are born and scattered throughout all of society. Mass communication, beginning with print, was an important factor in bringing us together. According to ally Michael Wells, owner of the Willamette Bridge newspaper from which Oregon's gay movement was launched, the increasing use of photo offset printing in the mid-1960s made affordable the publication of periodicals like his. (http://en.wikipedia.org/wiki/Offset_printing#The_offset_printing_process) The new system replaced older techniques which were much more expensive.

Not long after that, a gay specific newspaper called the Fountain was published, also using innovative cost effective methods of printing. In the years since then, Oregon has seldom been without one or more periodicals geared toward an LGBTQ audience. Online services have added a new dimension, including e-mail and most recently, Facebook. These are all crucial tools that LGBTQ people have used to build a community and, with the help of straight allies, organize for our cause.
The contributions PFLAG (originally an acronym for Parents and Friends of Lesbians and Gays) has made to the success of the Oregon LGBTQ community continue to be enormous. PFLAG has about 13 Oregon chapters, mostly in small towns where it has aided LGBTQ people who otherwise would have no support. In fact, today, about half of Oregon PFLAG participants are LGBTQ. PFLAG has helped parents accept their LGBTQ kids, as well as lobby for our acceptance and equality. Parents active in PFLAG have sometimes offered a type of surrogate family to those who have been rejected by their biological kin. PFLAG Portland Black Chapter, the first PFLAG chapter in the nation created by and for African Americans, is having a huge impact. (http://pflagpdx.org/wordpress/wp-content/uploads/2011/09/PFLAG-PDX-30th-Anniversary-History-3-portrait.pdf)
Alternative support systems
Over the years, a number of support systems have been built specifically by LGBTQ people for their own community. In Portland, we had a community center in the early 1970s. Portland's Q Center became an important part of our community starting 2007. (http://www.pdxqcenter.org/)
Our community has also benefited from special scholarships. The Audrea M. Edwards Scholarship Fund provides college financial assistance to LGBTQ people or their children. (http://www.peacockafterdark.org/scholarship.aspx) The Bill & Ann Shepherd Legal Scholarship Fund of Equity Foundation benefits 3rd and 4th year law students dedicated to donating their legal expertise to fighting bigotry and discrimination, particularly in the area of sexual orientation and gender identity. Some of the recipients have become attorneys who have made impressive contributions to LGBTQ equality. The Shepherd Scholarship is one of many scholarships run by the Equity Foundation, which funds "organizations that work to eradicate prejudice against gender and sexual minorities and people from other diverse communities." Another major program administered by Equity is the Pride of the Rose Scholarship. (http://www.equityfoundation.org/scholarships)
Churches and other ethically related institutions have often come to our side. Oregon faith support for LGBTQ equality has contributed substantially to our successes. There are many openly LGBTQ Oregonians who are now ministers of mainline Christian denominations. Metropolitan Community Church, a Christian denomination which emphasizes LGBTQ inclusion, has been a major presence in Portland for almost four decades. (http://www.mccportland.com/) The Community of Welcoming Congregations (CWC), an Oregon and southwest Washington interfaith ministry and advocacy organization founded in 1992, works toward full inclusion and equality for transgender, lesbian, bisexual, gay and questioning persons. (http://www.welcomingcongregations.org/)
Ethnic, culturally specific, and racial alliances
There are Oregon LGBTQ groups which are specific to African Americans, Latinos, Asian and Pacific Islander Americans, and Native Americans. Major groups advocating for racial equality have given an enormous amount of support to LGBTQ equality efforts. Additionally, LGBTQ people have often become important parts of the leadership in the broader movements of those groups. Basic Rights Oregon (BRO), currently our state's largest organization advocating for LGBTQ equality, has made racial justice one of its major goals. (http://www.basicrights.org/programs/racial-justice/)
Lesbian attorney and activist Cindy Cumfer notes that the Portland "women's community", which started in the early 1970s, was a largely lesbian grouping "organized around collective households, social events, athletic activities, and to some degree gay bars." It "founded and was hugely involved in numerous nonprofit organizations." Cindy notes, "It was an often intentional effort to support woman-identified woman energy, to consider and create women-centered non-oppressive values, to create communal spaces where women could interact, and to fight oppression. These women began creating some of the first lesbian families with children from heterosexual unions, donor insemination or (later) formal adoption. It was definitely a genesis of the modern gay family/gay marriage movement."

At a later date, the Lesbian Community Project, which was partly social, also provided an enormous amount of the support that benefited the larger LGBTQ movement in efforts such as fighting anti-gay ballot measures. (From interviews I did with Cindy Cumfer.)
The changes in women's outlook as a result of the second wave feminist movement
An important goal of second wave feminism, which started in the late 1960s, is to change women's attitudes, including attitudes about themselves. This has included the rejection of rigid gender roles. That rejection contributed to the increasing acceptance of LGBTQ people.
People are gradually realizing that we are their family, their friends, their neighbors, their coworkers. If we as a group are being hurt, someone they love is probably being hurt.
There is no evidence that the percentage of LGBTQ people lessens from generation to generation. We continue to be born mostly from heterosexual unions.
LGBTQ groups and individuals have created alliances with other broader progressive organizations. Some of these have included racial civil rights organizations, feminist groups, labor unions, Causa, Rural Organizing Project (ROP) (http://www.rop.org/about-the-rural-organizing-project/), the American Civil Liberties Union of Oregon, and Western States Center. (http://www.westernstatescenter.org/our-communities/oregon) In fact, ROP was founded to counter anti-gay ballots measures in Oregon rural areas. It evolved into a group that also supports other progressive causes outside of our state's major cities.)
Oregon has faced about 35 anti-gay ballot measures. (http://www.glapn.org/6013OregonAntiGayMeasures.html) This has forced many LGBTQ people to come out to their friends and families, and has also created empathy for us on the part of straight people of good will. In the process of countering the anti-gay measures, we have had to establish coalitions. A speaker in a 2008 BRO video states that "We've got partnerships with just about every demographic of people there is." (http://www.youtube.com/watch?v=HPGTODhLxvA) Among the supportive groups are business and sports organizations, many of which endorsed Oregon's 2014 freedom to marry campaign. (http://www.oregonunitedformarriage.org/coalition/)
Ambassadorship through culture
Oregon has numerous LGBTQ identified performing arts groups which are widely respected. Without being overtly political, these organizations are huge ambassadors of good will. (http://www.glapn.org/6033PerformingArts.html)  
Greater identity inclusiveness
I understand that Oregon's LGBTQ movement has historically involved a greater inclusiveness of lesbians, bisexual women, transgender people, and straight allies than our movement in many other states. There has been a huge amount of female leadership in our local movement, and BRO has made transgender justice a major goal.
Goals that benefit the larger society
There are LGBTQ movement goals that benefit society well beyond our community. An excellent example is the campaign against bullying. Bullying was at one time considered an unfortunate but inevitable part of human nature. The LGBTQ movement has made it a major issue, and in the process has helped protect numerous victims from this cruel practice, while improving the classroom learning environment for all students. Additionally, LGBTQ people come from all walks of life. Although we struggle at times with the process, we have to include people of all races, ethnicities, cultures, genders, and classes on an equal footing. When that has been done correctly, it has created a model of universal inclusion and human dignity. 
The response to the AIDS crisis
The AIDS crisis was devastating to Oregon gay and bisexual men. However, it did demonstrate to the general population that gay and bi people are all around them. Still, that would not have been effective without our response. Organizations like Cascade AIDS Project (http://cascadeaids.org/), Our House of Portland (http://www.ourhouseofportland.org/), and HIV Alliance (http://www.hivalliance.org/) have helped numerous people with HIV/AIDS. In the process, they have created a sense of caring that has set a standard of human kindness and compassion. Oregonians active in the AIDS response have included gay and bisexual men, but also many lesbians, bisexual women, and straight people.
Alternative methods of association
Oregon's gay movement had been born from a need to find new ways for us to meet each other. (http://glapn.org/6130nicolagaymovement.html) Over the past four and a half decades, many of those have developed. The music groups, the AIDS assistance groups, and the community centers already mentioned have all helped. Some of the others are non-professional sports teams, hiking and dancing clubs, and cooking groups. All of these in some way helped build a sense of community that leads to a greater political awareness and response.
Skillful legal strategies
The Burton decision in 1973 ruled that it was wrongful for a public school to fire a teacher because of her homosexuality. The case was actually taken by the ACLU of Oregon in 1971, before the gay movement was even in a position to do something legally sophisticated. However, the ACLU later integrated its efforts into the Oregon LGBTQ movement. ACLU attorney Charlie Hinkle, who represented Burton, also took later cases which challenged anti-gay ballot measures. (http://www.glapn.org/6012MilestonesLGBTQLaw.html)
The Portland based non-profit Community Law Project (CLP), which was started in 1976, included a number of lesbian and bisexual women attorneys. According to former CLP lawyer Katharine English, "The CLP won the first contested lesbian custody case in Oregon. The firm represented gay men and lesbians in a variety of causes."
Former CLP attorney Cindy Cumfer notes that in 1978 the firm began "to successfully lead the fight in Multnomah County courts to persuade judges that homosexuality should not be an issue in lesbian/gay custody cases. This laid the groundwork for my adoption case in 1985." Cumfer says that CLP also "did a number of donor insemination agreements that helped lesbians have babies."
In 1979 English and Janet A. Metcalf started English and Metcalf, which English describes as "the first openly gay law firm serving the LGBTQ community." The firm "went on to spur an educational program for judges and lawyers, which led to a dramatic increase in wins of custody and visitation for gay men and lesbians." (From interviews I did with Cindy Cumfer and Katharine English)
Measure 8, passed in 1988, rescinded ally Governor Neil Goldschmidt's executive order banning discrimination based on sexual orientation in state employment. Additionally, it prohibited any state official in the future from requiring non-discrimination against state employees based on sexual orientation. The measure was overturned by a state court when it was challenged by Harriett Merrick, an employee of the University of Oregon. (http://glapn.org/6356HarrietMerrick2013.html)
When the 2007 statewide LGBTQ non-discrimination and domestic partnership laws were passed, opponents threatened to repeal them at the ballot box. According to BRO Executive Director Jeana Frazzini, "we fought them every step of the way, challenging ballot titles, ensuring that they couldn't get away with any misleading language. In the end, they had to throw up their hands and give up."  (http://www.youtube.com/watch?v=HPGTODhLxvA)
Many LGBTQ people have become attorneys, creating a large pool that can effectively represent our needs. OGALLA: The LGBT Bar Association of Oregon is a statewide organization founded "to support the needs of sexual minorities and gender non-conforming people in the legal profession." (http://www.ogalla.org/)
                                                                                                                                                                                                                     
Measure 36 in 2004 was a setback because it was an Oregon constitutional amendment that banned same-gender marriage. But Basic Rights Oregon designed a process for us to bounce back. They launched a campaign to educate the public on the importance of the freedom to marry. When the time seemed ripe, they planned a ballot measure which would replace the state constitutional ban on same-gender marriage with a new constitutional amendment guaranteeing gender neutral marriage. When the attitude of federal courts began to change in our favor, attorney Lake Perriguey, separate from the campaign, sought to overturn the ban through a federal lawsuit. Once it became increasing clear that we could win in court, Basic Rights Education Fund became a plaintiff in a parallel lawsuit challenging the ban in the same way. The two lawsuits were consolidated by U.S. District Court Judge Michael McShane. On May 19, 2014, Judge McShane overturned Oregon's laws that banned same-gender marriage. Weddings started the next day. For full details on this amazing process, please see article "A History of Oregon Marriage Equality" at http://glapn.org/6018HistoryOregonMarriage.html
We have benefited from a huge number of brilliant LGBTQ activists. Intelligence is not the monopoly of any one group. However, when smart people are marginalized for any reason, their keen intelligence makes them painfully aware that people as gifted as they are should not have to take second place to bigots. As a result, the sharpest people within a marginalized group are some of the most likely to fight back. Within movements for justice and equality, these very bright people will really stand out and make a huge difference in the progress that is made. Outside the LGBTQ movement, I have noticed this among groups of African Americans, Latinos, Asian Americans, and women who are working for their own justice and equality. The Oregon LGBTQ movement has also drawn a lot of support from brilliant straight allies.
The humanizing effect of the marriage equality movement
Previous to battling the opposition to marriage equality, Oregonians faced anti-gay ballot measures that were much worse. We sometimes countered those with campaigns that underemphasized the issue's gay identity. But when marriage started getting on the ballot, we could no longer be so indirect. Throughout the country, we kept losing at the polls when we talked about abstract concepts of marriage rights. We started winning when we talked about love and commitment, and featuring real same-gender couples. These strategies were effective in our win on four state marriage ballot measures in 2012. (http://www.slate.com/articles/news_and_politics/politics/2012/11/gay_marriage_in_maryland_
and_maine_the_inside_strategy.html) I believe the new strategy had just as huge an impact in destroying overall homophobic prejudices as it did in facilitating support for marriage equality. Instead of being the mysterious unknown, we were portrayed as people who had commitments, hopes, and dreams just like everyone else. This is enormously beneficial even to those of us who have no personal interest in marriage
The first Oregon outdoor celebration of what was originally called Gay Pride was a small event in 1975. Today, LGBTQ Pride celebrations are held in many Oregon cities, but the one in Portland is massive. Because most of these festivities are both free and visible to the public, Pride really does create a true sense of pride and identity that helps LGBTQ people and our allies carry on the cause.
The evolution of alliances with those in power politically
Over a period of time, the Democratic Party of Oregon (DPO) became increasingly allied with the LGBTQ movement. Returning the DPO's favor, LGBTQ people gave it strong support. This is probably a major reason why the DPO has become the dominant party in once very Republican Oregon. But some openly LGBTQ people have operated within the Republican Party, including one who was elected to the Legislature. (http://www.glapn.org/6014OregonLGBTElected.html) A number of highly placed straight Republican leaders were outspoken in their opposition to Oregon anti-gay ballot measures. In early 2014, Oregon's unofficially Republican Dorchester Conference endorsed the freedom to marry voter initiative which was expected to be on the November ballot.
In 1970, it was very difficult to find a positive book about homosexuality. But from almost the start of the Oregon movement, gay men and lesbians made it a priority to educate the general public by speaking to groups. Eventually, education got more sophisticated with college classes on LGBTQ studies and large numbers of articles and books. Basic Rights Oregon has made education a major priority by using television ads and YouTube videos. (https://www.youtube.com/results?search_query=basic+rights+oregon+marriage)  
In the very early days of our movement, no one was paid for their political or community service work. Today, some organizations serving our community maintain full time staffs. But they multiply their efforts by recruiting legions of volunteers who provide countless hours of work. Outside of those groups, LGBTQ people have spent a lot of time on efforts such as getting equality-minded candidates elected to public office. Additionally, LGBTQ people and straight allies have contributed large amounts of money to our cause. These donors are seldom wealthy people. Substantial fundraising benefiting our community's political and charitable causes have also been raised by events conducted by male and female drag performers.
Openly LGBTQ people in public office
Openly LGBTQ people have been elected to or appointed to numerous public offices in Oregon. Four of those currently hold statewide elected office. Kate Brown, who identifies as bisexual, was voted Secretary of State, the second highest elected office in state government. With the resignation of Governor John Kitzhaber in early 2015, Kate became Oregon governor – the first person in any state to become governor while openly LGBTQ. There have been one or more openly lesbians, gay men, bisexuals, and transgender people in both elected and appointed office in Oregon. What is particularly impressive is the large number of openly LGBTQ people who have been judges in Oregon.  (http://www.glapn.org/6014OregonLGBTElected.html, http://www.glapn.org/6015OregonLGBTAppointed.html)
Last but certainly not least, some Oregon LGBTQ people and our straight allies have been exceptionally persistent. A statewide bill to ban discrimination based on sexual orientation was introduced in every session of the Legislature beginning in 1973 until it was finally passed, with the addition of gender identity, in 2007 (http://www.glapn.org/6012MilestonesLGBTQLaw.html) We have battled about 35 anti-gay ballot measures. We have gone to court numerous times. This took a good deal of stubbornness, and some of our people have been persistent to the point of appearing quixotic. When faced at nightfall with a demoralizing defeat that seemed to vanquish all hope, they started planning for a comeback the next morning. This was often the work of a few people when the vast majority even in the LGBTQ community thought the cause was hopeless. And for the most part, the optimists' strategy eventually worked.
The case of marriage equality is an excellent example. In 2004, Oregon voters, by an overwhelming majority, amended their constitution to ban same-gender marriage. But activists, most notably through Basic Rights Oregon, soon set to work strategizing an eventual win through another voter initiative. Their actions included public education which over a ten year period changed attitudes substantially. The initiative plans were fully in place when they discovered that it would be easier and quicker to win the freedom to marry through the federal judiciary. We finally won what many thought would not happen in our lifetimes. You can find details on this above in "Section 1. Skillful Legal Strategies".
Many of the factors I have mentioned here may have been characteristic of the LGBTQ movements in other states. What is most important to me is an objective study of what has happened in Oregon, because that is what I can best observe. I hope that this article will be used as a starting point for further historical analysis.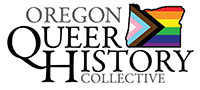 P.O. Box 3646 • Portland, OR 97208-3646 • info@glapn.or
Copyright © 2015