Community Profile:
The Portland Area Business Association (PABA)
By George T. Nicola
November 24, 2015
This article is the narrative of my nomination of PABA for the Spirit of Portland Award (SOP). PABA did receive the SOP, becoming only the second LGBTQ organization to win this recognition in the SOP's 31 year history: https://www.portlandoregon.gov/oni/29024
History

The Portland Area Business Association (PABA) was founded in 1992 to serve the local LGBT (lesbian, gay, bisexual, and transgender) community and its allies. For over 20 years, members have worked to promote equality and economic opportunity for the LGBT community of the Portland Metro Area. Since its founding, membership has ranged from 100 to 300 organizations and business professionals who have worked together to make our community a better place.
Mission
PABA's stated mission is "to serve our LGBT community and our allies by providing business and leadership development to expand economic opportunities for our membership."
While maintaining its identity and goal, PABA remains inclusive. Everyone with an interest in business and in bettering the LGBT community is welcome to be a part of this dynamic and growing organization. That includes both LGBT and allied business professionals. 
While inroads are being made every day to ensure greater equality for LGBT individuals, LGBT Portlanders still face considerable discrimination in employment and access to services. One way to counter this is for them to create their own businesses. While these enterprises welcome other LGBT people, they still hire and value their employees based on their skills and efforts, and not on any irrelevant factors such as sexual orientation, gender identity, gender, race, or religion. PABA can be an inspiration to young LGBT people by demonstrating how they can take control of their own futures.
Programs
PABA offers a range of programs and services including monthly meetings for the purposes of education, professional development, and networking. Over the years the organization has also offered scholarships, mentoring, and intern opportunities to LGBT youth interested in business and entrepreneurship. PABA is an affiliate chamber of the National Gay and Lesbian Chambers of Commerce (NGLCC) and has been the recipient of two National Chamber Excellence Awards.
In 2012, the NGLCC recognized PABA for "Community Impact". PABA has made it a priority to build stronger community ties and work more closely with other LGBT organizations, and other area business associations and chambers. It has been proud to work with other minority chambers to host annual mega mixers to promote community.
In 2013 PABA was recognized by the NGLCC with an Excellence in Programming Award for introducing three exceptional new programs to expand the demographics of their membership and promote LGBT business leadership. The Career Shadow program helps to connect LGBT college students with LGBT professionals so they can discuss career choices. Through the NGLCC's LGBT certification program, PABA works to identify and promote LGBT certified businesses for supplier diversity programs and business growth opportunities. The LGBT NW Round Table brings those area businesses together and gives them a united voice.

PABA facilitates the success of its member businesses. In the process of doing that, PABA adds value to the LGBT community by creating more jobs for Portlanders, and contributes considerably to Portland metro's economic vitality.  

For more information on PABA, please see its web site at http://www.paba.com/.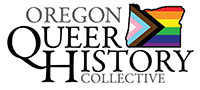 P.O. Box 3646 • Portland, OR 97208-3646 • info@glapn.or
Copyright © 2015, Gay & Lesbian Archives of the Pacific Northwest