1978 – The Report of the Oregon Governor's Task Force
on Sexual Preference
Introduction by George T. Nicola with input from Susie Shepherd
March 27, 2020
The story behind the Governor's Task Force on Sexual Preference was told to me by former Portland Town Council (PTC) activists Susie Shepherd and the late Jerry Weller and Larry Copeland.
PTC had lobbied heavily in the 1975 Oregon legislative session for a law that would ban sexual orientation discrimination, but the bill did not pass. They gave some thought about their next step. Larry read that gay activists in a state back East had convinced their governor to create a group to examine whether such legal protection was needed, and felt that Oregon was ready to follow suit.
Oregon's governor at that time was Robert "Bob" Straub (D). He had an ombudsman named Gladys McCoy. In 1970, Gladys had been elected to the Portland school board, and in the process became the first African American voted to Oregon public office. In 1972, she became one of our first straight allies with any influence, and she gave me—and all of us--lots of advice and help in our advocacy efforts.
In 1976, Larry Copeland, who was PTC's office manager (for a pittance!) contacted Gladys in her position as the governor's ombudsman and asked her to arrange a meeting with him to create a task force on gay civil rights. (At that time, the term "gay" was considered to encompass most of what today we call LGBTQ.) The request was a success, with the creation of the Governor's Task Force on Sexual Preference. Some people objected to the word "preference" because they felt it implied sexual orientation was a choice, but the intent was clear.
Gladys directed Larry to carefully hand-pick the Task Force members, resulting in a blue ribbon committee of attorneys, physicians, psychologists, psychiatrists, educators and the clergy.  One of the members was Ann Shepherd, mother of gay activist Susie Shepherd.  Ann demurely referred to herself as, "the token mother" on the committee.
The Task Force was chaired by Portland Gay Liberation Front co-founder Holly Hart, who had since become an attorney.  The Task Force met once a month, each time in a different part of the state. The Task Force did confirm that sexual orientation discrimination and homophobia were realities. Task Force members were also concerned about the rejection of gay people by their families, and they suggested creation of a parental support group.  So Ann and her husband Bill, along with allies Charles and Rita Knapp (parents of lesbian activist Kristan Knapp) cofounded Parents of Gays (POG), which evolved into PFLAG (Parents and Friends of Lesbians and Gays) Portland. 
The Governor's Task Force on Sexual Preference's report was issued in 1978. Further understanding of the report can best be understood by reading its content, which follows.
The Task Force Report is a 162-page document in PDF format, accessible at this link.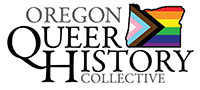 P.O. Box 3646 • Portland, OR 97208-3646 • info@glapn.org
Copyright © 2020, Gay & Lesbian Archives of the Pacific Northwest