Rediscovering Family:
Audria M. Edwards
By George T. Nicola
Date: January 3, 2018
Audria M. Edwards had six children, four of whom were LGBTQ: a gay son, a transgender daughter, a bisexual daughter, a lesbian daughter. Audria was very devoted to her kids as well as to LGBTQ equality and acceptance in general. She was a second mother to numerous kids who were distanced from their families because of their sexual orientation or gender identity. Audria was also the second president of PFLAG Portland Oregon, and the first African American in the country to head a PFLAG group.
L-R: Misty Marie Waters, Audria M. Edwards,
Lady Elaine Peacock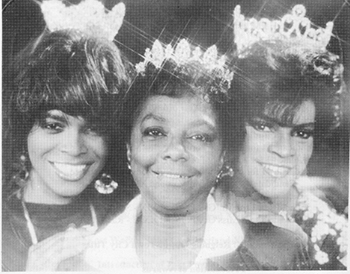 In the fall of 1987, Audria passed away. That same year, the Audria M. Edwards Scholarship Fund was established in her memory by her gay son Elwood "Woody" Johnson (aka Lady Elaine Peacock) and Audria's transgender daughter Misty Marie Waters.
When Peacock and Misty passed away in 1993, the Fund was willed to Maria Council (whose stage name is Maria Peters Lake) and Kimberlee Van Patten. Both women were already gay activists. Maria and Kimberlee co-founded Peacock Productions, Inc., a 501(c)(3) organization that administers the Audria M. Edwards Scholarship Fund. It is funded by donations, variety show proceeds, and community fundraisers. (http://www.peacockinthepark.org/scholarship/)
The annual Peacock in the Park variety show has become iconic in the Portland's LGBTQ community. It is interracial, but also does a lot to display the African American gay show tradition.
Audria's life and her legacy have an important connection. She nurtured her biological children as well as other LGBTQ kids individually and through PFLAG Portland. The scholarship named for her benefits LGBTQ people and their children. So, Audria helped preserve families both when she was alive and after her passing.
L-R: Maria Council and Kimberlee Van Patten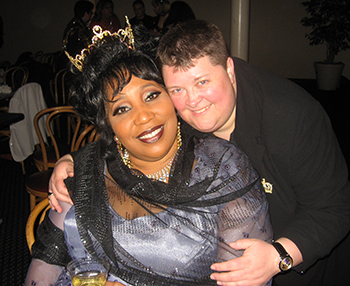 (This article is part of my series "Rediscovering Family". I plan to publish these story by story over a period of time.)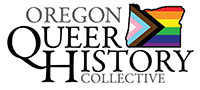 P.O. Box 3646 • Portland, OR 97208-3646 • info@glapn.org
Copyright © 2017, Gay & Lesbian Archives of the Pacific Northwest