The Story of Oregon's 1992 Measure 9
Written by the Gay and Lesbian Archives of the Pacific Northwest,
November 2012, v6
Before Measure 9
The movement seeking equality and dignity for lesbian, gay, bisexual, and transgender (LGBT) Oregonians was launched in 1970. But progress was slow. In 1987, a state executive order was issued banning discrimination based on sexual orientation in state government employment. The following year, a group called the Oregon Citizens Alliance sponsored Measure 8, to repeal the executive order. Voters passed Measure 8, 52.7% to 47.3%.
(Click on the Measure 9 thumbnail, below right, to open the document in a separate window so you may read the full text of the amendment.)
Measure 9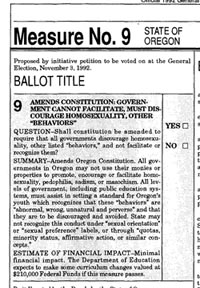 Emboldened, the Oregon Citizen Alliance in 1992 sponsored ballot Measure 9. It would have changed the Oregon constitution with an amendment the measure summarized as saying:
"All governments in Oregon may not use their monies or properties to promote, encourage or facilitate homosexuality, pedophilia, sadism, or masochism. All levels of government, including public education systems, must assist in setting a standard for Oregon's youth which recognizes that these behaviors are abnormal, wrong, unnatural and perverse and they are to be discouraged and avoided."
The amendment would have also banned legal recognition of "sexual orientation" so that any law protecting gays and lesbians from discrimination would have been unconstitutional. Measure 9 did not mention gender identity, but it probably would have been interpreted to discriminate against transgender Oregonians as well.
The No on 9 Campaign
The campaigns surrounding Measure 9 led to a bitter and divisive battle. The Oregon Citizens Alliance purported it was trying to prevent "special rights for homosexuals." Equality advocates noted that Measure 9 took away citizens' rights and could lead to schools firing teachers because of their sexual orientation. Opposition to the measure was bipartisan and included people of many faiths and ethnicities. Courageous people walked the streets of Oregon's towns and cities wearing "No on 9" buttons that bore pink triangles reminiscent of the pink triangles gay men were forced to wear in Nazi Germany.
The impending threat to LGBT people brought about a peaceful yet powerful response on the part of Oregonians of conscience. LGBT people came out to people they knew. Non-LGBT people increasingly realized that we are their friends, their family, their neighbors, their coworkers. Oregonians began to understand that when LGBT people as a group are being threatened, someone they love is probably being threatened, too.
Victory for Equality
Voters defeated Measure 9, 56.5% to 43.5%. Although we had won, more than 600,000 people had chosen to restrict the rights of LGBT Oregonians. In the following two years, the Oregon Citizens Alliance managed to get laws similar to Measure 9 passed in more than two dozen Oregon cities and counties. All OCA measures were eventually voided by legislative and court action.
Legacy
The groundbreaking organizing efforts created in 1992 to defeat Measure 9 provided the foundation on which Basic Rights Oregon, the Human Rights Campaign, the Rural Organizing Project, Love Makes a Family, and other organizations could carry forward the idea that all people deserve the same equal rights under the law. If anti-LGBT attitudes had been codified, Oregonians as a whole might have been denied the contributions of numerous hardworking and dedicated people.
In the 20 years that have passed since Measure 9, LGBT Oregonians have made considerable progress. A statewide law now bans discrimination based on sexual orientation and gender identity, in employment and many other areas. The public's growing recognition of our common humanity has helped change attitudes, allowing LGBT people to be more a part of the general community. Same sex couples can also now register as domestic partners, giving them many of the same benefits as heterosexual married couples. But the struggle for full equality and social acceptance still continues, especially in the area of marriage equality.
More information:
* Site for the 1995 film "Ballot Measure 9": http://www.tootscrackin.com/ballotmeasure9.htm
* A trailer on the 1995 film "Ballot Measure 9": http://www.youtube.com/watch?v=BIxbFVRgO6M
This article may be copied in whole or in part if it is done truthfully and respectfully. In all cases, credit must be given the Gay and Lesbian Archives of the Pacific Northwest (GLAPN).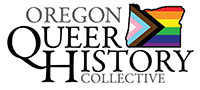 P.O. Box 3646 • Portland, OR 97208-3646 • info@glapn.or
Copyright © 2015, Gay & Lesbian Archives of the Pacific Northwest