A History of Oregon's Major LGBTQ Equality Organizations
By George T. Nicola,
Gay & Lesbian Archives of the Pacific Northwest (GLAPN)
Last updated 5/14/2015
This article is a brief sketch about some major Oregon organizations which have made important contributions to the promotion of equality for LGBTQ (lesbian, gay, bisexual, transgender, and queer) people. It does not include groups that were formed temporarily solely for the purpose of fighting one anti-gay ballot measure.
Initially, our movement was called "gay" by which was meant both gay men and lesbians. Later the term "gay and lesbian" was often used to emphasize the inclusion of lesbians. Support for bisexual equality was always assumed because we wanted nondiscrimination based on sexual orientation. Eventually, our movement came to embrace transgender rights, which is why it is now usually called the LGBT or LGBTQ movement. Since I am writing in first person, I may sometimes call it "our movement".
Terms for identities within our community often change. Unless otherwise indicated and if known, the people referenced positively in this article have usually identified as gay, lesbian, queer, or bisexual. Transgender people and positively referenced people not openly LGBTQ, usually called "straight allies" or just "allies", will be specifically noted if known. Unless I identify individuals in this manner, the extensive participation and huge contributions made to our movement by transgender people and straight allies would not get fully recognized.

I am writing this as a gay man who started in our movement with the Portland Gay Liberation Front in 1970. Much of this comes from my own experience or from unpublished interviews I conducted with people who were actually involved in these groups. Some of this information comes from a book called A Curious and Peculiar People, written by GLAPN participant David Grant Kohl and published by Spirit Press in 2006. In this article, I will reference that source as "CPP".
I am not trained in law, and this document is not intended to be a source of legal advice or analysis. If you have a question about legal rights, please contact an attorney or an appropriate government agency.
To give feedback, please contact GLAPN at info@glapn.org .
The Portland Gay Liberation Front
Oregon's first politically oriented gay group, the Portland Gay Liberation Front (GLF), was launched by John Wilkinson and Holly Hart in early 1970 through an alternative newspaper called the Willamette Bridge. Its first organizational meeting was held March 10. Joining in the process was John's partner Dave Davenport. (CPP, page 39l) By that time, the City of Portland had abandoned its previous attempts to close all the gay bars. In fact, many of the city's best downtown nightclubs now welcomed a primarily gay clientele. It is possible that this lack of overt hostility on the part of city government made Portland gay men and lesbians less motivated to organize politically. This has been suggested by Pacific Northwest gay historian Peter Boag. (http://www.ohs.org/research/quarterly/images/ohq1051boag.pdf). Many gay men I knew then felt life at that time was as good as it could get, and didn't want to risk losing that by rocking the boat. So they tried to overlook the pervasive homophobic attitudes and the employment discrimination that were so rampant. At the same time, I think this outwardly more tolerant atmosphere made it more comfortable for some people to come out and eventually become political.
The Portland Gay Liberation Front never got very involved with civil rights attempts. But it managed to start the conversation in the Willamette Bridge newspaper that gay Oregonians wanted to be treated with dignity. That message had never been conveyed in Oregon mass media before early 1970. Additionally, some participants in the Portland Gay Liberation Front were later involved in other aspects of our movement in Oregon as indicated in the below narrative. Those people included Holly Hart, Cindy Cumfer, Dennis Kennedy, Neil Hutchins, Lanny Swerdlow, Ken Allison, Steve Fulmer and me. Portland GLF activists John Wilkinson and Dave Davenport eventually moved to the State of Washington in the 1990s, where they cofounded the state's successful marriage equality movement. (From my own experience and from http://glapn.org/6130nicolagaymovement.html)
Although seldom enforced by that time, Oregon's "sodomy" law and its court interpretations effectively criminalized most homosexual conduct. In 1971, the state adopted a new statute that generally legalized all noncommercial, private, consensual adult sexual activity, effective January 1, 1972. However, the statute provided a misdemeanor category for soliciting "deviate" sex in public.  That portion was declared unconstitutional in 1991.  (http://www.glapn.org/6012MilestonesLGBTQLaw.html)
In some cities outside of Oregon, police enforced laws that banned the wearing of clothing which was supposed to be restricted to the opposite gender. I do not know of any such laws which have been enforced in Portland since 1970 or even shortly before that.    
At the time of the sex law reform, Oregon's fledging gay movement was too young and unorganized to have any influence legally or politically. Ally Stevie Remington, Executive Director of the American Civil Liberties Union (ACLU) of Oregon at that time, told me that her organization lobbied for the revision. ACLU of Oregon's mission was the protection of civil liberties and civil rights for all. However, because LGBTQ people have traditionally been denied rights on so many levels, the ACLU of Oregon has spent a considerable amount of time and resources defending and protecting our equality. (http://www.aclu-or.org/sites/default/files/Iss_LGBT_chrono.pdf)
The Second Foundation of Oregon
The Second Foundation of Oregon was founded in late 1970 by a group that included ally Father Kieran Healey, Neil Hutchins, and Dennis Kennedy. (http://www.glapn.org/6022TimelineSince1970.html) The organization was named for a novel by Isaac Asimov, and was not a foundation as we typically use the term to mean a non-profit fund granting corporation. The information in this section comes primarily from my own experience and observation.
Many but not all of the early participants had been active with the Portland Gay Liberation Front and were looking for something more structured. The Second Foundation's first President was George Oberg of Vancouver, Washington. Neil Hutchins initially published the group's monthly newspaper called the Fountain, which was launched in March of 1971. Lanny Swerdlow became editor with the third issue. It was the first Oregon periodical that was fully gay. As Portland GLF waned, I started working with the Second Foundation. I also wrote politically oriented articles for the Fountain. Another major political activist in the group was Steve Fulmer.
In the spring of 1972, I attended the Oregon Democratic Party preprimary convention in Klamath Falls and got them to include in their platform a plank that called for legal bans on discrimination based on sexual orientation.
Through the Second Foundation, Lanny and I created a survey for Portland local and Oregon state legislative candidates in the 1972 Oregon primary. The questions asked if they would vote for laws that to ban discrimination based on sexual orientation and marital status. We mailed them to the candidates, and we received lots of replies. Based on their responses, we gave candidates ratings, and distributed those in our community.
The following year, we assembled a group of Oregon gay civil rights organizations and created an Oregon Gay Political Caucus. It was under this umbrella, but with the leadership of the Second Foundation, that I went to the Oregon Legislature and wrote and lobbied for Oregon's first bill that would ban discrimination based on sexual orientation in employment and housing. First year Representative ally Vera Katz allowed me to work out of her office. House Bill 2930 failed House passage by two votes short of a majority. However, it created a sense of purpose and identity that helped evolve the state's large LGBTQ movement we have today. Straight allies who assisted with the bill and who would later become major figures in Oregon politics were Vera Katz, Gretchen Kafoury, Stephen Kafoury, Barbara Roberts, Betty Roberts, Mary Wendy Roberts, Norma Paulus, and Bill McCoy.
Between 1972 and 1974, Portland area gay men and lesbians also appeared on local radio and television to discuss our lives and quests for equality. In about 1972, Lanny and I produced a series called Homophile Half Hour on KBOO community radio. 
In late 1973, Lanny, Neil, and I left the Fountain. Lanny and Neil launched a new gay newspaper called the Northwest Gay Review in early 1974, and I worked with that for a while. The Second Foundation ceased to exist in mid-1974. In the summer of 1974, I left the movement and the newspaper in order to get a full time job.
Starting in about 1972, the Second Foundation had been attempting to get the City of Portland to pass a resolution banning discrimination based on sexual orientation in city employment. Lanny Swerdlow continued working on that after he left Second Foundation. He was helped by Ken Allison. The City Council finally passed the resolution in December of 1974. It was the first successful Oregon government action to help prevent anti-gay employment bias. (http://glapn.org/6012MilestonesLGBTQLaw.html)
In 1973, a U.S. District Court ruled that the firing of Oregon public school teacher Peggy Burton based on "immorality" was "wrongful", and awarded her damages. The case had been taken by the ACLU and did not involve any gay organization. (From an email sent to me by her attorney Charles Hinkle.) 
The Eugene Gay People's Alliance
The Eugene Gay People's Alliance was established in 1970 and served those who lived in and around the city of Eugene. Founders included David Larsen, Randy Shiltz, Terry Bean, and Larry Monocle. (http://glapn.org/6022TimelineSince1970.html) 
The Alliance worked in our coalition to attempt the passage of the statewide HB 2930 in 1973. The organization was most notable for getting the Eugene City Council to pass Oregon's first law banning discrimination based on sexual orientation in employment, housing, and public accommodations in 1977. University of Oregon Law School Professor Dominick "Dom" Vetri had drafted the bill as an amendment to Eugene's Human Rights Law. Dom provided many of the details for this section of the article.           
Unfortunately, the ordinance was overturned by a referendum, Measure 51, in 1978. ("Gay-rights law repealed", The Oregonian, 5-24-1978). But the election campaign brought folks out of the closet across the state, developed lots of straight allies, gained national television coverage across the U.S., began community education, and most importantly made many of us realize that we could work to gain our civil rights too.
During the election, Dom explains, people "had organized as Eugene Citizens for Human Rights (ECHR), a local gay and lesbian civil rights group to defeat Measure 51. We kept ECHR alive, rented space and did many community activities. It functioned well for about a year keeping the community spirit alive and then gradually faded away as other smaller groups in the community formed and Portland became more energized after the Measure 51 election."
One of the people who worked to pass the ordinance and later to defeat the referendum was Terry Bean, who went on to became a major figure in the state and national LGBTQ movement.  (http://glapn.org/6317TerryBean.html)   
Even at that time of Measure 51, the major advocacy for our statewide civil rights protection was done by the Portland Town Council, and subsequently by the Right to Privacy/Pride.
Today, Eugene and other areas outside of Portland are well represented by Basic Rights Oregon.
The Portland Town Council
Larry Copeland told me that he had been an apolitical Portland gay man until December of 1974. That changed when he attended the Portland City Council hearing on the proposed resolution banning sexual orientation discrimination in city employment. Vera Katz, still an Oregon House member, testified for the resolution. Larry recalls that afterwards, Vera told a group of gays who attended that she planned to reintroduce the 1973 gay civil rights bill in the coming legislative session, which would have been 1975. She strongly suggested that the gay community send a representative to lobby for that bill and back up her efforts.
Larry got involved. He took a nonpolitical group called Portland Town Council (PTC) and transformed it into a political organization. Joining him later in 1975 was Susie Shepherd, a woman of considerable energy and commitment. She soon involved her ally straight parents, Ann and Bill Shepherd. Jerry Weller, who had some gay political experience in Pennsylvania, moved to Oregon and also got involved in PTC. Jerry was hired as part time Executive Director of the organization. Most of the information in this section is from my personal interviews with Larry, Susie, and Jerry.
In 1975, PTC was able to pay Ken Allison as a lobbyist for a statewide civil rights law. The bill faced opposition that we had not seen in the previous legislative session, but failed House passage by a very narrow margin.
Leo Gaul was the PTC's lobbyist in the 1977 legislative session. He worked out of Gretchen Kafoury's office, since she was elected to the Oregon House in 1976.
Larry recalls raising money by various means. They held a spaghetti dinner in the basement of gay welcoming Metropolitan Community Church of Portland. Jerry Weller told me that an important source of funding came from the benefits held by established drag performers. PTC also raised money through its newsletter, the Oregon Gay Rights Report, which was sent to a large mailing list each month.
In the mid 1970's, at the urging of PTC, ally Governor Bob Straub created a state Task Force on Sexual Preference. It was the second such task force in the nation. Portland Gay Liberation Front cofounder Holly Hart, who had since become an attorney, chaired the group. One of the members was Ann Shepherd. The task force recommended that a parental support group be created for their gay children.  So Ann and her husband Bill, along with allies Charles and Rita Knapp (parents of lesbian activist Kristan Aspen) cofounded Parents of Gays, which evolved into PFLAG Portland.  Details on the task force can be found at http://www.integrityusa.org/voice/1979/MarchApril1979.htm.
PTC found that funds were needed because once those who opposed our rights realized our cause had some promise, they organized with considerable vigor to oppose us. This was the age of the anti-gay ballot measures on local levels throughout the country, as noted in the above story about Eugene. But through this all, PTC continued to lobby for civil rights legislation and to solicit pledges of support from candidates for public office.
Jerry Weller relates that in 1979, the Oregon Senate passed a bill to ban sexual orientation discrimination. The bill was carried by ally Senator Ted Kulongoski. However, the Senate President held it back and so the bill died there without ever going to the House.
In the late 1970s, PTC divided into three entities. PTC itself lobbied. PTC PAC (Political Action Committee) worked to get equality minded candidates elected, including by raising money for their campaigns. It was the second gay PAC in the nation. The third entity, Town Council Foundation, did the educational work.
Town Council Foundation was one of eight gay non-profits that were given IRS tax free status the same day. Previous to that, IRS had refused to grant non-profit status to any gay social service organization.  The foundation eventually became a gay counselling center called Phoenix Rising.
Unrelated to PTC, Portland gay activist Lanny Swerdlow explains that in 1977, he tried to create a safe meeting place for gays who were too young to patronize bars. The youth had been congregating at "camp", an outdoor area generally around SW Yamhill and Third Avenue. There were as many as 100 kids hanging out there at a time, something that upset others in the area. 
Lanny opened a downtown all ages club called Mildred's Palace. He says that he soon found himself on the outs with the Portland police, who wanted to be able to arrest underage kids for curfew violation. So cops entered his club regularly, arresting kids. In one incident a couple months after the club opened, Lanny recalls, the police came into the club, arrested about a dozen kids, in some cases knocking them down. Lanny estimates that about three of the kids were actually bleeding. The police then hauled off the arrested kids in a paddy wagon.
At that point, Lanny went to PTC for advice. PTC recommended a lawyer named Craig Colby. The attorney wrote a letter to the city attorney saying that police could not enter a private establishment and make arrest for curfew violation.
That stopped, but the police then stationed two juvenile officers outside the club to arrest the underage kids when they exited. To avoid arrest, the kids would sometimes stay all night. Lanny went directly to Portland Police Commissioner ally Charles Jordan, who happened to be Portland's first African American City Council member. Jordan sent an aid to observe and found the story to be true. Jordan then told the Police Bureau they could not continue waiting outside the club to arrest patrons, so the problems ceased.
Separately from Lanny's issue, PTC was also concerned about the entrapment of gay men in adult bookstores. A plainclothes police officer had been going to these regularly. When propositioned by a gay man, the officer would arrest him.
In the early 1980s, ally Mike Schrunk was elected Multnomah County District Attorney. PTC organized a group of about 100 people from our community to meet with him. Schrunk agreed that if a gay man solicited sex from the officer in an adult bookstore, the officer had to say no. If the officer said no once and the gay man did not pursue it, the DA's office would not press charges. Schrunk let the police know his new policy. That put a halt to the bookstore police harassment.
In the early 1980s, Portland was the scene of a large number of violent attacks on people thought to be gay. Victims may have been reluctant to report it to the police because they assumed the police were anti-gay. PTC worked with the police to rectify the bashing problem.
Over a period of time, our community has worked with publicly elected officials more systematically to promote dialogue with the Portland Police Bureau (PPB). In the early 1990s, the City of Portland created the Sexual Minority Roundtable. In 2013, its name was changed to the Alliance for Safe Communities. The "group discusses bias crimes and is a liaison mainly between the PPB and LGBTQ community." (https://www.portlandoregon.gov/oehr/article/448864)
In 2013, the Portland Police Bureau produced an "It Gets Better" video to combat homophobia and to reassure and support LGBTQ youth who feel alone and harassed. (http://www.oregonlive.com/portland/index.ssf/2012/06/portland_police_bureau_posts_i.html)
The Community Law Project (CLP)
The Portland based non-profit Community Law Project (CLP) was founded in 1976. According to former CLP lawyer Katharine English, "The CLP won the first contested lesbian custody case in Oregon. The firm represented gay men and lesbians in a variety of cases."
Former CLP attorney Cindy Cumfer notes that in 1978 the firm began "to successfully lead the fight in Multnomah County courts to persuade judges that homosexuality should not be an issue in lesbian/gay custody cases. This laid the groundwork for my adoption case in 1985."  Cumfer says that CLP also "did a number of donor insemination agreements that helped lesbians have babies." (From emails I received from Katharine English and Cindy Cumfer.)
Right to Privacy/Right to Pride
In 1982, Jerry Weller, Terry Bean, John Baker, Keeston Lowery, and Dana Weinstein started a new statewide political organization called Right to Privacy (RTP). It came out of the necessity to raise more money to promote our cause, especially by getting equality minded candidates elected. Later, the organization became known as Right to Pride, so the group is sometimes referred to as Right to Privacy/Pride. By 1983, RTP was doing all the lobbying, so it soon became Oregon's primary organization advocating for non-discrimination based on sexual orientation.
RTP found more sophisticated ways to raise money. In the year of its founding, it raised $17,000 during its first Lucille Hart fund-raising dinner at $50 a plate. The event was named after an early Oregon transgender male who eventually changed his name to Alan Hart.
Between 1982 and 1996, we did achieve some important victories. In 1984 with the help of RTP, we succeeded in getting ally Bud Clark elected Mayor of Portland. From that time on, all Portland mayors have supported the dignity and rights of gay men, lesbians, and bisexuals. Eventually, support for transgender people came about as well. 
RTP's major success was in 1991 when they managed to get the City of Portland to pass an ordinance banning discrimination based on sexual orientation in employment, housing, and public accommodations. It was the first Oregon sexual orientation civil rights law passed that was not repealed by a ballot measure. Gender identity was added to the ordinance in 2000.
In 1992, Multnomah County became the first public employer in Oregon to extend health benefits to domestic partners of county employees. The benefits became effective on July 1, 1993. (http://glapn.org/6022TimelineSince1970.html)
However, Right to Privacy had to deal with numerous challenges, especially a barrage of anti-gay ballot measures. In 1987, RTP convinced ally Governor Neil Goldschmidt to issue an executive order banning discrimination based on sexual orientation in the executive department of state government. ("BATTLE RAGES OVER MEASURE 8", The Oregonian, 10-30-1988) But a group calling itself the Oregon Citizens Alliance (OCA) managed to get an initiative called Measure 8 on the ballot, and voters chose to rescind the order. (http://en.wikipedia.org/wiki/Oregon_Citizens_Alliance)
Many years later, Measure 8 was overturned by an Oregon court. (http://glapn.org/6356HarrietMerrick2013.html) But in the meantime, emboldened by the 1988 victory, the OCA went on to sponsor the statewide Measure 9 in 1992.
Measure 9 would have amended the Oregon constitution to ban civil rights protection based on sexual orientation. It mandated that schools "shall assist in setting a standard for Oregon's youth that recognizes homosexuality, pedophilia, sadism and masochism as abnormal, wrong, unnatural, and perverse and that these behaviors are to be discouraged and avoided." A section of the measure stating the government could not "promote, encourage, or facilitate homosexuality" could have had many negative results.
Much of the fight against Measure 9 was done by the temporary No on 9 organization, which had been created by a coalition that probably included RTP. But opposition to the measure included small informal groups. It was bipartisan and included people of many faiths, identities, and ethnicities. Gay men and lesbians came out to people they knew. Straight people increasingly realized that we are their friends, their family, their neighbors, their coworkers. Oregonians began to understand that when gay people as a group are being threatened, someone they love is probably being threatened. Voters defeated Measure 9 by an impressive margin. (http://en.wikipedia.org/wiki/Oregon_Ballot_Measure_9_(1992) and my own experiences.)
Much of the information on RTP comes from my interviews with Jerry Weller, John Baker, and Steve Fulmer.
The Lesbian Community Project
The Lesbian Community Project (LCP) was active between 1985 and 2008. It was founded as a combination social, political, and educational organization for lesbians in the Portland area. Donna Red Wing, who was the group's Executive Director in the early 1990s, recalls some of the details.
While membership was for lesbians and other "women who love women", the group did have a membership for "friends of lesbians" which made a place and space for family, friends and "our gay, bi and transgender brothers". Their membership card proclaimed, "I AM A LESBIAN" and in small letters continued "community project member."
LCP was involved with state and city sexual orientation civil rights legislative proposals. Members Donna Red Wing, Kathleen Saadat, and Kristan Aspen were tireless campaigners against anti-gay ballot measures.
Donna Red Wing relates her experience as LCP Executive Director in the early 1990s. Between 1992 and 1994, the Oregon Citizens Alliance sponsored dozens of anti-gay ballot measures. The worst of them, the statewide Measure 9, is discussed above. Members of the Lesbian Community Project "were front and center in opposition."
Donna explains: "We served as, I think, an honest face and voice of the movement. We created a march across Oregon to show people who we were. We rallied, we organized, we raised money, we got religious organizations involved, we created and launched the first queer float in the Rose Parade. In the middle of the craziness, we had one of the largest lesbian softball tournaments in the country. Because of the horrific violence against us, we created one of the first anti-violence projects in the country. We stood toe-to-toe against our enemies and we won."
Donna's efforts became so respected that she won the 1992 Woman of the Year Award from the Advocate, one the nation's oldest LGBTQ publications. LCP history can be researched through (http://www.glapn.org/5005OHS2988-12.html)
SOC PAC (sometimes spelled "SOC-PAC")
Before and after the 1992 Measure 9, the OCA sponsored about 29 anti-gay initiatives on the city and county level. (http://en.wikipedia.org/wiki/Oregon_Citizens_Alliance#cite_note-nyt-jun92-8) These forbad the entities from taking any step that specifically banned sexual orientation discrimination, and said the city or country may not "promote, encourage or facilitate" homosexuality.  (http://www.nytimes.com/1992/06/14/us/a-blue-collar-town-is-a-gay-rights-battleground.html)     
Support Our Communities Political Action Committee (SOC PAC) was the lead organization fighting the Oregon Citizens' Alliance in about 33 counties and cities in the state. The following is from SOC PAC's fact sheet:
SOC PAC is a political campaign organization whose specific purpose is to provide funding and tactical campaign support to rural communities in Oregon that have been targeted by [OCA founder] Lon Mabon and the Oregon Citizens' Alliance (OCA) to pass ballot measures legalizing discrimination. Although Oregonians defeated Measure 9 statewide last year, the OCA won a majority in 33 towns and counties. It is in these 33 areas that the OCA is waging campaigns to make discrimination the law all across Oregon, starting in May, then June, September, November, and culminating in another statewide measure in 1994. The ballot language has been modified somewhat; the intent has not. Measure 9 and the OCA are back.
 SOC PAC is different from existing anti-discrimination and post-Measure 9 groups because it is the only statewide organization that is designed specifically to support local communities that are battling the OCA ballot measures. Virtually all the other anti-bigotry groups are non-profit organizations that are restricted by law from engaging in political and campaign activity ....  Without the partnership of SOC PAC and the local communities, it would be as if Lon Mabon were running for statewide office with no opponent. SOC PAC will work closely with post-Measure 9 groups to channel financial and volunteer resources that will not jeopardize their tax status to SOC PAC and the local communities.  (http://www.qrd.org/qrd/usa/oregon/1993/soc.pac)
Most of the city and county measures won. In 1993, the Oregon Legislature invalidated these with House Bill 3500, which prohibits local measures that "single out citizens or groups of citizens on account of sexual orientation." The law was upheld by the Oregon Supreme Court in 1995.  (http://glapn.org/6013OregonAntiGayMeasures.html)
In 1994, the OCA went on to sponsor the statewide Measure 13, titled "Amends Constitution: Governments Cannot Approve, Create Classifications Based on, Homosexuality." SOC PAC successfully managed the campaign to defeat it. (http://www.glapn.org/6006ballotmeasures.html)
Once the Measure 13 campaign was over, those who headed SOC PAC decided that it would be good to retain its statewide structure. Eventually, this evolved into Basic Rights Oregon (BRO), which was officially incorporated in 1996. Right to Pride PAC (RTP), which had previously been the largest Oregon group advocating for equality for gay men, lesbians, and bisexuals, merged into BRO.
The founder of BRO was Julie Davis, who had headed the campaign to fight Measure 13. Cofounders included Holly Pruett and straight ally Thalia Zepatos. Barry Pack, who headed RTP at the time, led that organization to merge into BRO.
According to its web site, "Basic Rights Oregon (BRO), a 501(c)(4) organization, was formed in 1996 to sustain and strengthen Oregon's LGBTQ rights movement between and beyond measure campaigns. In 1999, the Basic Rights Education Fund (BREF), a 501(c)(3) organization, was formed to supplement the electoral and legislative work of Basic Rights Oregon through education and advocacy for LGBTQ Oregonians." (http://www.basicrights.org/about-us/our-history/)
BRO was the first major Oregon group promoting equality based on sexual orientation to also support equality based on gender identity. The organization maintained a presence throughout Oregon and soon took the lead as the state's strongest organization working for LGBTQ equality. It eventually built a large full time staff. Two of the longest serving executive directors have been Roey Thorpe and Jeana Frazzini.
Parallel to BRO's efforts, a major judicial victory was won in 1998 with the help of the ACLU of Oregon. In Tanner v. OHSU, the Oregon Circuit Court of Appeals ruled that all public agencies must provide benefits to the same-gender domestic partners of their employees the same benefits they provide to the spouses of straight married employees. The Court of Appeals ruling also stated that then current Oregon law prohibited any employer--whether public or private--from discriminating in the workplace on the basis of sexual orientation. (http://archive.acluor.org/litigation/tanner/tannernatl.htm) But for technical reasons, the issue remained murky. It could only be fully addressed by statewide legislation that would clearly ban such bias.  (From an email clarification attorney Charlie Hinkle sent me.)
Like the previous major Oregon LGBTQ equality groups, BRO worked to elect equality minded public officials and attempted in every session of the Legislature to get a statewide law enacted banning sexual orientation discrimination, eventually adding a ban on gender identity discrimination. However, the organization was repeatedly thwarted by the opposition. In the meantime, BRO continued to advocate legislation of various types on the local level.
Between 1996 and 2007, BRO estimates that over a dozen local governments, most of them cities, enacted ordinances that banned discrimination based on sexual orientation and, in many cases, gender identity as well. Multnomah and Benton Counties, and the cities of Eugene, Lake Oswego, Salem, Beaverton, Bend, Lincoln City, and Hillsboro all passed such laws. In 2000, gender identity was added to the City of Portland's civil rights ordinance which had already banned sexual orientation discrimination. In that same year, Multnomah County created a domestic partner registration system for both homosexual and heterosexual couples. (http://glapn.org/6007historyLGBTQrights.html). None of these were overturned by the voters.
Other early BRO efforts included the Fair Workplace Project, establishing LGBTQ-inclusive employment policies in hundreds of Oregon businesses. (http://glapn.org/6480BasicRightsOregon.html)
In 2000, the OCA sponsored its last anti-gay statewide initiative, also called Ballot Measure 9, titled "Prohibits Public School Instruction Encouraging, Promoting, Sanctioning Homosexual, Bisexual Behaviors." Fortunately, it was defeated by voters.
In 2004, Multnomah County began issuing marriage licenses to same-gender couples. The issuances were eventually stopped by court order. This was followed later in the year by Ballot Measure 36, the state constitutional ban on same-gender marriage.  (http://en.wikipedia.org/wiki/Oregon_Ballot_Measure_36_(2004))
Despite the loss, BRO continued to work toward the dream of equality. BRO scored a huge victory in 2007. Its intense lobbying led to the enactment of the Oregon Equality Act which prohibits discrimination in employment, housing, public accommodations, and other categories based on sexual orientation and gender identity. (http://www.lambdalegal.org/sites/default/files/publications/downloads/fs_oregon-equality-act_0.pdf) Enacted at the same time was the Oregon Family Fairness Act which offered domestic partnership status to same-gender couples. This granted them most but not all the rights of marriage. BRO also worked with state government to help implement the domestic partnership system.  (https://www.osbar.org/publications/bulletin/07dec/newlaws.html)
But the victories did not go without a challenge. Opponents planned referendums to overturn both statues. Basic Rights Oregon took steps to make sure we did not face another anti-equality ballot measure. According to BRO Executive Director Jeana Frazzini, "we fought them every step of the way, challenging ballot titles, ensuring that they couldn't get away with any misleading language. In the end, they had to throw up their hands and give up." (http://www.youtube.com/watch?v=HPGTODhLxvA) Opponents did not get enough signatures to put a referendum of either statute on the ballot. ("State Domestic Partnership Law Stands for Now", The Oregonian, 8-15-2008)    
BRO recognized that the LGBTQ rights movement had not engaged communities of color sufficiently in the past. So the organization made racial equality a major priority. BRO produced and published a series of high quality videos on LGBTQ families that were African American, Latino, Asian and Pacific Islanders, or Native American. (http://www.basicrights.org/?s=our+families&x=16&y=0)
BRO joined the movement for immigration justice. It also worked with PFLAG Portland to establish a very effective PFLAG Portland Black Chapter. Among the many projects, the three organizations joined an August 2013 Portland march to commemorate the 50th anniversary of the historic March on Washington. After the march, participants gathered for a rally at which BRO Racial Justice and Alliance Building Organizer (and PFLAG Portland Black Chapter Coordinator) Khalil Edwards gave a moving speech declaring himself "black, gay, and proud." 
BRO's racial equality emphasis created numerous alliances, and made people of color feel more welcome in the LGBTQ movement than they had in the past.
In addition to including gender identity in its proposed civil rights legislation, BRO made transgender equality a priority. In 2012, at BRO's urging, the State of Oregon announced it would prohibit health care providers from discriminating against a policy holder based on their actual or perceived gender identity and expression. A number of other transgender health victories were obtained with the help of BRO's advocacy. (http://glapn.org/6031TransTimeline.html)
BRO understood that a separate domestic partnership system is not the same as marriage. For many years, it conducted an educational campaign to inform the public on the importance of marriage to those same-gender couples who wanted it. The campaign included high quality television ads. (http://www.basicrights.org/programs/marriage-equality/) BRO also supported the legalization of same-gender marriage in neighboring Washington State by working to pass Referendum 74 in 2012. (https://www.youtube.com/watch?v=LP9ZCQIkG5c)
On Valentine's Day, February 14, 2013, BRO announced it planned to take action to legalize same-gender marriage in Oregon. It would work toward a ballot initiative that would override the state's constitutional amendment that banned same-gender marriage with a state constitutional amendment that guaranteed marriage equality. In coalition with other groups, it created a temporary organization called Oregon United for Marriage (OU4M) to manage the campaign. The initiative was slated for the November 2014 election.
Individuals, most of them volunteers, gathered enough signatures for the initiative to appear on the November 4, 2014 ballot. Soon, polls showed 55% of Oregon voters now supported the freedom to marry. The initiative gathering process and the education it included also helped reduce overall homophobia.
Independent from the campaign, openly gay attorney James Lake Perriguey and openly lesbian attorney Lea Ann Easton filed the lawsuit Geiger v. Kitzhaber in U.S. District Court in Eugene on October 15, 2013. The suit was on behalf of two Oregon same-gender couples. The goal was to rule Oregon's ban on same-gender marriage to be a violation of the U.S. Constitution. The case was assigned to Judge Michael McShane. (http://en.wikipedia.org/wiki/Geiger_v._Kitzhaber)
In December 2013, BRO determined that the issue could be won in federal court. This would have saved a long campaign plus the additional $10 million it would have cost. So attorneys for the ACLU of Oregon and Basic Rights Education Fund filed Rummell v. Kitzhaber in the same court with the same goal as Geiger v. Kitzhaber. This suit was on behalf of two other same-gender couples and Basic Rights Education Fund. (From an email sent to me by Amy Ruiz of OU4M). Judge Michael McShane was assigned this case as well. Given their similarity, he consolidated the two lawsuits. Geiger v. Kitzhaber became the "lead case" and Rummell v. Kitzhaber the "trailing case".
On May 19, 2014, Judge McShane issued his ruling. He determined that Oregon's laws banning same-gender marriage "violate the Equal Protection Clause of the Fourteenth Amendment to the United States Constitution." Same-gender weddings started the same day. The pro-marriage ballot measure that had been planned was then dropped because it was no longer necessary. (http://en.wikipedia.org/wiki/Geiger_v._Kitzhaber)
Previous to the judicial victory, we were faced with the possibility of another anti-gay ballot measure. IP52 was filed in November of 2013 by an Oregon Family Council offshoot calling itself Friends of Religious Freedom. According to the Portland Mercury, IP52 "would have allowed people, businesses, and corporations to deny services that contribute to same-sex marriages, civil unions, or domestic partnership ceremonies 'if doing so would violate a person's deeply held religious beliefs.'" (http://www.portlandmercury.com/portland/pride-before-the-fall/Content?oid=12466444)
BRO led the formation of a temporary group called Oregonians United Against Discrimination to counter the initiative attempt. (http://www.oregonunitedagainstdiscrimination.org/)
On May 8, the Oregon Supreme Court approved ballot language for the initiative—the verbiage Oregonians would read while deciding how to vote. The ballot title included the word "discrimination" five times. Friends of Religious Freedom suspended its campaign because they felt they could not pass a measure with that wording. (http://www.portlandmercury.com/portland/pride-before-the-fall/Content?oid=12466444)
(I learned much of this information from my personal experience with BRO. Some of it comes from Cathy Abbruzzese and Amy Ruiz of BRO, and from Holly Pruett, all of whom have reviewed most of this section.)
In late 2014, Portland "Q Center was in crisis" and "wouldn't survive without an influx of community support." (http://www.pdxqcenter.org/q-center-where-are-we-now-the-report-is-available-for-download/) BRO was asked to help remedy the situation. Realizing the importance of Q Center to our community, BRO began "a community-driven conversation to hear what the community needs and wants related to Q Center and what role Basic Rights Oregon and other organizations might play."
An Interim Board and an Advisory Committee were organized with BRO's assistance.
(http://www.basicrights.org/featured/basic-rights-oregon-q-center-joint-community-statement-on-the-future-of-q-center/) As a result, Q Center has survived and is working on a long term plan that will include stability, transparency, and delivery of the services our community needs.
For more information on Basic Rights Oregon, see BRO's
HRC Oregon & SW Washington
The Human Rights Campaign (HRC) is the largest LGBTQ rights organization in the United States. Its cofounders included Oregon gay activists Terry Bean and Jerry Weller.
Much of HRC's work is on the national level. HRC has played a major role, if not the major role, in bringing about the following successful advances:
The 2009 passage of a federal hate crime law which includes sexual orientation.
President Bill Clinton's executive order banning discrimination based on sexual orientation in federal civil service employment.
The statute that reversed Don't Ask Don't Tell in 2011.
President Barrack Obama's endorsement of marriage equality.
President Obama's call for gay equality in his second inaugural address.
The Obama Administration's concerted efforts to stop the persecution of LGBTQ people in other countries.
It was also due partly to the hard work of HRC that the anti-gay Marriage Amendment was never approved by Congress.
On a local level, the chapter of the national organization is HRC Oregon & SW Washington. HRC recognizes the local leadership of groups such as Basic Rights Oregon that concentrate on Oregon issues. At the same time, HRC has given considerable help to local LGBTQ issues.  For example, HRC has:
Fought hard against the anti-marriage equality Oregon Ballot Measure 36. This included $150,000 in funds.
Worked for the passage of Washington Referendum 74 which legalized same-gender marriage in that state.  This included dedicated staff and $1.5 million in campaign funds.
Has placed both paid staff and volunteers to work for the election of equality minded Oregon candidates for federal and local office.
Contributed money and staff to Oregon's campaign for marriage equality, Oregon United for Marriage.
In addition to Terry Bean's activity with HRC, straight ally Barbara Roberts was a member of the HRC national board even while she was governor of Oregon.
(The above information is mostly from my interviews with local HRC activists in early 2013.)
In 2014, HRC President Chad Griffin apologized to the transgender community for not representing them adequately in the past:
"I am sorry for the times you have been underrepresented or unrepresented by this organization. What happens to trans people is absolutely central to the LGBT struggle," Griffin intoned. "And as the nation's largest LGBT civil rights organization, HRC has a responsibility to do that struggle justice, or else we are failing at our fundamental mission." (http://www.towleroad.com/2014/09/hrc-president-chad-griffin-apologizes-to-the-transgender-community.html)
HRC Oregon & SW Washington's Facebook page is https://www.facebook.com/HRC.PDX.  HRC's home page is http://www.hrc.org/.
PFLAG was originally an acronym for Parents & Friends of Lesbians & Gays. In order to show it is fully inclusive, PFLAG is now a word rather than an acronym. Its Portland site states "PFLAG is people, LGBTQ and straight, parents, friends, and allies, working together to make a better future for LGBT youth and adults." The organization has 13 groups in Oregon, many of them in small towns.  At this point, about half of Oregon PFLAG activists are LGBTQ, while the others are allies. PFLAG Portland Black Chapter was the nation's first PFLAG group created by and for the African American community. (http://pflagpdx.org/wordpress/ and from interviews I have conducted with PFLAG activists such as Khalil Edwards.)
SOME ADDITIONAL ORGANIZATIONS THAT HAVE MADE LARGE CONTRIBUTIONS TO OREGON LGBTQ LEGAL EQUALITY
I mentioned in my introduction that I wanted to discuss those major Oregon organizations which have made important contributions to promoting LGBTQ equality. Below are a few additional groups which, because of their efforts and results, should also be noted. 

Rural Organizing Project (ROP), was initially founded in 1992 to fight the fiercely anti-gay Ballot Measure 9. It remains active today and promotes a variety of progressive issues, of which LGBTQ equality is one. The founder of ROP was Marcy Westerling. (http://www.rop.org/about-the-rural-organizing-project/our-history/ )
OGALLA: The LGBTQ Bar Association of Oregon" describes itself as "an association of lesbian, gay, bisexual and transgender lawyers, judges, legal workers, law students, and others who support the association's purposes." Under its purpose, OGALLA states that it "was created as a statewide organization to support the needs of sexual minorities and gender non-conforming people in the legal profession." (http://www.ogalla.org/)
The Gay & Lesbian Victory Fund is a national organization. However it has provided campaign funds to get a number of openly LGBTQ people elected to office in Oregon. Also worthy of note is that one of its founders was Oregon gay activist Terry Bean. (http://www.victoryfund.org/home)
The Human Dignity Coalition was founded in 1992 as part of a statewide movement to oppose Measure 9. Its website states "Human Dignity Coalition (HDC) works to advance and safeguard human rights. We promote equality for the lesbian, gay, bisexual, transgender, queer, [LGBTQ] and allied community in Central Oregon." (http://www.humandignitycoalition.org/index.html)
Lotus Rising Project, according to its website, "was created by youth and mentors who wanted to make a positive impact on social change in southern Oregon. The founders saw a need for changes in our communities, our agencies and our services for lesbian, gay, bisexual, transgender, queer and ally people." (http://www.lotusrisingproject.org/lrp/about-us/)
Umatilla Morrow Alternatives has stated that it "ADVOCATES for EQUALITY, LEADERSHIP, EDUCATION and HUMAN DIGNITY among all under-served minority populations." This includes both LGBTQ people and racial/ethnic minorities. However, the web site I have for it (http://umalt.com/) was inactive when I last updated this article.
TransActive Gender Center was founded by transgender activist Jenn Burleton, the group's Executive Director. It describes itself as "an internationally recognized non-profit focused on serving the diverse needs of transgender and gender nonconforming (GNC) children, youth, their families and allies." The organization has also advocated for legal and government administrative changes that help transgender people. (http://www.transactiveonline.org/index.php)
Oregon Safe Schools & Communities Coalition (OSSCC) was established in 2001 to support community efforts to reduce youth suicide and other risk behaviors among LGBTQ youth.  (http://www.oregonsafeschools.org/about/)
Oregon Gay-Straight Alliances (GSAs) are student-initiated and student-run clubs in public or private schools. The goal of a GSA is to provide a safe, supportive environment for LGBTQ and straight ally youth, to meet and discuss sexual orientation and gender identity issues, and to work to create a school environment free of discrimination, harassment, and intolerance. (http://www.oregongsa.org/)   
Oregon college LGBTQ groups have been established by students in a substantial number of Oregon colleges.
Q Center of Portland states that its vision is "A broadened positive perception of LGBTQ people". It "provides a safe space to support and celebrate LGBTQ diversity, visibility and community building."  (http://www.pdxqcenter.org/)
The Oregon Chapter of GLSEN (Gay Lesbian Straight Education Network) "works to ensure safe schools for ALL students, regardless of sexual orientation and gender identity."  (http://glsen.org/chapters/oregon/ourchapter)
Oregon LGBTQ Prides: The many regional and culturally specific Oregon Prides have done much to imbue our community members with a sense of dignity, inspiring us to continue working for equality.  Details on these groups can be found at http://glapn.org/6034OregonPrides.html.
The Community of Welcoming Congregations founded in 1992, is an Oregon and SW Washington interfaith ministry and advocacy organization working toward full inclusion and equality for transgender, lesbian, bisexual, gay and questioning persons." (http://www.welcomingcongregations.org/)
Love Makes a Family: Always advocating for her multi-racial, non-traditional family, Bonnie Tinker founded Love Makes a Family in 1992 as an offshoot of PFLAG Portland. Love Makes a Family is a non-profit supporting parents and children in LGBTQ families. Bonnie told her story through writing, speeches, workshops, and talk radio. She was active in the early 1990s, countering anti-gay ballot measures while welcoming interactions with the opposition. Bonnie and her partner Sara Graham raised four kids together. In 2009, Bonnie was killed when a large truck hit her bicycle. Her work lives on through the spirit of LGBTQ families she helped support. (http://glapn.org/6323BonnieTinker.html and http://oregonprogressivenetwork.org/organizations/Love-Makes-A-Family-Inc)
Black Lesbians and Gays United was a Portland group founded in the mid-1980s by Cliff Jones, Kathleen Saadat, Amani Jabari, Rupert Kinnard and Elizabeth Waters. (From a Facebook message Rupert Kinnard sent me)
Brother to Brother is a Portland African American gay and bisexual men's political and social organization. It was founded in 1993 by Rupert Kinnard, Cliff Jones, Reggie Petry, Ronald Webb, John Garlington, Ron Young, and Ron Paden among others. (From a Facebook message Rupert Kinnard sent me)
Queer Intersections (Qi) Portland was founded by Giovanni Blair McKenzie in 2013. Its Facebook page states "We advocate for, promote the visibility of, and work to build stronger communities for LGBTQ youth & young adults with intersecting marginalized identities." (https://www.facebook.com/QiPortland)   
PABA (Portland Area Business Association) states that its "mission is to serve our LGBT community and our allies by providing business and leadership development to expand economic opportunities for our membership." (http://www.paba.com/)
Various community periodicals have helped in our quest for equality. For a history of those, please see GLAPN article "Periodical Print Mass Media in the Oregon LGBTQ Movement" at http://glapn.org/6037CommunityMedia.html.
Equity Foundation "grants funds to programs and projects that advance equality for those in the LGBTQ community." (http://www.equityfoundation.org/) 
People of Faith Against Bigotry (PFAB) was formed in 1992 as a coalition to oppose the Oregon Citizen Alliance (OCA) sponsored anti-gay Ballot Measure 9. It was a grass roots initiated group that tried to counter the religious voice to the OCA. Rev. Cecil Prescod, a founder of the organization, states that "It was an interfaith group including Muslim, Jewish, and Catholic subcommittees which organized in their respective communities." The main political organization opposing Measure 9 did not have an effective outreach to religious groups at that time, so much of that work was done by PFAB. This group "did some unique, and at that time unheard of, outreach to evangelical and fundamentalist churches that included monthly gathering of opposing religious voices in 1993. It was a fascinating gathering of LGTBQ people and religious fundamentalists. PFAB continued to organize during other OCA initiatives through 2000. It laid the foundation for subsequent work in religious communities in Oregon." (From a Facebook message sent me by Rev. Cecil Prescod.)
Pride Foundation "is a regional community foundation that inspires giving to expand opportunities and advance full equality for lesbian, gay, bisexual, transgender, and queer (LGBTQ) people across the Northwest." (http://www.pridefoundation.org/)
Oregon LGBTQ performing arts groups are not political organizations, but have contributed enormously to our equality and dignity by inspiring us and by serving as ambassadors of good will to the general community. For details on these, please see http://glapn.org/6033PerformingArts.html.
LGBTQ organizations associated with major political parties: According to its web site "The LGBT Caucus of the Democratic Party of Oregon (aka Oregon Stonewall Democrats) continues to be active and strong in the Party. We were extremely successful in exceeding our objectives during 2012 and we will not relent in ensuring that the Democratic Party continues to focus on our issues." (http://www.stonewalloregon.org/) "Log Cabin Republicans of Oregon," according to their web site "are proud members of the GOP who believe inclusion wins." The group states that it advocates "for the freedom and equality of gay, lesbian, bisexual and transgender Americans".  However, it does not appear to be officially part of the Republican Party of Oregon. (http://logcabinoregon.weebly.com/)
SMYRC (Sexual & Gender Minority Youth Resource Center) was founded in 1998. Several years ago, it came under management of Portland Q Center. There, it states as its mission that it "honors, empowers, and supports LGBTQ youth to change the world." Its vision: "Q Center's SMYRC Program embodies a vision of generosity, community support & investment, abundance and intergenerational connection." (http://www.pdxqcenter.org/programs/youth-programs/smyrc/) In January of 2015, Q Center and New Avenues for Youth began partnering together to better serve LGBTQ youth through SMYRC.
Portland Two-Spirit Society (PTSS) is a Native American organization founded in 2012 by Amanda (Asa) Wright (Klamath/Modoc). PTSS was formed as a social group but later took on a cultural and educational role. (http://glapn.org/6350AmandaBringsPlentyWright2013.html)
GLAPN, the publisher of this article, was founded in 1994 "to discover and publicize the history of sexual minorities in the Pacific Northwest." GLAPN was originally an acronym for the Gay & Lesbian Archives of the Pacific Northwest. Today we emphasize our inclusion of the entire LGBTQ spectrum. For more information, please explore our site at http://glapn.org/.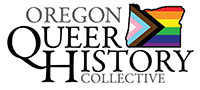 P.O. Box 3646 • Portland, OR 97208-3646 • info@glapn.org
Copyright © 2015