Thanks for visiting us!
Since 1994, we have been working to discover and publicize the history of sexual minorities in the Pacific Northwest.
We collect, preserve, document, and share as much as we are able. We help individuals and groups preserve their own historical data. We try to find a home for historically significant materials when they become available. We also gladly partner with organizations in the community to publicize and celebrate the history of all LGBTQ-identified minorities in Oregon and the Pacific Northwest.
We're changing our name …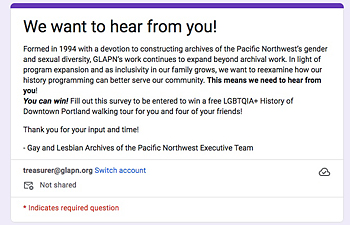 We have needed to do this for a while. We are not now and never have been limited to the "Gay & Lesbian" portions of the LGBTQ2SIA+ rainbow; given our fondness for public programming, we're not strictly an "archive;" and the "Pacific Northwest" is optimistic for a little, volunteer-staffed organization that doesn't yet reach all of Oregon.
We have a survey up at this link to gain some public input into what people would like to see from a LGBTQ2SIA+ historical society, and also to collect some suggestions for what we ought to call it.
We'll be collection responses through July 31, 2023.
Please take a moment to give us some guidance through this transformation.
---
We are proud to provide a forum for activists and scholars. Visit these pages to see what's in our online archive.
See what's coming up, and what GLAPN has been up to in the recent past.
QUEER
HEROES
NORTHWEST
Follow this link to read more about, and see previous year's Heroes.
In 2012, GLAPN started naming a Queer Hero for every day in June, as part of our celebration of Pride. It has been a great way to recognize the history-makers of our community.
We're pleased to promote these historic texts by GLAPN members and friends, along with information on how to purchase them.
Follow this link to see GLAPN's growing collection of videos.
Since January, 2008, GLAPN has produced, or helped to produce, a number of events of historic interest to the LGBTIQQ community. Some programs mark significant anniversaries, some, such as the Our Stories Series, involve community activists and elders sharing personal reminiscences around significant issues.
COLLECTIONS AT OREGON
HISTORICAL
SOCIETY
Our physical collections are part of the library at Oregon Historical Society. Visit this page to see what's in the GLAPN archive at OHS, and to review finding guides.
Learn about our organization, our history, our community affiliations, and our ongoing activities.
Do you need help with a history project? Can we provide a speaker for an event you're planning? Do you have information for us? Do you want to donate items or an entire collection that's relevant to northwest Queer history? Do you want to give us money? Are you interested in volunteer opportunities? Visit this page for our Wish List, and contact information.
Many of our friends have kindly shared links with us. If you visit their pages, tell them that GLAPN sent you!

GLAPN depends on memberships and donations.

Annual membership of $35 gives you a vote in
electing offers and setting policy,
and it puts you on the short list for volunteer opportunities.

You may elect to support us without becoming a member.
You're still welcome to attend meetings.

A click on the button below will take you to PayPal,
where you can specify how your donation is applied,
and securely complete a transaction using your credit card.




P.O. Box 3646 • Portland, OR 97208-3646 •

info@glapn.org
Copyright © 2022, Gay & Lesbian Archives of the Pacific Northwest