1999 Portland Gay History Walking Tour
Introduction

This guide to historic gay, lesbian, and transgender buildings and locations in Downtown Portland borrows from a number of primary sources, including Minutes of the Portland City Council, Oregon Liquor Control Commission records, Portland city directories, Sanborn fire insurance maps, and several early gay newspapers published in the city between 1970 and 1980 (The Fountain, The NW Fountain, The Northwest Gay Review, and The Cascade Voice).

Secondary sources include the first written account of Portland's gay history in William Holman's "A Gay History: Lest We Forget," (The Northwest Gay Review, Special Issue, June 1977), hereinafter referred to simply as "Holman," and Duane Frye's account of The Music Hall from the Gay Pride Program of 1993. For information on sites associated with Marie Equi and Harriet Speckart, we relied on Portland city directories for the years 1906-1920, the 1910 and 1920 U.S. Federal censuses, and the Marie Equi files from the Dept. of Justice consisting of 800 pages of investigative reports and personal correspondence (all her letters from San Quentin prison were copied for a period of several months) from the National Archives and Records Administration, College Park, Maryland.

Information on the 1912 vice scandal in Portland comes from the research of Mr. George Painter, and Mr. Tom Cook from a lecture and paper ("Queans, Fruiters and Men of that Kind: The Portland Vice Clique Scandal of 1912") presented in October 1998 at the Washington State History Museum's Do Ask, Do Tell: Conference on Outing Pacific Northwest History, Tacoma, WA, as well as continuing research since that date.

For additional information of the life of Dr. Alan L. Hart, transgender novelist and physician, see The Incredible Life and Loves of the Legendary Lucille Hart (1976) and Jonathan Katz's Gay/Lesbian Almanac (1983).

For additional information about these historic locations and others in Oregon and in the U.S., see: The Queerest Places: A National Guide to Gay and Lesbian Historic Sites (Henry Holt Co., New York, 1997).

Special thanks to the Oregon Historical Society, which provided many of the images in this guide, and to the Gay and Lesbian Archives of the Pacific Northwest for its financial support.

Note that, in 1931, the City of Portland underwent a massive renumbering of city addresses, with even some street names changing. The ordinance creating the change was adopted in October 1931, effective April 1, 1933. Some locations included here have only the old address number available, because the building had been demolished by the time of the 1931 ordinance.

-Tom Cook
Portland, Oregon June 1999
Revised by George Painter
Portland, Oregon 2011

The Milwaukee Tavern, 1535 W. Burnside. This storefront (address since renumbered), once a tavern, was fingered in the 1964 vice reports of Chief of Police McNamara as being a lesbian hangout. The reports noted that it was frequented almost entirely by women who "dress like men, act like men, and are believed to be from areas outside Portland." Owner Edna Jordal was a widow at the time of the Portland City Council hearings in December 1964. She had worked previously at the Transfusion Inn, a notorious lesbian dive located on Southwest Front almost at water level. The only employees at the Milwaukee Tavern were women. One, the manager, was identified in the records as "Miss Lewis" who had "served eight years in the service with an honorable discharge," and the other a young woman of 22 who moonlighted in the evenings following her day job at Meier & Frank.
The Pied Piper, 1217 S.W. Stark, formerly known as Riddles, Stark Street Station, Flossie's, now part of the Crystal Hotel development. The oldest continuing gay bar on Stark, operating from the late 1960s until the 2000s under various names. It is quite possible that it may have had a gay clientele even earlier that the late '60s, because Robert Saunders, who also owned the very gay Tel & Tel Tavern on Oak, attempted to open this site under the name of The Mocambo in 1960, but the application for a dispenser class license was refused by the Oregon Liquor Control Commission. This suggests that perhaps the location was already attracting some gays back then.
Majestic Hotel and Club Portland Bath, 303 S.W. 12th, December 1971 to 2000s. Until its closure, it was the oldest continuing gay bathhouse in the city. It now is owned by McMenamin's and was restored as the Crystal Hotel, with a grand reopening in May 2011.
The Buick Café, 1239 S.W. Washington. In police reports of the Women's Protective Division dating from 1949, this little restaurant on the northeast corner of 13th and Washington, since demolished, was mentioned as the hangout for a group of lesbians who congregated at the Music Hall nightclub at Tenth and Stark. The police department noted that "these women are reported to attempt their pick-up at the Music Hall and in case of failure before the Music Hall closes, they then retire to the Buick and look for other prospects." The report added that "these women were recently ousted from San Francisco for their actions and are, apparently, confirmed lesbians." The only mention of the Buick in the Oregonian is a June 4, 1959 ad seeking a waitress (p. 27).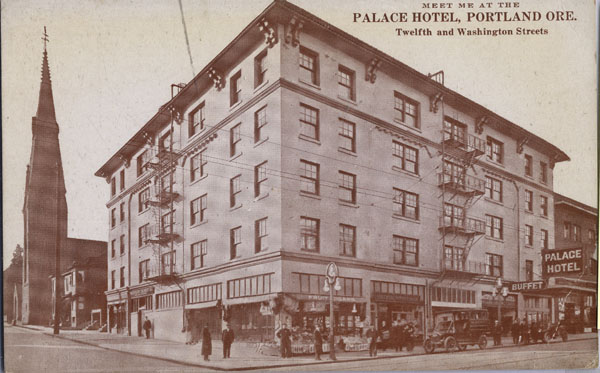 The ABC Restaurant, S.W. Washington. between 12th and 13th, now Rosenbaum Plaza, formerly 442 Washington (old number), 1912. The restaurant was owned by Claude Bronner and Burt Thornton, both caught in the Vice Clique Scandal.
Above: The Palace Hotel, ca 1912, site of the ABC Restaurant, owned by two defendants in the 1912 Vice Clique Scandal.
Although we have no definite evidence that this was particular hangout for Portland's gay men of the day, it would seem quite likely that at least some of the vice scandal defendants and their friends would have frequented this establishment. There is no record of the ABC ever applying for a liquor license, and it apparently never advertised in the local press or city directories. Washington Street at that time was an interesting conglomeration of small hotels, art galleries, and curio shops, the type of street that might attract the theatrical and artistic crowd.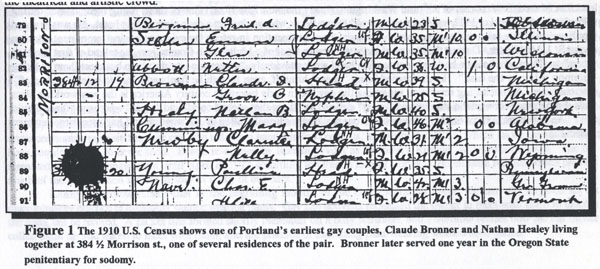 The Washington Hotel, 1135 S.W. Washington, now the Washington Apartments. The tavern was formerly a gay bar under the name of the Timber Topper (1970-1974), the Axe Handle (1974), and the Alley. Few people know, however, that the hotel was designed in 1911 by architect Lionel Deane, who was arrested with other men the weekend that the Portland vice scandal began in November 1912. Deane himself is listed in Portland City directory of 1912 as the keeper of the saloon, which had its entrance at 428 S.W. Twelfth.
Deane was born in Canada in 1861, and immigrated to this country at age five. He began the study of architecture at age 16 and one of his early works was a Dominican monastery. He came to Portland in 1889 and is listed in contemporary city directories as a "draughtsman" for Justus Krumbein. In 1899, he moved to San Francisco and entered into a professional partnership with James Kollofrath that lasted four years. He served as Secretary of the California State Board of Architectural Examiners. In 1906, Deane was the architect spearheading local efforts to rebuild San Francisco after its devastating earthquake and fires. He returned to Portland in 1911 to work on the Washington Hotel project. After having his name published in both Oregon and California newspapers as involved in the 1912 scandal, he resigned from the California Board. By 1920, he was living in New York City with another man and licensed to practice in New York State. He died there in 1938.

Hotel San Marco, S.W. corner of 11th and Washington, (later the New Ritz Hotel; demolished June 1999). One of the men arrested during the Portland vice scandal of 1912 was Harry Work, a desk clerk at this hotel. He was arrested by police while at work and promised immunity from prosecution in return for evidence against prominent attorney Edward S. J. McAllister. During the course of his testimony in front of a Multnomah County jury, he talked of first meeting "queers" in Chicago, where he had been engaged in hotel work, "where you couldn't help but meet them, it being a common thing in the east." He also denied being "queer," which he defined as "those that sucked cock," as opposed to "trade," who were "those they'd done." This is an important element of gay male identity in our past that has largely been forgotten over the decades.

Dr. Marie Equi residence, Nortonia Hotel, S.W. corner of 11th and Stark (now the Mark Spencer). Marie Equi and her longtime companion Harriet Speckart lived together in this hotel according to Portland city directories of 1909 thru 1911. Other locations around the city were 415 Yamhill (old number) from 1907-08; 260-20th Street N. (today 1204 N.W. Northrup, the Parkhurst Apts.) Additionally, one man arrested in the Vice Clique Scandal, Bruce Stone, lived in the Nortonia at the time of the scandal.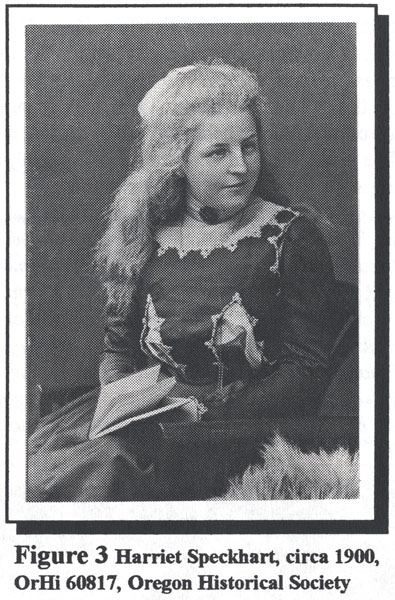 Somebody's Place, 11th north of Stark. This was the site of a popular gay bar in the early 1980s, which featured a small dance floor and mezzanine conducive to the cruising crowd. It is mentioned several times in the Oregonian in 1983 and 1984.

The Riptide, 949 S.W. Stark. Originally opened by Johnnie Honegger (the owner of the Harbor Club) on June 3, 1965, it is considered one of the first gay bars established on Stark. Honegger closed the establishment in 1969 under continuing pressure from the city, which refused to issue him food permits, and from the OLCC, which, under the state liquor laws, required him to serve food. It was re-opened by Roman Wydra as "Roman's Riptide" in November 1970. The bar remained under his management until April 1973, according to Oregon Liquor Control Commission records, which provide much of the information for the history of many of our bars.
Lanny Swerdlow recalls that, in the beginning months of the Gay Liberation Front, the bar was targeted for its discriminatory practice of excluding women wearing pants. Gay Lib activists requested the owner to meet with them to discuss the issue, but he refused. A picket line formed shortly thereafter on a busy weekend, and Swerdlow relates how the bar owner called them up and asked to meet with them, and the practice of excluding pant-wearing women soon ended. Several ads regarding the Riptide and its entertainment schedule appeared in the Oregonian between June 1965 and May 1969.

The Music Hall, a.k.a Schneiderman's Music Hall, 413½ S.W. Tenth. One of the highlights of Portland's gay and lesbian history is a visit to this wonderful building where, in the late 1940s, following World War II, many of the city's gay men and lesbians came for entertainment and socializing. Opened by Paul Schneiderman in 1937, the nightclub took its name from the tradition of the old English musical hall. Its first mention in the Oregonian is in an article stating it was denied a liquor license, Mar. 13, 1937, p. 12. Early on, it featured vaudeville-type entertainment as well as big name acts. At some point (around 1947, we believe), Paul's son Leonard booked a San Francisco female impersonator's troupe, and the rest is history. The nightclub soon blossomed with a lively mixed lesbian and gay crowd that howled with laughter at the double entendre and risqué innuendo of its entertainers.
Duane Frye, who frequented the Music Hall at this time, recalls:
"…My first bar was The Back Stage and named thus, as it was connected by a back stairway to an upstairs night club named The Music Hall where drag shows were performed nightly. There was some genuine talent in the Music Hall shows as Mickey Mercer, a female tenor, emceed the shows with head liners such as Harvey Lee, the only female impersonator to ever work in Earl Carroll's Follies in Hollywood. He was elegant and dressed in wonderful costumes and was truly beautiful. He used a white Russian wolf hound in his stately act. Unfortunately the hound fell in love with the pianist and often spoiled the illusion and mood straining at the leash to be with the object of his affections.


"This was before lip-synching, so all the drags sang their own songs… Other performers such as Lynn Carter performed there and later became quite well known on the East coast while Jerry Kline remained in the Portland area and later became a hair stylist."
Dorothy Lee was Mayor of Portland at the time.

The Music Hall billed a very popular trio, the Mills Brothers (see the Oregonian, Jan. 22, 1950, p. 10), for a run of performances and, instead of omitting the drag shows, included them on the bill. Among those paying to see the Mills Brothers were City Council members, who were offended by the inclusion of drags. Upon investigation, it was discovered that both the Music Hall and the Backstage were being run on the same liquor license. Council closed both places, and neither ever re-opened.





The Bohemian, 910 S.W. Washington. Operated by Roman Wydra from December 1969 to December 1970. The restaurant was once one of the most popular dining establishments in the city. During its heyday in the 1920s, it was one of Dr. Marie Equi's favorite hangouts, although at that time, of course, it was not a gay/lesbian establishment.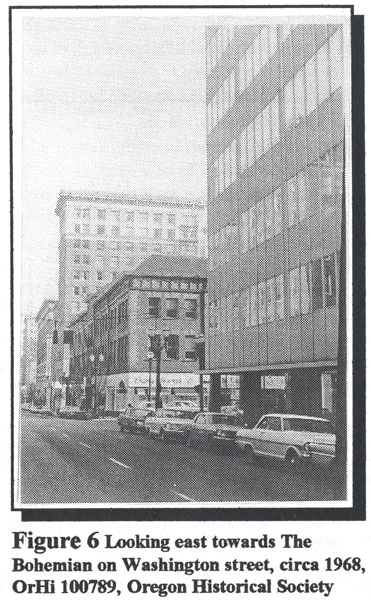 Just Out newspaper offices, Ninth. north of Stark, 1980s.

The Tel & Tel, 820 S.W. Oak (later known as Vince's, Derek's Tavern, The Annex, and The Family Zoo). This building dates as far back as the 1930s when it was the waiting room for the Linnton trolley line. Known as the Tel & Tel Tavern (because of the offices of the Pacific Telephone and Telegraph Bldg. directly across the street) from October 1957 until April 1962, it was owned by Robert Saunders. In February 1963, it opened under the ownership of Derek Akerson and was renamed Derek's Tavern, under which name it continued until January 1965, when it became known as The Annex. In 1971, the tavern was sold to Robert Hoblitt, who changed the name to The Family Zoo.

According to Kerson, the bar had already an established gay reputation of considerable years when he purchased the place. According to legend he heard, the corner of Oak and Park was a dropoff site for buses carrying G.I.s up and down the West Coast. Because so many military servicemen were dumped on that corner, the bar became the first watering hole where men (thirsty and horny) would stop. Thus, the location evolved its own cruisy history and, even years after the war had ended, gay men continued frequenting the location.


The vice reports of 1964 noted that Derek's Tavern was "frequented by homosexuals of higher class and means" and Akerson remembers that Johnny Mathis and ballet dancer Rudolph Nureyev used to frequent the bar when doing gigs in the city. Although it was almost entirely male in patronage, he also remembers a small group of "professional" lesbians who enjoyed having lunch at the bar in the '60s.


It was Derek's attorney Jim Damis who defended the constitutional right of homosexuals to gather in a public place. At this time, all gay taverns were automatically considered a "disorderly premise." Damis was one of eight attorneys who appeared before Portland City Council in November and December 1964 to plea for their liquor licenses, but it was Damis alone who argued that the U.S. Constitution provided that right. Years later Damis, who is still at this writing a practicing attorney, spearheaded an effort by his colleagues in the Multnomah County Bar Association to sign a letter condemning the Measure Nine Initiative of 1992.


After Hoblitt took ownership of the bar, it certainly became one of the most popular gay hangouts in the city, although it later developed a deserved reputation for indiscriminate drug use. Gay writer Edmund White visited the bar and immortalized it in his famous travelog, State of Desire: Travels in Gay America. It now houses New Avenues for Youth.

Benson Hotel Bar, listed in Damron guidebook of 1966, Broadway and Stark. Larry Wormington mentioned that the Piccadilly Room was home to the gay "cufflink" crowd.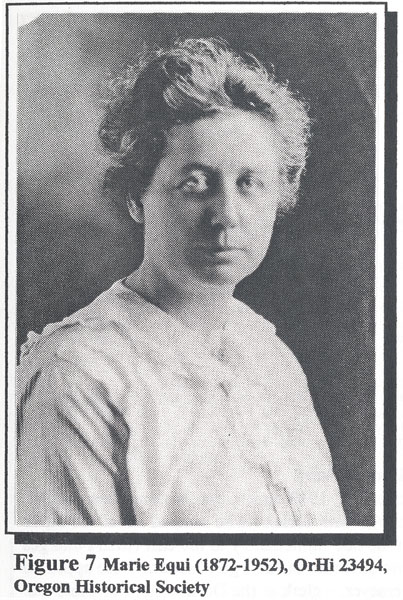 The Hotel Oregon, S.W. Broadway and Stark. Marie Equi's apartment in 1920 was located on this spot. Her medical offices were located in the Lafayette Building, at the corner of Sixth and Washington. Many of her patients were indigent and from the immigrant classes, yet she charged them only what they were able to pay, which endeared her to many. In fact, at the same time that her radical politics would bring her into court on charges of sedition and into eventual imprisonment for her political beliefs, a newspaper like the Oregon Journal in 1927 praised her generous instincts in a noteworthy editorial entitled "One Good Samaritan." [March 13, 1927]
RIGHT: Dr. Marie Equi (above) and Harriet Speckhart lived as a couple in Portland during the Teens and Twenties of the last century, and adopted a child together. There is more information about Dr. Marie Equi here.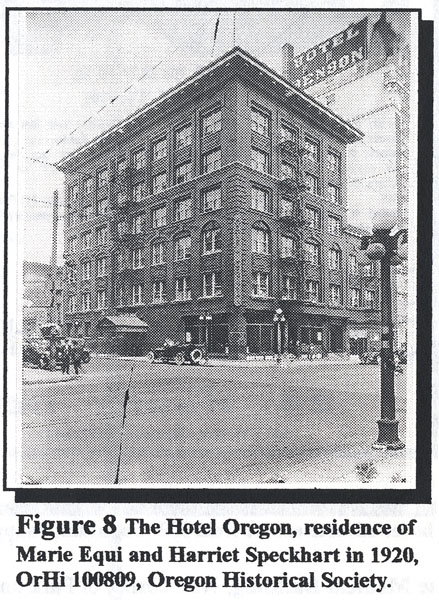 The Imperial Hotel (now the Hotel Lucia), corner of Broadway and Stark. This is one of the locations cited during the trial of Edward McAllister where he was reported to have cruised for male companionship-specifically the first floor lobby restrooms, which have probably been remodeled from the original state. Several men known to have been or believed to have been involved in the Vice Clique Scandal worked here as elevator operators or bellhops. After the scandal, the Social Hygiene Society chose the bellhops at the Imperial to be the first people in Portland to receive the Society's "sex hygiene" program. Image below courtesy of George Painter.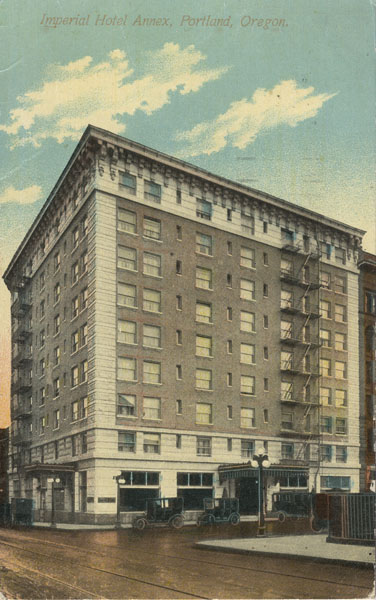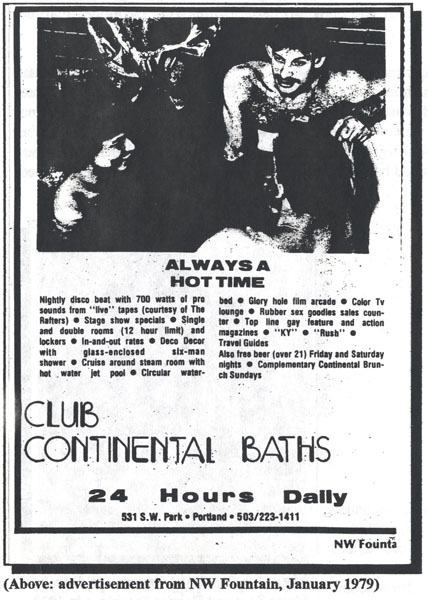 The Club Continental Baths (formerly the Cornelius Hotel), 531 S.W. Park, 1978-1985. A popular bathhouse that opened in the mid-1970s, it featured erotic black-light drawings on the walls, an orgy room, jacuzzi, and a number of individual rooms for private assignations. In the late 1970s and early '80s, this bathhouse was considered one of the cleanest in the city, and it became popular location for community fundraisers and all-male socials. The rise of AIDS epidemic and the fear surrounding the disease helped to bring its closure due to lack of business. As the Cornelius Hotel (built in 1907), it was the home during the Vice Clique Scandal of arrestee Herman Smith. Smith got word of a police sweep for involved men and hurriedly fled his room, leaving behind a number of photos and letters that helped the police identify and arrest a number of other men in the city.
The Medical Building, 729 S.W. Alder, (offices of Dr. Marie Equi and Harry A. Start), later known as the Park Building. This building has a significant lavender history. Built in 1907, it became an office building mostly for doctors, thus its original name. Marie Equi had her medical office here in 1912 when she became involved in a physical altercation with the building's superintendent. Equi, who was being evicted from the building for an unknown reason, was caught rifling through files in another doctor's office. When caught, she and the superintendent, George Prettyman, became involved in a knock-down, drag-out fight and police were called. Equi had Prettyman arrested, but the ensuing trial led to his acquittal. The limited newspaper coverage of the altercation made neither party look good. Prettyman had a violent temper and Equi was a known blackmailer. It is presumed that she was looking for potential blackmail material in the other doctors' files.
The Multnomah County Medical Society held its twice-monthly meetings here as well. At one meeting in early 1911, Equi made a presentation to assembled doctors about one of her male patients with gonorrhea in his throat. Absolutely nonjudgemental, Equi discussed the patient's symptoms, her treatment of him, and his recovery. This indicates that gay men in the city may have trusted the lesbian Equi for nonjudgemental medical care that they might not have gotten from other doctors.


Dr. Harry Archy Start was arrested in his office on the second floor in this building in November 1912 during the Portland scandal. During his arrest, a man named Andrew Borland jumped out of the office window, landing on the fire escape shared with the Pantages Theater. Start was tried and convicted of sodomy. He appealed his conviction along with Edward McAllister, the attorney, and Edward E. Wedemeyer, head bookkeeper at the Dornbecher Furniture Co. All three convictions were overturned by the Oregon Supreme Court in 1913 because of prejudicial testimony allowed into the trials by the judge. The Oregon Board of Medical Examiners revoked his license while his appeal was pending. He fled the country and went to China, where newspapers reported he worked with the Chinese Provisional President, Dr. Sun Yat-Sen (whom they noted was a friend of Start's). He had planned to send for his wife, a lesbian with whom he shared a marriage of convenience (a fact brought out in his trial), but she died in August 1913 before the plans could be finalized. There was much speculation over the cause of her death, including suicide, but her death certificate gives it as alcoholism. Start himself remained in China a few years, then lived in the Philippines for many years. Sometime around 1936, he returned to the United States, living in San Francisco. In 1945, he was institutionalized for "senility" (possibly Alzheimer's), and died the following year.


The Jackson Club, a local Democratic Party organization, began holding its regular meetings in the Medical Building in 1910. A recognized leader of the club was attorney Edward S. J. McAllister, himself to be arrested in the 1912 Vice Clique Scandal. McAllister was one of the most prominent members of the state bar. His name was mentioned frequently in local newspapers in connection with Jackson Club events, most notably as a peacemaker among rival factions.


During the same time, an unnamed local theater owner kept a room on the upper floors which he used for clandestine sexual trysts.

Zorba the Greek's, 626 S.W. Park. A gay bar all through the 1970s.

Rich's Cigar Store, 734 S.W. Alder. (Site of the store from early 1961 to 1981; prior to that at 539 S.W. Washington)
In the 1950s, when the homophile movement began publishing and distributing periodicals such as Mattachine Review and ONE magazine, Rich's Cigar Store, which had been in existence since at least 1916, was the only newspaper/magazine stand in the city that would carry them. This store also was a regular source of tickets for various charity events in the city. It might seem odd to honor a magazine stand as a significant place in our liberation, but very few homosexuals would allow themselves to have such materials mailed to their homes in those days. W. Dorr Legg, the manager for ONE magazine, related that in the early days he would travel from city to city persuading newspaper stands and bookstores to carry the publication. ONE was kept behind the counter at Rich's stand, and each copy that circulated in the city was passed from hand to hand, thereby increasing the actual circulation far beyond the few souls brave enough to actually pay for a copy. At the same time that the U.S. Supreme Court made several landmark rulings that opened up the laws on mailing "obscene" materials, a noticeable increase in pulp erotic fiction and magazines began to appear on the newsstands throughout the country. Mayor Terry Schrunk in Portland, who began his political career as Multnomah County Sheriff, believed that the rising appearance of "pervert" magazines was signaling a breakdown in social morality. To counter this revolution in mores, he formed an extra-governmental commission of local do-good citizens to put pressure on the local magazine outlets carrying the so-called "filth," (of which homosexual publications such as ONE and Mattachine Review were clearly included). Rich's Cigar Store was one of two magazine stands in the city which refused to sign on to Schrunk's "Decency in Literature" campaign.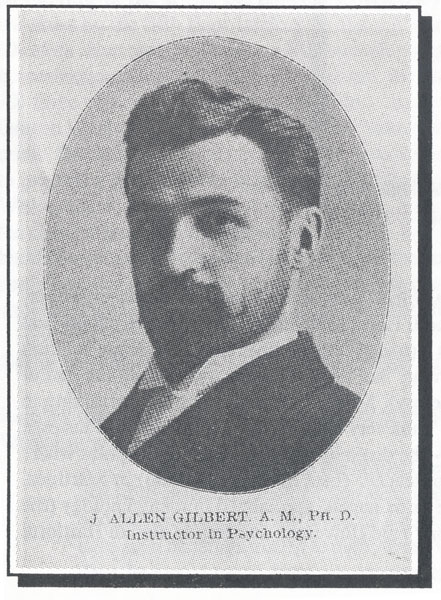 The Selling Building, 610 S.W. Alder, 1917. The medical office of Dr. J. Allen Gilbert (1867‑1948) was located here on the seventh floor. It is believed that here is where Oregon transgendered medical student Lucille Hart (1890-1962) underwent psychological analysis with Dr. Gilbert for a condition that Gilbert evidently misdiagnosed as a case of "sexual inversion". His only solution to "Lucille's" dilemma was to accept her view that "she" would be better off living "her" life as a man and making the best of the situation. From a medical standpoint of the period, this was complete heresy! Most psychoanalysts were attempting to "change" or "cure" the inverted, and gender dysphoric people of that time. Thus, very clearly Hart played a part in his own transformation from woman to man, and with the help of kindly Dr. Gilbert, the disguise was completed to the point where shortly after the consultation, Dr. Hart eloped with Portland school teacher (Inez Stark, 1892-1986) in Martinez, California. She returned to Oregon to practice medicine. The now Dr. Alan Hart went on to write three novels, specialized in roentgenology (the study of X-rays) and its application in the diagnosis of tuberculosis, graduated from Yale University, and died in Hartford, Connecticut at age 71.
Read more about Dr. Alan Hart here.
(Above: Dr. J. Allen Gilbert, Professor of Psychology at the University of Oregon Medical College, image ca 1897 from the Hawkeye yearbook, University Iowa archives.)

Pioneer Courthouse (old Federal Courthouse), Sixth and Morrison. This was the site of the U.S. federal courthouse and the sedition trial of Dr. Marie Equi. At the trial, the U.S. government became alarmed when Equi's lawyers produced prominent citizens taking the stand on her behalf, among them Governor Oswald West and the editor of the Oregon Journal. Research has indicated the possibility that Equi obtained blackmail information on several prominent citizens, making them willing to speak on her behalf. Department of Justice investigators began collecting information about Equi's love relationships, and eventually used this aspect of her life to smear her in court. Of course, it didn't matter that the country was at war, and the U.S. government decided her propaganda was detrimental to the war effort. The jury was packed with government sympathizers, to the degree that prosecuting attorney Barnett Goldstein was comfortable enough to declare Equi "an unsexed woman" (a thinly veiled comment on her lesbianism), and Special Agent William Bryon called her "an anarchist, a degenerate, and an abortionist." On Dec. 31, 1918, she was convicted under the newly amended Espionage Act which "forbade criticism of the U.S. government, the Constitution, the military, flag, navy or uniform."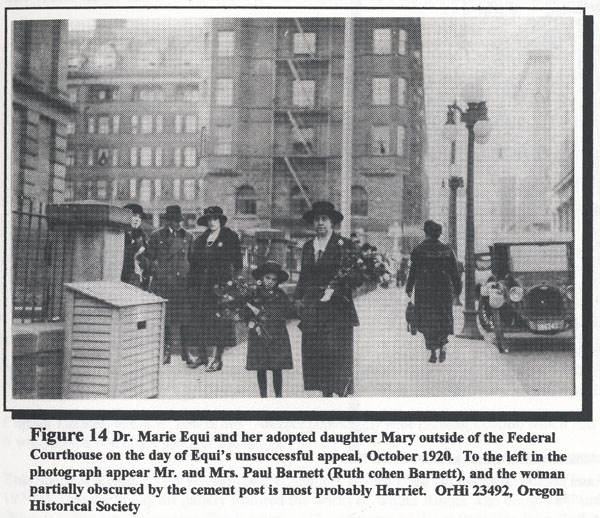 McMahon's Baths, 509 S.W. Fourth. One of the older steam baths in the city which closed in the 1990s. This was a popular pickup location, being located directly across the street from the notorious Circle Theater. It had a gay history documented well back into the 1950s, and no doubt much earlier still.

Louvre Café (Belvedere Hotel), N.E. corner of Fourth and Alder, late 1906-1913. The Louvre originally was opened by Fritz Strobel in 1891 and was purchased later by Theodore Kruse, who made it an outpost for the avant garde. It featured a nude statue as a main attraction. The café was mentioned as a meeting place for some of the defendants in the vice scandal of 1912.
BELOW: The elegant Gents' Dining Room at the Louvre Restaurant, on a postcard, from the collection of George Painter.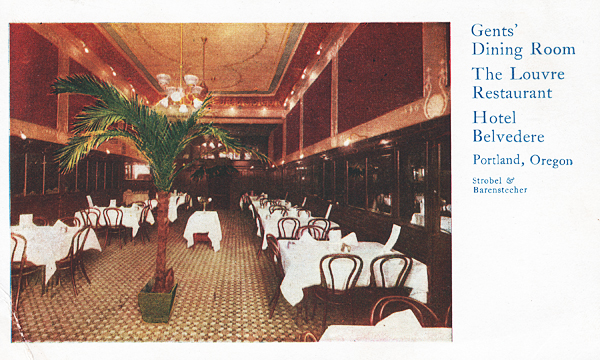 The owner, Theodore Berthus Kruse, was born in Germany on Feb. 13, 1864 and began his life as a sailor. His ship wrecked on the coast of Alaska, and this caused Kruse to live in the United States. He became a U.S. citizen in 1893. In 1897, he moved to Portland and established himself in the restaurant and catering business. In December 1906, Kruse purchased the elegant Louvre and turned it into a "gay '90s equivalent" of modern nightclubs and a "Bohemian" place (newspaper story's terms). It was cited repeatedly by police and newspapers for its "immoral" atmosphere and numerous liquor law violations. There was a separate "gents' dining room" featuring both palm trees and mirror-lined walls not found in the mixed-gender dining room. In 1911, Kruse disappeared for several weeks and his wife discounted the theory of another woman suggested by some. She said, for publication, "I laugh at such a suggestion because I had virtually to drive him out with the young men of his acquaintance to attend banquets or other social affairs." Kruse was seen in Seattle "getting new singers" for the Louvre, accompanied by two other men. When he returned to Portland in early 1912, he claimed he had been in Germany visiting his father. Shortly thereafter, his wife divorced him in secret court proceedings (closed to the public). Kruse closed the Louvre in late 1913, one year after it was named in the vice scandal trials as a meeting place for some of the defendants. He remained in the restaurant business for a short time, but never again reached the success he had with the Louvre. He moved to California, then retired to Gearhart, OR in 1931, where he died at age 77 on Nov. 3, 1941. The Belvedere was demolished, apparently sometime between 1948 and 1952.

Circle Theater, 516 S.W. Fourth. This location (first reference to the theater is in the Oregonian in 1908) is mentioned repeatedly as one of the most noteworthy gay male cruising sites in Portland history. It is mentioned in Holman, an article in an out-of-down gossip paper of 1951, and in oral history interviews conducted by GLAPN. Researchers have documented at least three long-term gay couples who met in the balcony of this theater in the 1950s and whose relationships lasted over thirty years. Sources tell us that there were actually two separate balconies, one to the left and one to the right. The balcony to the left was for men and women (hetero dates), and the one on the right was limited to men only. The police were well aware of its reputation at the time, but seemingly allowed it to continue, although there are accounts in the newspapers of arrests having taken place here.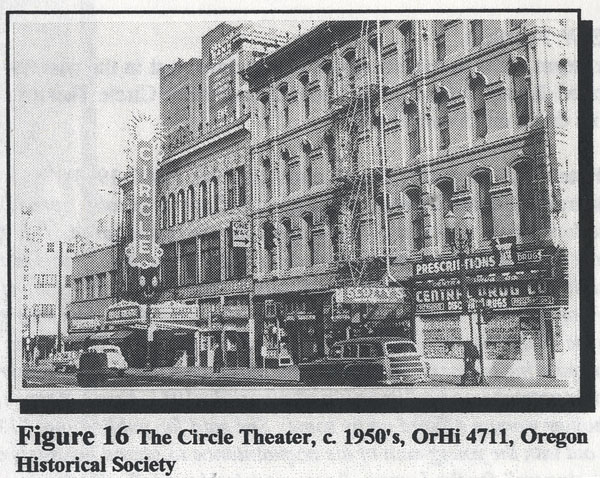 The Watercrest, 424 S.W. Fourth. Advertised in the local gay press in 1975. Little else is known about this location.

Capitol Theater, 626 S.W. Fourth. Another popular gay male cruising location which had a balcony section for gay men. It was located one block south of the Circle.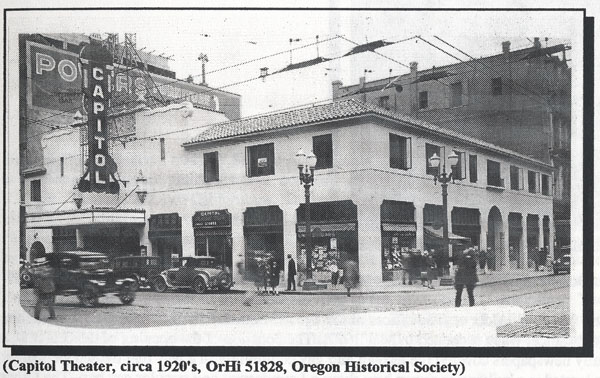 This Speck of Earth, 315 S.W. Morrison, gallery of gay erotic artist Walter Rinder in early 1970s. It is mentioned in the Oregonian between 1971 and 1976. Rinder designed some of the most inspiring covers for Oregon's first gay newspaper, The Fountain. The manager of the gallery was John Wilkinson, the father of Portland Gay Liberation, who called the first meeting of the Portland Gay Liberation Front on March 10, 1970 at the Centenary Wilbur Methodist Church on S.E. Ash and Ninth. A GLAPN historical marker marks that spot. Read more about John Wilkinson here.

Olympic Sauna & Bath, 359 S.W. Morrison. In the same block of storefronts with the art gallery of Rinder and an adult bookstore was this bathhouse. It has a single reference in the Oregonian, May 16, 1974, p. 1. The Archives is interested in obtaining more information about this location.

Gay Community Center (former site), 258 S.W. Alder. The offices of the Second Foundation of Oregon, Inc. became the city's first gay community center when it opened in May 1972. The occasion of its opening also marked the first time that the city's daily newspaper covered the lesbian and gay community in a way that treated gays other than sick or criminal. The offices were located in a building above a laundromat and popular gay bar, The Other Inn. The center was short-lived, for it moved to the Pythian Building. The entire block of buildings was razed in 1982 for a parking lot.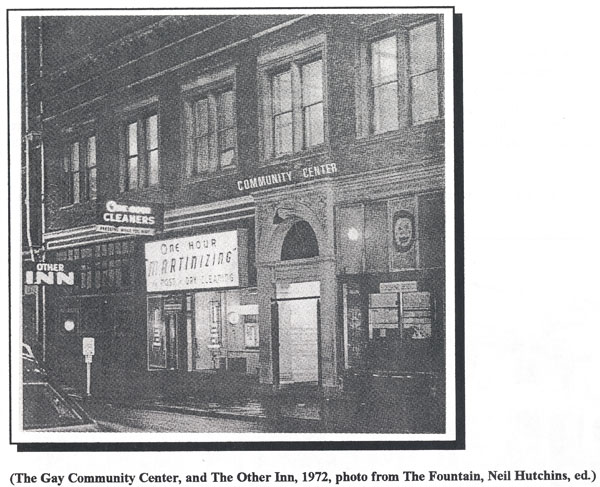 The Other Inn, 242 S.W. Alder, first leather bar, 1964-1982. Portland's first documented leather bar was The Other Inn, owned by Jim Frantz, and later sold to Mama Bernice. Bernice, the barmaid who previously had endeared herself to the gay community at Dinty Moore's and at her namesake Mama Bernice's, used to refer to the leather boys who hung out here as her "little bluebirds." No matter whom you talk to, those who can remember Bernice remember her with fondness, and they especially remark on the way she would take in kids off the street and put them to work in the bar. Her daughter continued the family's bartending tradition at Gail's Dirty Duck, Glisan and Second.

Grand Oasis Tavern (also The Last Resort), 243 S.W. Alder. The Grand Oasis Tavern was one location in what was referred to as "The Dirty Triangle," the other two points being The Other Inn and Dahl & Penne's. No doubt this area got its name from the close proximity of three rather popular bars which attracted both the drags and the leather crowd.

Dahl & Penne Tavern, 604 S.W. Second. Opened in 1898 near the Waterfront, this working man's eatery didn't begin to develop a gay clientele until much later, some say around 1962. The gay crowd usually predominated between 1:00 and 2:30 a.m. Then in 1972, two Californians, Sammy and Gene Landauer, a straight married couple came to town and purchased the D & P. Within a short time, they had fixed up the tavern and, with the help of Van Richards (Vannessa), a local hair stylist cum drag entertainer, the bar really took off, staging popular drag shows and becoming the host tavern for the Imperial Rose Court. The room in the back where the drag shows took place was affectionately referred to as the "Royal Flush Corral." In the 1970s, the Oregon legislature passed a law that allowed gambling by non-profit organizations and Dahl & Penne's became one of three bars licensed in the city to conduct gambling. The house could not take any profit; all proceeds had to go directly to the non-profit organization. Thus began D & P's tradition of fundraising for local charities. In 1983, the Dahl & Penne closed down, another victim of Portland's urban renewal. The Bank of America Building now sits on its site.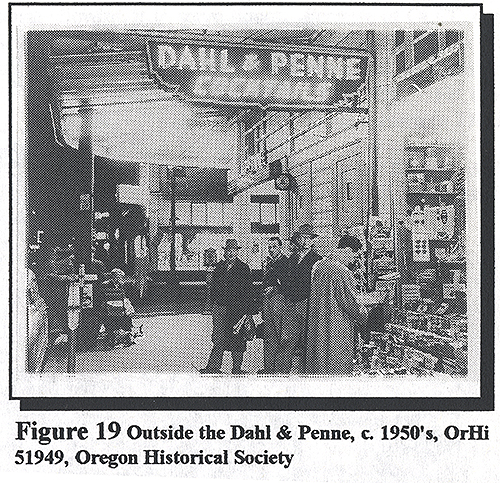 Portland seems to have had a more wide open attitude its gay and lesbian citizens as indicated by the complete lack of bar raids over the past four decades. Other indications from first-person accounts suggest that the city wasn't just a good place for gays to live, but perhaps even more tolerant than San Francisco, Seattle, and Vancouver, B.C. in the pre-Stonewall years. One man who grew up in Portland, remembers living at the YMCA in the years 1958-59. He mentions that there were three gay bars (that he knew of) in Portland, and that about that time Portland starting having male go-go dancers. He notes:

"I was in a bar one night when some were arrested. They weren't completely…they were just down to their G-strings. But they were still raiding it. Of course two of three years after that, they were talking it all off and not getting arrested. That was in 1962 or '63.
"There was one theater that had gay films and go-go dancers. As long as they stayed on stage they didn't arrest them. They got to coming out in the audience nude and they did bust the theater a couple of times." (From Issues: An Olympia Gay/Lesbian Forum, December 1983, page one interview).

The Half Moon Tavern, 72 S.W. Morrison, later 124 S.W. Yamhill, 1950s-1975. Duane Frye recalls working here as a bartender before moving to its later location on Yamhill.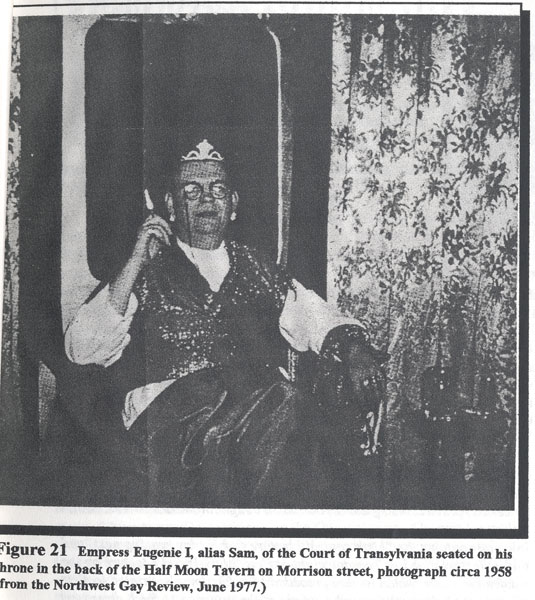 Sometime around 1958 (or '59? - nobody seems to know for sure)—the first Queen Eugenie I (alias Sam) was self-proclaimed in the Court of Transylvania. This mythical court allowed for a whole plethora of other regal titles to come about including a Lord High Sheriff, and a number of other drag queens including Sr. Mary Wanna (Michael Patrick Dillon, who later got caught in a 1963‑1964 sex scandal; see the Oregonian, Oct. 25, 1963, p. 26; Mar. 25, 1964, p. 13). In the back of the bar was erected a throne for the Queen (who would later become known as Empresses). An unbroken line of succession was created to the present day—with the earliest Empresses declared by someone (but who knows who?), and later by community-wide elections held in the city's bars. The Half Moon Tavern was located on Front right at the Morrison Bridge approach (now the RiverSide Inn). It was owned by Eugene Kennedy and his son, Les. In November 1960, The Half Moon Tavern was moved to 124 S.W. Yamhill, where it continued under the Kennedys' ownership until 1975. This was one of the bars singled out in the tavern licensing controversy of 1964-65 (Oregonian, Nov. 28, 1964, p. 11), and contemporary vice reports are quite hilarious to read years later, noting how one particularly good-looking vice officer "got a pat on the behind" while undercover here. It is unclear when the gay history of the Half Moon began. There is an article in the Oregonian concerning two male patrons slashed by a visitor in an "unprovoked attack," Oct. 19, 1952, p. 50. Sophia Cereghino, owner of the Half Moon beginning in 1939, died in 1955. It isn't known whether the gay nature of the place began with new owners after her death, or was in place during her lifetime.

The Harbor Club (now Paddy's Bar & Grill), 736 S.W. First. The premier lesbian and gay bar of the 1950s was the Harbor Club, which was so notorious that it was the only Portland bar declared "off limits" by the U.S. armed forces (Oregonian, Mar. 13, 1957, p. 10).
Pictures of the Harbor Club are courtesy of the Historic Photo Archive in Portland, OR.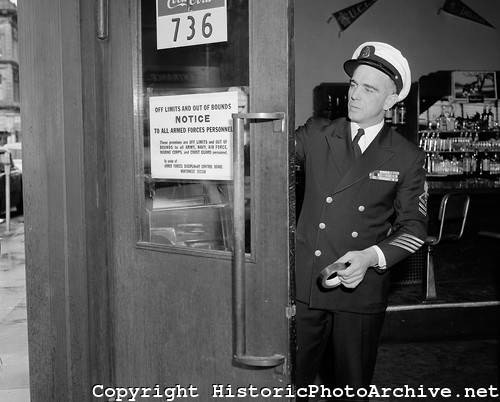 This was a cocktail lounge with a brazen mezzanine level where men could sit in the dark and kiss and do "other things," which upset the powers that be in the city. Amazingly, there were no known raids of any gay bars in Portland that we have been able to document, although on one occasion the police and fire department did clear the Harbor Club at the instigation of a City Council member. Councilman Earl in 1964 recalled going up into the balcony one Saturday night a few years before, with the Fire Marshal Inspector, and Vice Squad Sgt. Fred Sutterfield. He remarked, "…from what I saw in my rapid inspection, I was quite disgusted. I had a big, long flashlight in my hand which I was willing to use if I had to." There were reported controversies with the Harbor Club, however. It was cited for an illegal liquor sale (Oregonian, May 12, 1948, p. 19); and there was a serious fight between a man being evicted and the owner and a bartender, leading to a skull fracture and hospitalization of the owner, Donald McAlpin (Oregonian, Dec. 7, 1955, p. 35).

The bar also attracted a significant lesbian crowd, and local artist Pat Ware remembers hanging out here in the early 1960s with some of the members of the Florists, the women's national softball champions, which was largely a lesbian team.

After the tavern licensing controversy, the city succeeded in closing the Harbor Club due to the fact that it was the only of the eight gay establishments that had a Class A dispenser license allowing it to serve liquor. Because of OLCC regulations requiring a certain percentage of food sales with every Class A license, the city soon found an ingenious method by denying food permits to the Harbor Club. The OLCC, although it continued granting the owner a liquor license, finally closed his establishment in June 1965. He quickly reopened at his new locale uptown in The Riptide.

The Tavern, 124 S.W. Yamhill (The Franz Building, now a historic landmark), 1960-1981. Beginning in 1975, the Tavern was owned by Ray Willitson. It was gutted by a suspicious fire in 1981. The building survives to this day only because it is architecturally significant – being part of the Yamhill Block, which also has been preserved. After the fire, Willitson opened a new bar on Northwest Broadway called Ray's Ordinary Bar & Grill. The Tavern now is a yoga center.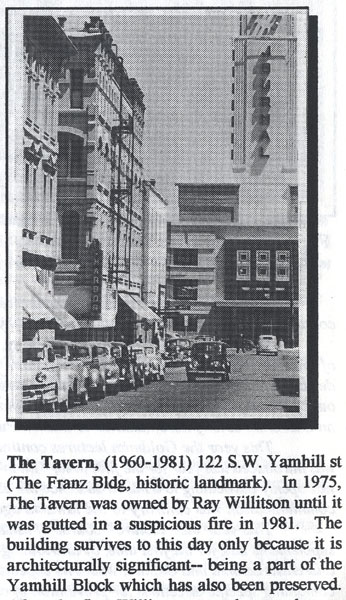 "Camp," N.W. corner of Third and Yamhill. Camp was the hangout for underage gay men in the 1960s and '70s. Large numbers of young gay men experienced their "coming out" at this location where you could be picked up by any of a number of men who cruised the block in their big, shiny cars. This was the reality of gay life in Portland prior to the establishment of Outside Inn, The City Nightclub, Evolution, and Mildred's Palace (the Swerdlow nightclubs).

Turn Verein Hall, (webmaster's note: in German, Turnverein is a single word, and it means Gymnastics Club.) N.E. corner of 4th and Yamhill. Also known as "Turn Hall" or the "Scandinavian Socialists Hall," this was the site of a pioneering lecture on homosexuality. In August 1915, Emma Goldman was on her West Coast tour of the United States talking about birth control, socialism, Russian drama, Frederick Nietzsche, and included a lecture entitled, "The Intermediate Sex." This was a contemporary term for homosexuals popularized by her contemporary and friend Edward Carpenter, who had published a book by the same name a few years earlier. Incredibly, the Oregonian published advertising of the event, and also covered in detail the controversy surrounding her arrest in Portland during the same lecture tour on charges of distributing "obscene" birth control literature.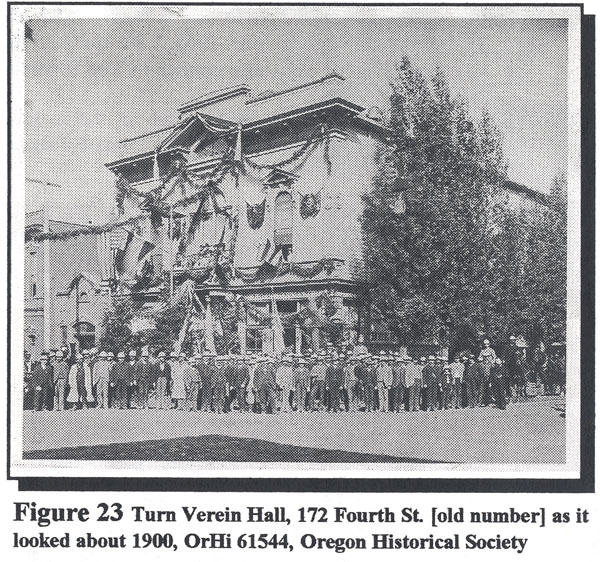 Research by GLAPN has discovered that one woman in particular, Mrs. Josephine Devore Johnson (wife of the prominent City Attorney for Oregon City, William Carey Johnson) instigated the City's attempt to shut down Goldman's soapbox. In a letter in William Warren, Secretary to Portland's Mayor Albee, Johnson wrote,

"Please present to the Mayor, the protest of myself and others against permitting Emma Goldman the anarchist from continuing her propaganda of atheism, anarchy and free love in this city to the extent and manner that she has planned…


Last year we who are kindly protesting, reported to the Mayor's office, as he will doubtless remember the substance of Goldman lectures of the 1914 mission, those being practically the same as those of this year; and in consequence detectives were sent to the meetings to gather evidence, and in the end Miss Goldman and her manager, Reitman, were ordered out of the city. This cut short an advertised plan to have Miss Goldman deliver a six weeks' course of lectures and to found an anarchist colony here, (similar to that on Puget Sound) all under the patronage of certain distinguished citizens.


This year the Goldman lectures continue the former lectures of atheism, anarchy and free love and emphasize what was introduced last year for the first time, "Birth Control." Last year (which finally drew the city's authorities attention), she was openly advocating to a mixed audience the use of certain precautions of conception to be bought in the drugstores; which communication was contrary to the law and against the public good.


This year the "lecture" course of Miss Goldman contains the "birth control" lecture (for Friday evening next) and supplements this, for the first time, by distributing at other lectures (as last Tuesday night at Col. C.E.S. Wood's lecture on this anarchist Schmitt and Caplan, whom he expects to defend in the court, which lecture preceded Miss Goldman's) printed leaflets containing specific directions for preventing conceptions, including articles to be bought at the drugstore. Such directions cannot be passed through the mail or printed in a book as is well known, and the distribution of them constitutes an unlawful act.


This year Miss Goldman has a new lecture (to be delivered next Saturday night, called "A Study in Homosexuality.") Shed defined this to an inquirer as being the advocacy of self-use, that is, "self-abuse." This advocacy is a new and startling note, and one that cannot be struck in the city without question being asked as to how it is permitted.
I am taking it for granted that it will not be permitted for the certain above-described literature to be circulated long or… it to be publicly treated of, or for the last mentioned unspeakable suggestion to be more than made (There are some young boys who attend Miss Goldman's lectures. And there is being an effort made through the "Collegiate Socialist Club," I believe to bring out the "intellectual" people through complimentary tickets. So it is especially detrimental to permit this propaganda.)


The suggestion that we make to you is for you to send from your force person who will give you full and accurate stenographic reports of Miss Goldman's lectures of Friday and Saturday (perhaps sitting in the gallery to be inconspicuous) in order to obtain absolute and full evidence to be used by your office and also for a larger purpose, if you permit.
The following are the lecture that we desire to refer to particularly,


Friday, August 7 The Birth Control (with instructions)


Saturday, August 8 - The Intermediate Sex (A Study of Homosexuality)


We would advice [sic] for the sake of gathering complete evidence, Miss Goldman be permitted to deliver both of the above lectures, and if she is stopped, it ought to be at the close of the second lecture (which certainly ought not to be repeated in this city).

Although the above letter suggests that the police may have been present taking notes of her lecture, no such notes have been found in the City Attorney's records at the Portland City Archives, and no copies of her lecture "The Intermediate Sex" are known to exist. We do know from Goldman's autobiography, Living My Life, however, that her lecture was an extraordinary defense of the homosexual to live his/her life without society's stigmatization. Goldman reports that "sexual inverts" used to stop and talk to her after her presentation, and they confessed to feeling "freed" by her talk. She described these people as being "of finer grain than those who've cast them out." At the same time, her anarchist colleagues tried to pressure her to stop speaking on the subject, because "they felt that anarchists were already suspect as a class," and they didn't want any additional antagonism from society. These attempts to censor Emma Goldman made her even bolder and more resolved to see anarchism became a "freeing spirit" in every aspect of life including sexuality.

Turning south from this location, we come upon a block largely untouched in a sea of urban renewal. Four bars that catered to merchant seamen and "trade" were clustered there: The Reed, 901 S.W. Third., The Rose City Club Tavern, 917 S.W. Third, Dinty Moore's 924 S.W. Third, and The Lotus Club, 932 S.W. Third. The gay crowd who hung out in these bars were not the ones you would find at the Music Hall and the drag shows.

Nearby was Lownsdale Square, with its historic tearoom at Fourth and Salmon.
The restroom was the site of numerous entrapments by the vice squad all though the 1940s and much of the '50s. In 1961, a man being arrested by a police officer in the restroom resisted so violently that the officer had to be hospitalized. Research by GLAPN has documented many of those arrested by combing thru the Oregonian and Oregon Journal and looking for the clue words "arrested at Fourth and Salmon," and arrested for "disorderly conduct involving morals." Lownsdale Square is mentioned as a cruising location in the court transcripts of the State of Oregon v. McAllister (1913) in which Harry Work, the hotel desk clerk talked about visiting the park (referred to then under the old street names as Fourth Street Plaza) where his friend Earl Van Hulen pointed out "Mother McAllister (Edward S. J. McAllister)" who was walking the park looking for tricks. Such urban rendezvous were quite common in the days before gay bars. In the early days of this century, downtown parks, hotel lobbies, alleys, trolley stations, and the like become great playgrounds for the gay male population. It was a cruising location at least as early as 1901, as noted in a memoir by Portland chronicler Lawrence Pratt, accosted there in that year when he stopped to rest during a long errand.




ABOVE: This photo of Lownsdale Square was taken in 1906, well after its reputation as a cruising spot had become known. It's interesting that one of the gentleman in the foreground is looking unhappily at the photographer. He is lounging with another man on the grass and apparently doesn't like the idea of his picture being taken.


This particular park was originally segregated for males only by city ordinance, and the adjoining Chapman Square was restricted to women and children only. Naturally, parks segregated by sex would tend to attract gay men and lesbians. The bathroom was destroyed by vandals with pipe bombs in the 1960s, but the facility was restored to its original look (as verified by a 1951 news article which featured a photo of the restroom), and it stands today as a monument to both gay male libido and police oppression. Historic preservationists may turn over in their graves to know they have restored one of the oldest documented tearooms on the West Coast!

Multnomah County Courthouse. Vice Clique Scandal and 1928 Portland Morals Board scandal trials took place here. According to records uncovered by GLAPN, the confessions obtained by authorities who broke the 1912 scandal were delivered on the third floor, which is where the District Attorney's office was located. Indictment and trial records are in the building's clerk's office.

The Nineteenth Hole (The Cupboard), 620 S.W. Salmon. This bar is mentioned by Holman, Duane Frye, and local resident Larry Wormington, which suggests a wide patronage in the city, although it wasn't open very long. It was located next to the old Broadway Theater. Also called The Pantry, it had a mixed clientele, and was frequented by many gays because they could buy cocktails there and also have dinner.

The Little Brown Jug, 908 S.W. Fourth. This bar and its neighbor, Buddy's Post Tavern, 926 S.W. Fourth. (gay from at least 1962 to 1966), were located just a short distance from Lownsdale Square and the Multnomah County Courthouse. One or the other may be the tavern which is referred to in an out-of-town gossip sheet's report on vice conditions in Portland in early 1951. If this is the case, then obviously these taverns have a history much earlier than suspected. Buddy's Post Tavern is listed in Damron's guidebook of 1966. During this period, there is just a single reference to it in the Oregonian, one concerning a breaking and entering, Feb. 12, 1963, p. 15.

Greyhound Bus Depot and the Red Carpet Lounge, 840 S.W. Sixth.

Young Men's Christian Association (YMCA), including a residence hall, N.W. corner of Sixth and Taylor, 1909-1978. The building was constructed in 1909.
This postcard view of the YMCA Building is from the collection of George Painter.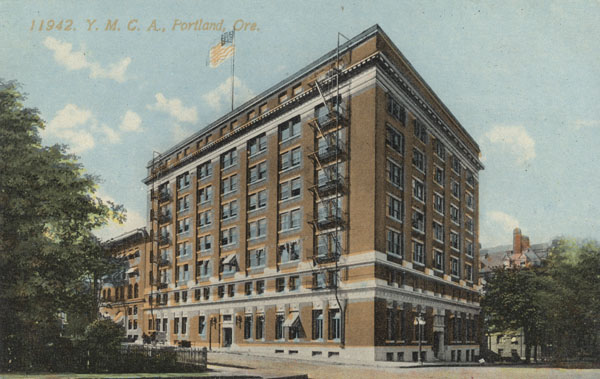 Individual rooms had their own telephone connection to the building switchboard, but no private bathroom. Lectures even on controversial topics made it a stimulating place. In 1911, social reformer Lyman Sperry gave a "radical" talk on sex education noted in local newspapers. The YMCA created a "Strangers' Club" for men new in town to assist them in making friends. In September 1912, weekly socials also were established so that the men who lived in the building (referred to as "dormitory men") could maintain social contacts. By 1913, local membership was so large that the Portland YMCA was the largest in the world. Though named as a "hotbed" of sex by the nefarious and horribly inaccurate Portland News once the Vice Clique Scandal broke in 1912, both the local grand jury and a blue-ribbon investigative committee cleared it of such charges. After much negative public reaction to it, the News ran a retraction of its charges. It was noted that only four men involved in the scandal lived in the building (two others had lived there before the scandal).


Gay historians have long known about the connection between urban YMCAs and the gay male community. John Wrathall, a University of Minnesota researcher, published a thesis that examines the seemingly odd relationship between the development of male cruising at YMCAs and the YMCA's mission of developing Christian ideals among young men. He noted that for decades these two opposing developments (which he calls the "mind/body split") existed side by side within the walls of YMCA residence halls across the country. In fact, he asserts that these YMCA buildings became virtual male whorehouses specifically because of the physical male culture that the Young Men's Christian Association exemplified. In an article published in The Journal of American History ("The Silences Around Sexuality in Manuscript Collections,"Vol. 79, No. 1, June 1992, pp. 165-178), he gives evidence that some of the founders of the YMCA had significant homoerotic interests that they later attempted to hide.

Specific gay reference to the Portland Downtown YMCA are many. Shortly after the 1912 scandal, the city's reaction to the knowledge that homosexuality was prevalent in its YMCA, is commented on by an observer of the hysteria surrounding Emma Goldman's 1915 visit to Portland. (See entry under Turn Verein Hall). Writing in Mother Earth (November 1915), author George Edwards likened Portland's fear of acknowledging the homosexuals living here to a Victorian lady who must not "show her legs in public." He was one contemporary not at all surprised to find that the all-male environment of the YMCA would attract homosexual men.

In our gay folklore, writer Robert McAlmon also made allusions to the Portland YMCA in his short story, "Miss Knight," published in Distinguished Air (1925), and recently re-issued in Miss Knight and Other Stories (University of New Mexico Press). Miss Knight, a popular drag queen, revels her listeners with what is almost certainly an apocryphal story. (None of it matches other published accounts and, given the fundamentalist background of the YMCA's leadership, claims of drag shows in that institution are difficult to believe.)


Did'ja ever hear of the Portland, Oregon Scandal? I wuz in it. I wuz at the YMCA—in drag you know—some outfit I had too, stars and spangles and jewels all over me, Mary. Whoops my dear, you must come over, ah come on, come over an' call on me some afternoon…I'd just come from the theatre—had shown my act there you know, and then the cops came in and pinched us, and them YMCA boys was scared stiff. They let me go because one of the plain clothes guys had seen my act at the theatre and I sez to him that I didn't know nuthin' about what kind of party it wuz, and had come there as a paid entertainer (page 14).


Discovered recently is a nine-page handwritten letter on YMCA stationery in the manuscripts of the Oregon Social Hygiene Society [Mss. 54, Box 1, Oregon Historical Society], and apparently written in response to an officer of the Social Hygiene Society making inquiries about the YMCA at the time of the scandal. The author's name was blotted out by marking pen, but the young man gives an interesting account of his introduction to sex information from friends during the course of his youth in the early 1900s. Near the end of the letter, he talks specifically about the boys at the Portland YMCA he describes as being "more or less corrupt." One exception he noted, "nice young fellow—Harry Baker" who is later described to him as a "damn sissy!" (Baker is listed in the Portland City directory of 1912 as a "student" at the YMCA). The letter writer goes on to mention "dirty stories in progress which would cease upon my approach." On one occasion just before YMCA Sunday school class, the writer notes that, "I followed a bunch of fellows out on the sidewalk.." where one of them "started relating the incidents of the night before, which by the way was very interesting to the rest of the fellows. I got so disgusted that I got my hat, and as I was leaving, this same fellow had the crust to take me by the hand and say that he was very sorry that I couldn't stay for the sermon."


The 1910 U.S. census reveals two vice scandal defendants living at the YMCA—William H. Allen and George Birdseye, salesmen at local stores. A number of other residents appear to have held stereotypical "gay" occupations including: store clerks, salesmen, and waiters. In 1911, a petition signed by 84 YMCA residents, including Allen and Birdseye, vouched for the good character of one George Parker, a former YMCA switchboard operator. Parker left his job at the YMCA, apparently involuntarily, and sought a vendor's license from the city. The license required good moral character to be shown, and the petition with accompanying affectionate letter to Parker revealed a community of support for him.

Much more shocking were allegations in the spring of 1951 which, if true, indicate a very organized and cooperative gay and lesbian community in the city. It must be cautioned, however, that the following story sounds like a tall tale. The YMCA and YWCA were in adjoining buildings. An out-of-state gossip magazine, The Keyhole, claimed a massive sex ring at the YMCA had just been discovered (no local newspaper made any such claim). According to the report, a band was hired to play, over and over again, the song "Everybody's Doin' It" on the street in front of the entrance. It also was claimed that a number of teenage males willingly sold their bodies, and friendly residents of the neighboring YWCA kept both the treasury and an index of "physical qualities" for the men seeking the teenagers. The report indicated that a number of suicides occurred as a result of the investigation.

However, a review of both Oregon death certificates and local newspapers reveals no more suicides in Portland during the preceding months than usual, nor did they occur in a cluster. News articles or death certificates clearly refer to the suicides as due to ill health or general despondency of long standing. Also, a review of the Multnomah County arrest logs shows no cluster of sodomy arrests for this time period. The truth may be a hybrid: some complaints about sexual activity combined with great exaggeration spread by gossip. That local papers dutifully reported related scandals both before and after this alleged incident adds to the belief that there is no truth to The Keyhole story.
Laurie Chilcote, who lived in Portland in the 1950s, recalls hearing the phrase, "having lunch at the YMCA." which was a euphemistic reference to going up to the building during the middle of the afternoon to have a private sexual meeting.


The Downtown YMCA was demolished in May 1978.

Pacific Building, 520 S.W. Yamhill. Although this building is not a gay historical site in the true sense of the word, it has some significance as an example of how gay accomplishment has been expunged from local history. The Pacific Building was a work of A. E. Doyle and was finished under the guidance of its chief draughtsman, Pietro Belluschi. But, Belluschi himself admitted to architectural historian and scholar Felicity Musick that it was the homosexual Charles Kerlin Greene, who preceded him at the A. E. Doyle Co., who was largely responsible for the building's authentic design. Greene was, in Belluschi's words, "a flamboyant homosexual.." In 1927, while Doyle was out of town on business, his office manager had an investigation made of Greene and fired him. Doyle was outraged, but his failing health prevented him from intervening. Belluschi would seem to be a reliable source for this information because city directories confirm that he lived with Greene in his residence in Alameda.

The Heilig Theater (later the Fox Theater, demolished in 1997 for the Fox Tower), Broadway between Yamhill and Taylor. The Heilig Theater was the site of Julian Eltinge's elaborate musical extravaganzas of the World War I and 1920s era.
Eltinge is considered the most famous female impersonator of the vaudeville era. Portland was always a stop on his West Coast tours. The city at the time was even more important than Seattle, theatrically speaking. Sharon Ullman cites information that suggests Eltinge was a closeted homosexual who bridled at any suggestion that he might be "queer".


He was incredibly adept at public relations, frequently having his picture taken in pugilistic or "manly" poses. Yet he never married, and lived with his mother until her death. Ullman reports that, while Eltinge's performances were popular among a wide audience, it was gay men who were particularly enamored of him; and she notes that in some cities, they would line up outside the theaters' exits waiting for a chance to meet the great impersonator. Eltinge appeared in Portland in October 1912, less than a month before the Vice Clique Scandal broke. One local newspaper reporter referred to him as "Mrs." Eltinge in the article. (Portland was not alone in drawing crowds for Eltinge. In early 1913, in Columbus, Ohio, a street riot involving a large crowd of women demanding to see their idol during his appearance necessitated police reinforcements.)

Rathskellers Café, 722 S.W. Taylor. Today this location is a retail clothing store, but in its day this bar and restaurant was well known for its vaudeville entertainment including celebrated contortionists the Adams Sisters, and also Monte Ballou and his jazz band. By the time of the Second World War, it had developed a reputation as a pick-up joint for G.I.s gay men followed. The bar was opened by Croatian immigrant, Marijan (Mike) Kokich in 1936. According to Homan, sometime around 1949 the "play" in the john got to the point that the city closed it down, although the gambling going on here may also have played a significant part in its demise. It re-opened as Club Rhumba, and that was shut down in 1952. A fire in the Club Rhumba was reported in the Oregonian, Feb. 19, 1950, p. 9.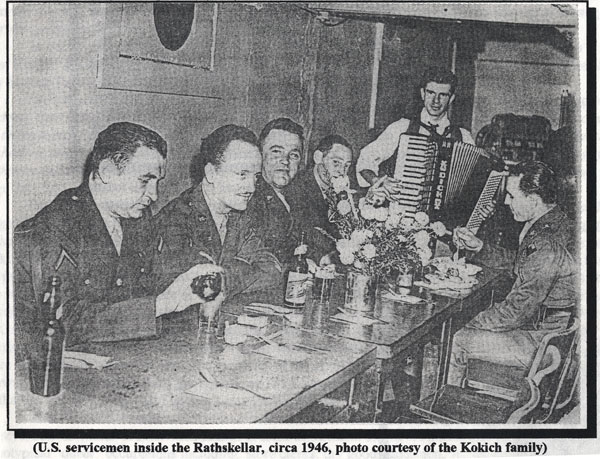 Park Haviland Hotel, Park and Salmon. (now public housing). This is an example of a "non-site," in other words a building that could have had some significant history had the event planned for it actually taken place. The Dorian Society of Seattle was the Pacific Northwest's earliest homosexual social action group, founded in 1966. In February 1968, the Dorian Society began an effort to start a similar homophile organization in Portland. They mailed literature and letters to the Greater Portland Council of Churches (now Ecumenical Ministries of Oregon) urging them to sponsor a movement in the city on behalf of the homosexual. The letters evidently were ignored. It is not known if the Dorians had contacts in the city to help with their plans, although flyers were mimeographed (copies have been found in the University of Washington Archives) and perhaps posted in the bars. The meeting was scheduled to take place on February 24, 1968 in a meeting room of the Park Haviland, but later records indicate the Society attempted to contact the hotel manager to refund the Society's deposit on the room.

"Old" Hamburger Mary's, N.E. corner of Park and Taylor.

The Castaways Lounge, 901 S.W. Salmon. Steve Suss open this disco in 1972, but later gave it up because the City of Portland made it impossible for him to get a license. The city claimed that it didn't want one man to control the gay bar scene.

The Fiddler's Three, Roman's Tavern, The Focal Point, "old" Somebody's Place, 728 S.W. Ninth. Roman Wydra opened this popular gay watering hole in January 1969 and, by August 1971, it had passed to his lover and business partner, Steve Suss, whose magic touch seemed to transform it. Suss's attempt to connect this tavern with his adjoining Rafter's was rebuffed by Mayor Terry Schrunk and City Councilman Frank Ivancie, who consistently fought licensing his bars. Schrunk was afraid of the reputation that Portland was getting, and Ivancie had an innate dislike for the gay liberation movement and everything it stood for. Despite City Council's opposition to licensing gay bars in the 1960s and '70s (local jurisdiction could only recommend) the Oregon Liquor Control Commission continually renewed their licenses, fearing a test case in court.

The Rafters/Embers, 739 S.W. Park, 1971-1981.

The Pythian Building, 918 S.W. Yamhill. This is the site of the first Gay and Lesbian Pride celebration, coinciding with the second anniversary of the Stonewall Rebellion. The event, sponsored by the Second Foundation of Oregon, featured a rock band and same-sex dancing. Two hundred reportedly attended the dance in the upstairs ballroom. The Second Foundation later moved its offices to this building from 258 S.W. Alder, but were forced to close them after its treasurer absconded with several thousand dollars needed to pay the rent.

Apartment of Claude Bronner and Nathan Healy, 1731 S.W. Taylor, formerly 553 Taylor (old number). They were two men arrested in the 1912 Vice Clique Scandal. They are recorded as living together at this address in the 1910 census and other records show they may have been together for a decade or more before this. Upon the breaking of the scandal, Healy shockingly turned on Bronner to save himself. Healy went free and Bronner went to the state pentitentiary.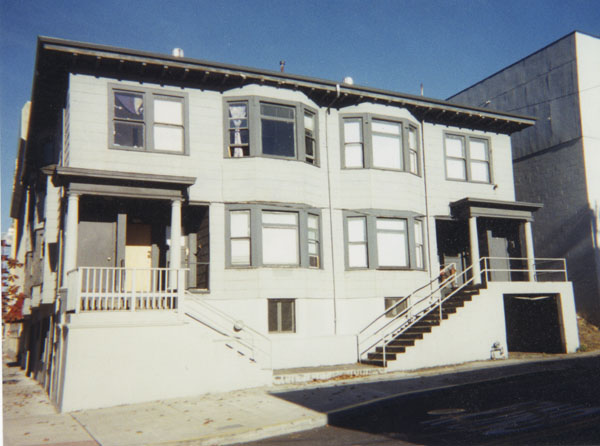 Aero-Vapors Bathhouse, 1237 S.W. Third, now Terry Schrunk Plaza. Across the street from Mama Bernice's, it was a notorious gay bathhouse with a long history. Listed in the Damron guide of 1966.

Agostino's, 725 S.W. Alder, 1965-1968.

Byron Hotel, S.E. corner of 7th (now Broadway) and Salmon, 1906-1959 (demolished December 1959).
In late 1912, it was the home of Edwin "Sid" Ghirardelli, of the famous San Francisco chocolate and mustard family. Ghirardelli, who was gay, had been banished to Portland by his parents (even though he was an adult) to keep him away from his male paramours. (The family black sheep, he is the only of its members never to have worked for the company.) His parents had arranged a job for him at the Kelley Clarke & Co., merchandise brokers. Shockingly, they informed his boss of the reason for his banishment and asked him to keep an eye on him. In December, just as the first Vice Clique trial began, Ghirardelli was fired from his job because he "lapsed" in his behavior. He and his former employer both wrote home to San Francisco with that news. In reply, Ghirardelli simultaneously received hostile letters from his father, his mother, and his brother, all expressing their shame and denying him the right to come home. December 27 was his birthday, and he spent the last week of December in a state of despondency. A few days later, Ghirardelli went to an unnamed Turkish bathhouse and spent nearly all of his remaining money on the other men inside (buying liquor? buying sex?). With his last coins, he took a cab back to the Byron Hotel and, in his room, Room 412, swallowed poison he had bought earlier. His body was found on New Year's Day by hotel employees aware of his despondency and concerned that they had not seen him.

The Byron had a controversial history, with two major fires, several robberies, and a drunken attack by a manager on passersby in front of the hotel. It also was noted in newspaper articles as the residence of a number of arrested criminals through the 1950s. In 1952, a woman jumped nude from the third floor in a suicide attempt, but survived. Today, the Hilton Hotel stands on the site.

Caboose Room (near Union Station).

The Cartwheel Tavern, 1223 S.W. Fifth, 1958-1962. "Papa Scott," a.k.a. Jay Scott, was a lesbian bartender with a large following that made this one of the popular lesbian bars. It was located across the street from City Hall.

The Cell/JR's West, 300 N.W. Tenth. A popular leather bar after the demise of The Other Inn. The Cell was located downstairs, and JR's was located upstairs, attracting a drag crowd. A production of Doric Wilson's West Street Gang played here in the mid-1980s.

City Night Club, 13 N.W. 13th. It was closed in early 1997 amid controversy as to whether it was a place for young people to be victimized by older people.

Club 927, 927 S.E. Morrison.

Club Northwest, 217 N.W. Fourth, 1968-1972, later the Magic Garden. Early drag bar.

Demas Tavern, 208 N.W. Third, 1968-1973; Darcelle's, 1974-present. Walter Cole has been the owner of this establishment since 1968. A shrine to the art of female impersonation, and the "straightest" of the gay bars in Portland. Read more about Darcelle here.

Fenton Building, East side of Sixth between Oak and Pine, 1906-1971. This building was the location of the law office of Vice Clique arrestee Edward McAllister in the early 1910s. There were claims that he used his office as a sexual trysting location. During World War II, it was converted into housing for shipyard workers, then reverted to an office building afterwards. It was demolished in the fall of 1971.

Gipsy Smith Auditorium, S.W. 18th between Taylor and Salmon, since demolished. Named after an English evangelist, this is the place where, in early 1912, English military hero and founder of the Boy Scouts Robert Baden-Powell spoke during his disastrous visit to Portland. Baden-Powell, who was gay, was accompanied by an entourage of young men, received a hostile homophobic reception in Portland from large jeering crowds, and later that year was outed formally by the Portland News. The crowds shouted "ribald" phrases and held "ribald" signs ridiculing Baden-Powell's comments about scouting. In the summer of 1912, back in England following his visit to Portland, he married for the first time at age 55.

The Happy Hare, 1730 S.W. Taylor, listed in Damron guide of 1966. In early 1967, the Portland City Council recommended against renewal of its liquor license partially because of "homosexual behavior" by some patrons (Oregonian, Jan. 5, 1967, p. 47).

Hunt Pub, 1027 S.W. Morrison.


Leonard's Bachelor Grill, 615 S.W. Oak (opened Oct. 27, 1941; probably open no more than a couple of years, because it's not listed in the 1943/44 city directory.) This is an intriguingly named restaurant, undoubtedly designed for unmarried men. However, that clientele would provide opportunities for same-sex cruising and development of friendships of gay men.
RIGHT: A matchbook cover from Leonard's Bachelor Grille, from the collection of George Painter.

Mama Bernice's, 1228 S.W. Third, 1962-1964. The Owner's name was Arthur Brannen, but he hired Mama Bernice away from Dinty Moore's where she was holding court with the gay crowd, and named the bar after her. She was so notorious in the city that she was even mentioned in City Council meeting minutes. Margaret Bernice Norris died in early 1986 and her death notice directed memorials to the AIDS crisis.

Dell Meagher's millinery store, 600 block of S.W. Broadway (address numbers changed since; somewhere between 600 and 618), 1912 to 1913. Meagher was arrested in the 1912 Vice Clique Scandal and, at the time, was the "roommate" of attorney Edward McAllister, also arrested. Meagher lent clothing from his store for use in local drag parties.

The Met, 1 S.W. Third, 1982 drag shows.

The Model Inn, 1536 S.W. First. Owner: Nick Polechrones. One of the taverns refused licenses by the city in 1964 (Oregonian, Dec. 4, 1964, p. 21). The city acquired the property through condemnation proceedings in 1967 (Oregonian, Feb. 14, 1967, p. 18).

Moffitt Studio, 716 S.W. Morrison (Royal Building). This photography studio, operating from about 1916 until 1935, was run by John Moffitt, one of the men arrested in the 1912 Vice Clique Scandal. He advertised himself, after getting notoriety in the scandal, in city directories as the "Photographer of Men." This indicates it may have been a place where same-sex couples could be photographed, or even where homoerotic photography could be produced. The Royal Building was demolished in connection with the 1977 construction of Nordstrom and now is part of the site of the Park Avenue West development.

Mohawk Building, S.E. corner of S.W. Washington and Third. Then home of Roberts Department Store, later Borders Books, an alleged physical altercation related to the Vice Clique Scandal occurred here. Dr. Harry Start's defense attorney, Wilson Hume, confronted witness Robert Ray (alias Leslie Anderson) at the intersection, throwing him against a display window and asking in a loud voice if he was serious in accusing Start "of going down on you?" At the time, this was the busiest intersection in Downtown Portland and site of the city's first traffic light. Additionally, upstairs was the law office of local attorney John Logan, who gave some background assistance to Start's defense.

Multnomah Hotel, 319 S.W. Pine. Opened in February 1912, it was home to Vice Clique Scandal arrestee Horace Tabb as soon as it opened.
There are hints that the Multnomah may have held the interest of gay men from the time it opened. It had special adjoining rooms on the seventh floor used especially by traveling salesmen. The Multnomah maintained a card file of guests' "likes and dislikes," so as to cater to them upon return visits. A new owner taking the building just a year later eliminated the hotel's vaudeville shows, finding them "not suitable entertainment for Portland." Cait Curtin, The Grand Lady of Fourth Avenue: Portland's Historic Multnomah Hotel, (Portland:Binford & Mort, 1997). It now is an Embassy Suites Hotel.

Old Glory Tavern, 118 S.W. Madison, 1962-1964. One of eight taverns in the 1964 license controversy, but the only one to receive a favorable recommendation from the Portland City Council due to a tie-breaking vote by Mayor Schrunk (Oregonian, Dec. 4, 1964, p. 21).

Orpheum Theater, S.W. corner of Broadway and Morrison. This theater is listed in a 1911 Vice Commission report as one in which the management asked for police officers to patrol the balcony due to the "certain class of patron" often found there. The Orpheum was demolished in 1977 and now is the site of the Downtown Nordstrom.
BELOW: The Orpheum Theatre as it looked ca 1912. From the collection of George Painter.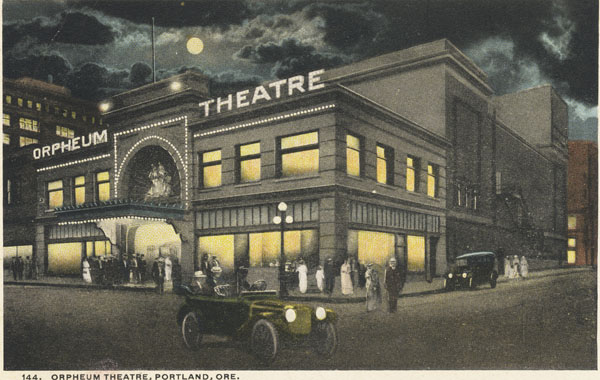 Owl Restaurant, 1129 S.W. First, 1900 to 1901. This was a short-lived eatery managed by Fred A. Clark, otherwise a waiter in other restaurants. Clark was arrested in the 1912 Vice Clique Scandal. No specific information about the Owl is known other than its short existence according to city directories, but, given that Clark was gay, it may have been a place for gay men and lesbians to gather.

Rainbow Grill, S.W. corner of Sixth and Washington (Morgan Building), 1915. After closing the Louvre, Theodore Kruse opened the Rainbow Grill in the Morgan Building. It was so named because its design with prisms set throughout spread arrays of color all about. The Rainbow was described as a place of unsurpassed otherworldly beauty that took a beholder's breath away. Like the Louvre, the Rainbow had a separate grill just for men. Unlike with the Louvre, Kruse was not able to sustain the Rainbow financially, and he filed for bankruptcy in June 1915, after only a few months of operation.
The Rainbow Grille image, below, appeared on the cover of a piece of sheet music, The Rainbow Waltz-Tango, written for the opening of Theodore Kruse's Rainbow Grille. The image is from the collection of George Painter.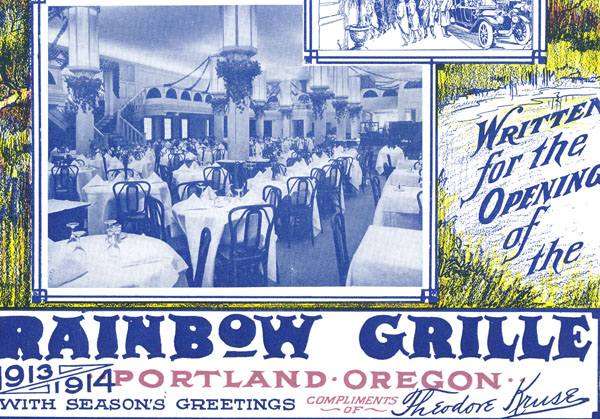 Alonzo E. Ream and Hilton R. Macbeth Cigars, (295 Morrison, old number, between 4th and 5th; building demolished by time of the 1931 readdressing of the city), about 1898 to 1900. Alonzo E. ("Billy") Ream (1856-1930) was one of the men arrested in the Vice Clique Scandal of 1912. He had lived in Portland since about 1891 and spent his entire career in occupations bringing him into contact with other men – railroad telephone operator or cigar store owner. For a time, he co-owned a store with Hilton R. Macbeth (1871-1935), then operated his own. Ream's solitary store was at 148 5th, between Alder and Morrison, (old numbering system; also demolished by time of 1931 readdressing), in business about 1900 to 1907. While there is no information listing these locations as specifically gay-related, the fact that cigars were pretty much socially limited to men and that Ream was gay, there is the possibility of these cigar stores being meeting places for the city's gay men.

Rising Moon, 413 W. Burnside (later Sissy's and Angela's), 1978-1985.

The Sportsman's Inn, 15 N.W. Sixth, 1972.

Teasers, 309 W. Burnside, 1985.

316, 316 W. Burnside. Lesbian bar, 1974.

Three Sisters, 1125 S.W. Stark, 1969-2000s.

Tom Kat Theater, 425 N.W. Glisan. Gay male erotic film theater, 1973.

The Transfusion Inn, 1139 S.W. First, 1950s-1964. A working class lesbian bar; owner Milton Buck.

214 Tavern, 214 W. Burnside, 1985.

Whitney-Gray Apartments, 409 S.W. 12th. This was the residence in 1912 of Earle Van Hulen, later in the year to be caught in the Vice Clique Scandal. He was visited here on the evening of August 20, 1912 by two other future arrestees, Edward Wedemeyer and Fred Rodby. In the presence of Rodby, who did not know Van Hulen, Wedemeyer and Van Hulen had sexual relations. This encounter led to Wedemeyer's indictment and trial in the Vice Clique Scandal. Though strangers at the time, Van Hulen and Rodby quickly became close friends and journeyed together in early October to the Medical Building office of Dr. Harry Start, where Rodby enjoyed a sexual encounter with Start in Van Hulen's presence, which would lead of Start's indictment and trial. It isn't known if this practice of having a third party present was common in Portland at the time. The Whitney-Gray Apartment Building now is on the National Register of Historic Places.

Wilde Oscar's, 318 S.W. Third, 1976-1983. Previously known as the Filling Station Tavern and the Crystal Pistol. It became a gay bar with a social conscience when opened by Early Wright in December 1976. It had a European-style ambiance featuring cabaret and musical shows that appealed to lesbians and gay men alike. Hanging near the front entrance of the bar was a large picture of Oscar Wilde, that suddenly disappeared one day, and eventually re-appeared two years later in Tillamook. This was definitely NOT a cruise bar, and it may have suffered because of it. According to Wright, inability to pay an increased rent, a declining trade, and the fact that the OLCC turned down his application for liquor license all contributed to the establishment's demise. Nevertheless, it left an impact on the community—having served as the meeting place for a number of community groups including: Gay Men Together, Oregon Fair Share, and a William Temple House counseling group.

The Workout Baths, 531 S.W. 12th, 1973.

LOCATIONS OUTSIDE THE DOWNTOWN/OLD TOWN AREA:

Council Crest Amusement Park, 1907 to 1929. It took little time for the park to develop an unsavory reputation. In 1911, there was an attempt to ban private dances there, with the Mayor noting that "the class of people" attending would not be "the most desirable kind." During the Vice Clique Scandal, witness Earl Taylor testified that fellow witness Kenneth Hollister seduced him after taking him "on the side hill" away from the actual park. From other references in the Scandal trials, it appears Taylor and Hollister were not the only men using the side of the hill as a trysting place. Another Gay man implicated in the Scandal, Will Phelps, said that he and a straight female friend (apparently a 1912 version of a "fag hag") visited there together often. Ballot measures to authorize the city to purchase Council Crest lost 72%-28% in 1911 and 64%‑36% in 1913, with evidence showing voters didn't want the notorious site in the city limits.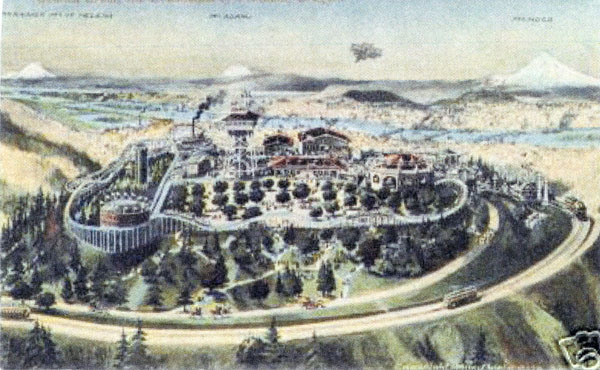 The troubled park closed in 1929, but, though abandoned and decrepit, remained a fascinating lure for visitors as late as 1935. That year, the Portland Traction Company (which operated city buses and trolleys) issued a public statement that visitors would be disappointed in the condition of the old park and urged them to avoid it (the Council Crest trolley ran until 1950, the last operating trolley line in Portland.)
Eastside, 3701 S.E. Division.

Frolic, 1447 N.E. Sandy.

Hollister Family Home. Kenneth Hollister, arrested in the 1912 scandal, lived here with his parents and siblings. His father, George W. Hollister, was a prominent Portland businessman. It appears that Hollister's family was both aware and accepting of his homosexuality. On the evening of November 16, 1912, Kenneth Hollister was scheduled to host a drag party at his home for a number of gay men in the city, but it never occurred because the men were arrested that day in connection with the Vice Clique Scandal. The home stands in the 2300 block of S.E. Ivon, the full address being withheld to respect the privacy of its current occupants.

HR's, 5827 E. Burnside.

JR's East, 4036 S.E. Hawthorne.

Judy's, 1431 N.E. Broadway. Women's bar, October 1983 to January 1985.

Lulu's Tavern/The Player's Pub, 612 N.W. 21st.

Marv Inn, 2216 N.E. MLK.

The Other Side of Midnight, 426 S.E. Hawthorne.

Primary Domain/Slabtown/Silent Partners/Chuckles, 1810 N.W. Lovejoy. (Torn down).

Stairs Down, 615 S.E. Alder. Youth nightclub, 1974.

Zero 'N Eight Saloon, 018 S.E. 8th.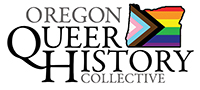 P.O. Box 3646 • Portland, OR 97208-3646 • info@glapn.org
Copyright © 2015, Gay & Lesbian Archives of the Pacific Northwest