A Woman of Consequence: Dr. Marie Equi
In 2015, Michael Helquist published his book Marie Equi: Radical Politics and Outlaw Passions through Oregon State University Press. Follow this link for information about the book.
By Michael Helquist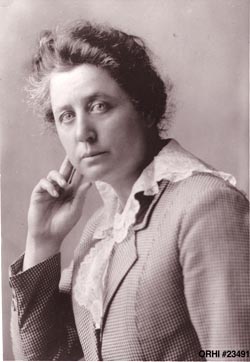 Marie Equi
She was slight, she was twenty years old and she paced the dusty streets of a small Western town – with a rawhide whip. In July of 1893 Marie Equi became a local celebrity in The Dalles, Oregon for assaulting one of the town's most prominent citizens, a school superintendent and a Baptist minister. Equi had demanded justice for her companion, Bessie Holcomb, who was a teacher at a local private school. The Reverend O.D. Taylor, the superintendent, had refused to pay Holcomb the balance of the salary he promised earlier. After several entreaties, the two women decided to take things into their own hands, literally. Holcomb proposed threatening Taylor with an umbrella; Equi chose to wield a whip instead.
Equi and Holcomb had immigrated to The Dalles, a robust town on the Oregon side of the Columbia River, in the early 1890s. They were close friends from their high school days in New Bedford, Massachusetts. Holcomb was three years older than Equi and better educated. She completed two years of course work at Wellesley College outside Boston while Equi was forced to leave high school and work in a textile mill to support herself. Both women longed for something more, something better.
Holcomb arrived in Oregon first, in the winter of 1891. She took advantage of the Homestead Act of 1862 that allowed American citizens, including single women, to file a land claim. Holcomb paid a nominal fee for 121 acres two miles west of The Dalles. There she made a home amid gnarled oak, bunch grass and granite outcroppings just below a bluff with a sweeping view of the Columbia River. She moved into a twelve by thirty foot house, planted a vegetable garden and relied on a nearby creek for water. Holcomb also secured a teaching position at the Wasco Independent Academy, an esteemed institution for students at the primary grades through high school. Several months later Equi joined Holcomb, and they became devoted, intimate companions living together on the homestead.
On the day of the horsewhipping, Equi stalked outside Reverend Taylor's downtown office for an hour, daring him to show his face. People doing business in town were drawn to the commotion, and dozens cheered her on. Taylor was despised by a good many locals for his land schemes that bilked hundreds of small investors. He tried to slip from his office and dodge Equi, but she intercepted him and started whacking him with the whip. Taylor wrenched free, broke the whip in half and ran up the street, but several men stopped him and delivered blows of their own. Finally Taylor escaped both Equi and her impromptu assistants. Only then did the county sheriff intervene and arrest Equi for assault and battery.
At the county courthouse that afternoon, a judged dismissed the charge against Equi but placed her under a $250 bond to keep the peace. Her friends readily paid the fine to gain her release. Although newspapers in The Dalles chastised Equi for improper public behavior, they also applauded her spunk and courage. One paper touted her "queen for today." Reports of the dust-up in The Dalles first introduced the public to the fiery sentiments of Marie Equi.
*********
After reading an account of the horsewhipping in the Gay and Lesbian Archives of the Pacific Northwest (GLAPN) newsletter several years ago, I became intrigued with Marie Equi as a formidable woman who spent much of her life as a political and social outsider. The GLAPN piece, written by Tom Cook, led me to the few existing profiles of Equi. Sandy Polishuk detailed how Equi thrust herself into a 1913 strike at a Portland, Oregon cannery after she witnessed the police mistreating one of the strikers. Equi later told reporters that the experience changed her life: she became a radical socialist, no longer believing in gradual political reform. Nancy Krieger traced Equi's journey from textile mill worker to physician, from suffragist and Progressive activist to anarchist. She described a bold, intelligent woman willing to challenge the political and social norms of her day.
These three articles also documented Equi's preference for romance and intimacy with other women. With these introductions to Equi's story, I wanted to dig deeper and uncover more about how she conducted her relatively open lesbian relationships and why she risked her livelihood to achieve social justice.
I first intended to include Equi in an historical novel set in the Pacific Northwest in the early 20th century. After two decades of work as a freelance journalist, columnist and public historian, I wanted to write fiction. I completed a year of research and writing about real and imagined characters who defined Portland during the boom years of the early 1900s. Marie Equi was among them, but as I came to understand her life better, her story became too compelling for a fictional account. Instead I undertook a biography of this extraordinary, but not particularly well-known, woman.
For my early research, I combed through church documents in New Bedford to find records of Equi's birth, baptism and religious training. Among the real estate deeds of Bristol County, Massachusetts, I discovered that the Equi family was not as poor as previously portrayed. In Oregon I walked the rugged terrain of the homestead Equi settled with her girlfriend, giving me a greater appreciation for the vastly different circumstances the women encountered in the West. In San Francisco, I toured the U.S. Army hospital where Equi cared for sufferers of the 1906 earthquake. I visited her residences in San Francisco and Portland, including the only house she purchased. From a distance I viewed San Quentin prison where Equi served her sentence for opposing World War One.
Further study of archival and privately held collections revealed Equi as a complex individual whose behavior sometimes undermined the very causes she supported. She became embroiled in clashes with national suffrage leaders as Oregon women tried to win the vote. She disrupted her advocacy for workers' rights by threatening to poison the police following a strike. In her personal life, Equi's conduct strained the relationships she held dear. Her long-time companion, Harriet Speckart, took their adopted daughter to live on the Oregon Coast rather than remain in Portland once Equi's politics became too controversial and her liaisons with other women too hurtful.
Much of Equi's life was conflicted and contradictory, but she kept her integrity as a committed activist and a passionate woman. She became for me an exemplary figure of her times, a woman of conscience and consequence. Margaret Sanger, the birth control advocate, described Equi as "a rebellious soul – generous, kind, brave but so radical in her thinking that she was almost an outcast in Portland." These are the elements of Equi's character that continue to motivate me in my work on a full account of her life and times.
References
Tom Cook, "Radical Politics, Radical Love: The Life of Dr. Marie Equi," Northwest Gay and Lesbian Historian 1:3 (Summer/Fall 1996) and 1:4 (June 1997).

Nancy Krieger, "Queen of the Bolsheviks, The Hidden History of Dr. Marie Equi," Radical America 17:5 (September-October 1983).

Sandy Polishuk, "The Radicalization of Marie Equi," in "Biography – Equi, Marie," Vertical File, Oregon Historical Society Research Library, Portland.

Michael Helquist, "Portland to the Rescue: The Rose City's Response to the 1906 San Francisco Earthquake and Fire," Oregon Historical Quarterly, 108:3 (Fall 2007); 384-409.

The Times-Mountaineer, The Dalles, Oregon, July 21- 31, 1893.
The Dalles Weekly Chronicle, The Dalles, Oregon, July 21, 1893.

Margaret Sanger Papers, Sophia Smith Collection, Smith College, Northampton, Mass.
© 2008 Michael Helquist
Michael Helquist has worked as a health communications specialist, freelance journalist and public historian with contributions to several publications, including the Oregon Historical Quarterly, The Advocate, the San Francisco Bay Guardian, American Medical News, Coming Up!, and MS. Magazine.
December 30, 2007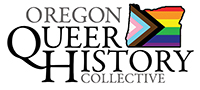 P.O. Box 3646 • Portland, OR 97208-3646 • info@glapn.or
Copyright © 2015, Gay & Lesbian Archives of the Pacific Northwest