Portland's Legendary Youth Clubs, 1977-1998:
Mildred's Palace, Metropolis, The City, Rage
By Robin Will
Last revised: August 19, 2018
The youngest of the club kids are in their 40s now, and the last of these clubs closed in 1998, but there's still discussion about Lanny Swerdlow's all-ages LGBTQ-friendly nightclubs in Portland.
In the 1970s, for LGBTQ people not old enough to get into a bar, community was almost nonexistent. Queer young people mostly gathered on the street around SW 3rd and Yamhill, down the street from the Greyhound depot, in an area they called Camp.
In 1977 Lanny Swerdlow opened Mildred's Palace, an all-ages disco, making it clear that LGBTQ people were welcome. Queer young people attended in droves, but response from media, police and city government was generally hostile. (Scroll down or click on this link to read a summary of one conflict with Portland Police at Mildred's Palace.)
That set the pattern for Swerdlow's all-ages, queer-friendly night clubs in Portland – the clientele loved them, the authorities, not so much. Mildred's lasted a couple of years, and was followed by Metropolis (3rd and Burnside), and then The City (first at 13th and Morrison, later at 13th and Burnside). That business eventually moved to 333 SW Park Ave. as the Rage, and it closed in May of 1998. All of the clubs gave LGBTQ young people places where they felt they belonged, and in the early '90s, media reported weekend crowds of 2,000 or more at The City, which was the longest-lived and most notorious of these nightspots.
The clubs were incubators of creativity. On Saturday nights when the dancing stopped, patrons took to the stage with shows of their own. A significant under-21 drag scene developed, which persists to this day. In addition, Swerdlow produced cable television programming on the premises, with the help of his young clientele. An impressive number of creative professionals now in midlife – some with national and international reputations – are proud to say they began learning their licks at The City Nightclub.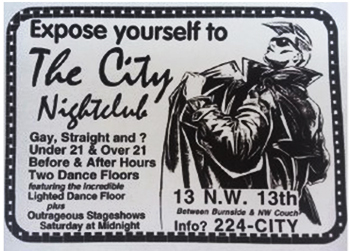 From approximately the time The City opened, Portland police and community leaders looked for a way to shut it down. The City's reputation for creative edginess and sexual openness seemed to frighten the average Portlander. A reporter from The Oregonian allegedly found a couple having sex in the restroom, a story that was repeated endlessly. Homophobia certainly played a part, and when police disapproved of a place for any reason, they could claim it was a hub of drug activity, confident their word would be received uncritically. The future of the club seemed always to be at risk.
Lanny Swerdlow stood up for his clientele – and for his rights as a businessman –for many years. However, in May of 1998, Portland police involved the FBI in a raid on Rage (the final iteration of the Swerdlow clubs) and on Swerdlow's home, on suspicion of trafficking in child pornography. Swerdlow maintained warrants for the search were based on perjured testimony, and in fact, no charges were ever brought against him, but the the porn bust was the last straw. Lanny Swerdlow sold the club (which continues in Portland as Escape) and moved to California, where he continued his work as a marijuana activist.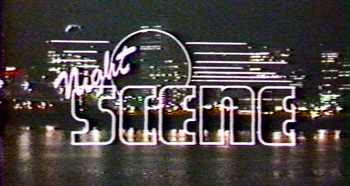 The long-term legacy of The City includes quite a lot of high-quality video programming. Lanny Swerdlow was active in NORML – National Organization for the Reform of Marijuana Laws. "NightScene," the series he founded jointly with David Evans, featured interviews with many of Portland's leaders and public figures. (All of the NightScene installments after 1993 are dedicated to the memory of David Evans, who died that year.) Some of The City's video material is now finding its way to GLAPN, with Lanny Swerdlow's blessing and the help of the individuals who kept the material safe over the years.
---
| | |
| --- | --- |
| | The City Nightclub is a documentary Gregory Franklyn did in approximately 1996. In Gregory's words, "[it] explains what the club is and what it meant to the young folks who used to hang out there. It's kind of a PR piece that we used when the club was under siege from the City of Portland to try to garner support from the community. It turns out, it worked pretty well. Hundreds of folks joined us in a March on City Hall to confront, then, Mayor Vera Katz". View the video at this link. |
| | A Conversation with Lanny Swerdlow, from Gregory Franklyn. "The link is to a youtube video of an interview I did with Lanny Swerdlow in (I believe it was 1999 or 2000) Where I got him to talk about his motivation for opening the club and the history of the locations of his clubs including The City NightClub." View the video at this link.   |
| | |
| | |
---
Mildred's Palace and the Portland Police
(This is excerpted from an article by George T. Nicola, which was primarily about Portland Town Council. The entire article may be seen at this link.)
Unrelated to PTC, Portland gay activist Lanny Swerdlow explains that in 1977, he tried to create a safe meeting place for gays who were too young to patronize bars. The youth had been congregating at "camp", an outdoor area generally around SW Yamhill and Third Avenue. There were as many as 100 kids hanging out there at a time, something that upset others in the area.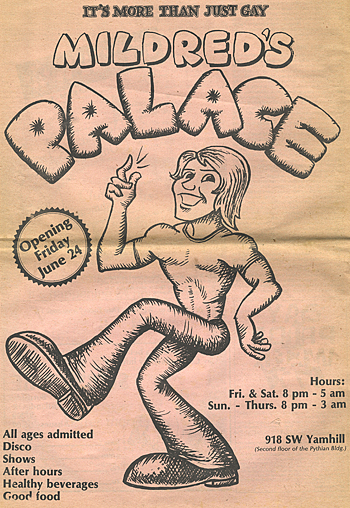 Lanny opened a downtown all ages club called Mildred's Palace. He says that he soon found himself on the outs with the Portland police, who wanted to be able to arrest underage kids for curfew violation. So cops entered his club regularly, arresting kids. In one incident a couple months after the club opened, Lanny recalls, the police came into the club, arrested about a dozen kids, in some cases knocking them down. Lanny estimates that about three of the kids were actually bleeding. The police then hauled off the arrested kids in a paddy wagon.
At that point, Lanny went to Portland Town Council for advice. PTC recommended a lawyer named Craig Colby. The attorney wrote a letter to the city attorney saying that police could not enter a private establishment and make arrest for curfew violation.
That stopped, but the police then stationed two juvenile officers outside the club to arrest the underage kids when they exited. To avoid arrest, the kids would sometimes stay all night. Lanny went directly to Portland Police Commissioner ally Charles Jordan, who happened to be Portland's first African American City Council member. Jordan sent an aide to observe and found the story to be true. Jordan then told the Police Bureau they could not continue waiting outside the club to arrest patrons, so the problems ceased.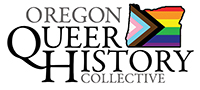 P.O. Box 3646 • Portland, OR 97208-3646 • info@glapn.org
Copyright © 2018, Gay & Lesbian Archives of the Pacific Northwest